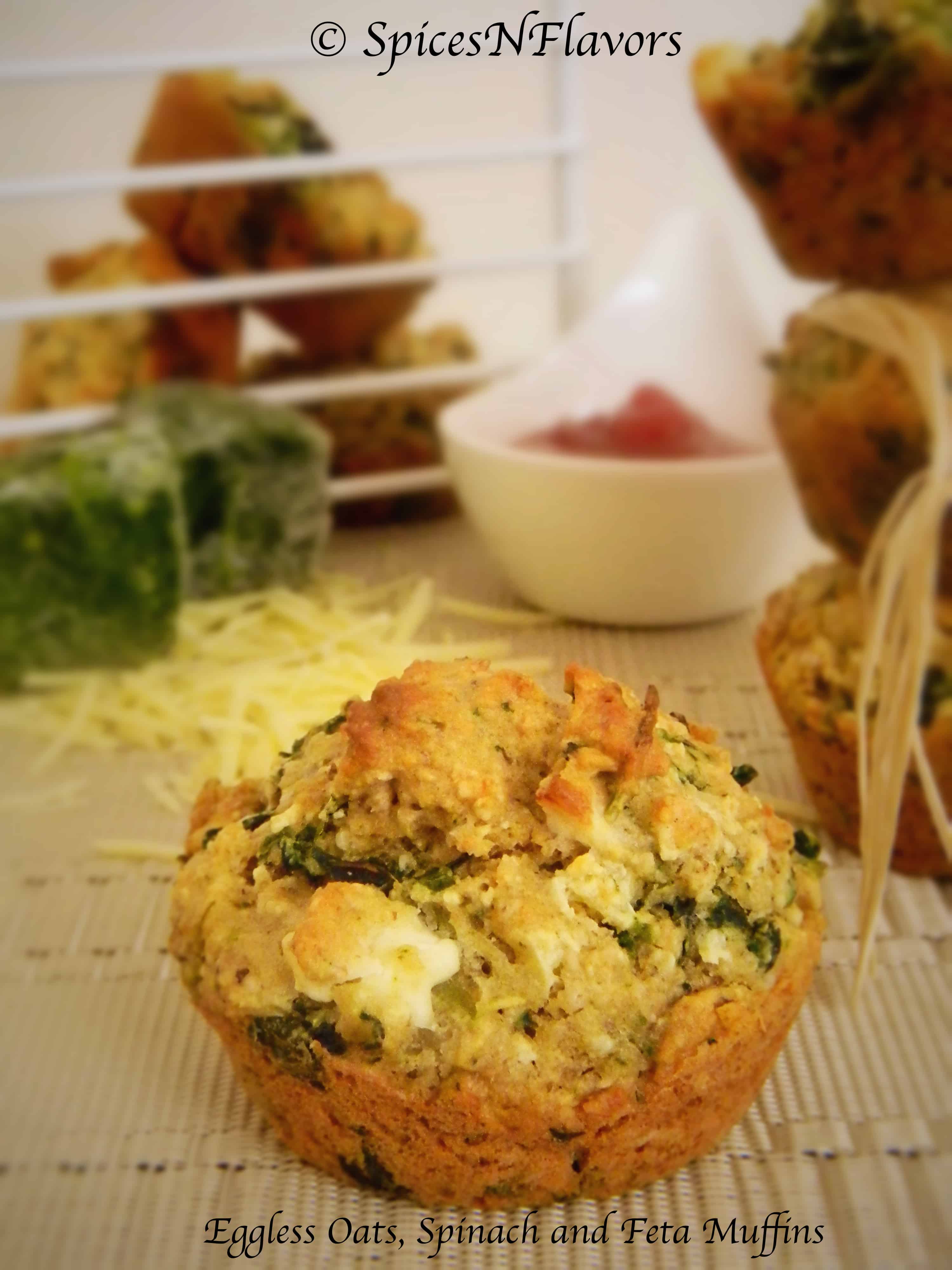 In this fast growing world, it is now necessary to look into the diet that we are eating. So today this recipe is one amongst such recipes which is nutritious, healthy and tasty too.. ;)..
Spinach and Feta is an all time ultimate combination. And what if, I say instead of All Purpose Flour I have used oatmeal and whole wheat flour.. Yes and it tasted equally good. So don't think further; this is it; Healthy Eggless Oats, Spinach and Feta Muffins..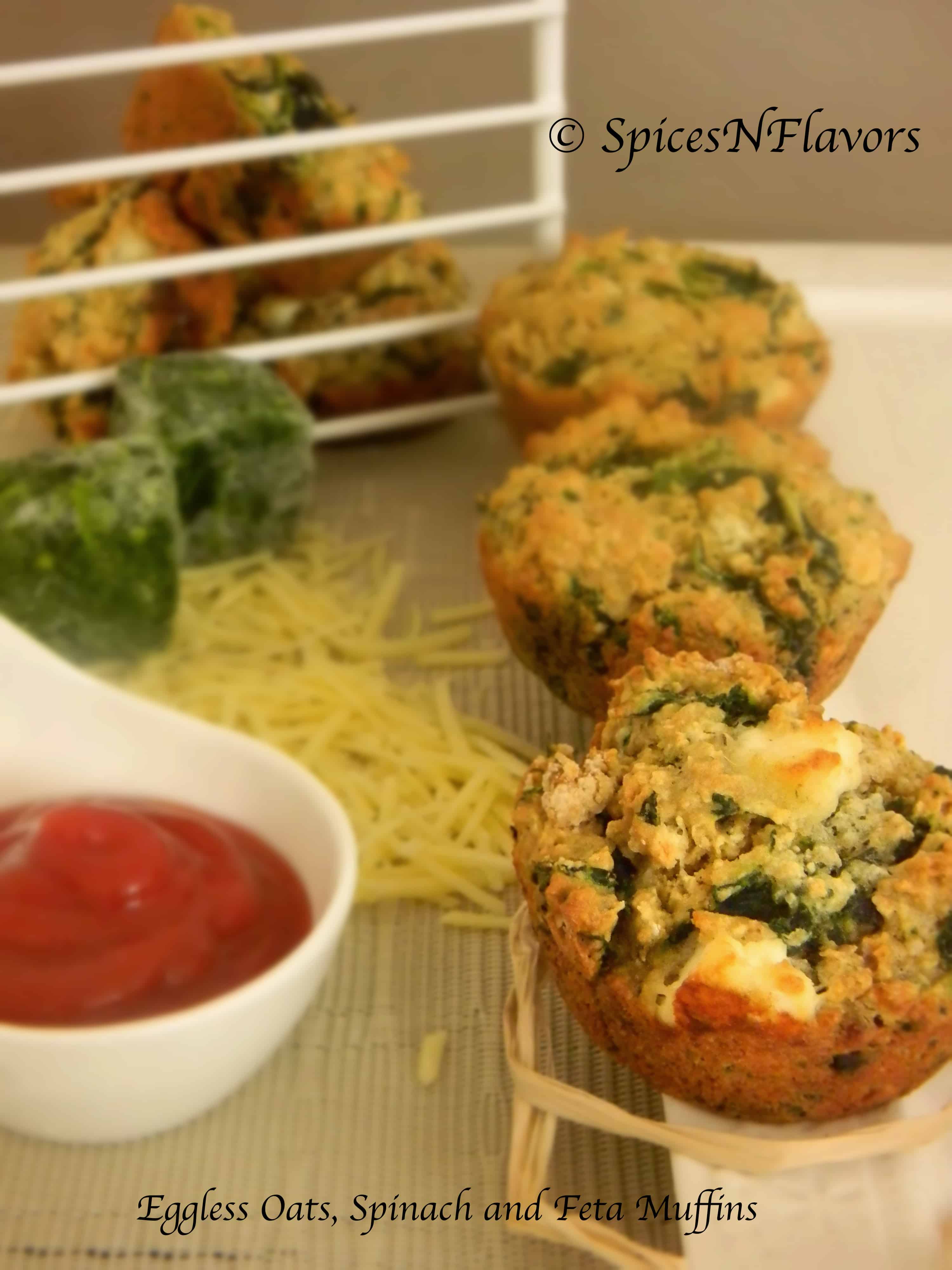 It is very easy to bake a muffin like I always say.. (Check out my Chocolate Chip Cornmeal Muffins) All you need to do is mix all the dry ingredients in one, wet in another and then mix the two together without over beating and bake. Voila your muffin is ready. How simple it is!! That is the only reason I love baking muffins because even a beginner can never go wrong in this.. 🙂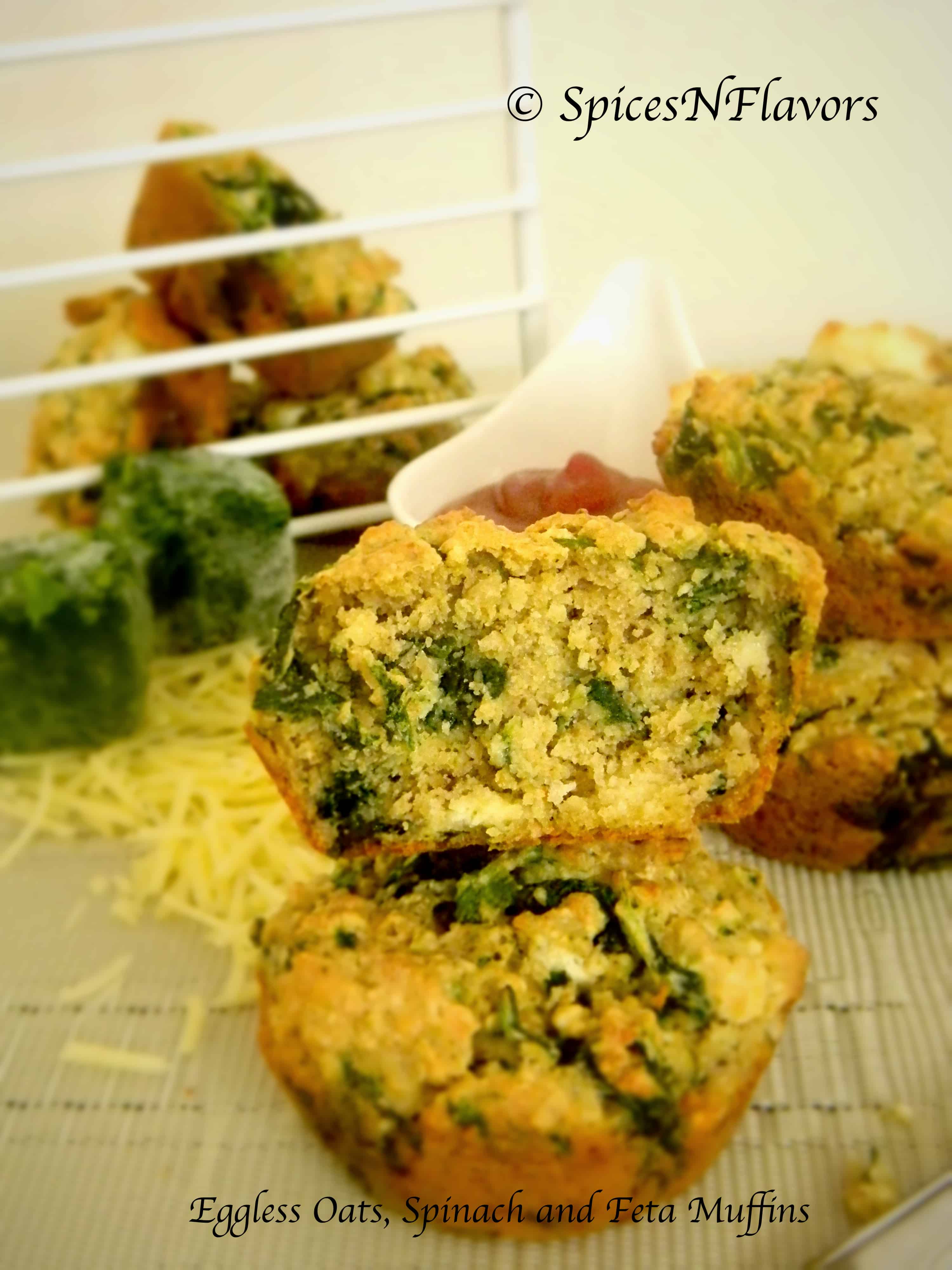 Muffins can be both sweet and savoury. Today I tried my hands on savoury or breakfast muffins. The inclusion of oats, veggies, cheese and spices makes it one complete meal in itself.
These muffins are crisp from outside, soft and moist from inside. The addition of mixed herb pizza seasoning and chilli flakes gives it that extra kick. The feta cheese gives it a rich flavour making your breakfast a filling one.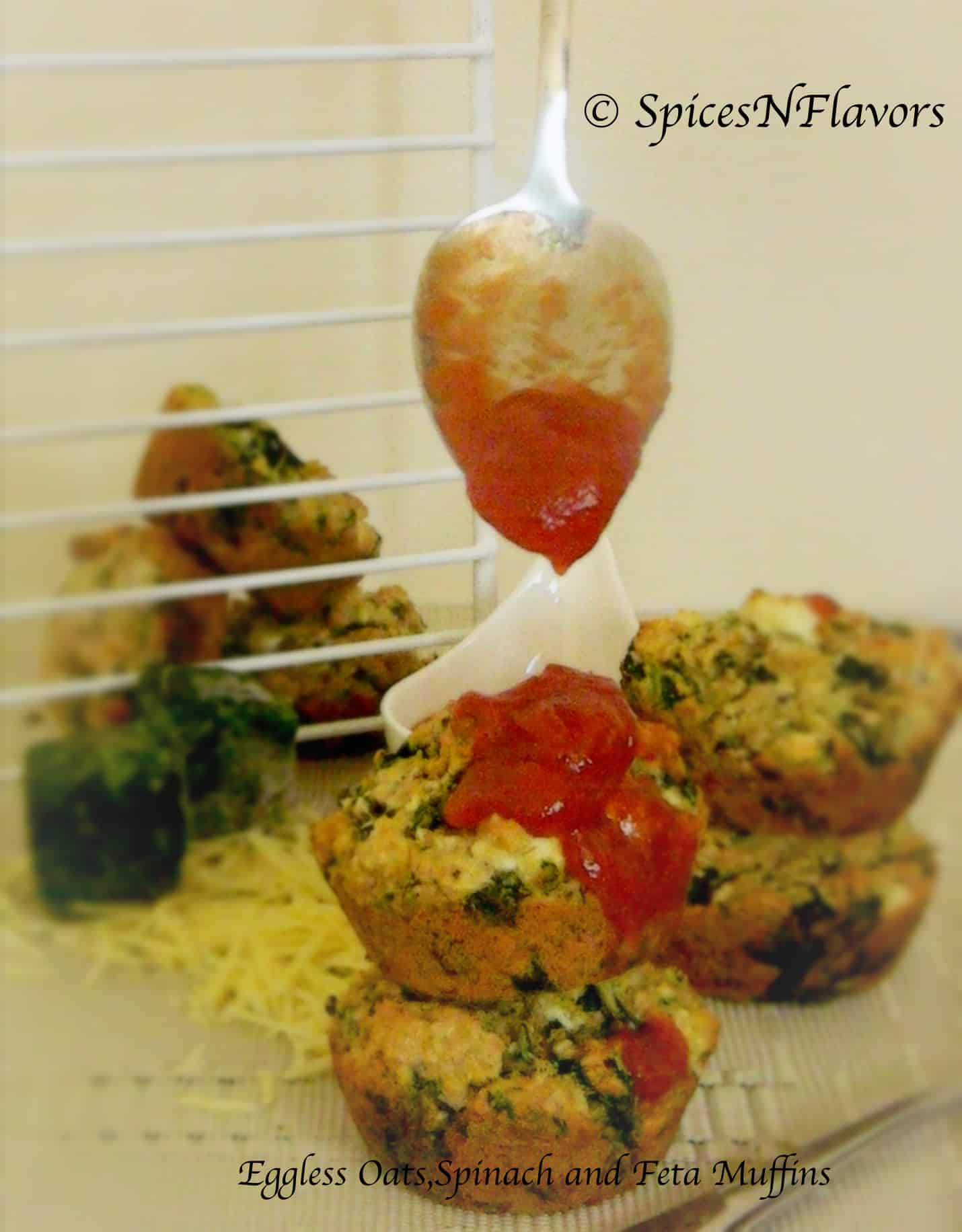 Wondering what to pack in your kids lunch box today??
Running late for office and no time for breakfast??
Your perfect tea time snack partner??
For that midnight hunger pang??
After school snacks??
So many questions and only one answer.. Try this Healthy Eggless Oats Spinach and Feta Muffins
Here is what you will need to make this..
Prep Time : 7-8 mins       Cooking Time : 5 mins         Baking Time : 15-20 mins
Ingredients:
1/2 cup cooked spinach, chopped or frozen spinach
1 cup milk
1 cup cottage cheese / paneer
1/4 cup canola oil
1/2 cup buttermilk
1/4 - 1/2 cup feta, cubed or crumbled
1 cup whole wheat flour
1 cup oat meal
4 tsp baking powder
1/2 tsp baking soda
1/2-1 tsp salt
1 tsp mixed herbs (pizza seasoning)
1/2-1 tsp chilli flakes
For making 1/2 cup buttermilk you will need 1/2 cup milk plus 1.5 tsp vinegar. Mix the two and let it stand for 5 minutes and then use this as your 1/2 cup buttermilk.
For making 1 cup oat meal, if you do not have handy, use 1 and 1/4 cups old fashioned oats and grind it to a flour like consistency in a blender or mixer and use this as your 1 cup oat meal.
Method:
Preheat your oven to 210 degree celsius, with the rack just below the middle.
Lightly squeeze your cooked or thawed spinach, reserving the liquid. Make the reserved liquid to 1 cup with milk.
In a bowl, mix together the spinach, milk, cottage cheese (paneer), oil and buttermilk. Add the cubed or crumbled cheese and mix lightly. Set aside.
In another bowl, mix together the flours (whole wheat + oatmeal), baking powder, seasoning ingredients (mixed herbs + chilli flakes) and salt. Toss lightly until mixed.
Now tip this dry mixture into the wet ingredients and fold gently until the flour is moistened. The mixture does not need to be smooth.
Spoon the mixture into 12 non stick sprayed or buttered muffin pans upto 3/4 of its size and bake at 210 degree celsius for 15-20 minutes or until golden brown or a skewer inserted into the centre of the muffin comes out clean.
Remove the muffins from the oven and let it cool in the pan itself for 2-3 minutes; then remove and let it cool completely on a rack.
Ta da.. Enjoy your muffins with the dip of your choice. Serve it warm.
Tip/s:
Leaving the muffins in the muffin pan for cooling helps reducing the stickiness.
Notes:
All the ingredients mentioned has to be in room temperature.
Store it in an air tight container for 3 days or freeze it for a longer use.
Parmesan cheese can also be used in place of feta cheese.
Enjoy your warm muffins with the dip of your choice..
Happy Baking!!!
Sushma.. 🙂