Looking for egg substitutes for baking brownies? We've all been there. You realize you must have eggs for a recipe but you forgot to check the refrigerator. Or maybe you have an egg allergy or just started a new diet, and for some reason, eggs are off-limits for now.
Here is a list of 13 easily available egg substitutes for baking brownies when you can't or don't have eggs in your kitchen.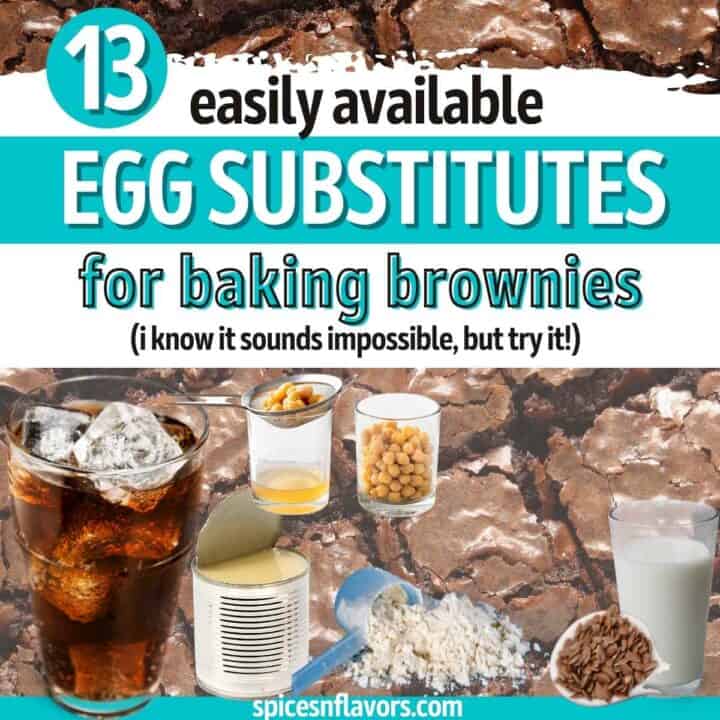 Why do we need eggs in brownies?
Eggs are one of the most quintessential ingredients in baking.
Role of Eggs:
They can add moisture, richness and tenderness to baked goods.
Eggs also help to emulsify ingredients as they cook—meaning they bind them together with air bubbles to create fluffier brownies or when whipped can act as a leavening agent too.
In addition, eggs contribute flavour and richness by providing protein needed for brownie texture development.
How to Make Brownies without Eggs
So making brownies without eggs is a little bit tricky, but not impossible. You can make great brownies with or without eggs.
In this article, let me show you how to make delicious brownies without eggs using a wide range of ingredients that are easily available.
I have included the 13 common egg substitutes for baking brownies. And wherever possible I will also share a link to the recipe using the substitute that is sure to work.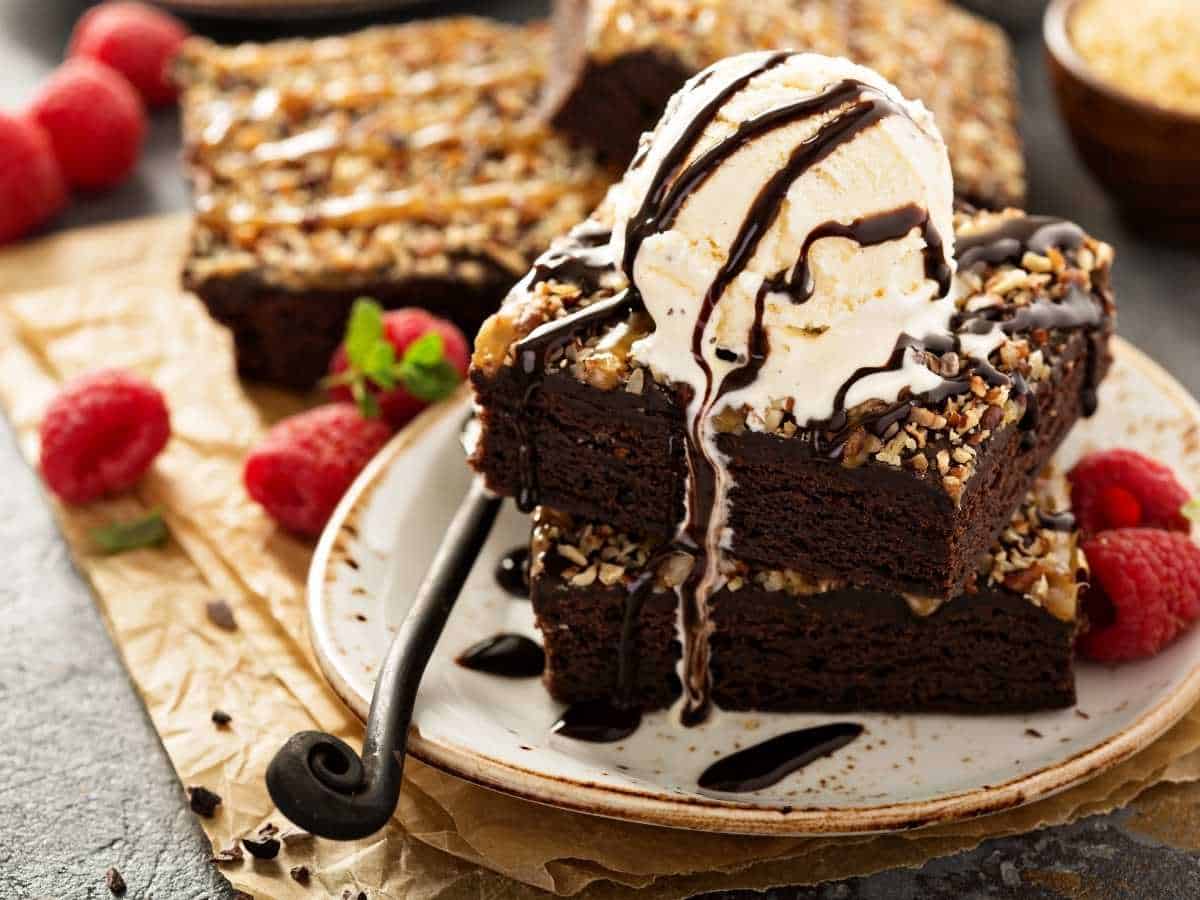 What are the best egg substitutes for brownies?
The best egg substitutes for brownies are yogurt, condensed milk, silken tofu, applesauce, ground flaxseeds or chia seeds (1 tablespoon per egg), banana, cornstarch or arrowroot powder (1 tablespoon per egg), aquafaba (1 tablespoon per egg), commercial egg replacer (2 tablespoons + 2 teaspoons of water to replace one large egg), carbonated water and baking soda-and-vinegar mixture. You can also use mayonnaise instead of eggs in a brownie recipe.
And by the way, do consider checking out 19 easily available egg substitutes for banana bread if you are interested in learning more about egg-substitutes and how does it work.
Let's take a closer look at each option: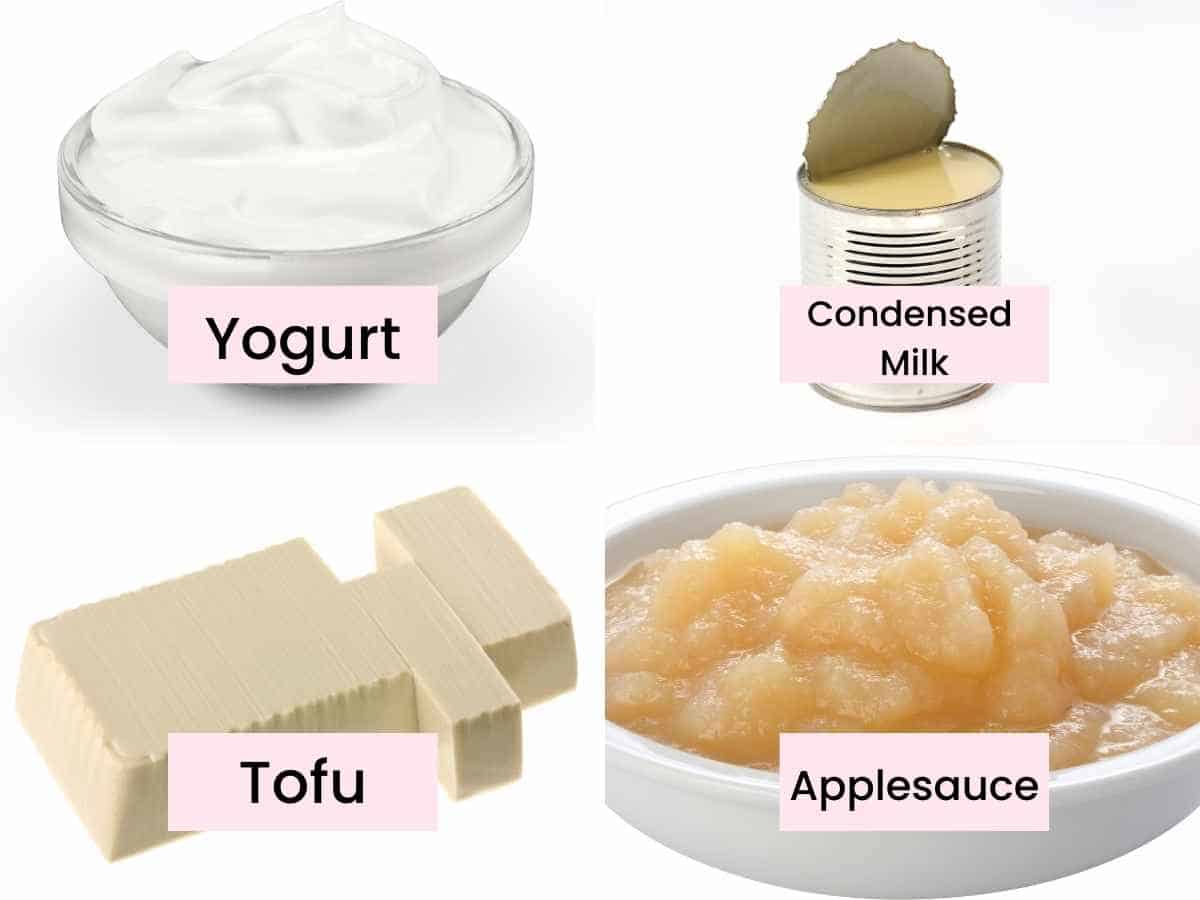 Yogurt
Of all the egg replacements, yoghurt is my favourite replacer for eggs in baking. t's got a protein and fat content similar to that of eggs, so you can use it in the same way you'd use eggs. And it works so well for brownies too..
It adds moisture, richness, and structure to your baked goods
As a general rule of thumb use 1/4 cup of plain yogurt as a substitute for 1 egg. The substitution would work for a recipe that has not more than 3 eggs.
Here is the best eggless brownie recipe that uses Greek Yogurt as an egg substitute.
Condensed milk
If you have a can of condensed milk in your pantry, you're already one step ahead. Condensed milk is the perfect substitute for eggs in brownies because it has a consistency similar to that of an egg, and it's easy to find at any grocery store.
Try using 1/3 cup of condensed milk per egg. You can use this ingredient both as an egg replacement and as a sweetener (since it's sweetened).
Check out this recipe that uses condensed milk as an egg replacer to make brownies.
Silken tofu
Silken tofu is the best substitute for eggs in vegan cooking. It's also a great base for vegan mayo and can be used to make brownies!
It makes sense: silken tofu has a similar texture and consistency to eggs, so it serves as an excellent replacement. Plus, it's packed with protein, so the brownies won't be crumbly but will have a great texture when you use this substitution in your baking.
To replace one egg in your recipe use one-fourth cup of silken tofu instead.
Check out this vegan brownie made using silken tofu as the egg replacer.
Applesauce
Apple sauce can also be used as an egg substitute in brownies. Applesauce; often used in vegan recipes is perfect for baking brownies because it adds moisture and softness to the batter without changing the texture of your brownie too much.
How much applesauce should I use?
Again 1/4 cup per egg of unsweetened applesauce works great.
Here is a recipe that uses applesauce in place of eggs.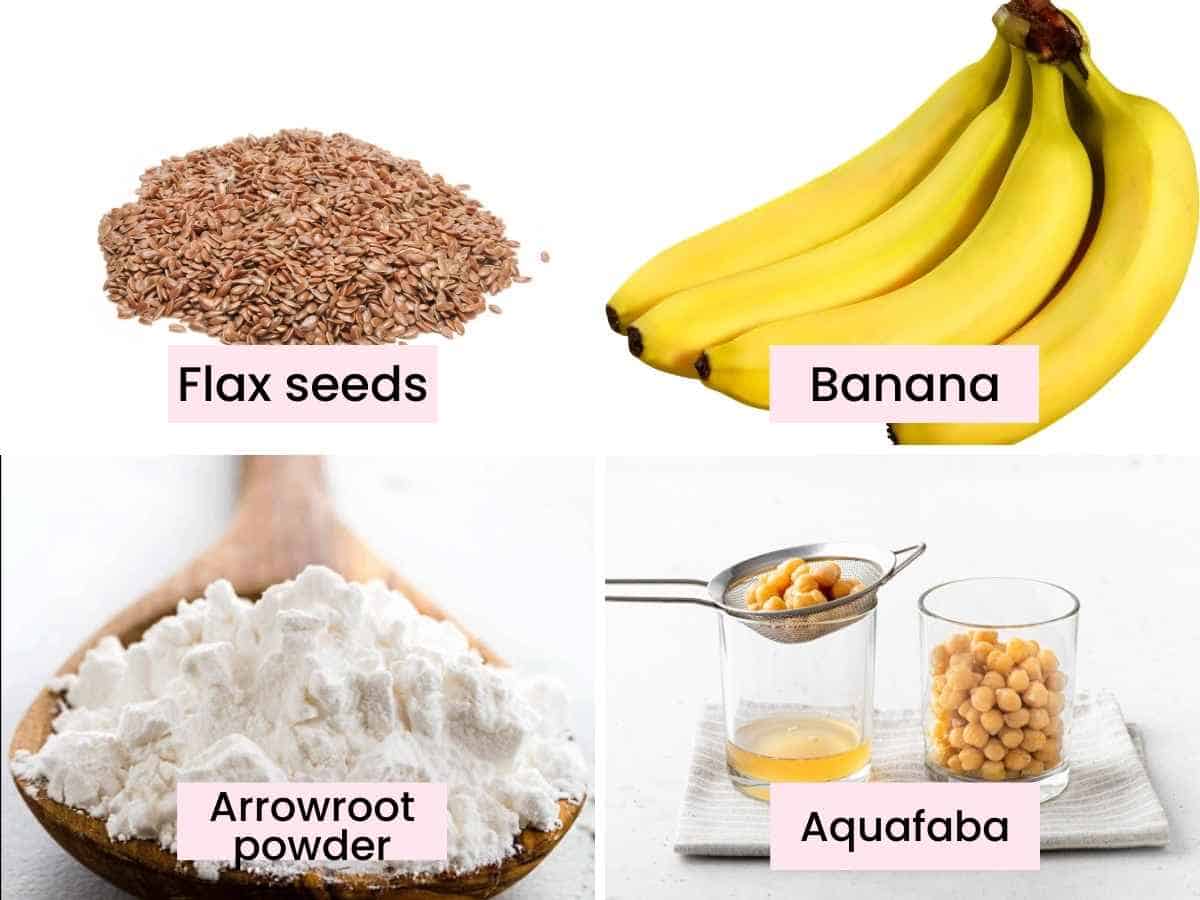 Ground flax seeds or chia seeds
1 tablespoon of ground flaxseeds mixed with water has become a go-to egg replacer for vegan and egg-free bakers. Mix one tablespoon of ground flax seed with three tablespoons of water and let it sit for at least 5 minutes and up to 20 minutes to make your very own flax egg.
You'll be surprised by how the mixture has gelled and thickened after a few minutes of rest. The mixture is surprisingly close in texture to a real egg, but it's 100% vegan!
This vegan brownies recipe uses flaxseeds as the egg substitute.
Banana
Banana is a great substitute for eggs and can be used in almost any recipe that calls for eggs. The texture of bananas is similar to that of eggs when mashed, which is why they're so commonly used in recipes like cakes and cookies. Just make sure to use ripe bananas.
Bananas are also good as a substitute for brownies because they are sweet, but not overpowering; they add delicious flavor while keeping the texture light.
Here is one such eggless brownies recipe featuring mashed bananas.
Arrowroot powder
Arrowroot powder is a popular egg substitute for baking. It's made from the dried roots of several plants, including the arrowroot plant and Maranta arundinacea, and has been used as a thickener in food since the 18th century. Arrowroot flour doesn't contain any gluten or starch, so it's great for those who are trying to avoid either one.
It's important to note that while arrowroot powder may be able to replace the texture of eggs in brownies and other desserts, it won't provide them with any nutritional value normally found in eggs such as protein or vitamin A.
This brownie recipe using arrowroot flour looks so promising.
Aquafaba
Aquafaba is the cooking liquid from beans and legumes, like chickpeas. It's made of starches and proteins that are usually discarded during the cooking process. As a result, it's incredibly cheap to make your own vegan egg substitute from scratch at home!
To make aquafaba: Add 1 cup of dried chickpeas or white beans to 2 cups of water in a medium saucepan over high heat; bring them up to boil then lower heat slightly and simmer covered until tender but not falling apart (about 40 minutes). Drain the liquid into a measuring cup with markings on it; discard solids from the cooking liquid. Let cool completely before using in recipes—this step ensures that your baked goods turn out fluffy instead of gummy!
Instead you can also drain a can of chickpeas and use the liquid.
This eggless brownies recipe using aquafaba is definitely worth a try.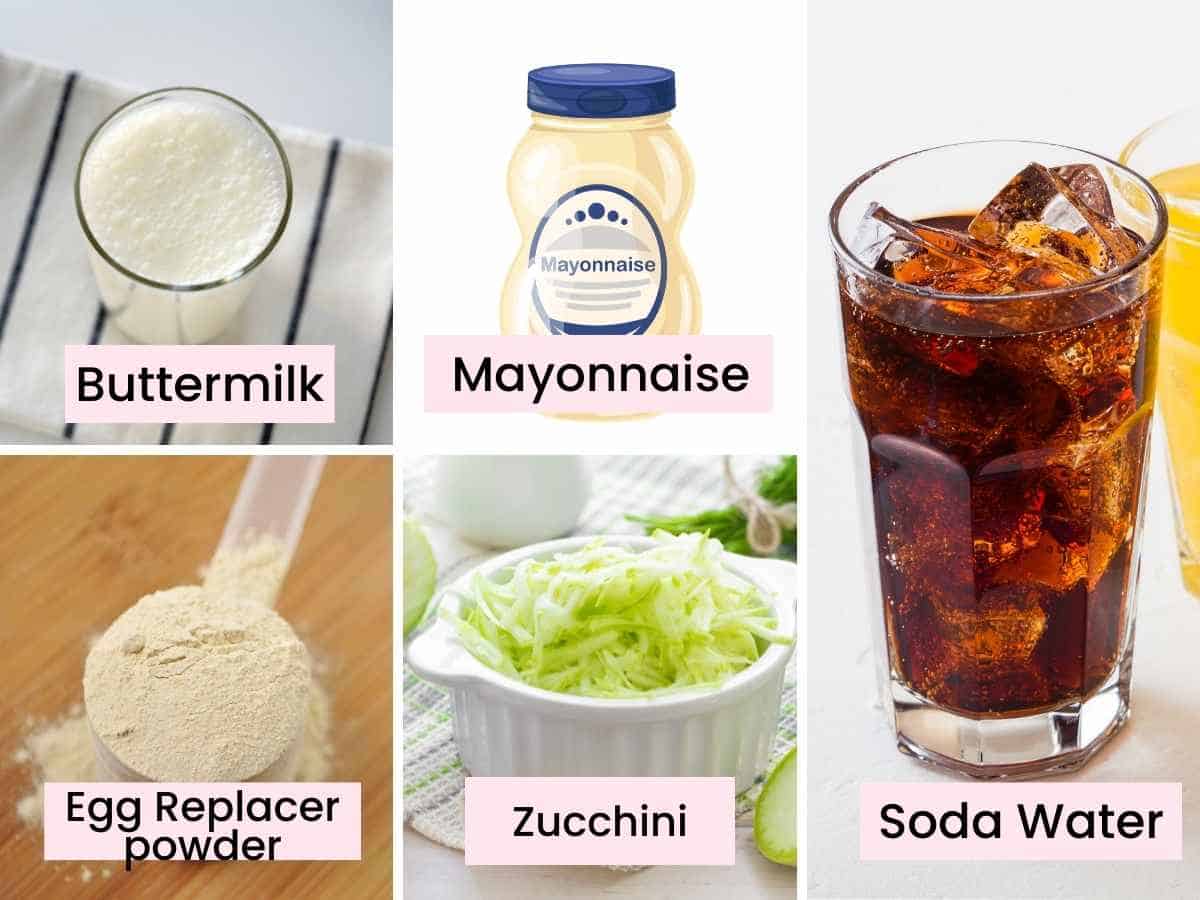 Buttermilk
Buttermilk works perfectly as an egg substitute.
The acidity of the buttermilk will react with baking soda or baking powder in the batter in a chemical reaction and produce carbon dioxide bubbles that make it rise. The end result is soft and moist brownies that are just as delicious as any other batch you've made!
Check out this brownie recipe made using buttermilk.
How to make Buttermilk at home?
For 1 cup of buttermilk, use an equal amount that is 1 cup of Warm Milk and add 1 tsp of vinegar or apple cider vinegar. Mix and allow it to curdle for 5 mins and then use in the recipe.
Mayonnaise
You can use 3 tbsp of mayonnaise for each egg that your recipe calls for. Mayonnaise is a good substitute for adding moisture to your brownies or other baked goods.
Mayonnaise is made of eggs and oil so it just makes sense to use mayonnaise in your baked goods to make them soft and moist.
Skip this substitution if you cannot have eggs in your diet.
Here is a recipe if you want to try out.
Commercial Egg Replacer
Egg Replacer is made from potato starch and tapioca starch and other ingredients including leavening agents, depending on which brand you buy. The most common brand is called Ener-G Egg Replacer. It's available at most grocery stores and online, and it comes in small packets or as an ingredient bag.
The leavening agents help the brownies rise in the oven, and the other ingredients get mixed together to create a batter that's just like regular brownie batter.
To make brownies using egg replacer instead of actual eggs, start by mixing together 1/2 cup of brownie mix with 1 tablespoon of vegetable oil and 1 tablespoon of water.
Then add 1 teaspoon of Ener-G Egg Replacer powder, which should be mixed into 1/4 cup of water before adding it to the other ingredients.
Mix everything together until smooth and pour into an 8x8 pan lined with parchment paper or sprayed with nonstick spray. Bake at 350 degrees Fahrenheit for 35 minutes (don't overbake!). Let cool completely before cutting into squares!
Carbonated (Soda) Water
Did you know that carbonated water makes an incredible egg substitute? It's true! And better yet, it's super easy to use.
All you need to do is use a quarter cup of soda water or half a can of diet soda per egg called for in the recipe. That's it! The bubbles in these ingredients will get trapped as your brownies bake and give them a light, airy texture and rise.
Check out this recipe and you will be surprised with the ease of making them. All you need is box brownies and carbonated water.
Grated Zucchini
We know you love chocolate, and we love it too! But have you ever thought about how much better it could be if it were healthier for you?
Well, we have the solution: brownies with zucchini! Instead of using eggs as a binder, you can use grated-up zucchini. It's delicious, nutritious, and so easy to make. You won't believe how good these are!
The secret to moist brownies by substituting eggs with grated zucchini is to not squeeze out the water after you have grated them. Remember that you are replicating the liquid consistency of an egg that binds and adds moisture to all the other ingredients, so the water that is naturally in the grated zucchini is a positive factor.
This recipe with zucchini is definitely worth a try.
Can we make brownies without eggs?
Yes, you can make brownies without eggs. Eggs are used to help bind the flour, sugar and butter together in a brownie recipe, but they also help leaven the mixture (make it fluffy) and add moisture.
Now I'm not saying that using egg substitutes would give you exactly the same results as using real eggs would. But these are some great substitutes we can use which will come pretty close!
To conclude I would say instead of using a recipe that calls for eggs and then substituting it with the substitutes mentioned in the post I would rather start with an eggless recipe in the first place; just like how we did with cream cheese substitutes in baking.
Those recipes are tested time and again and would most of the time deliver what is promised.
Our eggless brownie recipe is one such recipe that has been tested several times and would give you perfect results.
So, which ingredients are your go-to egg substitutes for baking brownies?