Homemade Chocolate Bars - Super easy and quick shortcut recipe that is the perfect edible gift that you can share with your friends and family this holiday season!!!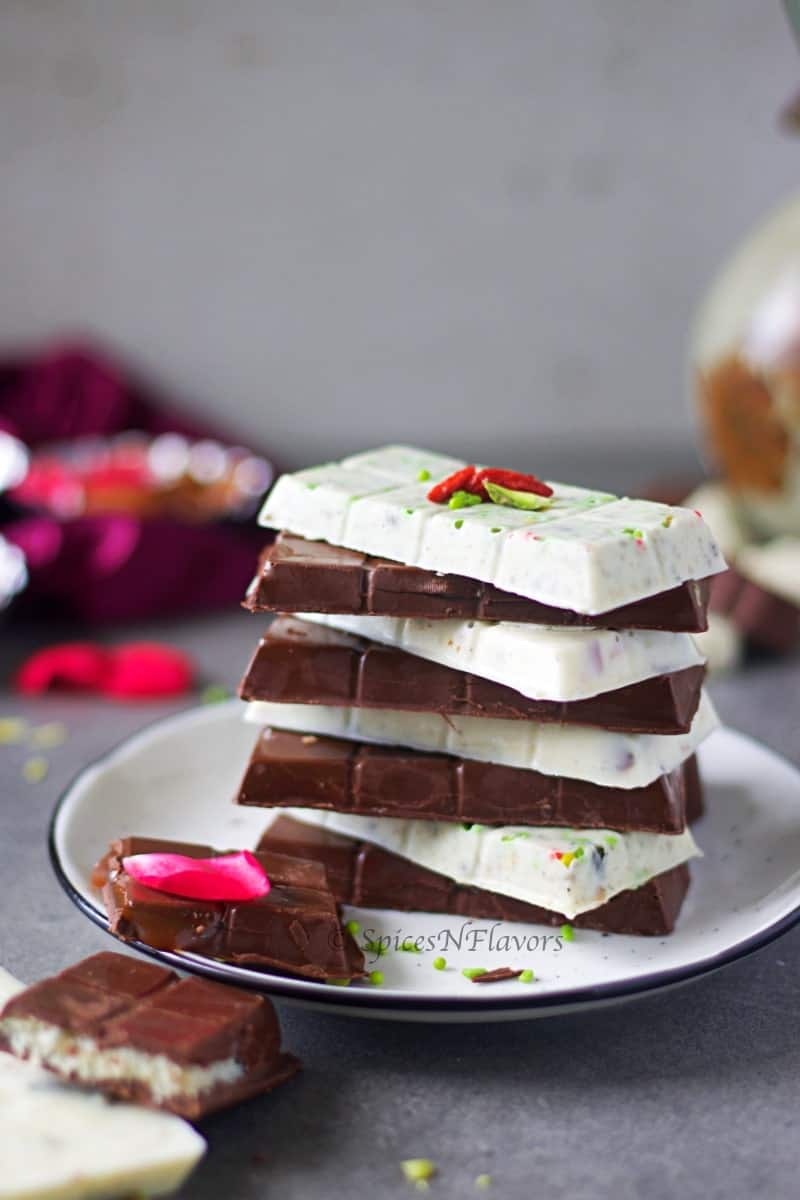 Homemade Chocolate Bars made from scratch; if that is what you think this post is going to be then sorry to disappoint you guys but this is a shortcut method that I am sharing today.
Maybe I will reserve the post for how do you make chocolate from scratch for some other day.
For now let me share with you that, I am at the peak of my excitement level!!! Well, it is Diwali, and by now you guys absolutely know how much I love Diwali. I am sure most of you feel the same.
And the excitement is doubled because I am travelling to India for Diwali.. Yay!!! After 4 years will celebrate it with family. Staying away from family is what I miss the most living abroad.
I can see some of you nodding your heads!!! Sigh!!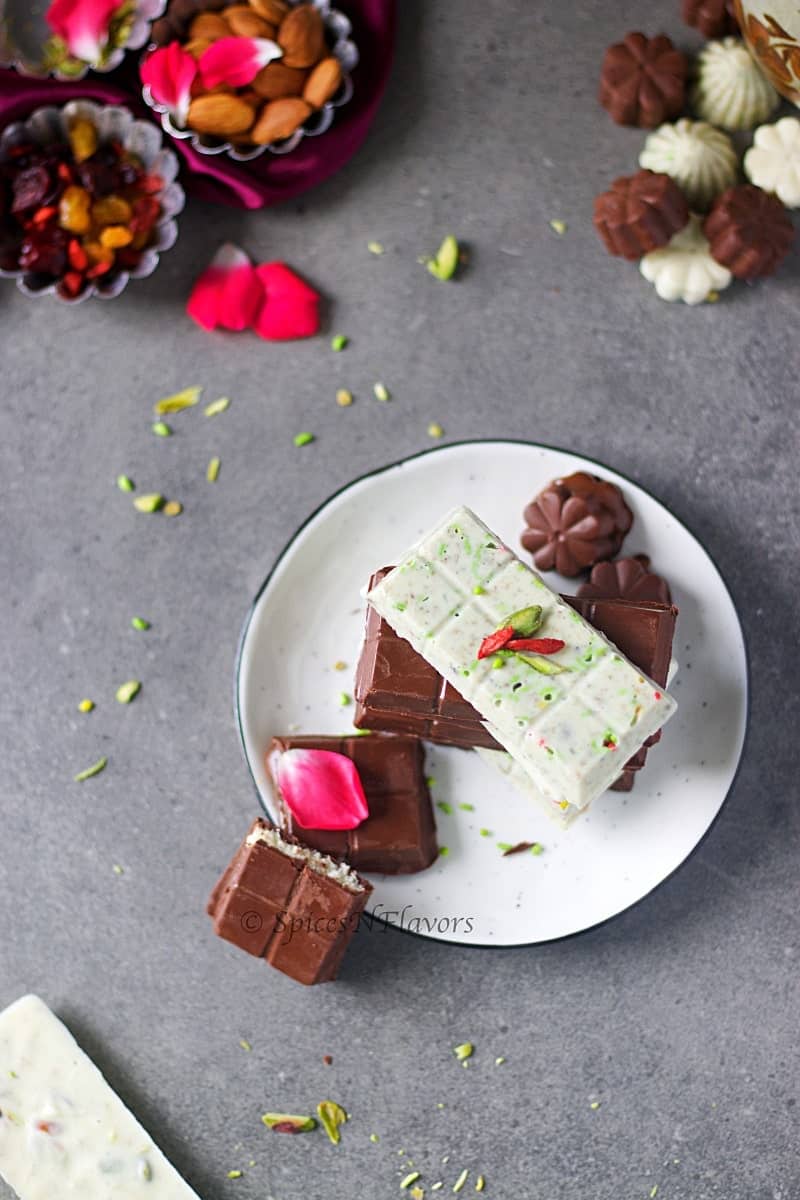 It is a ritual, I think traditional would be the right word here..
Yes, it is a tradition to prepare Diwali sweets and snacks that are being followed in each and every household back in India.
I clearly remember my mother, aunt and dadi used to gather in my house a few days before Diwali and start making all the yummy goodies. Each one would take up a job and together it would be so much fun to chat and eat.
These days with the nuclear family concept, this scenario is so hard to imagine. I do not think my daughter would ever experience this joy.
However, I try to make it a point to celebrate each and every festival.
I do not make a lot of traditional time-consuming sweets and snacks though, but make it a point to make some quick and easy desserts and snacks. You can check out my playlist on Diwali recipes - very useful must say.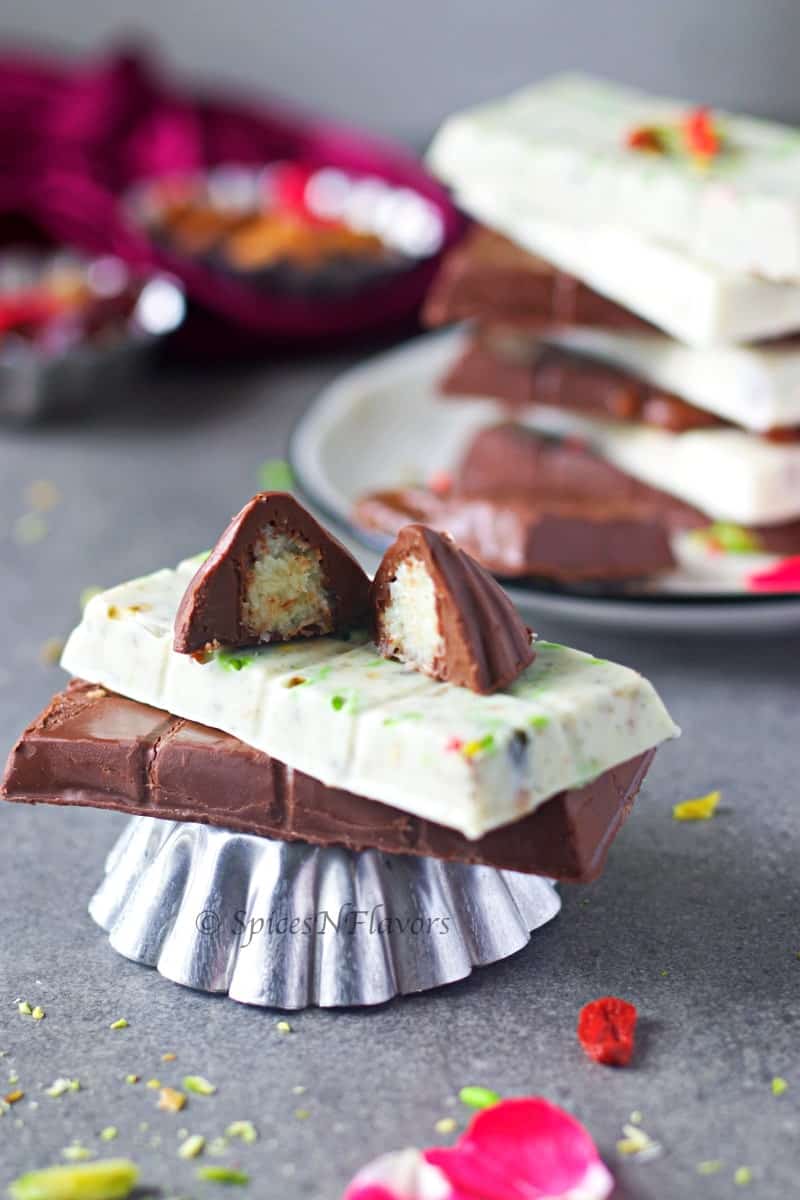 And one such thing that you can quickly and easily make this year would be these yummy fancy chocolate bars.
Basically, these are a white chocolate bar, milk chocolate bar and dark chocolate bar, which are turned into personalised chocolate bars just by adding some flavours to it.
So what are the different types of chocolate bars that I have made today?
The unique chocolate flavours include:
1. Homemade Bounty Bar
2. Caramel chocolate bar
3. Rasmalai flavour - "Trendy chocolate bars"
4. And my personal favourite - Paan Masala Bars. You guys absolutely know how much I love Paan and recipes using paan.
These are my top chocolate flavours but there are so many other flavours that you can try. If you ask me What flavors go with chocolate?
Here is my list of chocolate bars that you can make:
1. Fruits like Orange, All kind of berries, Pineapple etc.
2. Coconut
3. Lavender
4. Salt
5. chocolate with nuts
There are unusual flavours that work with chocolate too like Curry Powder or any spice powder. One particular weird chocolate bars that I found on the net was this bacon flavored chocolate. I mean Bacon and chocolate.
I am a vegetarian so I absolutely have no idea about the same but still, I found this combination weird.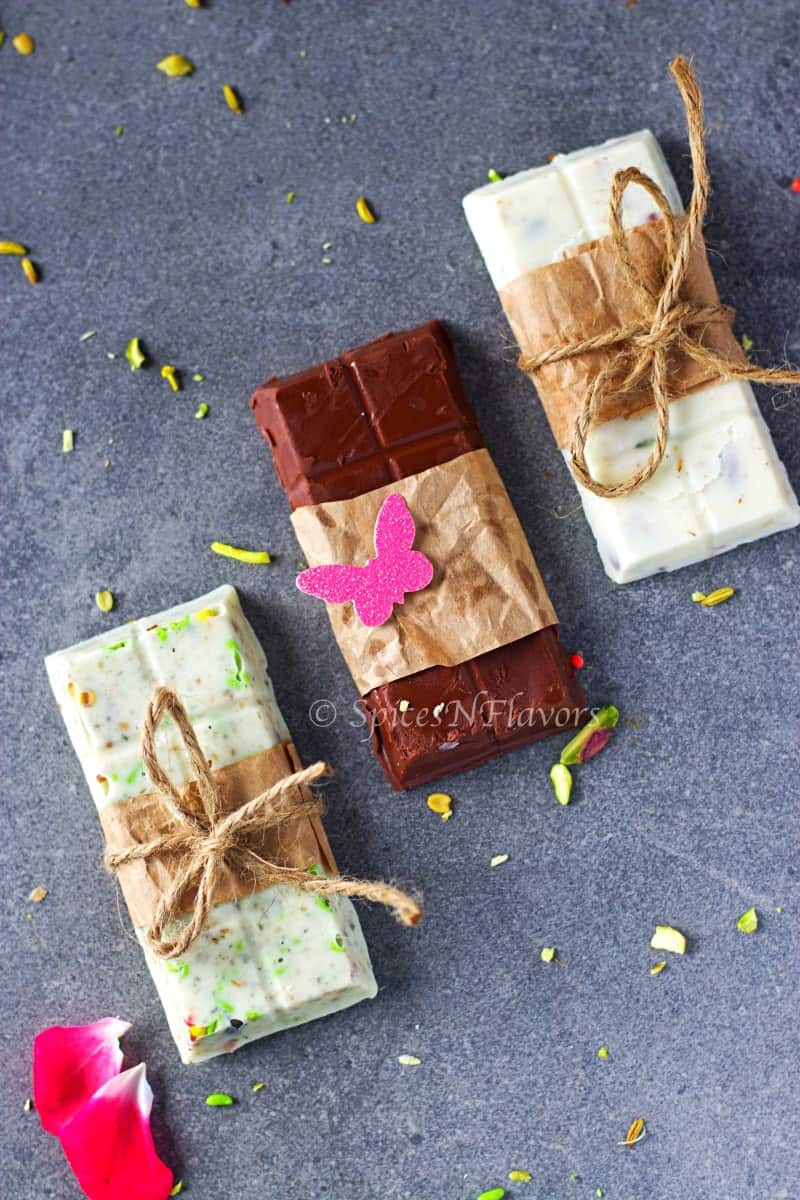 One of the best chocolate gifts that you can send out this season has to be these homemade chocolates.
Here are my top 6 reasons on why you should make these homemade chocolate flavours right now:
1. Super easy and quick to make.
2. It is a shortcut method - since we are using compound chocolate it need not be tempered.
3. Stays sturdy and firm - so perfect for transporting or if you would like to courier.
4. Customized flavour combinations - you can take away or add your favourite exotic chocolate flavors.
5. Best way to involve kids in Diwali preparation or to keep them busy during holidays.
6. Perfect fancy chocolate to be included in your chocolate gift baskets.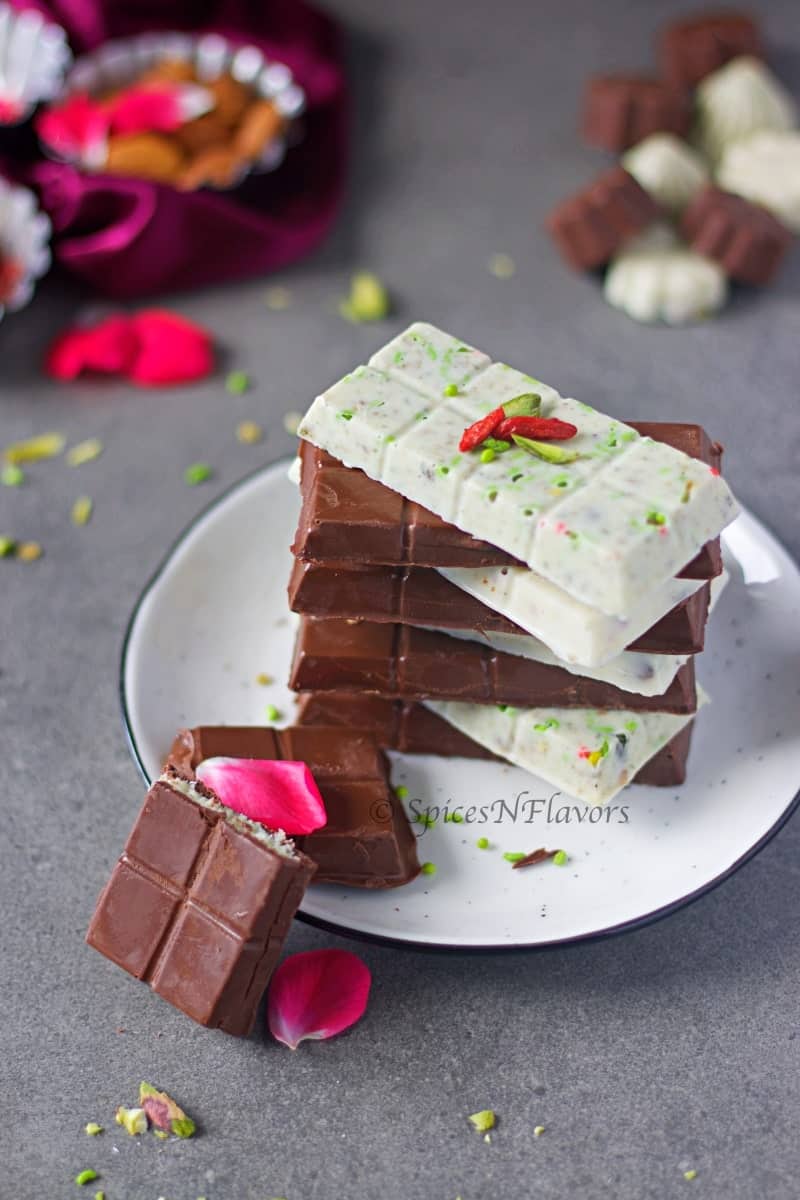 Individually wrapped chocolates bar can be used to put together an amazing Christmas chocolate gifts box too.
Simply wrap the chocolate in aluminium foil and then with a craft paper. You can also choose to write messages on top while gifting.
Isn't it a cool idea? The best chocolate gift boxes you can send to your friends and family this holiday season.
So the different chocolate bars that I have you for today is:
1. Homemade Bounty Bar - Chocolates and coconut tastes so good together.
2. Chocolate Bar with chocolate - omg!! chocolate and caramel candy; always a winning combo.
3. Most trending and popular chocolate bars of the season - Rasmalai
4. And my personal favourite - Paan Masala.
Let us know see how to make homemade chocolate bar recipe
Liked this recipe?
Let us know by giving it a star rating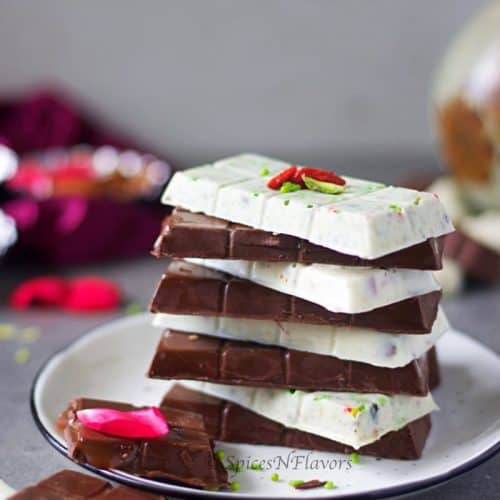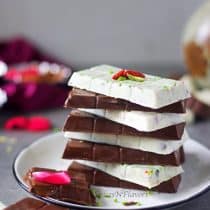 Print
4 Unique Homemade Chocolate Bar Recipe
This Homemade Chocolate Bar recipe is a fun, easy and creative DIY treat perfect for this holiday season. A shortcut recipe that you will simply love!!
Ingredients
Homemade Bounty Bars
180

gms

Melted Dark and Milk Chocolate

(90 gms each)

3

tbsp

desiccated coconut

1.5

tbsp

condensed milk

2

drops

vanilla bean paste
Chocolate Caramel Bar
180

gms

Melted Dark and Milk Chocolate

(90 gms each)

1/4

cup

Sugar

1/2

tbsp

Water

1/4

cup

Cream

1/2

tsp

Vanilla Essence

Pinch of Salt
Rasmalai Chocolate Bar
180

gms

Melted White Chocolate

1

tbsp

each slivered almonds and pistachios

1/2

tsp

Cardamom Powder

1/4

tsp

Rasmalai Essence
Paan Masala
180

gms

Melted White Chocolate

1

tbsp

Chopped Mint Leaves

1

Meetha Paan Masala

1

tsp

Desiccated Coconut

1/2

tsp

Mukhvaas

1/4

tsp

Paan Masala Essence
Silicon Moulds in whatever shape and size you prefer
Instructions
Homemade Bounty Bars
Add about a tbsp of melted chocolate to your mould and spread it well so that it coats the entire surface.

Allow it to set at room temperature or alternatively in the refrigerator for not more than 3-4 mins.

Meanwhile, in a bowl combine together desiccated coconut, condensed milk and vanilla bean paste until it mixes well and clumps together. Pinch out a small portion and shape it into a rectangle so that it fits into your mould.

Add this coconut layer on top of the chocolate layer once it is set, then cover the entire mould with more melted chocolate. Smoothen the top out by tapping the mould gently, wipe off the excess from the sides and allow it to set completely either at room temperature or in the fridge for 5-7 mins.

Unmould the chocolate once set and you have your Homemade Bounty Bars ready.
Caramel Chocolate Bar
Follow the same procedure as mentioned above. Add a tbsp of melted chocolate and allow it to spread all around.

Once that layer is set, add the caramel sauce and top with more chocolate. Tap to smoothen it out, wipe out the excess and allow to set completely.

Unmould the chocolate once set.

You can either use store bought caramel sauce or make your own using the ingredients mentioned above. Click here to learn how to make caramel sauce at home.
Rasmalai Chocolate Bar
To the melted white chocolate add in the pistachios, almonds, cardamom powder and rasmalai essence. Mix everything well and add it to your moulds.

Tap the mould to smoothen the top, remove the excess chocolate from the sides and allow it to set at room temperature. Unmould once the chocolate is fully set.

White Chocolate sets faster than dark so no need to put it in the refrigerator.
Paan Masala Chocolate Bar
Into a blender jar add in the mint leaves and paan masala. Pulse it to get a coarse mixture. Take it out onto a bowl and in the desiccated coconut, mukhvas and paan masala essence. Combine everything.

Add this mixture to your white chocolate and mix.

Before adding it to your chocolate moulds, sprinkle some mukhvas and then add that way you will have some colour contrast of beautiful white and green when you unmould.

Allow this to set too completely at room temperature before unmoulding.
Did you make this recipe? Tag me today!
Tag me @spicesandflavors to get featured on my FB and Insta pages
Recipe Notes:
1. You can use this recipe to give the chocolates any shape you desire. Need not make just the bars. I could make 3 bars each with this recipe. There was still some chocolate left over which I used to make smaller flower shaped chocolates that you can see in the pictures above. Or use any moulds that is easily available to you 🙂
2. Click here to learn, how to make your own caramel sauce the easy way. I have just halved the quantity and it turned out to be the perfect amount for this recipe.
3. If you do not have rasmalai essence, then you can definitely use almond essence or pistachio essence in its place and you would have an almond chocolate bar or pista chocolate bar in short a nuts chocolate bar
which would be equally good to taste.
4. If you get fresh Paan Leaves where you stay, go forward and use that in place of mint leaves in the above Paan Masala Chocolate Bar. In that case, you can also skip the paan masala essence.
5. I have used regular compound chocolates here in this recipe which does not require tempering. I have a detailed post on how to melt chocolate the right way, you must check that for a clear understanding on how to work with chocolates.
6. You can also use Couverture Chocolates here, however, you will have to do an additional step of tempering the chocolates before using it in the Homemade Chocolate Bars recipe.
7. Consider checking our homemade chocolate bars part 2 to learn how to give a designer look to chocolates.
Many of you guys have asked me several times that Why does my chocolate melt once I take it out from refrigerator? Or why does my chocolate has moisture If it?
IF you watch my video on how to melt chocolate the right way, you would know the answer in detail.
In brief, chocolates are supposed to be set at room temperature only if you wish to store it for longer. Once out of the refrigerator due to change in temperature, chocolates tend to melt.
You may ask then why have you mentioned to set it in the refrigerator in your recipe?
Well, if you note I have mentioned to set it for not more than 5-8 mins. That is because the longer it stays in the refrigerator the quicker it melts at room temperature.
If you have time then definitely allow it to set at room temperature only. It would take a little while for it to set but the end result would be worth it.
What is the shelf life of these Homemade Chocolate Bars?
If you allow it to set it at room temperature it stays good for 1-2 months.
How to make unique chocolate gifts basket or chocolate hampers?
Make the chocolates with your favourite flavours of different sizes and shapes. Then wrap them individually in an aluminium foil. You even get gold foil on Amazon.
Then these days Diwali chocolate crackers are super trending in India. You can buy those Diwali special wrappers and wrap the bars.
Put it all together in a basket and make someone's Diwali special.
I hope you liked my chocolate basket idea and unique chocolate flavours. If you did then do let me know by tagging me, tweeting me or Instagram me. I would love to follow you and your posts.
Pin this to your Holiday special board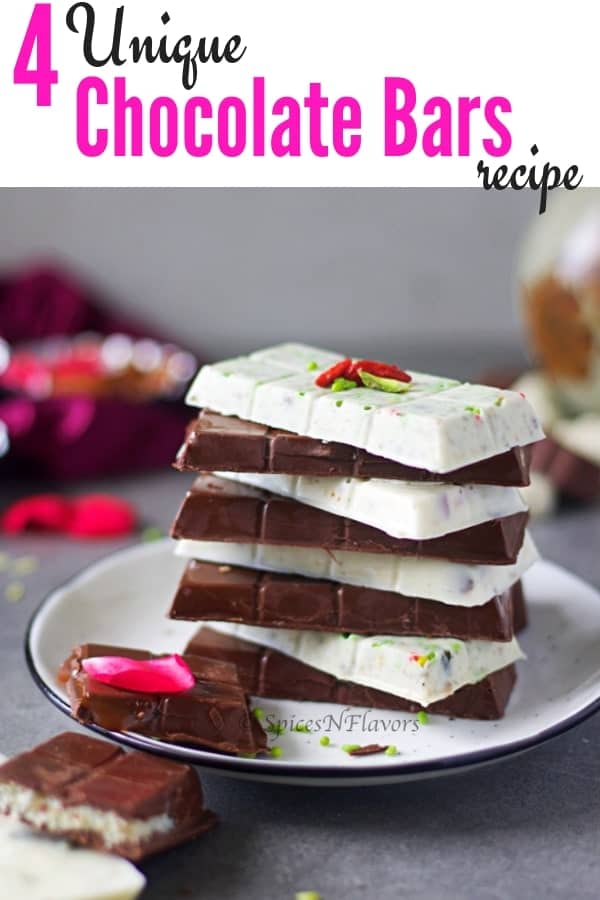 I will see you soon with yet another post
Until then
Hugs
Sushma