Apple Crisp Recipe - warm and soft baked apples topped with crispy crumbly topping; flavoured with cinnamon screams Fall in every bite!!! The only delicious apple crisp recipe you need this season..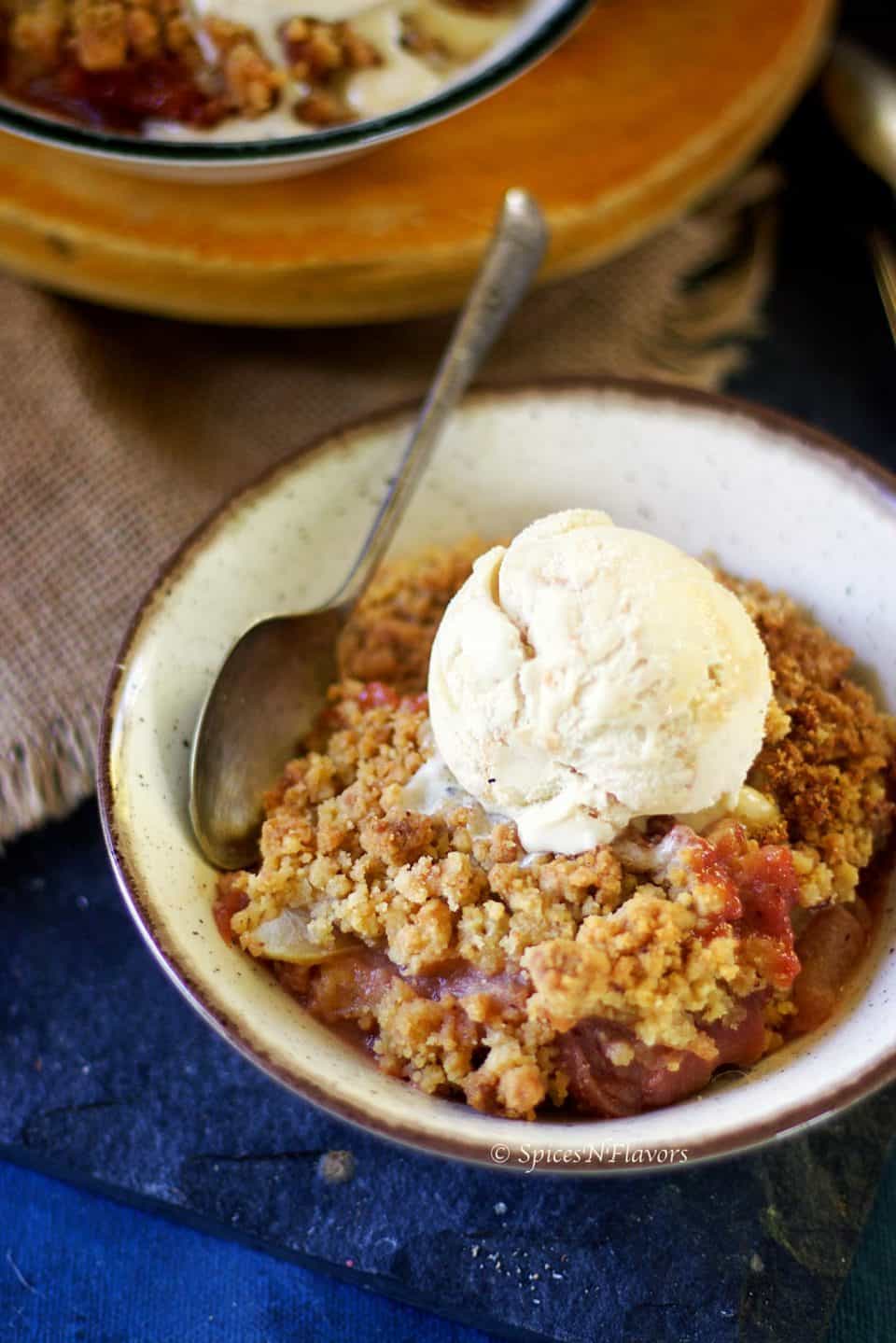 Apple Crisp Recipe is one of those classic American desserts that you might find being made in every American household by their grandmothers and mothers; just like how Gulab Jamun is made in every Indian household since ages.
Honestly, I had never heard this dessert back in India not a common dessert there. But the world is so small that many a time you tend to adapt and acknowledge the beauty of other cuisines from all around the world.
Be it the silky smooth pannacotta from Italy, the amazingly moist Tres-Leches Cake from Mexico (videshi version of Rasmalai Cake) or this classic Apple Crisp Recipe from America - I am naturally pulled towards deserts of all kinds.
I am sure some of you are not familiar with this old-fashioned apple crisp recipe. So for those of you wondering WHAT IS APPLE CRISP? let me tell you it is a pretty basic dessert made using cooking apples.
Basically, juicy tart apples are coated with sugar and cinnamon, cooked until soft, layered with crispy crumbly topping and baked to golden.
Served warm with chilled ice-cream on top.
Imagine yourself sitting with your family watching your favourite show on Netflix on a cold Christmas or holiday evening with a warm bowl of baked apples that are soft yet having a bite perfectly sweetened and flavoured with cinnamon topped with a crumbly crispy topping adding a beautiful texture and a caramel flavoured cheesecake ice-cream or a plain vanilla ice-cream.
That's an explosion of flavour bomb in your mouth.
I absolutely love the idea of warm dessert in this cold evening. And that is why choco lava cake is also my all-time favourite during this time of the year.
And you know what is the best part of this easy Apple Crisp recipe - It can be made ahead of time and kept, can be made for single or two serving or for a crowd. Perfect for your next fall or Thanksgiving party.
Bonus - your house would smell so heavenly you won't need any candles to brighten the mood of the evening. 😉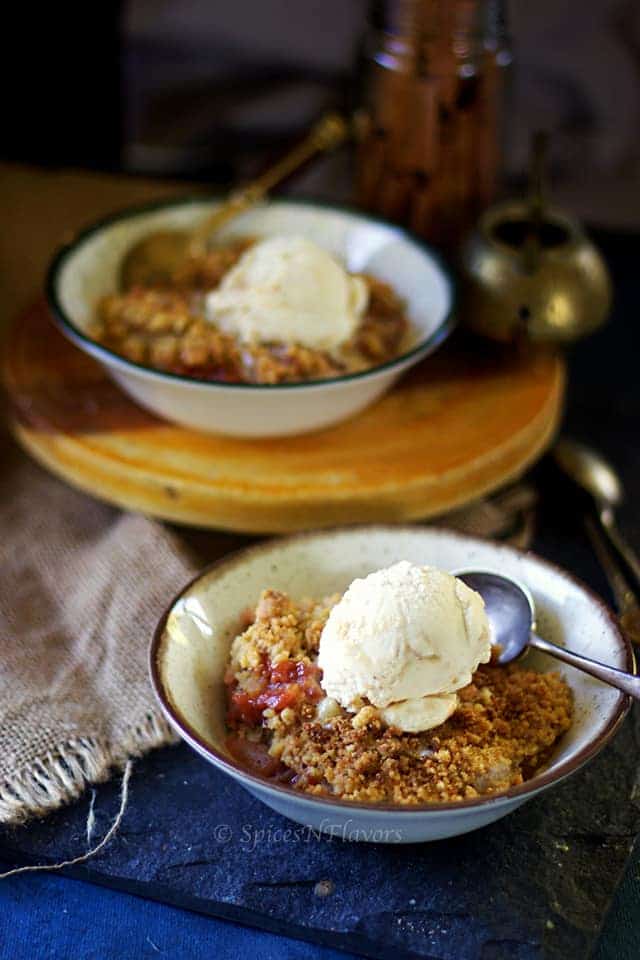 You guys might have noticed that I am talking a lot about the crispy crumbly topping.. Gosh I just can't get over it.. It is so full of texture.. Ok sush, stop diverting and concentrate.. damn meee..
So what was I saying, ya the crumbly topping!!
What is that crumb topping? How do you make a crumb topping? And How do you make crumb topping for apple crisp specifically? OR How do you make the crumble for apple crumble?
Firstly do not get confused with the terms apple crisp and apple crumble. Both of it means the same. Just that this recipe is popularly known as Apple Crisp in the US but in Aussie and NZ it is commonly known as Apple Crumble.
But it is NOT the same as an apple cobbler or an apple pie. Cobblers usually have a biscuit-like topping. And a pie will have a flaky pastry crust.
So both of them means the same and if you notice me swatching the use of the two here and there never mind.
A basic crumble topping is just flour, sugar and butter rubbed together to resemble sand-like texture. Upon baking the butter and flour crisps up adding a crispy texture whereas the sugar lends it the required sweetness.
To make the easy apple crisp topping we have just added additional cinnamon powder because apples, cinnamon and Fall are a match made in heaven. Don't you agree?
In this recipe, I have shared a different variation of making the crumble topping as compared to the one that we used while making the Apple Crumble Cake recipe.
By sharing both the methods I just wanted you guys to opt to whichever way you are comfortable with. Texture and Taste-wise there is absolutely no difference. 🙂
What kind of apples do you use for Apple Crisp recipe?
Since we would be cooking the apples first and then baking it, you really need a variety that would retain its shape throughout.
I have used the Granny Smith variety here because they're so firm and they hold up well for baking without turning to mush.
So if you are wondering What kind of apples make the best apple crisp - Granny Smith Apples is your go to. However, you can also try Empire or Honey Crisp… or mix all three. Totally up to you.
Also to peel or not to peel apples is again totally up to you.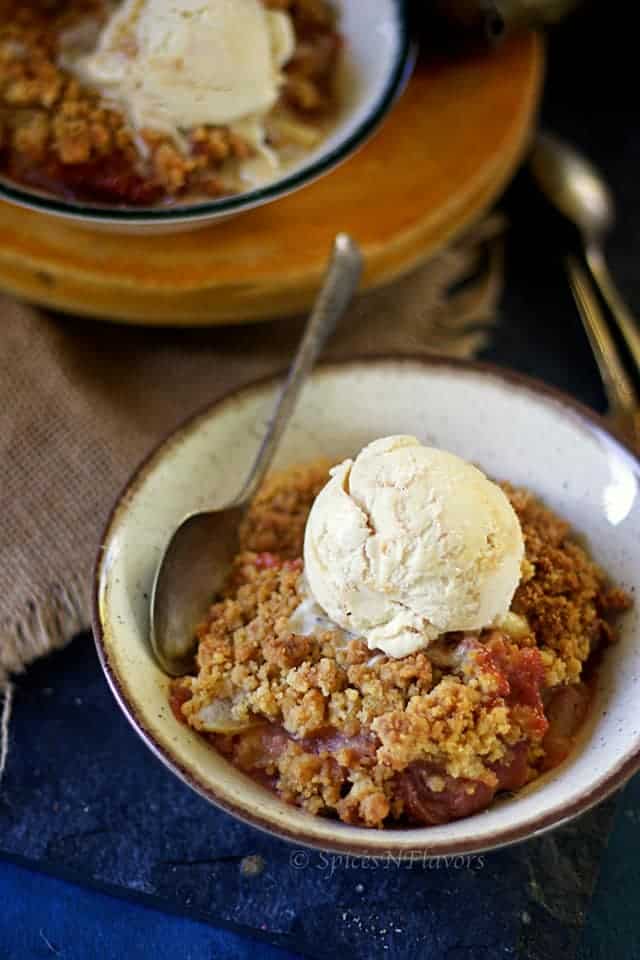 Now is the time when you might be having an abundant stock of apples growing in your gardens or you might have handpicked them or you just happen to see fresh in the market; this is the perfect way to use them all up.
Because the Apple Crisp Recipe calls for a lot of apples; yes it might seem a lot while chopping them into even sizes but trust me they would wilt a little while cooking them down. So you definitely need a lot, to begin with.
Today I am sharing with you all the ultimate apple crisp without oats.
But generally, you will find easy apple crisp with oats or to say apple crumble with oats. Adding oats would definitely add an additional texture.
I am sometimes like this horse with the blind shutter on. While I was learning bakery in school here, we had been taught the crumble topping without oats so that is what I am following till now.
However, if you like oats you can definitely make this apple crisp with quick oats or apple crisp recipe with cooking oats or apple crisp with old-fashioned oats. The oatmeal crumb topping for apple crisp would definitely lend its own unique taste.
I think I have already talked enough for now, let us see How do you make easy apple crisp now and then I will share few tips on how you can make it ahead of time for parties, how to store them, Can you freeze apple crisp? etc.
How to make homemade apple crisp?
Liked this recipe?
Let us know by giving it a star rating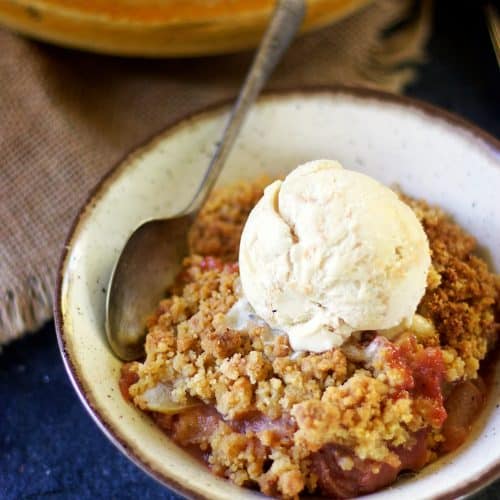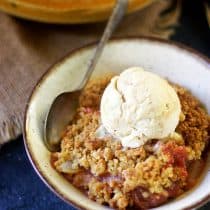 Print
Best Apple Crisp Recipe
The ultimate combination of baked apples and the crispy crumble topping with a punch of cinnamon - this Best Apple Crisp Recipe screams Fall in every bite.
Ingredients
For Crumble Topping
1+1/4

cups

Plain Flour

1/2

cup

Brown Sugar

1/4

tsp

Salt

1/2

tsp

Cinnamon Powder

1/2

cup

(113 gms) Butter
Apple Crisp Recipe
6

Granny Smith Apples

peeled

1/3

cup

Brown Sugar

2

tbsp

Cornstarch

1/2

tsp

Cinnamon powder

1/2

tsp

Cardamom powder

optional

1

tbsp

lemon juice

1/4

tsp

Salt
Instructions
Crumble topping
Start by preparing the crumble topping. In a bowl, combine together flour, sugar, salt and cinnamon.

Melt the butter in a cast iron pan and once melted add it to the flour mixture. Using a fork just mix everything together and keep aside.

For the apples: Start by chopping them into even thickness. Add it to the same pan in which you had melted the butter.

Top with everything else - sugar, cornstarch, cinnamon, cardamom, salt and lemon juice. Mix well and put it over med-low heat.

Combine everything until it thickens a bit around 5-6 mins. You still want the apples to retain their shape.

Top with the prepared crumble topping generously and put it in a preheated oven of 180°C for 20-25 mins until the crumble crisps up and turns golden brown.

Serve warm with ice-cream or whipped cream
Did you make this recipe? Tag me today!
Tag me @spicesandflavors to get featured on my FB and Insta pages
Notes:
1. You need not worry about melting down the butter and then mixing. You can also follow the method that I have mentioned in the Apple Crumble Cake recipe and choose whichever way you find it easy.
2. Do not have an iron skillet. No worries you can make it in any pan. Just transfer the apples to a bake safe bigger size ramekin, top it with crumble topping and bake.
Are you thinking How to serve Apple Crisp?
You can enjoy it warm or cold. But trust me it tastes heavenly when warm. I assure you this would be the best apple crisp you'll ever have.
I like to take out a generous amount of it into a bowl and also like to add some caramel flavoured ice-cream on top. However, you can also choose to have plain vanilla ice-cream with some caramel sauce (I have a super easy recipe for homemade caramel sauce with all tips and tricks) drizzled on top. That would taste heavenly too.
Or simply go for a simple whipped cream topping.
Can you freeze apple crumble?
Follow the easy apple crisp recipe. Once done let it cool completely, then cover it with a double layer of aluminium foil.
You can then freeze this up to 3 months. Thaw overnight in the refrigerator, then warm in a 350°F oven for 20-25 minutes alert...l heated through.
For a single serving you can also choose to microwave it for 30-40 sec. Microwave apple crisp tastes so fresh and warm.
Just an alert.. I find that frozen apple crisp or refrigerated apple crisp are not as crispy as the fresh ones.
How do you store apple crumble?
To store, let cool to room temperature, gently place a paper towel on top of the crisp to absorb condensation. Cover tightly with foil, plastic wrap, or a lid.
Follow the reheating steps mentioned above to enjoy it warm.
How do you make this Apple Crisp Recipe ahead of time for a party or for a crowd?
You follow the exact steps mentioned in the recipe to make the crumble topping and making apple crisp.
However, you do not combine the two.
Instead make your crumble topping; add it to a zip lock bag and store in refrigerator.
Prepare your apples and once it cools completely transfer it to a bigger size ramekin and place that in the refrigerator too.
Just 30 mins prior to serving, add the crumble topping on top of the apples in the ramekin place in the preheated oven of 180°C for 20-25 mins until crisp and serve warm 🙂
I hope you enjoyed this recipe to make apple crisp. If you did then do let me know by tagging me, tweeting me or instagram me. I would love to follow you and your posts.
Pin this to your desserts or winter board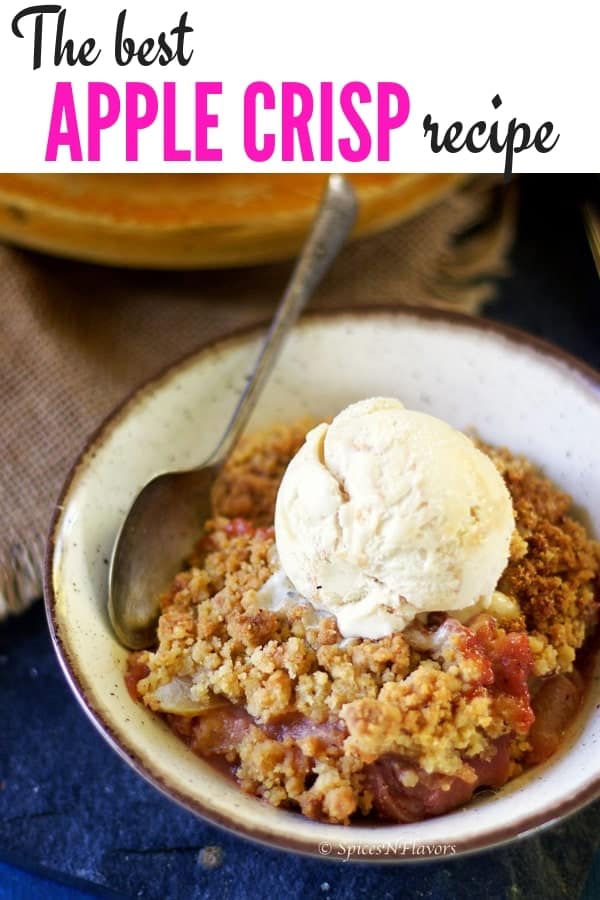 I will see you soon in my next one.
Until then
Hugs
Sushma