Paan Matka Kulfi is a traditional Indian ice-cream which is basically a frozen dessert generally made using Milk and Sugar and generally served in Matkas (earthen pots).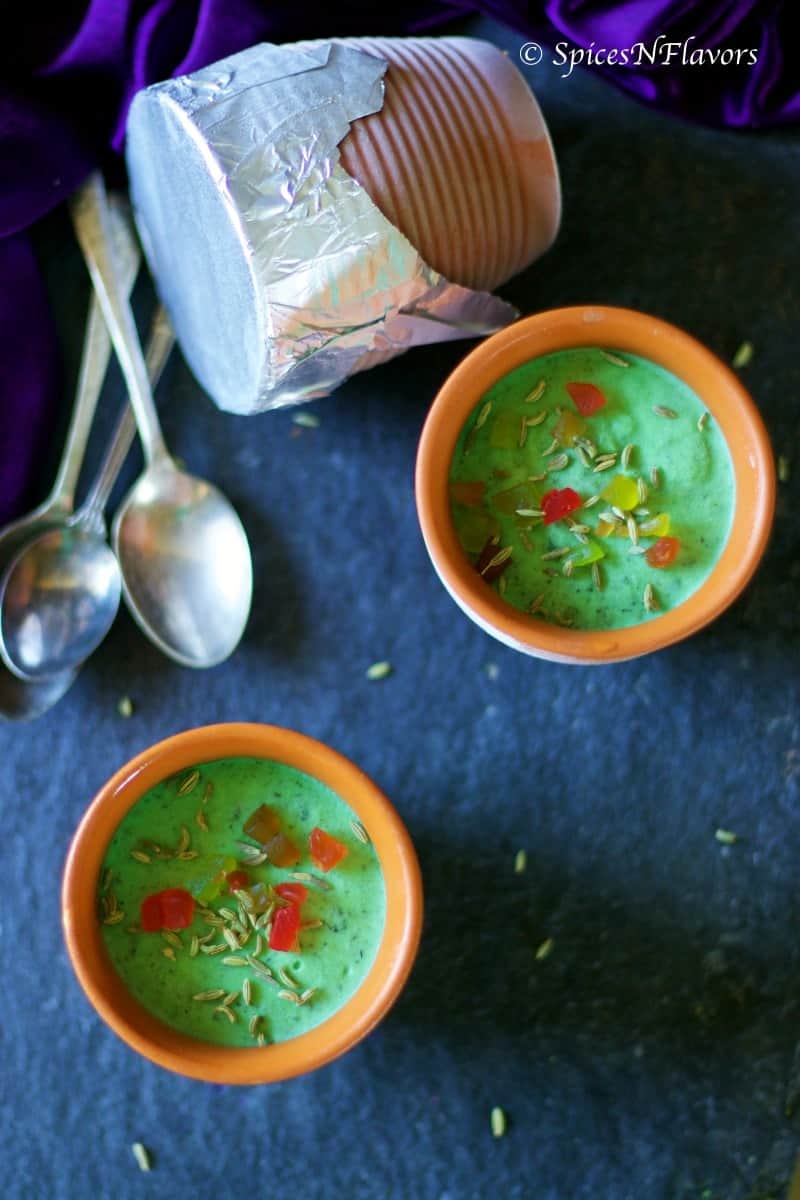 Paan Matka Kulfi is a refreshing flavour packed Kulfi. It's like enjoying a Meetha Pan in a frozen form.
Meetha Paan is a kind of mouth-freshener that is very common amongst Asian countries.
Off-late it has become a popular ingredient in a variety of desserts.
I have myself shared with you all Paan Shots and No-Cook Paan Laddu in previous posts. You should definitely try this flavour at least one; I am pretty sure you would fall in love with its refreshing and soothing taste.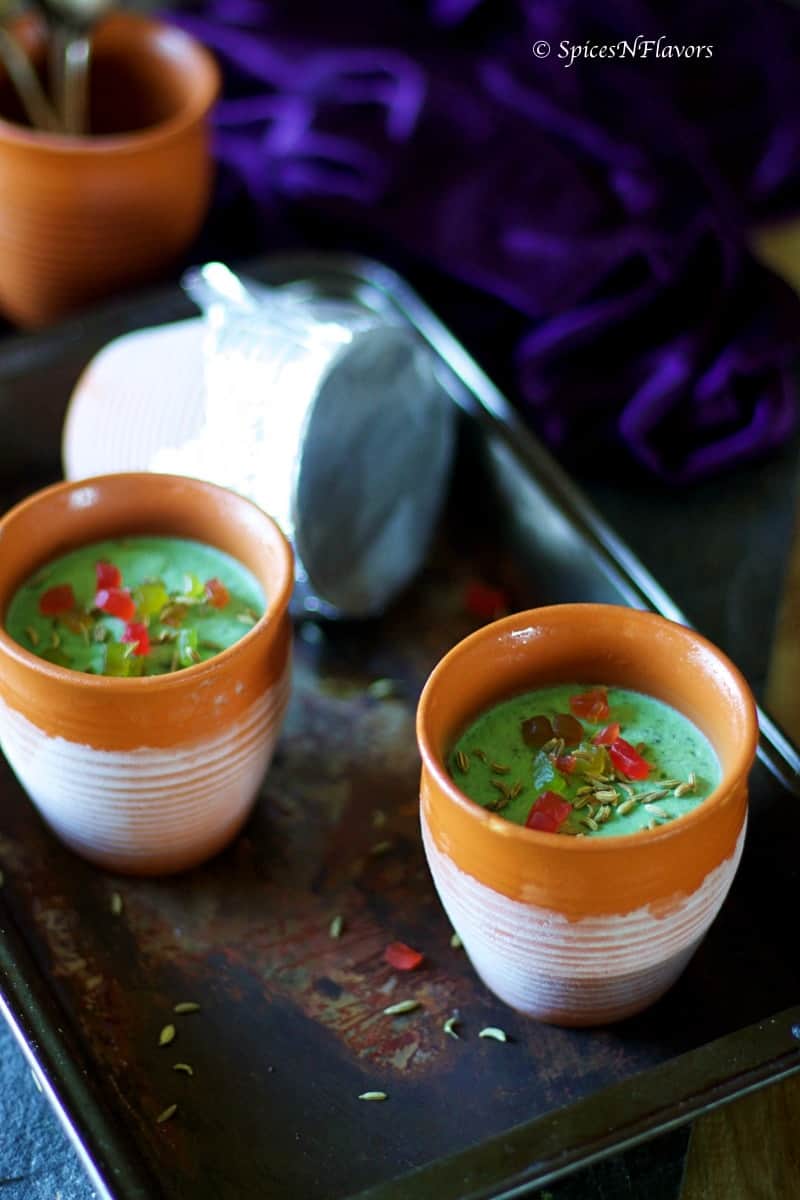 What's the difference between an Ice-Cream and Kulfi?
Usually, the cream in the ice-cream is whipped until it forms a soft to stiff peaks (like we did in our butterscotch ice-cream) and the flavour of your choice is added to it. Whipping the cream incorporates air into it making the ice-cream light, soft and smooth.
Whereas to make a kulfi we often add the milk and cream to a wide-mouth pan and cook it until reduced to 1/3 of the original amount. This makes it thicker and creamier and dense due to which we feel a texture while biting onto a kulfi.
So wondering why all this gyaan??
Just to tell you guys that with this Paan Matka Kulfi recipe you can easily make a Paan Ice-Cream by just changing one step which I will share in the notes section.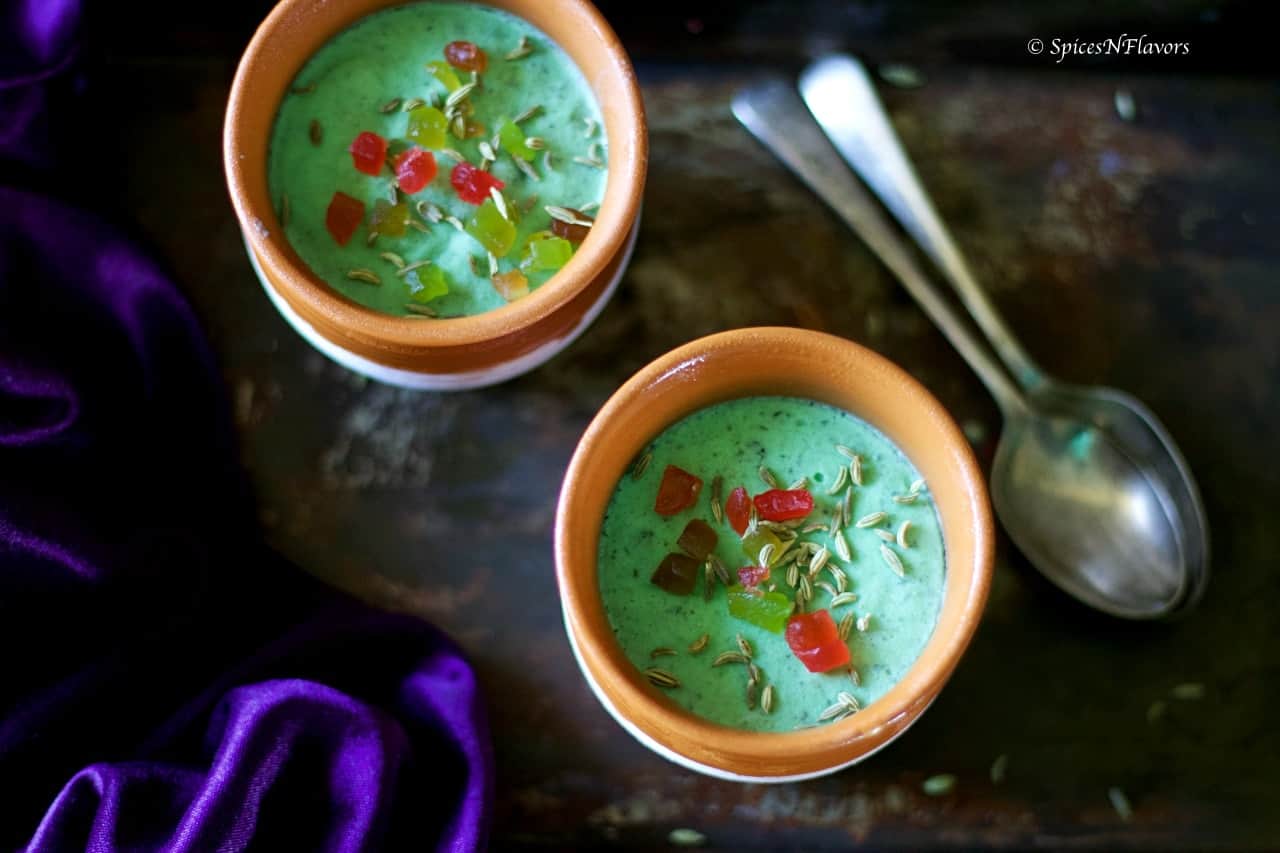 Come summers and you would want to have something chilled to serve to your guests and also to enjoy with your family.
And at the same time not spend time in your hot kitchen right!!! I have got you covered with a perfect dessert that everyone would enjoy in your family.
You would need just 5 minutes to make this refreshing Paan Matka Kulfi.
It's like enjoying a meetha pan in a frozen form.
Still wondering why to make this Paan Matka Kulfi?
1. Easy to put together; even a 5 yr old can do it (so nice activity to keep your kids engaged this holiday season)
2. No Cook Instant recipe
3. Perfect for this hot weather and sunny days.
4. Flavour packed and refreshing.
Here is the detailed recipe:
Liked this recipe?
Let us know by giving it a star rating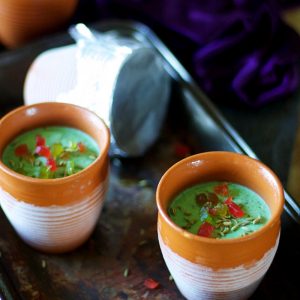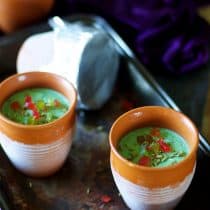 Print
No Cook Instant Paan Matka Kulfi
Paan Matka Kulfi is a delicious traditional Indian ice-cream that is packed with the flavours of a meetha pan and served in earthen pots.
Ingredients
1/2

cup

Milk

1/2

cup

Cream

50-60

gms

Condensed Milk

2

tbsp

Milk Powder

4

nos

Paan (Betel) leaves

1

tbsp

Gulkand

1

no

Paan Masala

1/4

tsp

Paan Masala Essence

drop of green food colouring

(optional)
Instructions
Into a blender jar, add in all the ingredients mentioned above and blend until well combined.

Pour it into matkas or any container of your choice. Cover with aluminium foil

Freeze overnight or a minimum of 6-7 hours.
Did you make this recipe? Tag me today!
Tag me @spicesandflavors to get featured on my FB and Insta pages
It cannot get simpler than this right..
Notes:
1. You can adjust the sweetness as per your taste.
2. Using food colour is optional.
3. If you like to have the malai like texture while enjoying Kulfi then do add in two bread slices to the above ingredients to get that malai effect.
To make Paan Ice-Cream; instead of adding the cream as it is; just whip it to soft-stiff peaks and then add in rest of the ingredients.
If you like this recipe then do let me know by tagging me, tweeting me or instagram me. I would love to follow you and your posts.
How simple is that!!
Pin it for later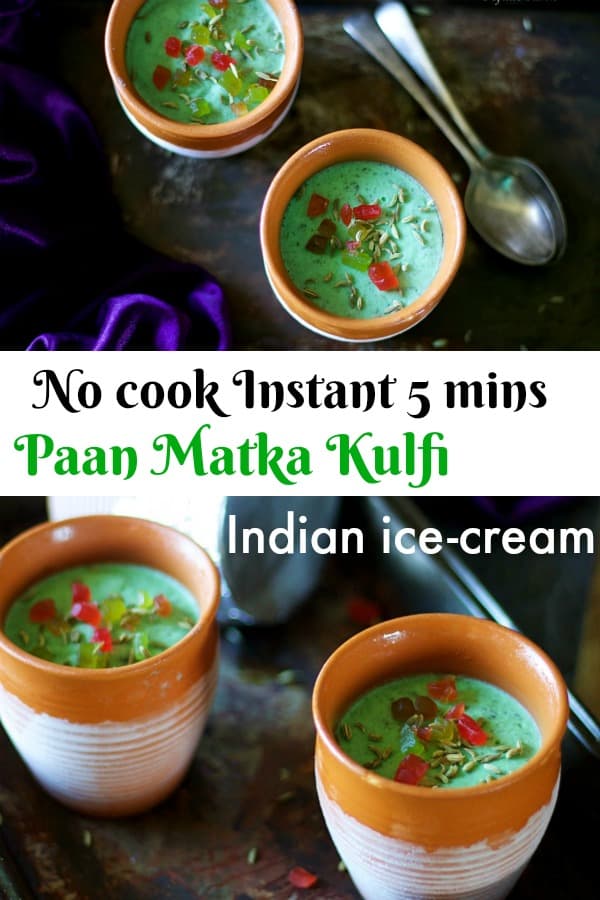 Will see you guys soon with yet another recipe
Until then
Hugs
Sushma