Indian Kulfi; a traditional Indian ice-cream which is basically a frozen dessert generally made using Milk and Sugar.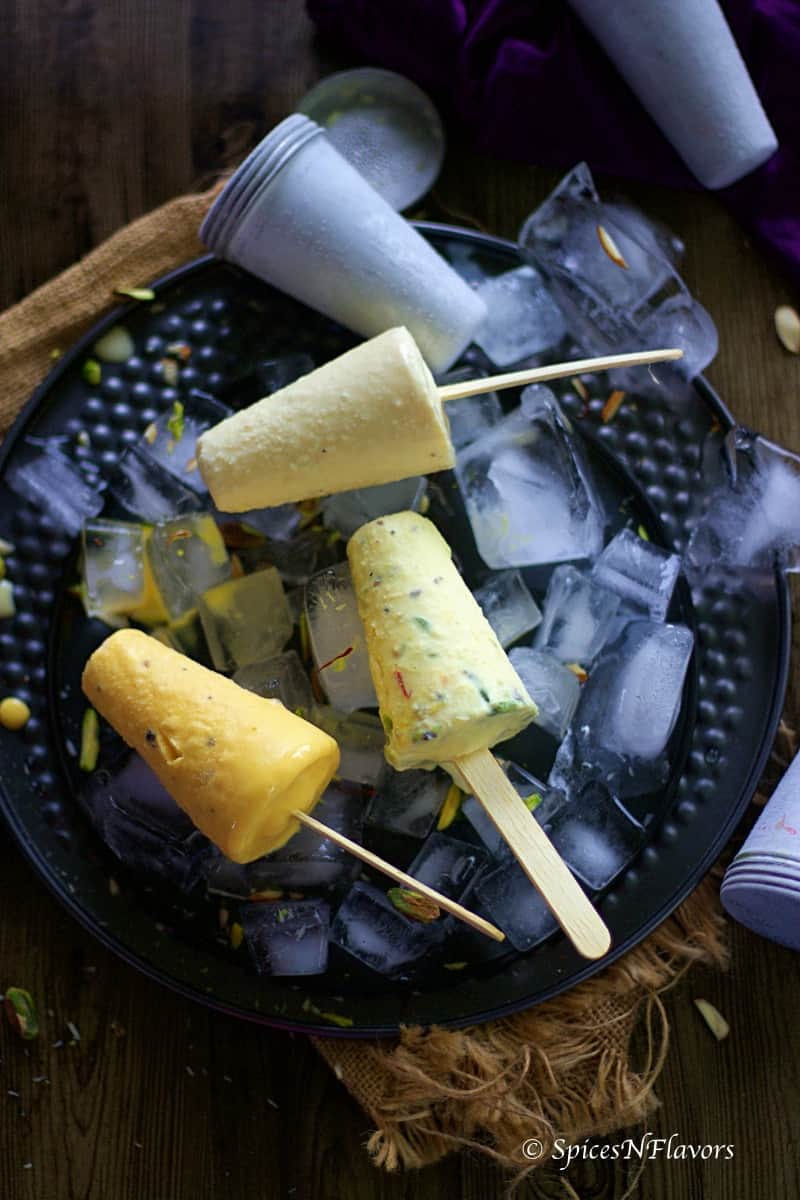 Indian Kulfi is basically similar to a regular ice-cream in terms of appearance however due to the method of its preparation it differs to an ice-cream in terms of density, creaminess and taste.
We often whip the cream in a regular ice-cream; like the way I did in my Butterscotch Ice-Cream or Mango Ice-cream due to which it becomes light and airy and silky smooth.
Indian Kulfi, on the other hand, is prepared by a slow cooking method; where the milk is cooked slowly to a stage where it becomes thicker and much creamier. And because of this the Indian Kulfi is rather dense as compared to lighter regular ice-creams.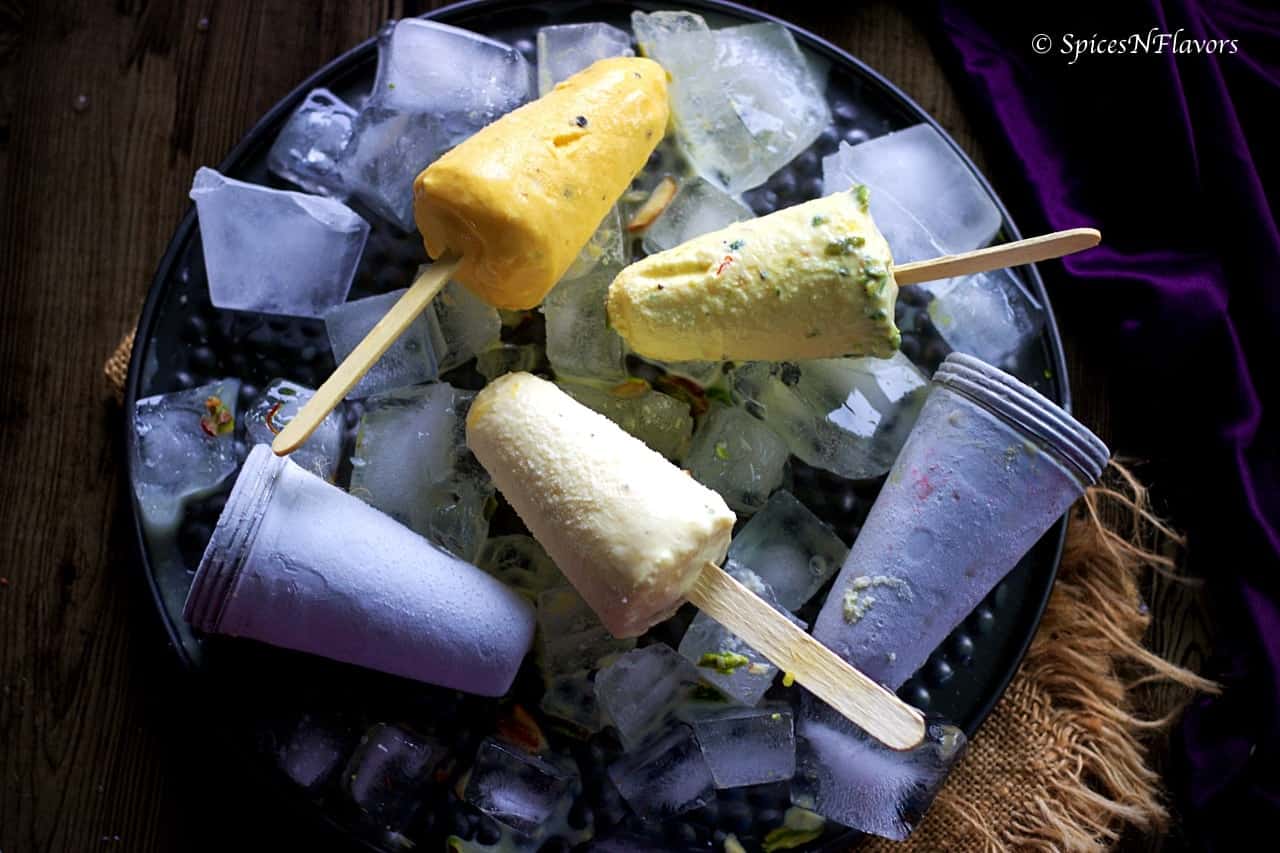 If you catch hold of any person walking on the streets of any part of India and ask him/her about Kulfi. Each person would have a tale to tell you about it.
Indian Kulfi is something that is so nostalgic and also is close to everyone's heart.
That summer vacations, those care-less days and nights that is spent lazing around the home; playing ludo or monopoly or carrom with friends.
Pestering mom every now and then for snacks.
Eating lunch to heart's delight.
The yellow beauty; the king of fruits; Mangoes is what you suck to the whole day.
And right when you are tired of all the eating all the playing and when you are about to doze off.. far across the street you hear the bell sound..
There you rush to open the door or peak through your windows to call the kulfiwalas..
That hot summer winds rushing on the face; that tiny sparkling eyes eagerly waiting for him to come to your doorstep; that jumping feet excited for the moment; that ready steady moment to finally grab the kulfi from him; that closed eyes finally experiencing the chilled, creamy, melting malai a taste that lingers on to your taste buds like what forever.. <3 What is your experience with Kulfis? Do comment below and let me know.. 🙂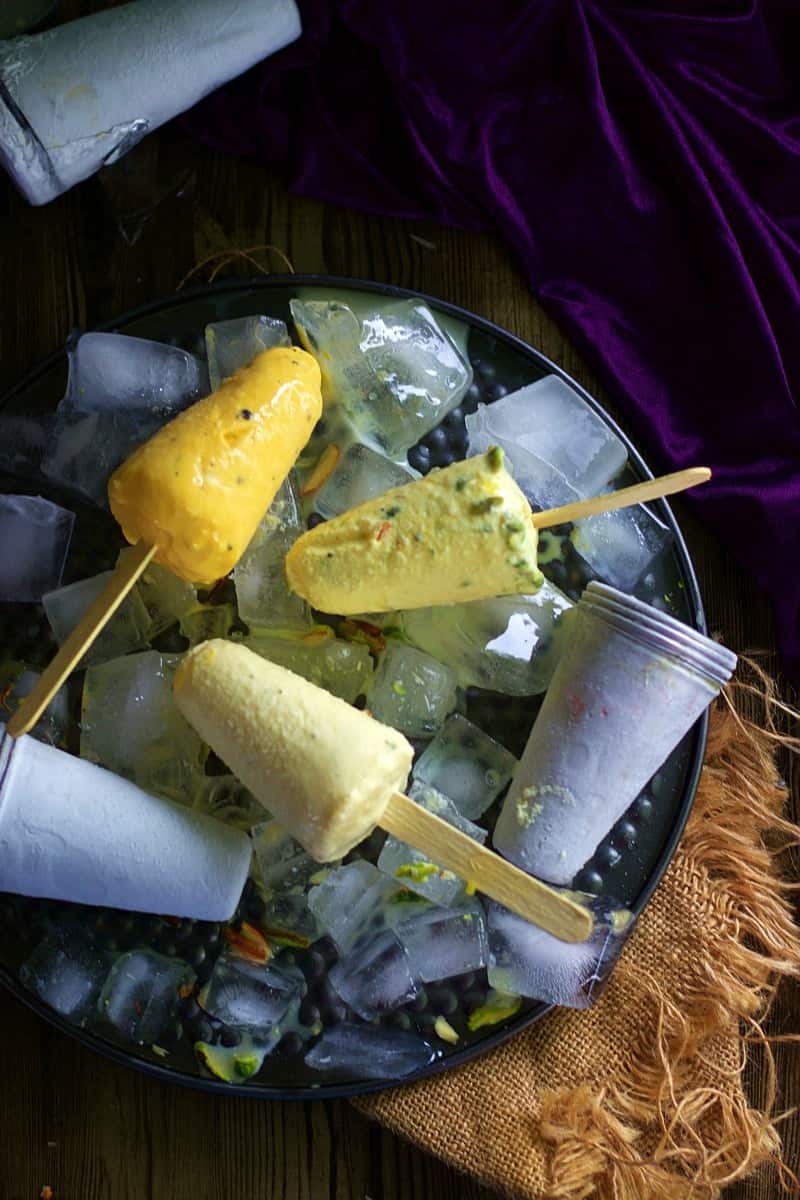 In today's Indian Kulfi recipe post I am sharing with you all 3 different kulfi flavours that you can make using just 2 basic ingredients.
The three flavours that we are looking for today is:
1. Malai Kulfi
2. Kesar Pista Kulfi
3. Mango Kulfi
Yes I understand that no one would want to stand for such a long time in the kitchen during summers so do stay tuned with us as next week I am gonna share with you all instant no cook version of Indian Kulfi.
Here is the detailed recipe:
Liked this recipe?
Let us know by giving it a star rating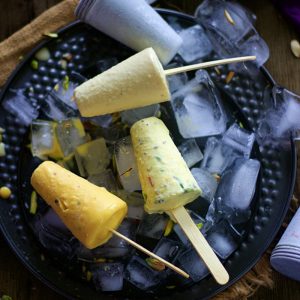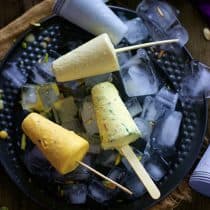 Print
3 Indian Kulfi using just 2 basic ingredients
Kulfi is a traditional Indian ice-cream made using milk and sugar that is slow cooked until it becomes thick and creamy.
Ingredients
Basic Malai Kulfi
3

cups

Milk

1/2

cup

Cream

(refer notes)

1/4

tin +2 tbsp

Condensed Milk

(refer notes)

1/2

tsp

Cardamom powder
Kesar Pista Kulfi
2

tbsp

Pistachios

slivered

2-3

tbsp

Kesar Milk

(saffron dissolved in warm milk)
Instructions
Basic Kulfi recipe
In a wide mouth pan, add in the milk and cream and cook it until it reduces to half the quantity over medium flame around 20 mins. Allow it to come to rolling boil 3-4 times.

Once the milk is reduced to half, add the condensed milk, mix it through and let it cook for another 10-15 mins or until milk reduces to 1/3 of its original amount.
Malai Kulfi
At this stage, you can add cardamom powder for flavour. Mix it through. Get it to a boil and switch off the gas.

Let the milk mixture cool completely, before pouring it onto 2 kulfi moulds and freezing overnight.

The basic recipe plus the addition of cardamom powder is Malai Kulfi
Divide the remaining mixture into two equally to make the other 2 flavours
Kesar Pista Kulfi
To one half of the basic kulfi recipe add the slivered pistachios and kesar milk. Mix it through and pour onto 2 kulfi molds and freeze overnight.
Mango Kulfi
To the other half of the basic kulfi recipe add in the mango pulp. Mix and pour onto the 2 kulfi mould and freeze overnight.
Did you make this recipe? Tag me today!
Tag me @spicesandflavors to get featured on my FB and Insta pages
Notes:
1. Milk and condensed milk are the two basic ingredients that you need to make Kulfi.
Sugar can be used in place of condensed milk but condensed milk makes it even creamier and thicker.
The Milk that we find in New Zealand does not yield a good amount of malai on simmering and hence I have added cream. Whereas if you are from India you could follow the recipe with just milk and skip the cream.
2. Condensed Milk can be adjusted as per desired sweetness.
Variations:
1. In place of pistachios if you use almonds it becomes kesar badam kulfi; if you use just pista and badam then it becomes badam pista kulfi.
2. Use cocoa powder along with basic kulfi recipe it becomes chocolate kulfi
3. For making paan kulfi use paan leaves and gulkand
4. Use of any fruit pulp like strawberry or blueberry would yield that particular kulfi.
If you like my today's recipe then do let me know by tagging me, tweeting me or instagram me. I would love to follow you and your posts.. <3 Other ice-cream recipes that might interest you: 1. Butterscotch Ice-Cream
2. Mango Ice-Cream in Chocolate cups and garnished with chocolate leaves
3. Thai style rolled ice-cream
Pin it for later
I will see you soon with yet another recipe
Until then
Hugs
Sushma