Turmeric and Oats Energy Balls is inspired from our very known "Haldi wala Dhoodh" aka Golden Milk.
These balls or laddus are healthy, vegan, gluten free and takes just 5 minutes to make.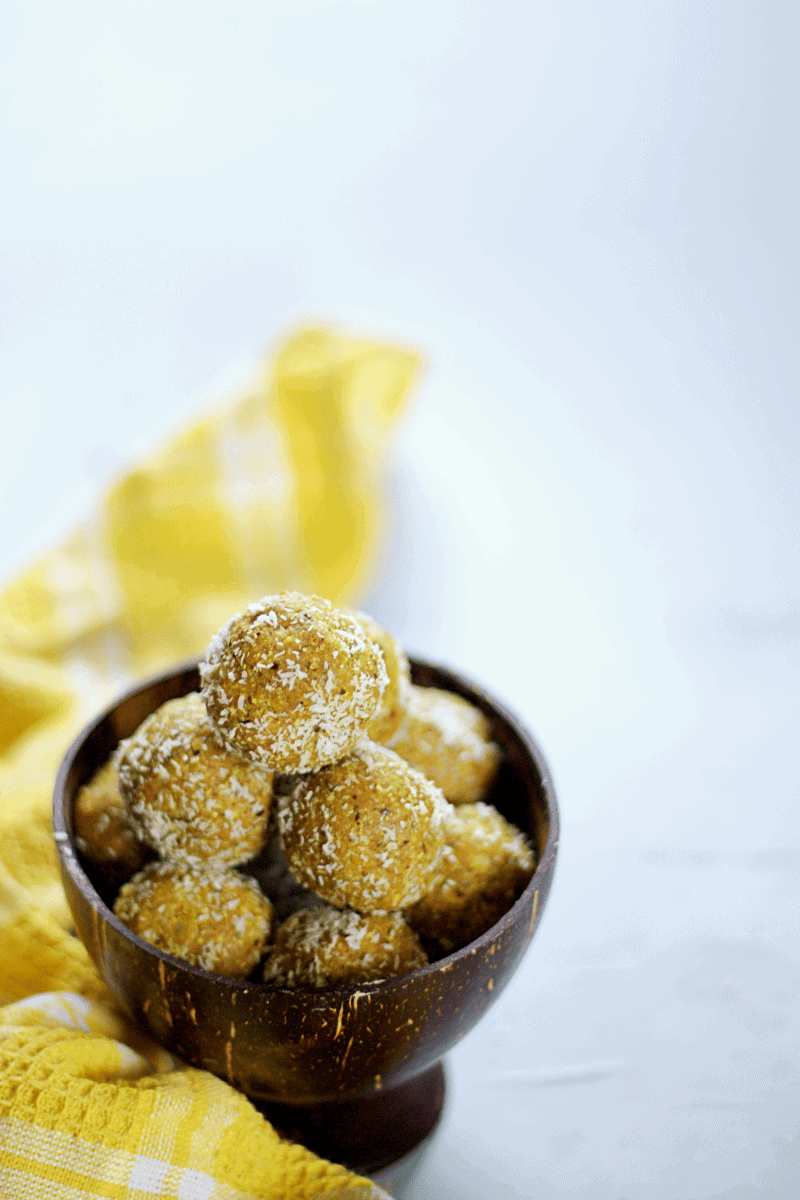 Turmeric and Oats Energy Balls makes use of all healthy ingredients in its natural form; no artificial flavours or preservatives used, no refined sugar.
This is a healthy laddu that is so much beneficial for growing kids and especially pregnant women.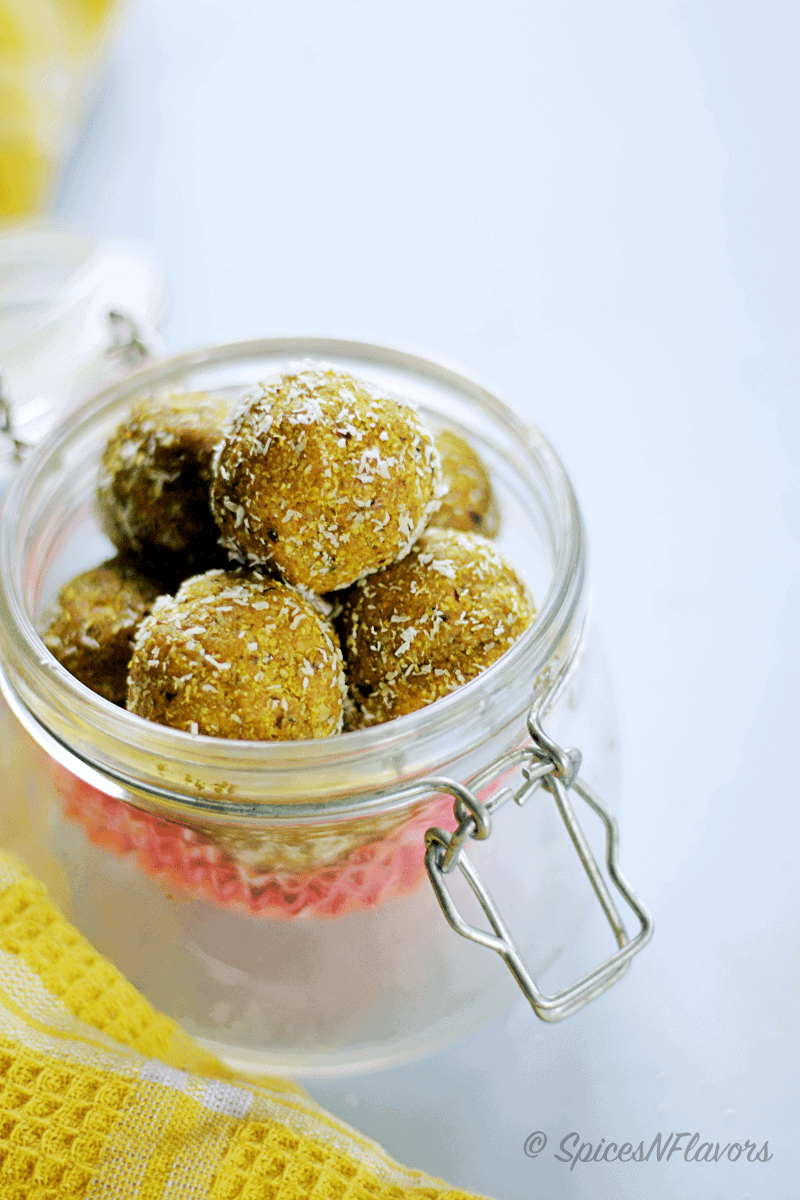 What made me create this healthy no cook, no bake Turmeric and Oats Energy Balls?
Well clearly my inspiration for these laddus or balls are Haldi wala Dhoodh or say Golden Milk.
But let me tell you growing up as a kid; I used to hate haldiwala dhoodh. But all mums back in India knows the best home remedy for cough is this magic concotion. But kids are kids who could explain them right.
So I wanted to create something that kids would like to try out; what better than a laddu??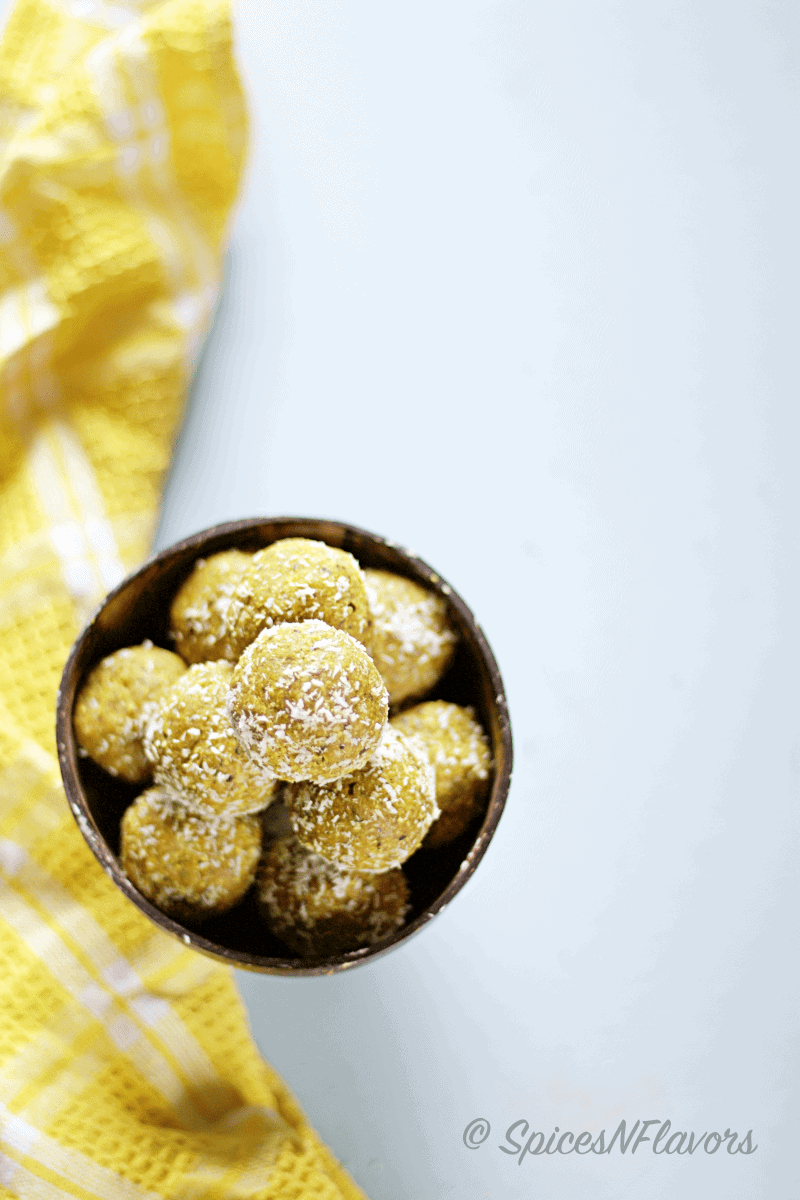 When I was pregnant; my midwife asked me to eat iron enriched food to compensate the loss of blood.
Being a vegetarian my main source of iron included the green leafy vegetables which I absolutely love and also the other good source is dates right which I am not a big fan of.
My husband asked me to eat atleast one per day; which I never did.. 😛 But yeah now I am wondering why didn't I come up with this recipe then. This is such a wonderful laddu with so many health benefits.
Anyways if not me then I will be happy if you could benefit from this.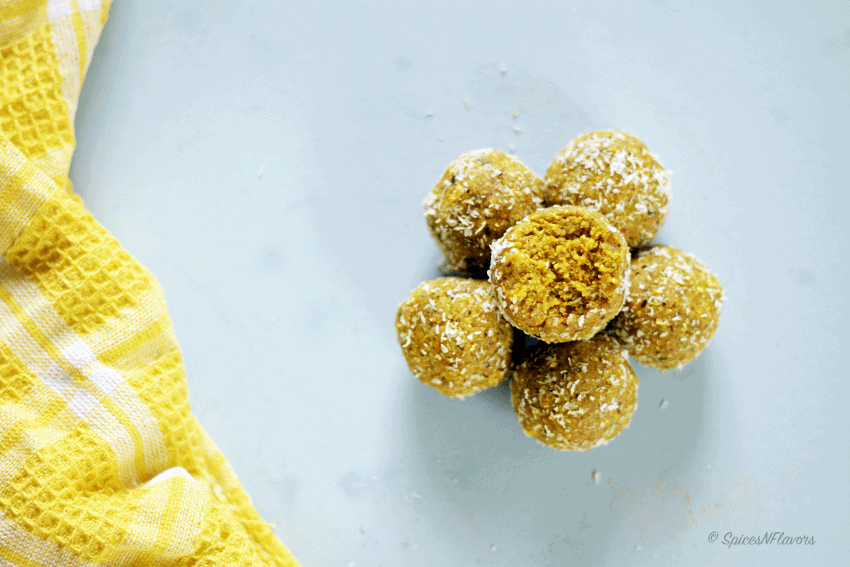 I cannot stress how healthy these energy balls or laddus are!!
These include oats which are incredibly nutritious. These are rich in fibre, antioxidants and also helps in lowering cholesterol level. Good source of iron.
Turmeric is an amazing antioxidant, has anti-inflammatory properties and let me not get started with its medicinal values. From ancient times Turmeric in all form is used for health and beauty purposes back in India.
Almonds, Walnuts are iron fortified and also is a good source of minerals.
In a nut shell, these Turmeric and Oats Energy Balls are
Healthy
Vegan
Gluten Free
Iron Fortified
Fibre Enriched
Anti- Inflammatory
and the bonus part it is really quick and easy to make.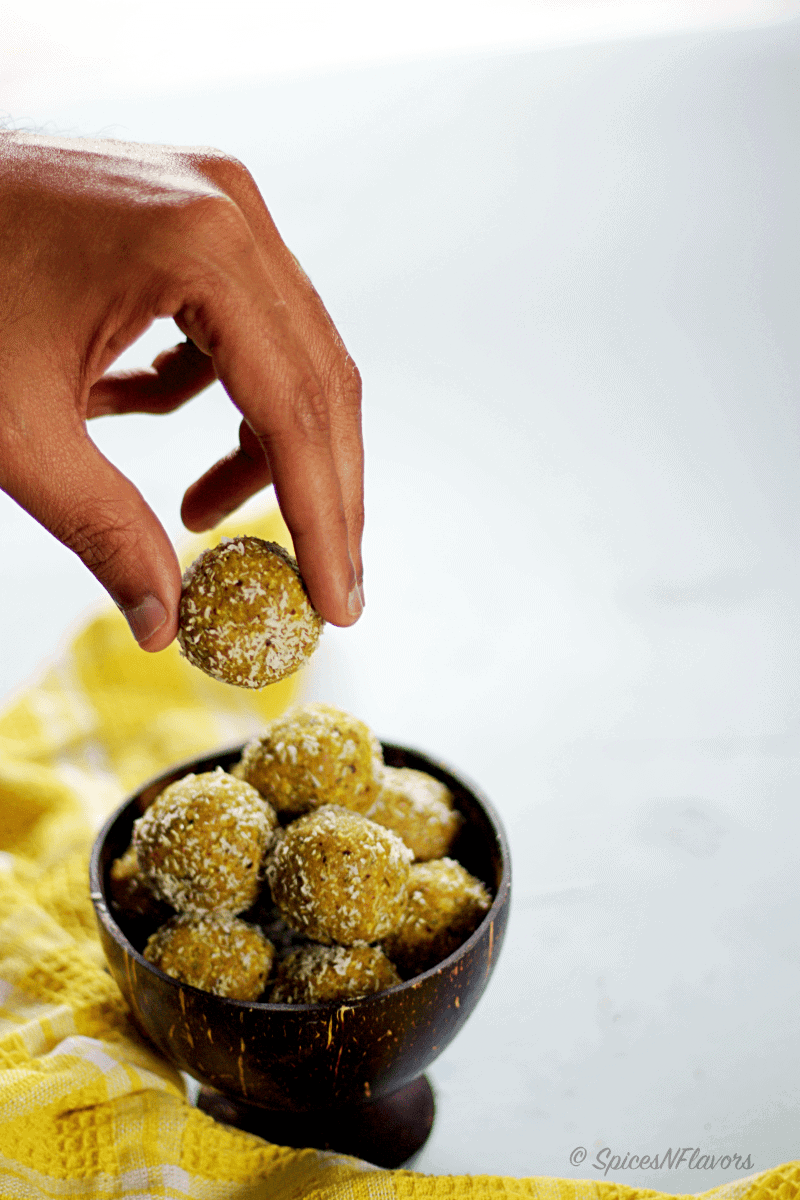 All you have to do to make these balls is gather all the ingredients in the blender and blitz everything until it comes together, then make small balls out of it. Store in an air tight container and enjoy.. 😀 So simple ain't it?
These turmeric and oats energy balls have a coarse texture as I ground the ingredients coarsely; I like to get a bite of almonds and walnuts now and then.
Yes they tend to stick a little bit to your mouth and that is due to the use of dates. You know how dates taste like!!
But in all these are really an energy bomb which is not too sweet unlike the regular laddus and is packed with the goodness of whole nuts and turmeric.
Enjoy these Turmeric and Oats Energy Balls along with your breakfast or in the mid morning snack or after your lunch; infact any time of the day.. :P.. And yes definitely give this to your kids for the chota bhuk 😉
As always if you try this recipe then please do tag me, tweet me or instagram me I would love to see your creations.
Liked this recipe?
Let us know by giving it a star rating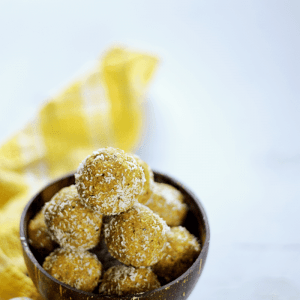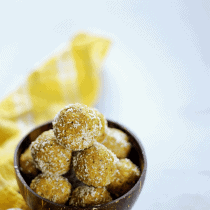 Print
Turmeric and Oats Energy Balls (laddu)
Turmeric and Oats Energy Balls are a healthy, no bake, no cook energy bites or laddu recipe which is healthy, gluten free, paleo, iron fortified, high protein, fibre enriched and anti-inflammatory laddu.
Ingredients
1

cup

Oats

2

tsp

Turmeric powder

1/4

cup

Almonds

1/4

cup

Walnuts

1/4

cup

Desiccated coconut

1/2

cup

tightly packed pitted Dates

1/4

tsp

Black Pepper powder

1/4

tsp

Cardamom powder or 5 nos pods
Instructions
Add all the ingredients in the blender and blitz until it comes together

Use a tbsp+tsp of the mixture and make small roundels that is balls or laddus out of it.

Store in an air tight container for upto a week
Did you make this recipe? Tag me today!
Tag me @spicesandflavors to get featured on my FB and Insta pages
Notes:
1. Since it has a good amount of raw turmeric powder in it, store this in an air tight glass container as it will stain the other plastic containers.
2. You can use nuts of your choice.
By the way comment below and let me know whether you like Haldiwala Dhoodh or used to hate it like I did.. 😀
And yes check my Healthy Protein Enriched Turmeric Pina Colada Smoothie Bowl too if you are looking for ways to include turmeric in your diet.
Pin it for later: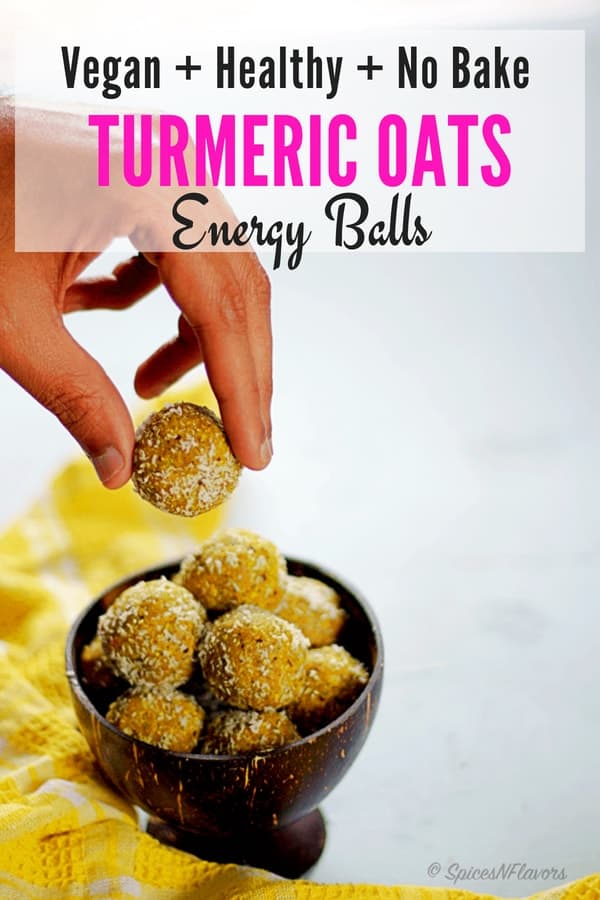 see you on Thursday
Until then
Hugs
Sushma