Did you know cake made using brownie mix turns out better than a regular homemade chocolate cake? Follow these simple steps to turn brownie mix into cake and you'll have your own custom cake mix before you know it.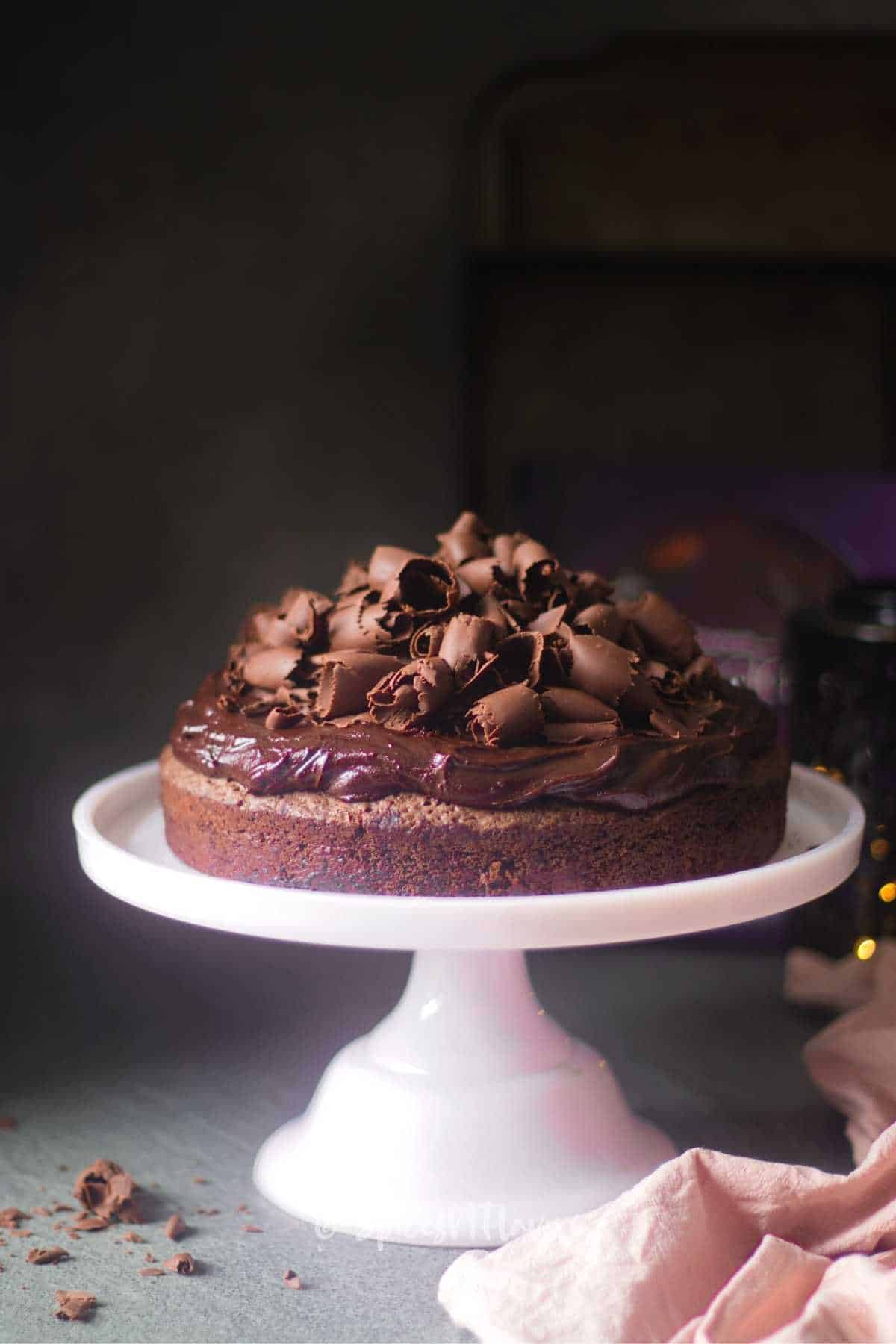 One of the great thing about baking cake mixes is the breeze of using it.. Like how easy is it to bake out of a cake mix.. perfect to satisfy your sweet tooth. Well in this recipe I am going to test the versatility of your favorite dessert.
Yes, you guessed it right let me address your million-dollar question.
Can you make a cake with Brownie Mix?
Yes, you can make a cake with brownie mix. Brownie mix is just a cake mix without any leavening agent. So all you have to do is add some baking powder and oil or butter and you're ready to turn your fudgy brownies into a chocolate cake! You can use the same ingredients with a few tweaks to turn brownie mix into cake.
The key thing about this recipe that makes it different from other variations of chocolate fudge cakes is the inclusion of an extra egg, which makes it taste so much better.
Difference between Brownie Mix and Cake Mix?
Brownie mix and cake mix are both dry mixes that you prepare by adding liquid ingredients before baking. They both have the same dry ingredients: flour, sugar, cocoa powder and leavening agents but a totally different texture.
So what makes the two different?
| | | |
| --- | --- | --- |
| | BROWNIE | CAKE |
| Texture | Dense and Fudgy | Soft and Fluffy |
| Height | Does not rise much | Rises to create structure |
| Top | Has a rough surface | Has a smooth top |
| Bake Time | Never baked fully | Baked to perfection |
Brownie Vs Cake
Basically what it means is that brownie has a high-fat content which makes it dense as compared to a cake. It also has very few leavening agents due to which it doesn't rise much.
Brownies are also never baked completely so it has a rough crackled surface which also sinks at times which is very unlikely to happen in a cake.
And so if you have to bake a cake with brownie mix you would have to make certain tweaks.
Changes to Make
To make a cake out of brownie mix reduce the amount of butter, add baking powder and an extra egg; sounds easy and doable right?
Here is how you would do it:
Reducing Fat:
We all love fudgy and dense brownies, right? Ever wondered what makes it so dense, yes you are correct - it is the high amount of fat in it.
On the other hand, a cake is very light and moist and doesn't feel greasy at all. That is because it has a very less fat content.
To turn the brownie mix into cake, all we have to do is either cut down the fat or replace some portions with buttermilk.
So if your brownie mix calls for 1/2 cup oil or butter then use just 1/3 cup.
Even though you can easily interchange oil and butter in most of the cake recipes, in this case, I would recommend you stick with melted butter for an additional flavour quotient.
Eggs:
The little rise and the softness that you get in a brownie are due to the aeration of eggs and sugar. So eggs are important for both a brownie batter and a cake batter.
The only difference is that in the case of cake batter you need an extra egg as the egg whites makes the cake light and fluffy and the yolk being a good source of fat helps in absorbing the dry ingredients and makes the cake batter thick.
Usually, a brownie mix calls for 2 eggs so to turn it into cake simply add an extra egg so a total of 3 eggs.
The extra egg will give your cake more moisture and help it hold together during baking.
Leavening Agents:
It is a known fact that leavening agents such as baking powder or soda produce gases which cause the cakes to rise and remain soft.
This is totally the opposite in the case of brownies, right? Brownies are so fudgy, gooey and dense that is because of the absence of leavening agents in the batter.
And hence without this secret ingredient, you won't be able to make a good cake mix out of brownie mix.
So now you know to turn a brownie mix into cake you obviously have to add some baking powder to it.
About 1 to 1.5 tsp baking powder per box would be sufficient.
Baking Time
Apart from baking ingredients another factor to consider to make a good cake is of course - Baking Time
In the case of brownies, we never allow them to bake completely. Brownie bakes completely as it cools.
Whereas while making cakes you have to make sure that the skewer inserted in the centre comes out clean.
So always bake for at least 5 mins more than what the box calls for.
If the instructions says to bake it for 25 mins then make sure you are baking it for a minimum of 30 mins. You also need to set the temperature to 180°C or 350°F
Test with the skewer first and then remove from the oven.
That's all there is to it! Now that you know how to turn brownie mix into cake, that box will never look so dreary again!
Ingredients needed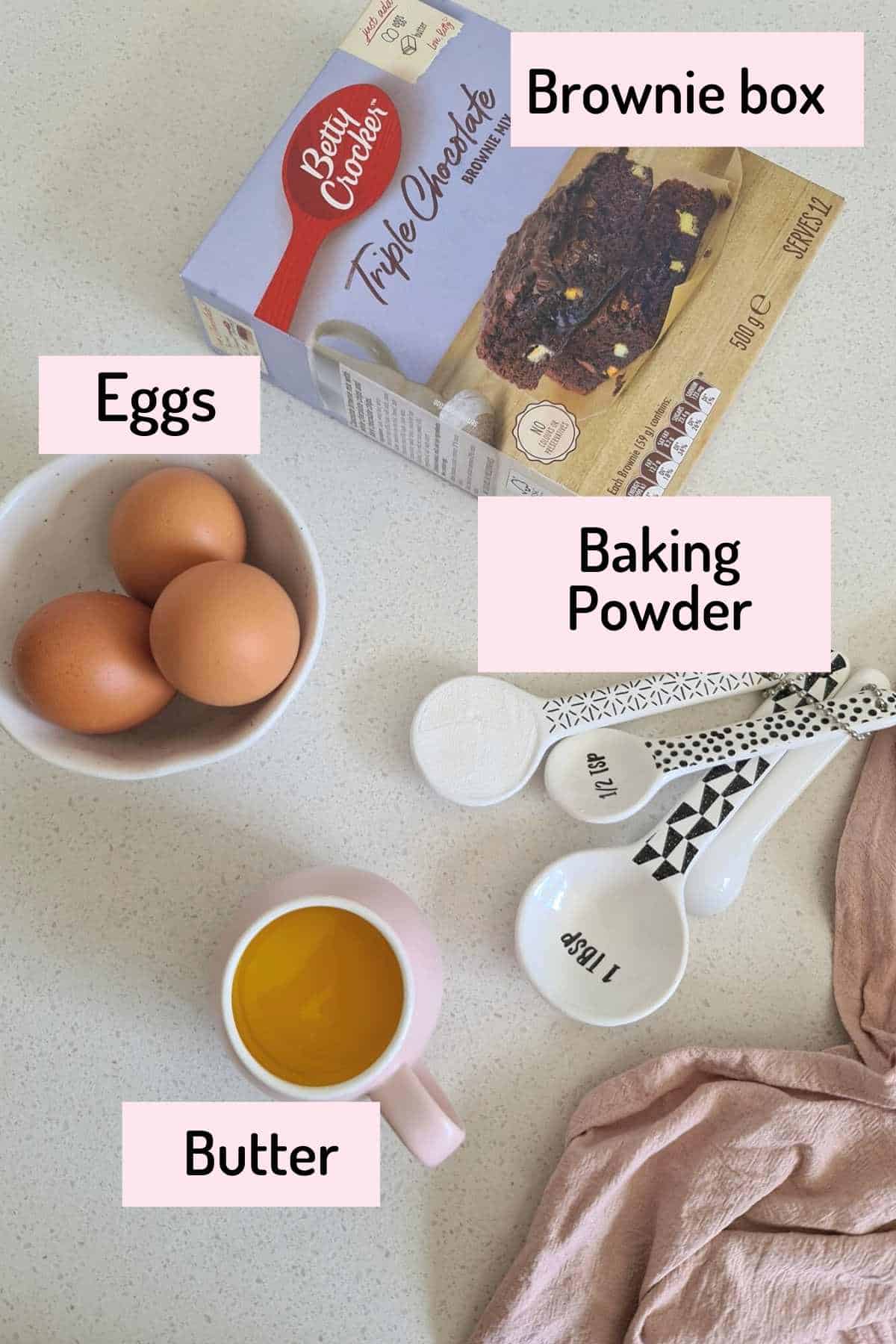 1 box of brownie mix - I am using betty crocker brownie mix. You can use any box mix for that matter. Just ignore the chocolate chips from the box. No need to take them off.
3 eggs
1/3 cup melted butter
1 tsp Baking powder
1 teaspoon vanilla extract
Step by Step Tutorial
Butter the base and sides of an 8-inch cake pan, dust the sides with some flour and line the base with parchment paper. Also preheat your oven to 180°C or 350°F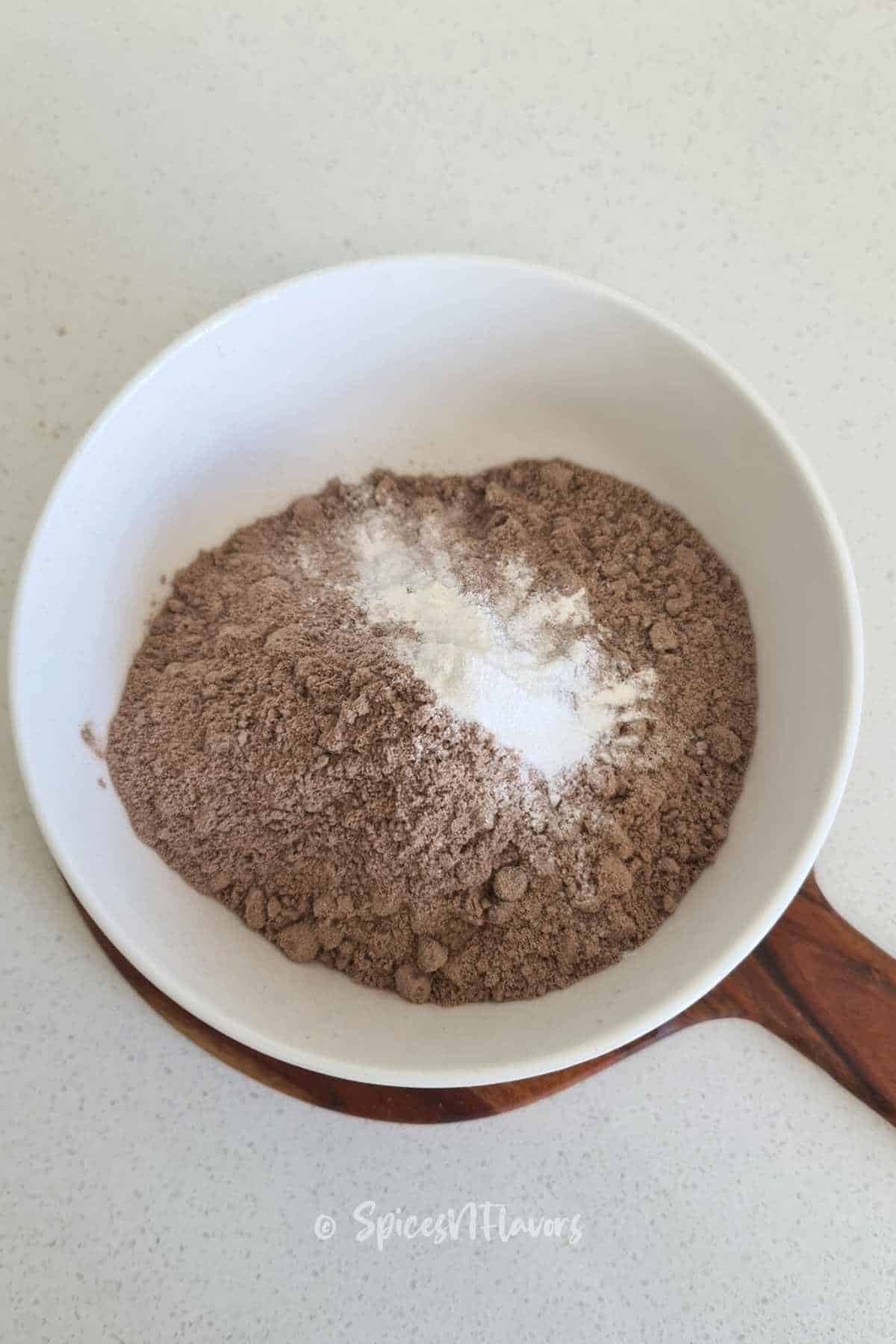 In a medium mixing bowl, empty the brownie mix and add baking powder. Mix well with a fork or whisk until no lumps remain. Set aside.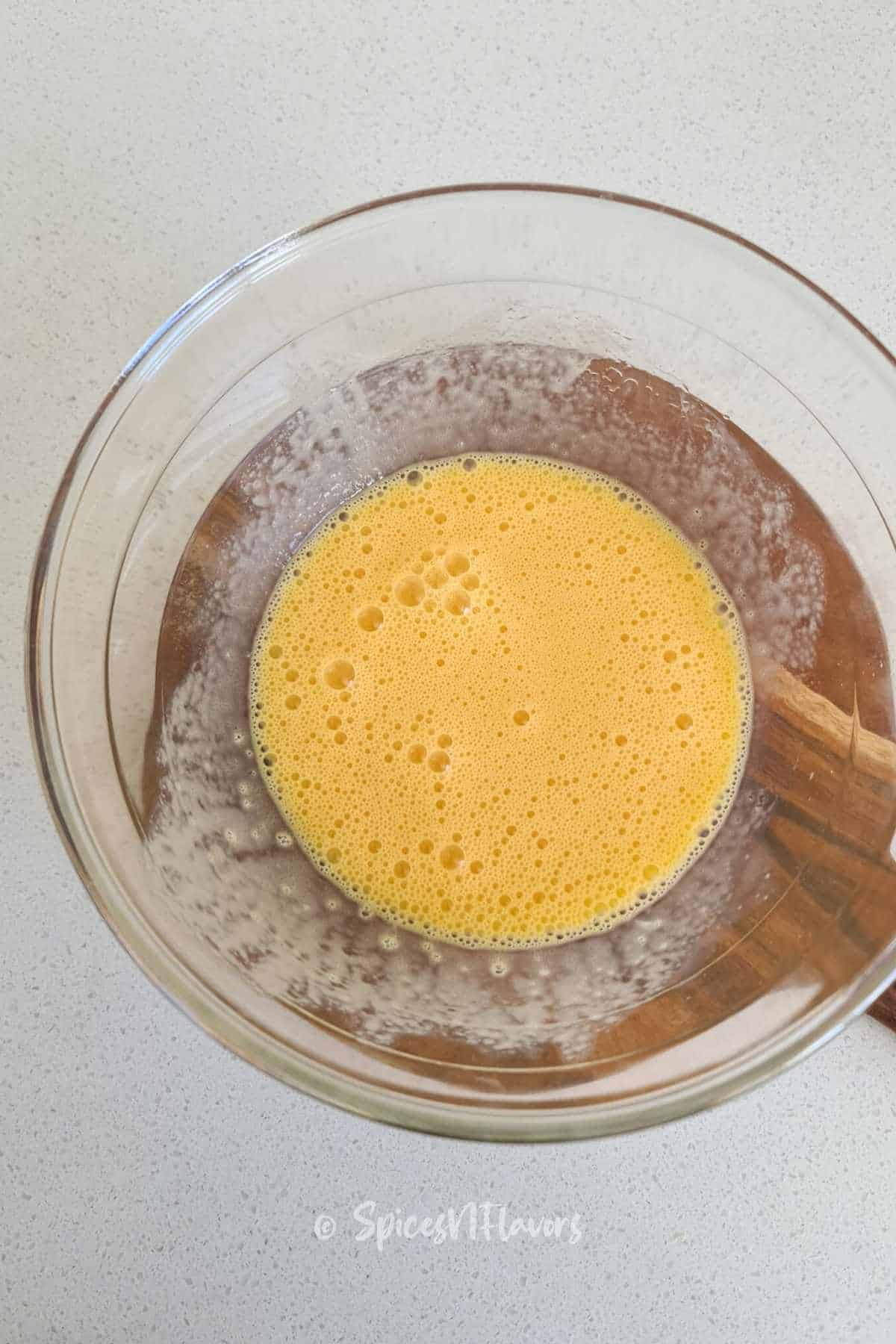 Crack open 3 eggs in a large bowl and mix until foamy for about 1 minute using an electric stand mixer or hand whisker on medium speed (if you don't have an electric mixer just use a hand whisk). Add melted butter and vanilla essence to the egg mixture if using and mix again until well combined for another minute or so on medium speed (or by hand whisking).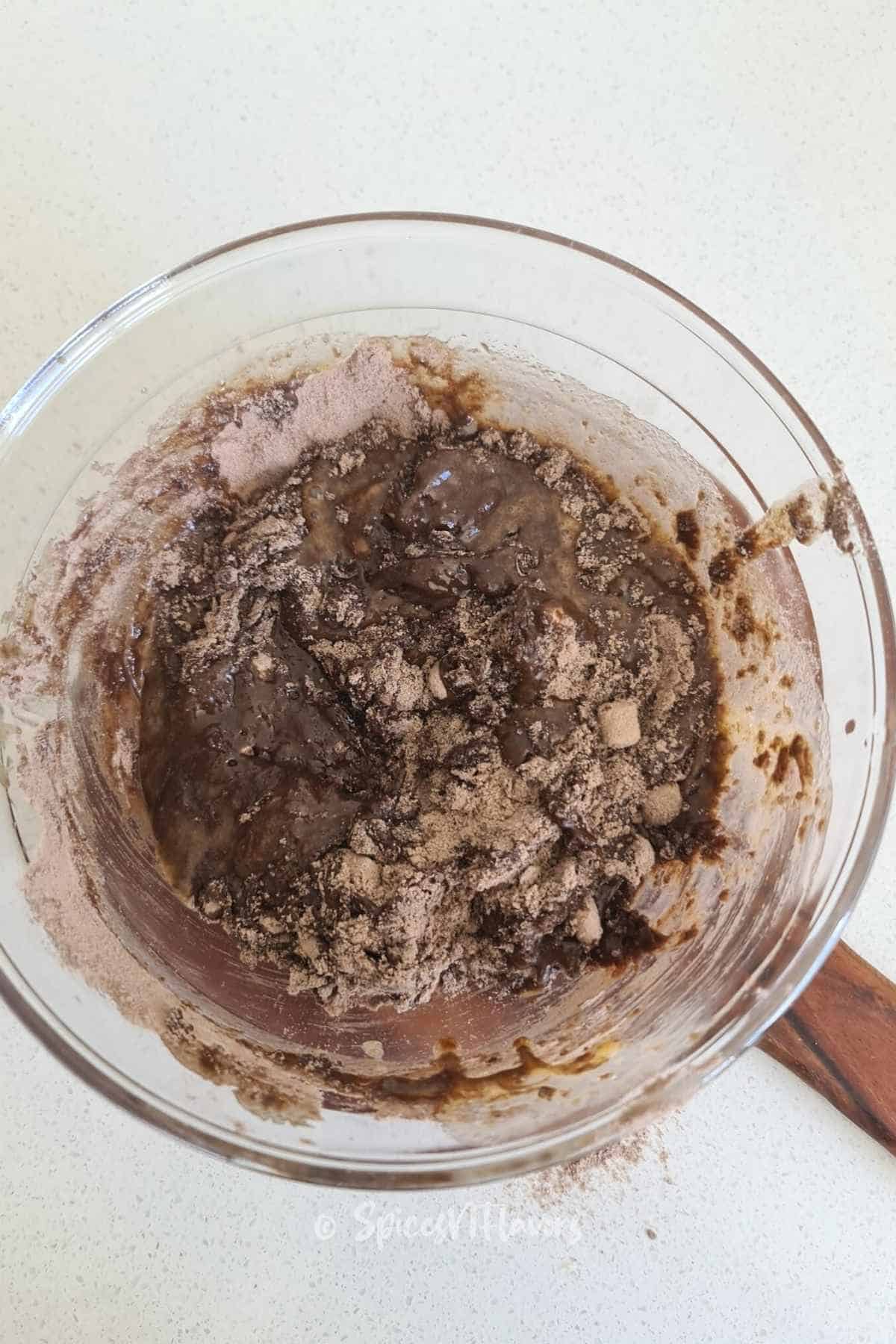 Transfer the dry ingredients to your wet ingredients (egg mixture) to form a cake batter using the cut-and-fold method which means folding first while cutting through with a spatula then folding over again till everything is combined into one smooth batter consistency. Please switch over to mixing the batter manually using a rubber spatula
If you find that your batter is too thick add hot water 1 tablespoon at a time till desired consistency is achieved - it should be thick but not runny.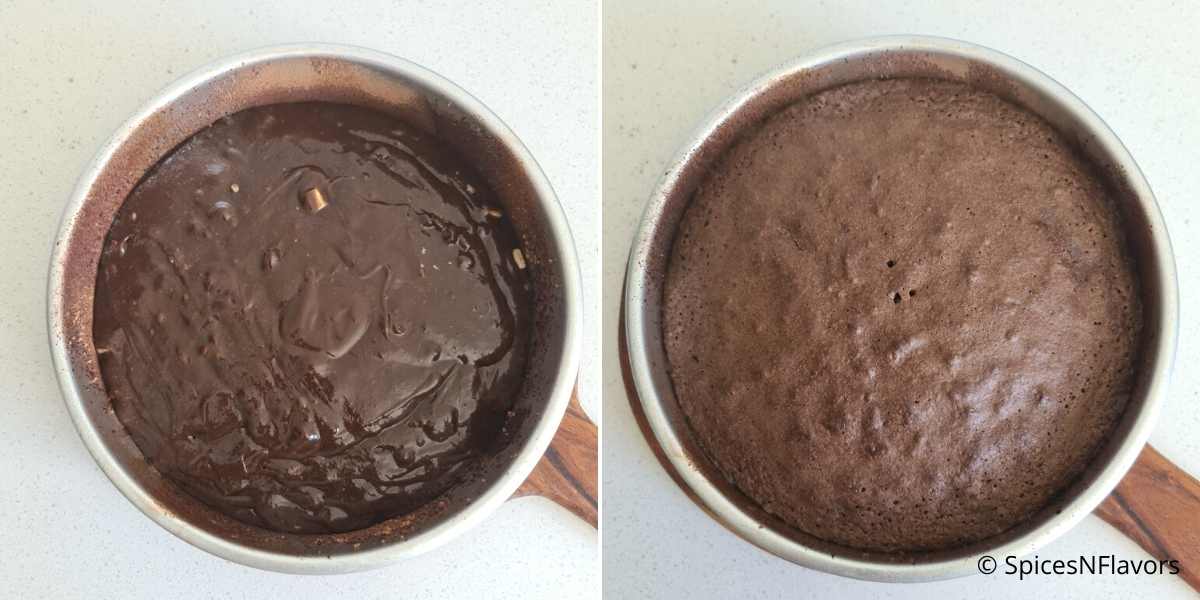 Transferring into the prepared pan. Level the top.
Bake at 180C/350F for 28 - 30 mins or until a skewer inserted in the centre comes out clean. Let cool completely on the wire rack.
Garnish with chocolate ganache or chocolate whipped cream and top with some chocolate curls if you like or simply serve with vanilla ice cream.
Now do not worry if you do not have a boxed cake mix handy, you can absolutely use the brownie mix to make delicious brownies as well as a great cake. I know chocolate lovers; you are going to love this great hack of using the boxed brownie mix.
Baker's Tips
As a general rule of thumb for making any cake recipe, start by preheating your oven and also lining the cake base with butter and parchment paper. This is essential to ensure easy removal of cake from the pan after baking.
Also, make sure that all ingredients are at room temperature before mixing them together as it makes mixing much easier.
Using butter in place of vegetable oil would give your cake more flavour.
To amp up the chocolaty flavour use 1 tbsp of coffee syrup instead of hot water towards the end (it's optional).
Just stick to the ingredients mentioned in the recipe card and do not go with box ingredients or instructions to avoid any confusion.
Storage Instructions
Store in an airtight container at room temperature for 2 days or in the fridge for up to a week.
Keep away from moisture and heat.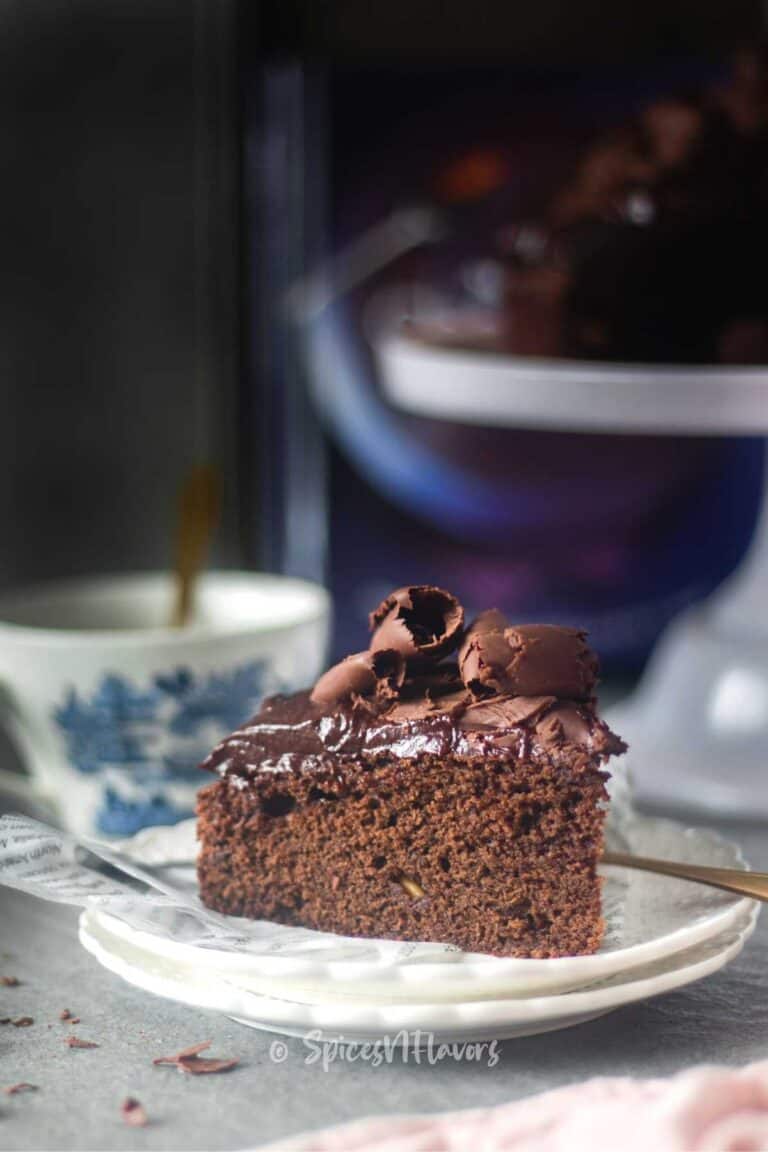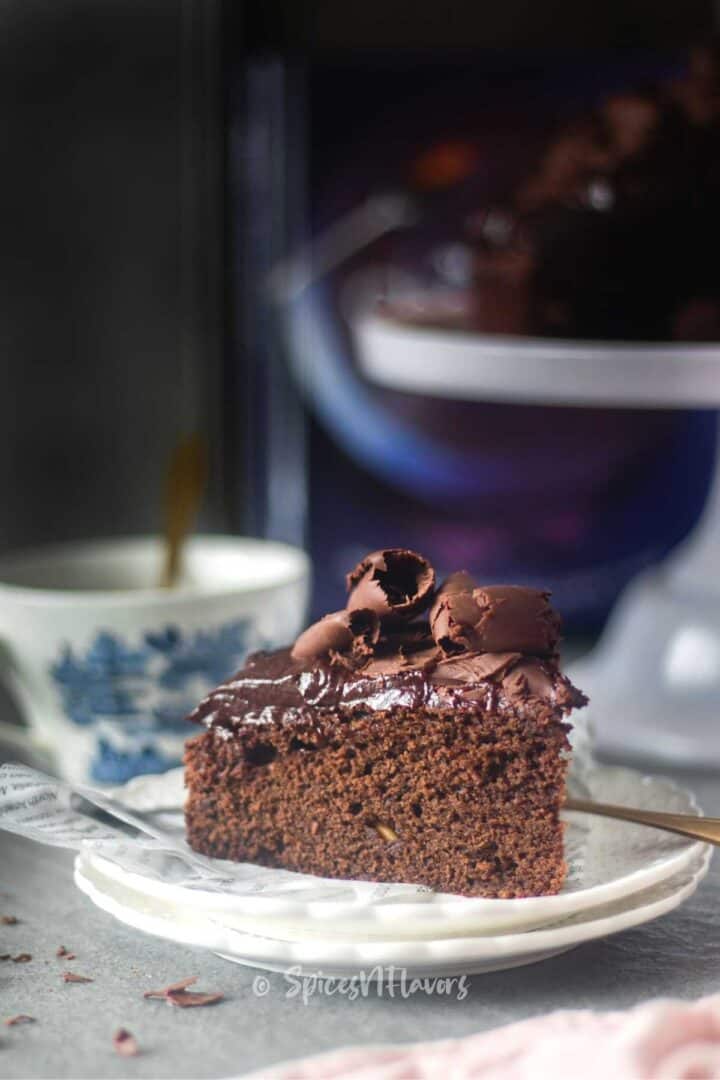 Frequently Asked Questions
Can I use a different pan than what's called for in the recipe?
Yes, you can make this cake in 2 six inch cake pans or one 8-inch or 9-inch pan. Or in a 9x13 rectangular pan too.
Can you make a cake out of brownie mix?
Yes, absolutely you can do so. Simply reduce the fat content that is butter and add an extra egg and baking powder and you are good to go. Or simply follow this recipe and you will have a cake that would be so much better than your homemade chocolate cake.
Can you bake 2 brownie mixes in one pan?
Yes, you can do that but not in 8 inches or 9-inch round pan as the cake needs space to rise. But you can certainly do that in a rectangular 9x13-inch cake pan.
Is it possible to make eggless cake using box mix?
Yes, you can make eggless cake but not with this recipe. I have shared a detailed post on how to make Cake mix without eggs you can refer that for more.
What to expect?
So what does brownie cake taste like? It's not quite as dense as the homemade brownies or the boxed ones but it maintains a moist and light texture like a chocolate cake mix.
It is perfectly soft with a good crumb structure to hold enough to make a tres leches cake or even layered birthday cake.
In fact, a cake made out of brownie mix tastes so much better than the homemade chocolate cake recipe.
Related Recipes:
Wish to Join US for the love of BAKING? Subscribe to our Youtube channel. Follow along on Facebook, Instagram, and Pinterest for all the latest updates!
Liked this recipe?
Let us know by giving it a star rating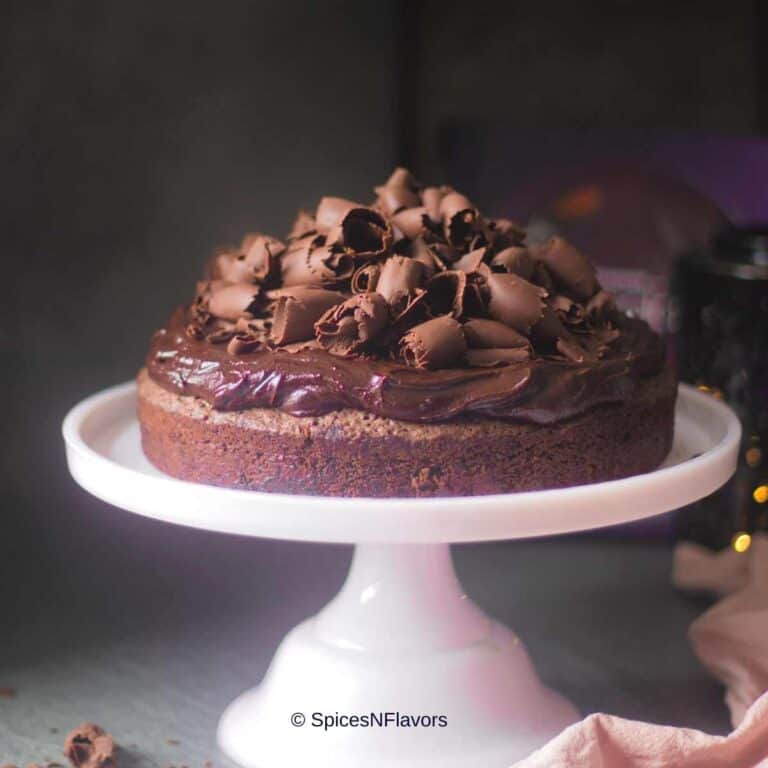 Print
How to Turn Brownie Mix into Cake
Did you know you can actually use your brownie box mix to make a soft and fluffy cake that tastes so much better than your regular chocolate cake?? Let me show you how.
Ingredients
Chocolate Cake
1

Brownie Box Mix

preferably Betty Crocker

1

tsp

Baking Powder

3

eggs

1/3

cup

Melted Butter

unsalted

1

tsp

Vanilla Essence

optional

1-2

tbsp

Water if needed
Chocolate Ganache (optional)
200

gms

Chocolate

preferably couverture

125

gms

Heavy Cream
Instructions
Preparatory Step
Butter the base and sides of the pan. Line a parchment paper on to the base and dust the sides of the pan with dry flour.

Preheat the oven at 180°C

Empty the content of the brownie mix in a bowl. Add baking powder to it. Mix and set aside.

In another mixing bowl, crack open the 3 eggs. Whisk until it is foamy about a minute.

Add melted butter and vanilla essence if using to it and whisk again.

Finally add the dry ingredients to it. With the help of a rubber spatual using cut and fold method form the cake batter.

Add a tbsp of water at a time if needed to adjust the consistency of the batter.

Transfer to the prepared cake pan, level the top and bake in the preheated oven of 180°C for 28-30 mins or until a skewer inserted in the centre comes out clean.

Once baked let it sit in the pan itself for another 3 mins before flipping on a wire rack to cool completely.
Chocolate Ganache - Optional step
Chop the chocolates and add it to a mixing bowl. Pour hot cream over it and close with a lid for 1 min.

After a minute stir to dissolve the chocolate and make a homogenous mixture.

Once done it will be liquidy. Wrap it with a cling wrap and allow to thicken a bit until it is spreadable.

Spread the ganache on the cooled cake. Top it with some chocolate decorations or keep it simple.

Serve as such or with a scoop of ice-cream
Video
Notes
Making chocolate ganache is optional. You can serve the cake plain with a scoop of ice cream or frost with any other icing like chocolate whipped cream or cream cheese. 
Do not follow the quantities and instructions mentioned in your brownie box. Stick to this recipe card.
I prefer using Betty Crocker's Triple Chocolate Brownie Box, but you can use any brand of choice. This is not a sponsored post. Just sharing my recommendations.
Use coffee in place of water at the end to adjust the consistency of the batter if needed. Coffee would bring out the chocolaty flavour even more without a hint of coffee taste. 
Add a dash of vanilla extract or almond extract for additional boost of flavour. 
Nutrition
Calories:
182
kcal
|
Carbohydrates:
11
g
|
Protein:
2
g
|
Fat:
16
g
|
Saturated Fat:
9
g
|
Polyunsaturated Fat:
1
g
|
Monounsaturated Fat:
5
g
|
Trans Fat:
1
g
|
Cholesterol:
66
mg
|
Sodium:
97
mg
|
Potassium:
75
mg
|
Fiber:
1
g
|
Sugar:
9
g
|
Vitamin A:
370
IU
|
Vitamin C:
1
mg
|
Calcium:
38
mg
|
Iron:
1
mg
Did you make this recipe? Tag me today!
Tag me @spicesandflavors to get featured on my FB and Insta pages