Christmas Tree Cupcakes is a fun, decorative and unique festive cupcake perfectly apt for this season!!!
Merry Christmas everyone.. 😀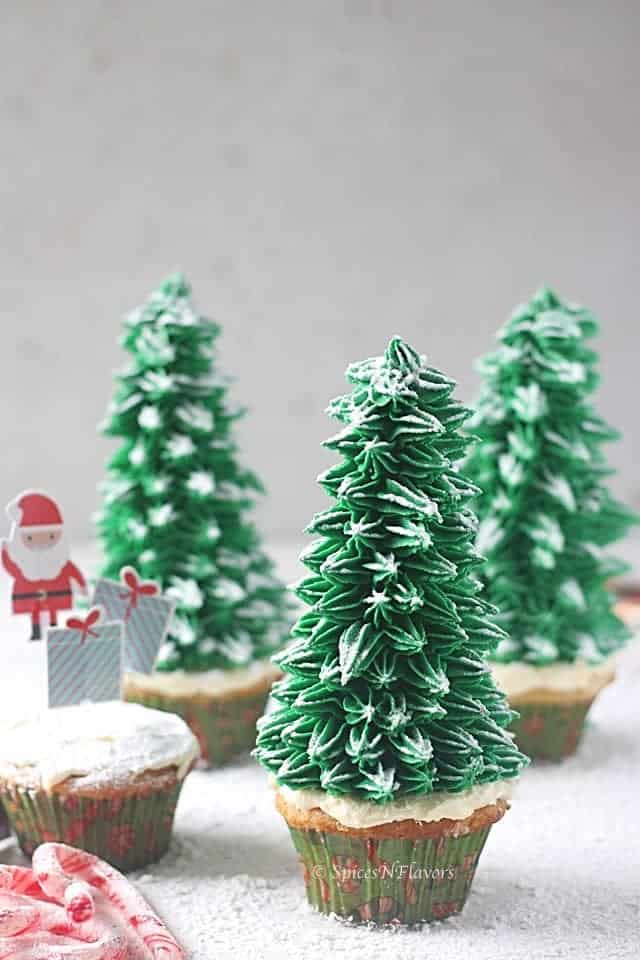 Christmas Tree Cupcakes using ice cream cones is an ingenious idea that screams Christmas!!
Basically, it is just a plain vanilla cupcake frosted with buttercream on top.
You can also use chocolate cupcake as the base to resemble the bark of the cupcake tree.
Since I have already shared the recipe for the same a couple of times, I thought of using vanilla cupcake as the base for our cupcake Christmas tree decorations.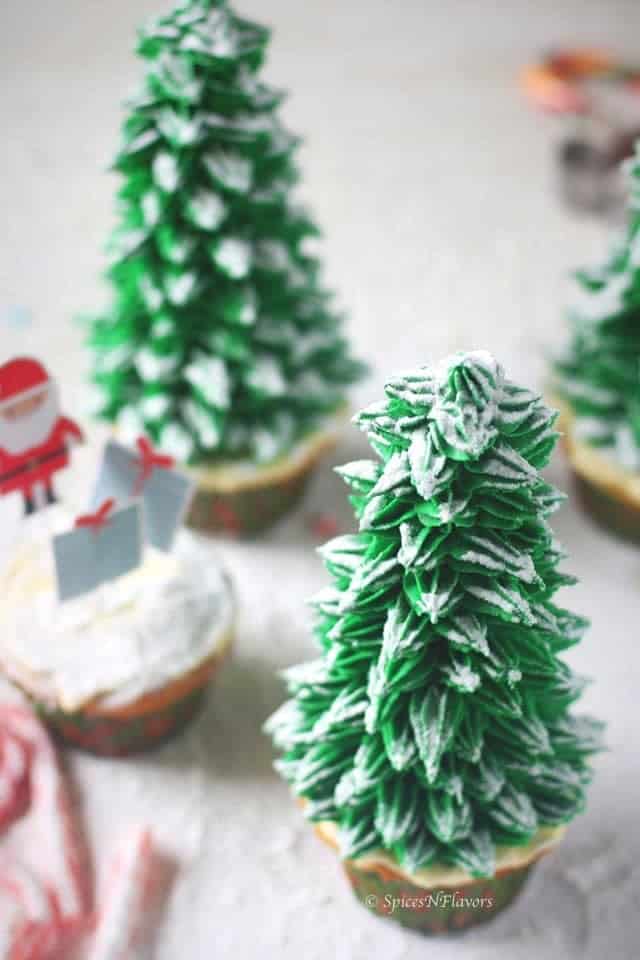 I just cannot believe we are towards the end of another year.
Time just flies..
It seems the year just started with me turning 29 and now its already Christmas and New Year's Eve.
So why am I blabbering all of this now?? Hint Hint.. I am turning 30 in a month's time and can't be more excited than this..
Yay!!!!
I would definitely be making my Birthday Cake, but for now, let's talk about these easy Christmas cupcakes - Christmas Tree Cupcakes.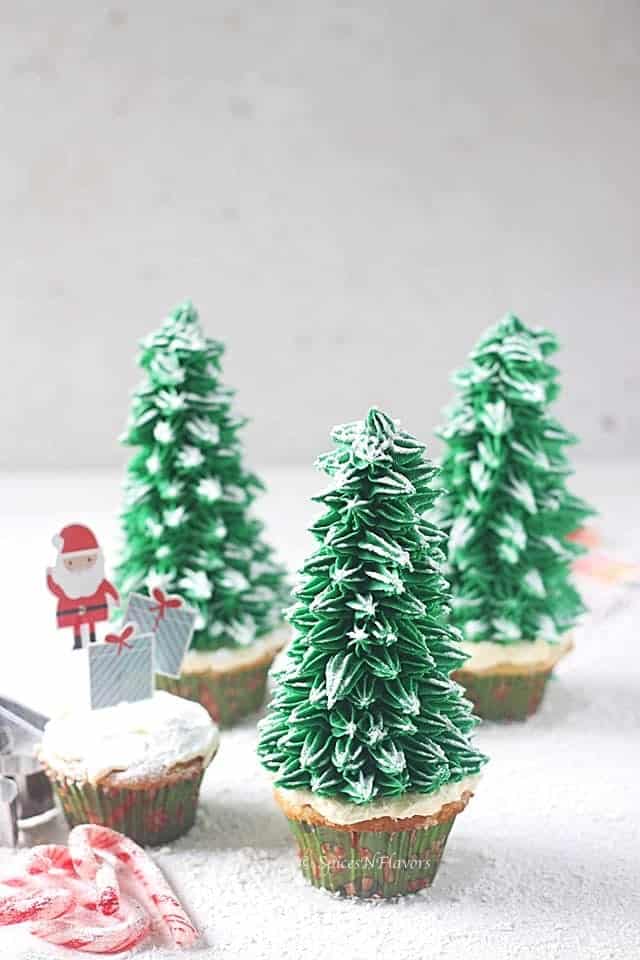 These simple Christmas cupcakes are definitely a show stealer.
The Christmas Tree Cupcakes with ice cream cone is what makes these so easy to recreate.
Definitely, the trees are the highlight of this cupcake. But how to make trees out of icing?
Using a simple buttercream recipe all you need to do is pipe on Ice-Cream cones.
For piping we will use a smaller size open star tip - say Tip 30
If you want you can first start by adding a thin layer of buttercream on top of ice-cream cones. However, I felt there is no need for the same as leaves cover up the entire cone.
Basically just use a green coloured buttercream in a piping bag and holding it at 90 degrees to your cone all you have to do is just apply some pressure and then pull the bag towards you.
The more you pull the bigger the leaves would be. The choice is up to you to at which point you need to stop the length of the leaves.
Cover the entire cone in a circular motion till the tip of the cone to get the desired effect.
Making buttercream Christmas tree would be a breeze to make once you just get a hang of making it. With just one cone you would understand about the length that I am talking about.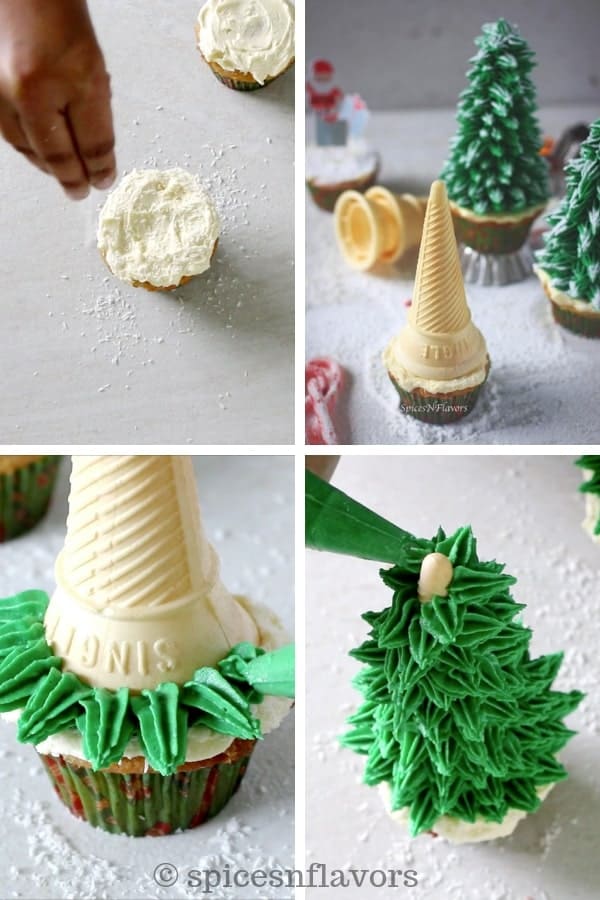 There is one more way of making these easy Christmas cupcakes design (trees) - Chocolate covered pretzel tree.
For this use a pretzel stick and place it on a parchment paper. Using white melted chocolate go to and fro over the stick and try to give a tree shape. Then place this on top of your cupcake once the chocolate is set.
How to make Christmas Tree Cupcakes?
Now that you have made the tree cones, your job is super simplified.
Bake a chocolate or vanilla cupcake. Slather some frosting on top and just mess around it for once 😉
Add some desiccated coconut on top for texture and place this cone on top.
How easy it is to make this Christmas cupcake decorations!!!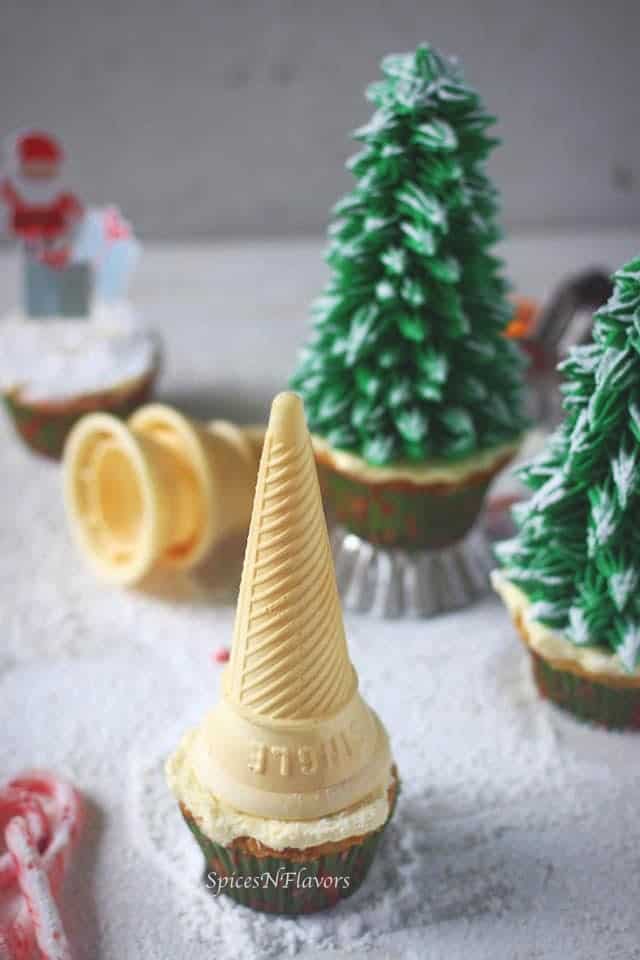 Christmas is around the corner. And one flavour that dominates this season be it for Christmas cupcake flavors or cookie flavours has to be Peppermint and Ginger.
Today I am using a simple vanilla flavour.
However, you can flavour the cupcake with peppermint and buttercream with ginger if you want to.
Other festive Christmas cupcakes or holiday cupcake ideas apart from these Christmas Tree Cupcakes could be
1. Christmas lights cupcakes
2. Christmas wreath cupcakes
3. Snowman cupcakes using marshmallows
4. Forest cupcakes
OR you make a tree shape using cupcakes, that is, arrange the cupcakes in a triangle shape to make a Christmas tree cupcakes cake. These days pull apart cupcakes cake are a huge trend.
So let us see how to make Christmas cupcakes from scratch
Liked this recipe?
Let us know by giving it a star rating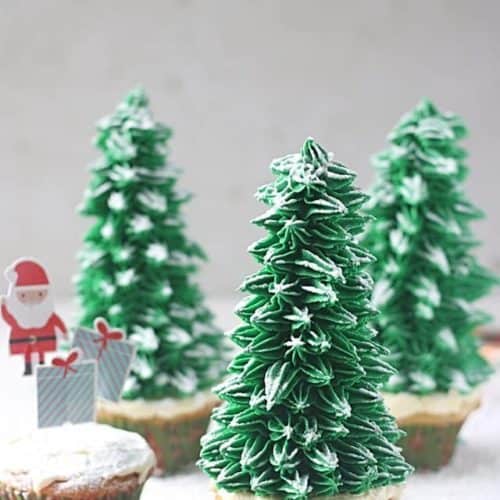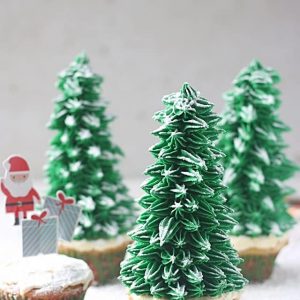 Print
Christmas Tree Cupcakes Recipe
Christmas Tree Cupcakes - An easy diy AWESOME holiday cupcakes ideas that look like snow-covered Christmas trees made using ice-cream cone and simple buttercream frosting would make your holiday baking so fun!!
Ingredients
Dry Ingredients
1 and 3/4

cup

Plain Flour / Maida

1

tsp

Baking Soda

1/2

tsp

Salt

1

cup

Sugar
Wet Ingredients
1

cup

Warm Milk

1

tsp

Vinegar

1/2

cup

Oil

1/2

tsp

Vanilla extract
For Buttercream
1

cup

Butter

(softened)

2

cups

Icing Sugar

1

tbsp + 1tsp

Cream

1

tsp

Vanilla Essence

Green gel food colour
Instructions
For Cupcakes
To the warm milk add vinegar. Give it a stir and set it aside for 5 mins. This is your process to make homemade buttermilk.

In a bowl, sift together maida, baking soda and salt.

Give a mix with spatula and add all the wet ingredients one at a time, including homemade buttermilk.

Combine gently to a cake batter like consistency. Do not overmix.

Using an ice cream scoop or ladle pour equal amounts into a muffin tray that has been pre-lined with cupcake liners.

Bake in a preheated oven of 180°C for 15-18 mins or until a skewer inserted in the centre comes out clean.
For Buttercream
Using the paddle attachment of a stand mixer beat the softened butter until creamy say about 5-7 mins

Meanwhile in a separate bowl sift the icing sugar atleast 2 times and keep ready.

Once the butter is pale in colour and cream, start adding 1/3 cup sugar at a time an beat for not more than 1 min.

Scrape the bowl and add the second set of sugar and repeat the process until all the sugar is mixed into the butter.

Scrape the bowl down and add 1 tbsp of cream and beat together. Scrape the bowl down and add a tsp of cream more at a time until the desired consistency is achieved which is spreadable and also pipeable.

Finally add the vanilla extract and beat until mixed.

Take it out of the stand and add a thin layer of frosting on top of the cupcake and spread all around using a small palette knife. Be as messy as you can as this would resemble snow.

To make it more pop up and to give a texture add in some desiccated coconut on top.

To the rest of the buttercream add in the green food colour and beat for one last time until it is evenly mixed.

Transfer the buttercream to a piping bag fitted with small open star nozzle - Nozzle no 30.

Place the cone on top of the cupcake. If you want you can also fill the cone with candies for added surprise.

Holding the piping bag at 90 degrees to the cone start piping the branches. Apply some pressure and then pull towards you. The more you pull towards you larger the size of the leaves would be. So depending upon how big or small you want it to look keep applying pressure and pulling towards you.


Repeat the step to cover the entire cone completely till you reach the very tip of the cone.

To give the added snowy effect dust some icing sugar on top of the cone.
Notes
1. The recipe for buttercream mentioned here would make 3-5 tree cupcakes depending upon how big or small you pipe the leaves. You can easily double or triple the quantity to cover the entire 12 cupcakes.
2. While making the buttercream, milk or water can also be used in place of cream.
Did you make this recipe? Tag me today!
Tag me @spicesandflavors to get featured on my FB and Insta pages
One of the best Christmas cupcakes that you can make this season has to be this Christmas Tree Cupcakes.
Apart from making these cupcakes using ice-cream cone, there are many different ways in which you can make. For eg:
1. Rice Krispies: Add some condensed milk to the rice Krispy so that it sticks around when you press them together. You can also add some green food colour if you wish to.
Then take a big chunk in your hand and press it to give a tree shape. Decorate with red and green M and M's
2. Pretzel Trees:
Lay out the pretzel stick on a parchment. Use melted white chocolate or colour it green; transfer to a parchment paper cone and then going to and fro motion on top of the stick make a triangle shape to resemble a tree.
Allow to cool completely and you have your pretzel trees ready.
Before the chocolate cools completely you can decorate it as per your need with sprinkles or M and M's.
3. Chocolate:
Using the run-outs method that I have shared a couple of times on the blog; just trace out the tree shape using a reference image and place it on your Christmas tree cupcake platter to finish the look.
Just to let you know peanut butter cups are your best friend to use as a tree trunk.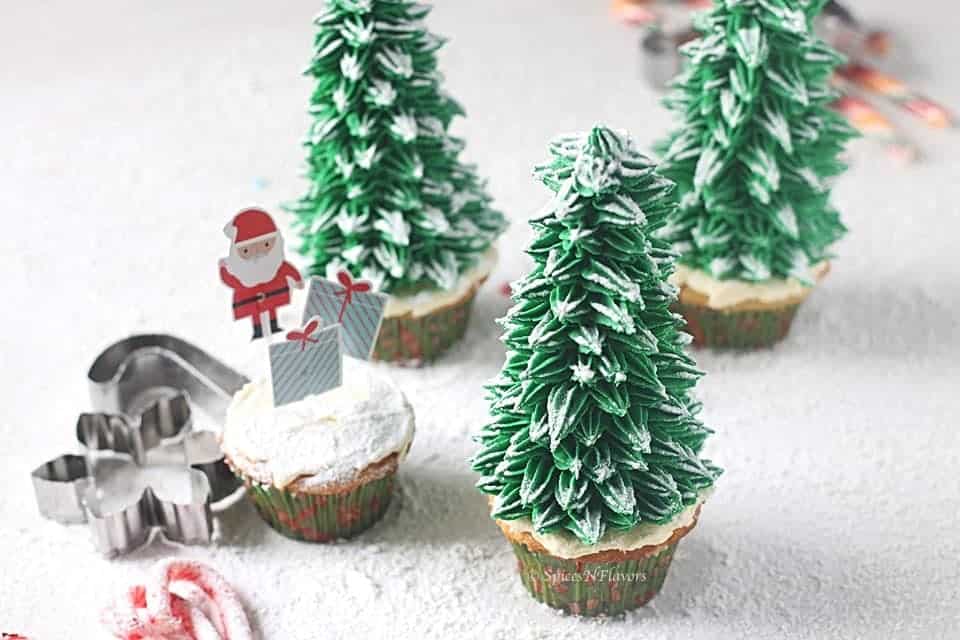 I hope you enjoyed this Christmas Tree Cupcakes recipes and also the other Christmas cupcake ideas along with the Christmas cupcake toppers that I have mentioned in this post.
If you did then do let me know by tagging me, tweeting me or Instagram me. I would love to follow you and your posts.
Hope you enjoy this holidays with holiday cupcakes and holiday cookies.
By the way, you can also follow my Christmas board on Pinterest for more ideas and inspirations for Christmas or I also have this Holidays Recipes board if you want to check it out.
For now, pin this Christmas Tree Cupcakes recipe to your Christmas board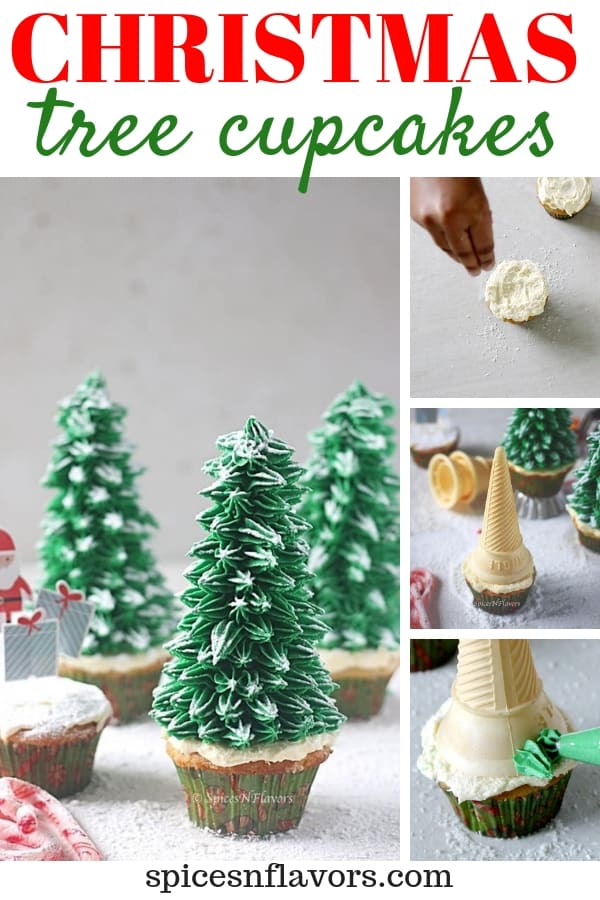 I will see you soon with yet another one
Until then
Hugs
Sushma