Stained Glass Cookies - a beautiful edible ornament to make your Christmas tree decoration special.
That pale shortbread textured sugar cookie adorned with the sparkling shiny candy with all the Christmas themed shapes; Candy and Cookie all in one!! Christmas cannot get better than this. Don't you agree?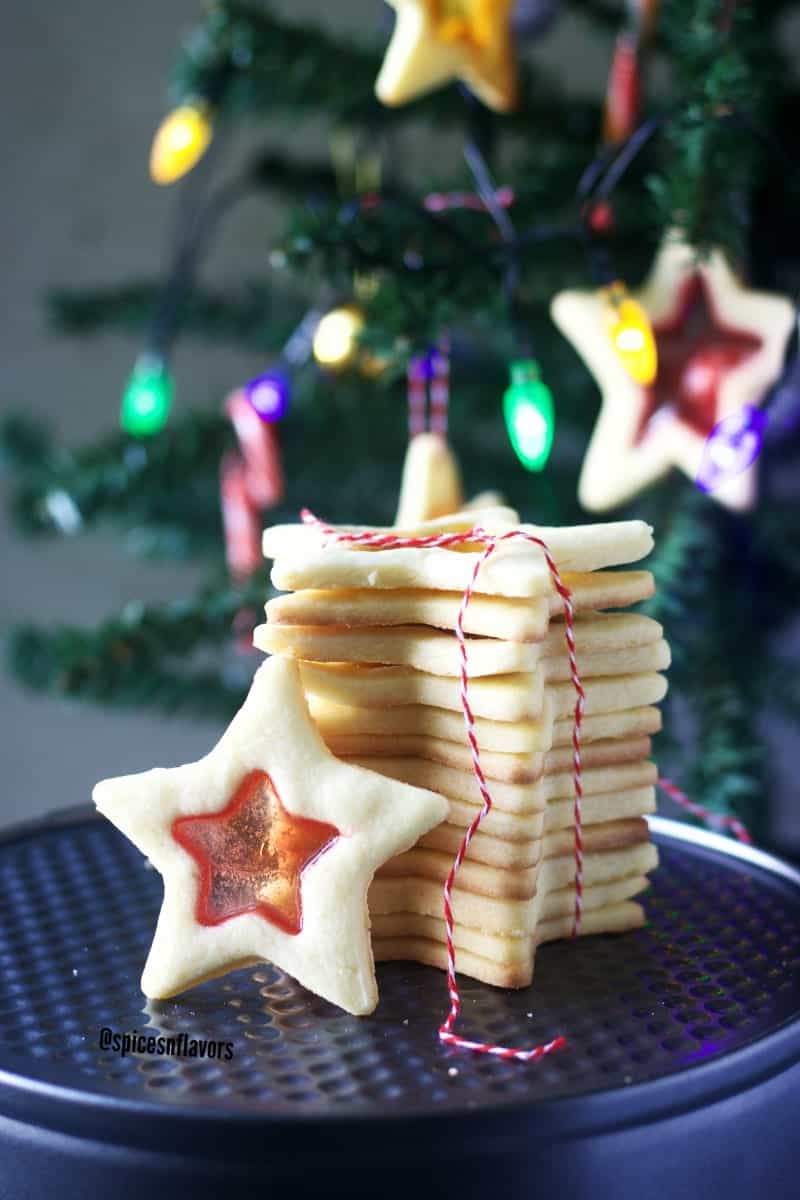 Stained Glass Cookies is THE ANSWER to the only question you might be having now at this time of the year - how to make holiday cookies?
If you are searching for the perfect holiday cookie exchange recipe then your search ends here with this easy stained glass cookies. How adorable do they look!!!
I do agree that it is little time consuming to make these Christmas cookies with stained glass effect but it is not Christmas until you spend time switching on the Christmas songs, dust of flour all around you, the joy of rolling the cookie dough and shaping them using old-fashioned Christmas cookie cutters with the exciting eyes of the little helpers staring at you as if you are the BEST baker they have.
All these little joys are totally worth it right!!
And these cookies make such beautiful stained glass Christmas ornaments and I totally love to have edible decorations on my tree; being a Mom now I enjoy the excitement of kids when they visit my home to find so many goodies to eat.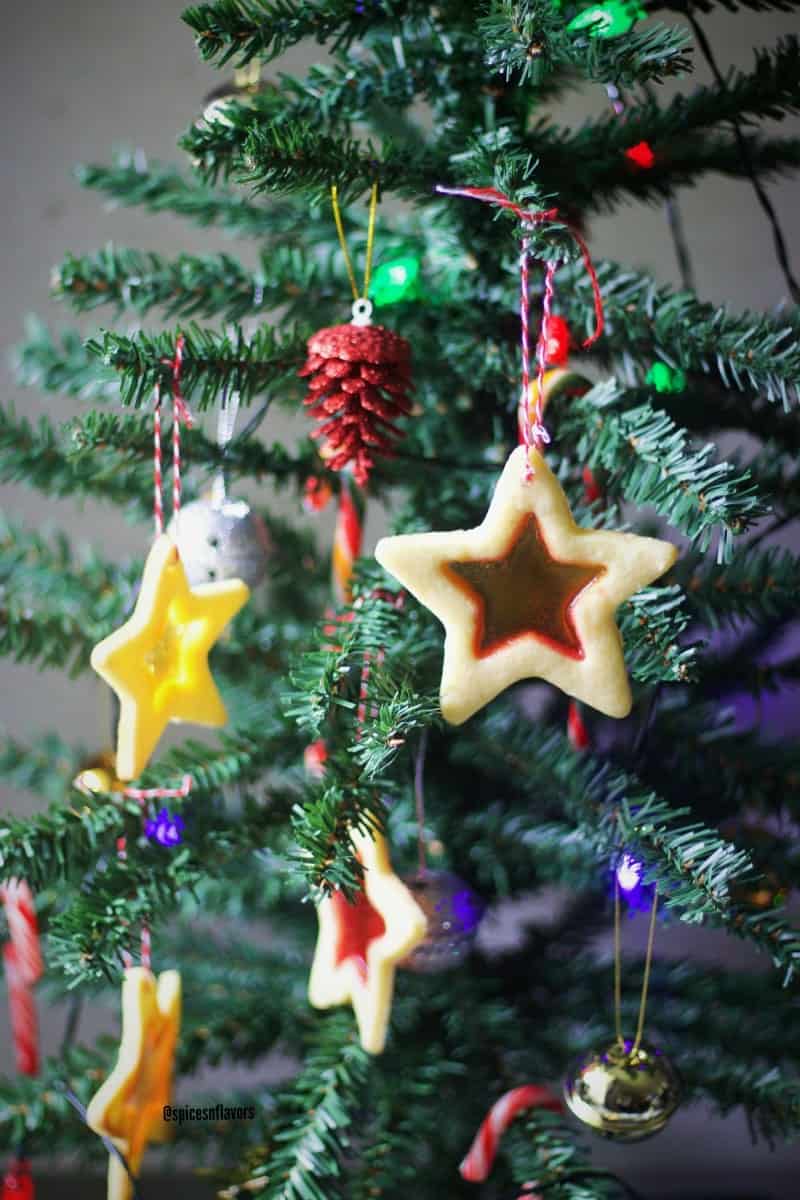 One of the best holiday cookie recipes that you can actually recreate has to be this stained glass cookie recipe. Wondering how do you make stained glass cookies?
Even though it is a simple sugar cookie recipe you will have to take those little efforts or additional two steps to make it into a stained glass cookie.
Basically, you follow your favourite sugar cookie recipe or use my recipe mentioned in the cards below (this sugar cookie doesn't spread at all 😉 ) which does not require the chilling time also. All you have to do is make your dough, roll and cut using a bigger size cookie cutter.
Then using a smaller version of the same cookie cutter, cut out the centre portion. Fill it with crushed jolly rancher candies and bake until lightly golden. And that is your easy peasy jolly rancher stained glass cookie.
And how do you make stained glass effect?
All you have to do is separate the jolly rancher candies into a set of similar colours.
Add it to your food processor and grind until crumbs or you can also transfer them to ziplock bags and crush using a rolling pin similar to the way shown in the video.
Under the heat of the oven, these candies melt and form a thin layer which resembles a stained glass giving the desired effect.
We had made the windows of Gingerbread House (while I was studying the bakery course) using this method may be that is the reason this is also known as window cookies recipe.
If you have ever thought how to make stained glass window cookies - then now you know how!!!
But how to hang stained glass cookies onto your Christmas tree?
That's the fun part, I must tell you. So right before you put your cookie tray to bake, using a wooden skewer just pinch out a hole on top of your cookie.
Once baked and cooled completely, pass a simple thread through the hole and tie it to create a loop.
Now you can hang this using that loop.
And I adore how these stained glass cookie ornaments glisten on my Christmas tree!!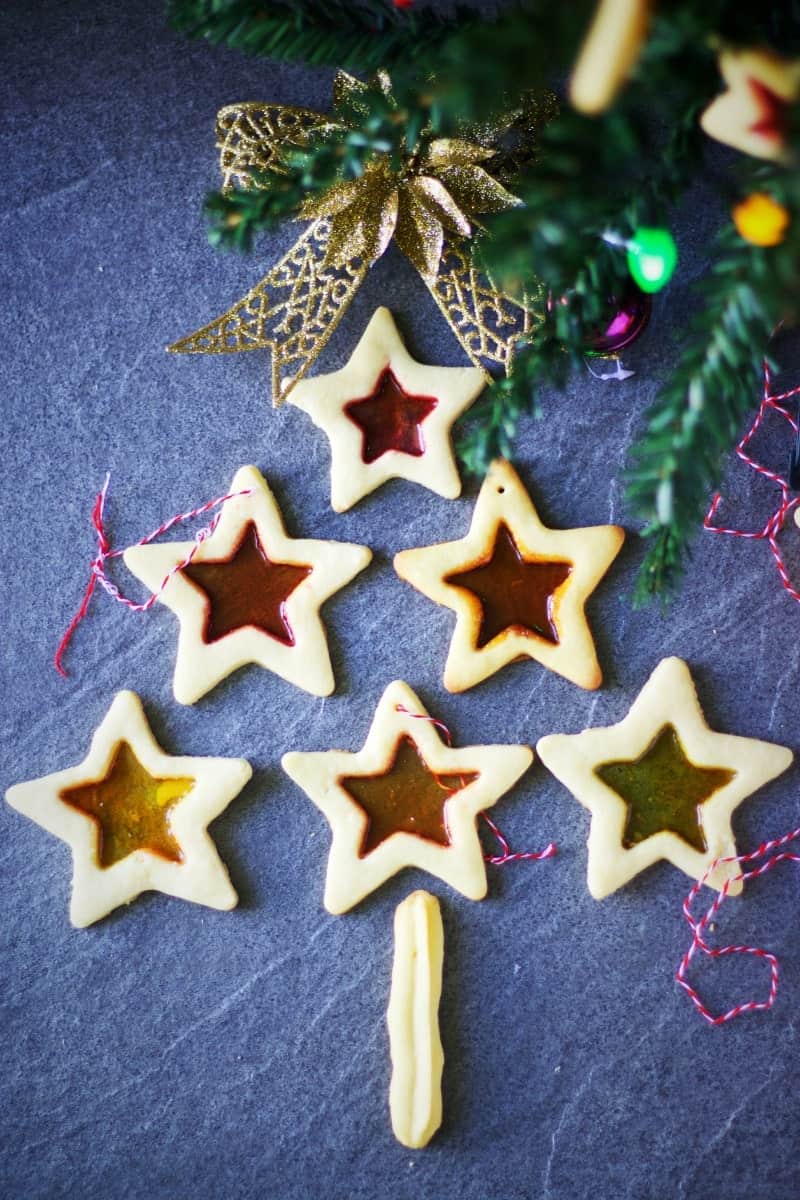 Stained glass cookies with jolly ranchers give me that Christmas holiday vibe - That picture-perfect morning with English Breakfast, with my family sitting on the bar stool on my kitchen counter table and me serving them Toast with Eggs Benedict..
That oozing yolk with creamy hollandaise sauce is a perfect holiday breakfast recipe.
Followed by unboxing Christmas presents below the Christmas tree adorned with candies and stained glass Christmas decorations, spiral cookies (recipe coming up next) and spending the rest of the day watching a movie and relaxing as much as I can as the following day have to get ready for massive Boxing Day Sales shopping.
To be honest I have never celebrated Christmas before here in India but after moving to NZ each and every festival or occasion is so close to me.
Since it is Christmas and with the holiday vibes going on you can make these cookies in different ways like stained glass gingerbread cookies, stained glass Christmas star like I have done today, stained glass shortbread cookies, stained glass snowflake cookies, stained glass flowers or star window cookies.
Looking for the perfect Eggless Sugar Cookies recipe. I have got you covered.
So let us see how to make stained glass sugar cookies
Liked this recipe?
Let us know by giving it a star rating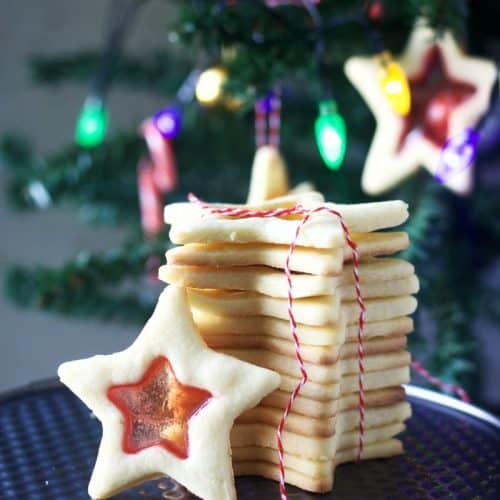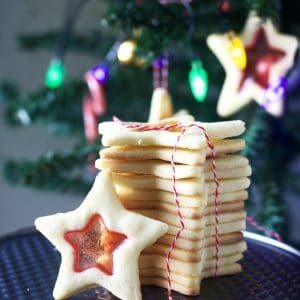 Print
Stained Glass Cookies Recipe
Make your Christmas tree decorations special with these beautiful edible ornaments - Easy Stained Glass Cookies recipe. Crumbly and tender sugar cookies with candy in the middle is just perfect for Christmas.
Ingredients
1

cup

(225 gms) Butter cubed

chilled

1

cup

(200 gms) Caster Sugar

2

tbsp

Water

1/2

tsp

Vanilla paste

3

cups

(375 gms) Plain Flour (Maida)

1/2

cup

Cornflour

1/4

tsp

Salt

2

packets

hard candies
Instructions
Using a paddle attachment, beat together chilled cubed butter and sugar until combined and the sugar is dissolved. Say about 3-4 mins.

Meanwhile in a separate bowl, mix together flour, cornflour and salt. Set aside.

Once the butter and sugar are mixed together, add in a tbsp of water and vanilla paste. Mix until combined.

Add the dry ingredients in batches of 3 and mix until combined.

Finally, add in the remaining tbsp of water and bring everything into a dough.

Divide the dough into two, flatten it out cling wrap and store one half in the fridge for up to a week or in the freezer for 3 months. Instead of freezing it for later use you can definitely roll it too if you are wanting to make all the cookies in one day itself.

With the remaining half, roll the dough into an even thickness. Cut out the desired cookie shape using cookie cutters.

Using the smaller size of the same cookie cutter cut out the middle portion of the cookie to reveal a cavity in the centre of our cookie.

Place the cookie dough on to your baking tray and let it sit in the refrigerator till the time you work on your candies.

Separate the candies as per the colour. Once divided, place each set of colour into a food processor and blend till coarsely ground or alternatively put them in a ziplock bag and crush using a rolling pin until coarse. Transfer each colour into a separate bowl.

Take the baking tray out from the refrigerator, add the crushed candies in the centre without overfilling.

And straight away place it in a preheated oven of 180°C for 8 to 14 mins until pale in colour with pale golden edges.

Allow to cool it in the tray itself until the candy hardens.

Then transfer to a wire rack and cool completely.
Notes
Do not overfill the cavities with candies as too much candies would bubble up and spread all over; at the same time do not underfill or else the candy would spread thinly and you would not be able to hold it.
Did you make this recipe? Tag me today!
Tag me @spicesandflavors to get featured on my FB and Insta pages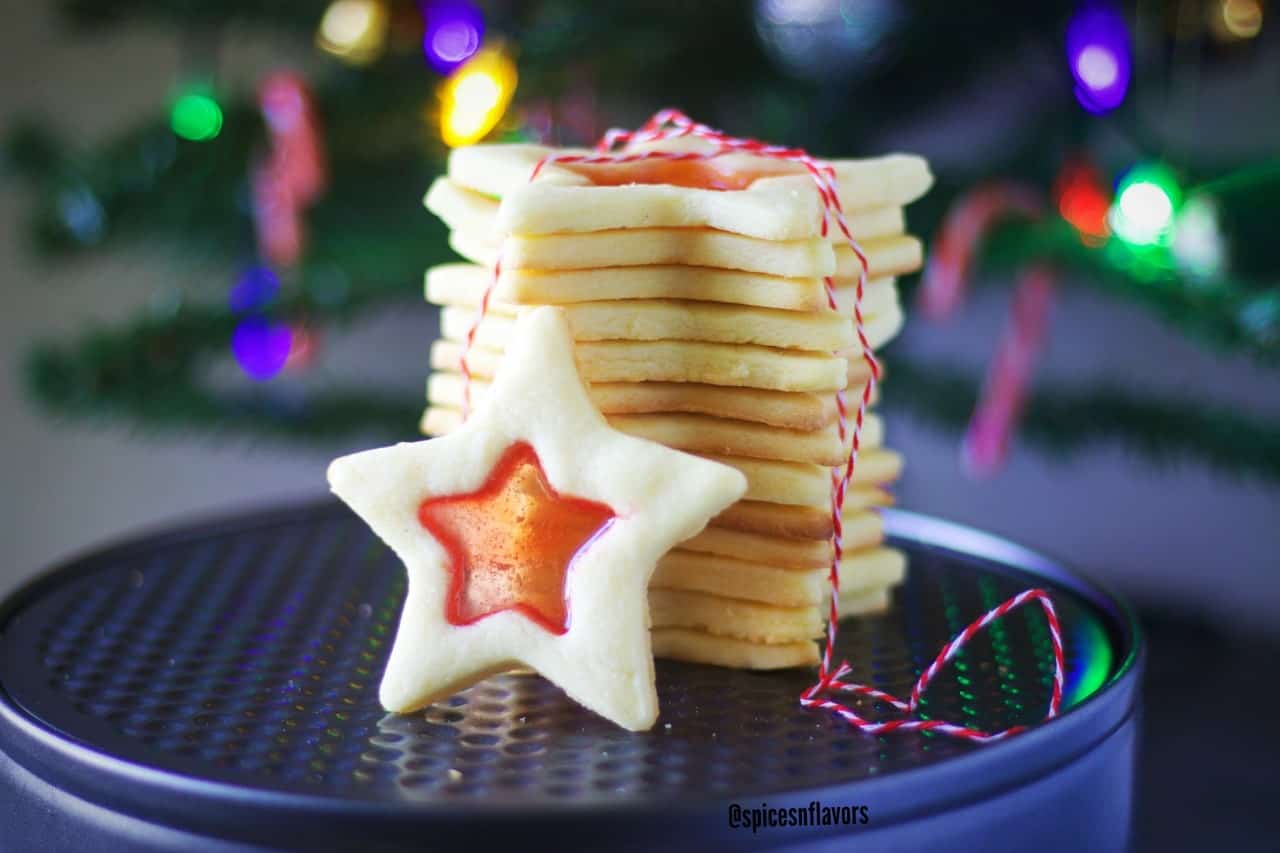 Can I use any other candies other than Jolly Rancher?
Yes, definitely use another brand that is locally available.
How to store these Stained Glass Cookies?
Store in an air tight contained for up to 3 days. The sugar cookie stays good for more than 2 weeks but because of the candy in the centre it softens up a bit.
If you are super ambitious or you have kids who loves to assist you in holiday baking then you can take this stained glass holiday cookies to the next level by making stained glass cookies with sprinkles inside.
For today I just made these Stained Glass Cookies or stained glass biscuits for christmas tree decorations. Loved that little spark in my kiddo's eyes.
I hope you will give this stained glass christmas cookie recipe a try and if you do then let me know by tagging me, tweeting me or instagram me. I would love to follow you and your posts.
If you are looking for more cookie recipe ideas for holiday baking then definitely check out my Cookies playlist, the 3 ingredient Butter Biscuits are to die for.
Pin this to your Christmas or Cookies board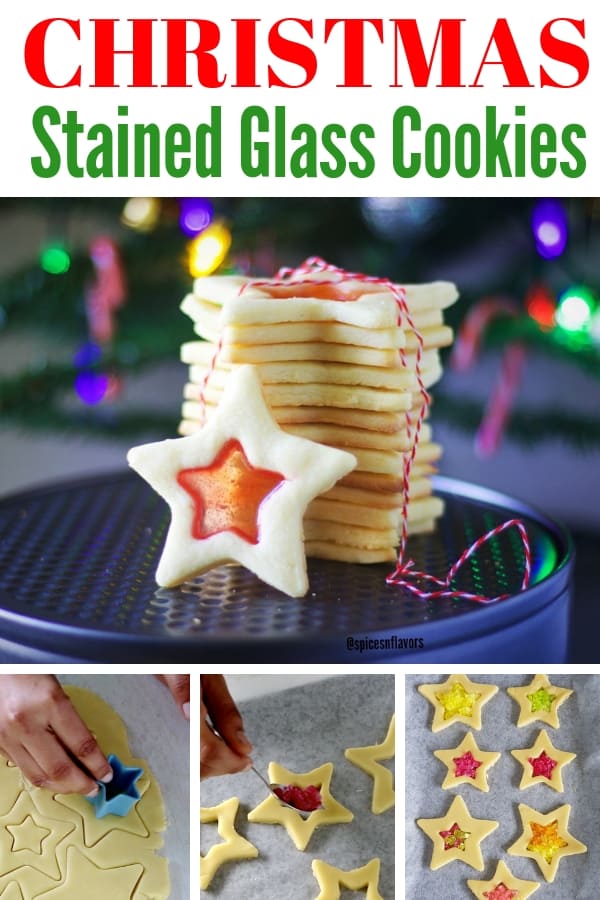 I will see you soon in my next one
Until then
Hugs
sushma