Christmas Pinwheel Cookies is your gateway to making your holiday baking fun and to add colour to your cookie box!!!
Perfect for cookie exchange these red and green pinwheel cookies are sure to win hearts <3 <3 <3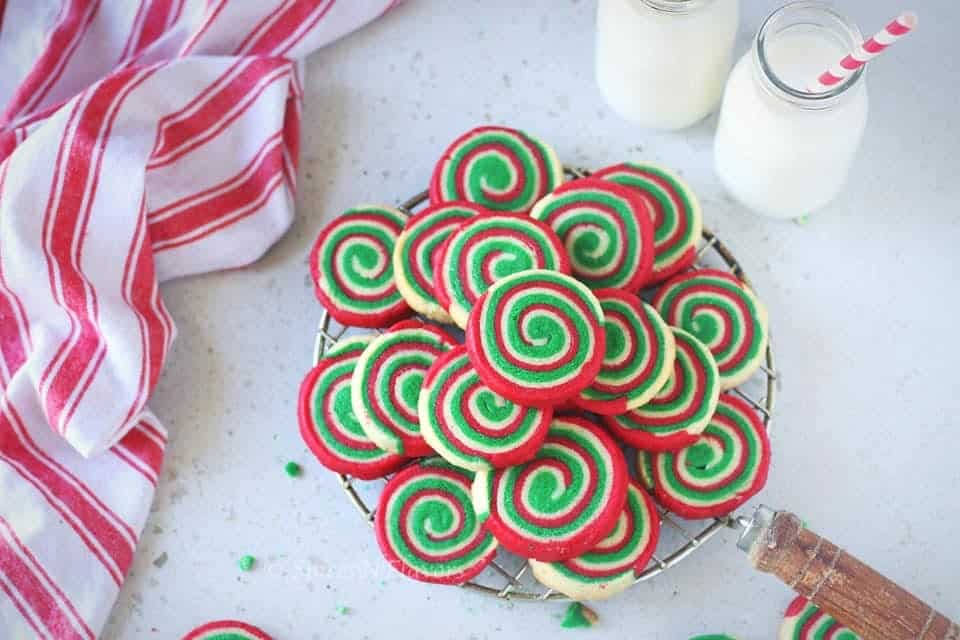 Christmas Pinwheel Cookies are basically vanilla and peppermint flavoured sugar swirl cookies that have been tweaked a bit to give it that dazzling and festive look.
Wondering if it is the easiest Christmas cookies that you can make this season? Then common I am not here to give you false hopes.
Well, the recipe is definitely easy but it is also time-consuming at the same time.
Actually better than icing the sugar cookies for the festive season.
I just cannot wait for the cookie to cool down, then ice and then again wait until it hardens..
Pheww... That's a task for me!!
So if you are someone like me who do not mind spending little extra time and efforts in rolling the dough rather than waiting for the cookies to get dressed up and then eat it, well then this is another of my beautiful Christmas cookies recipes with pictures actually with a video that I am sharing today then.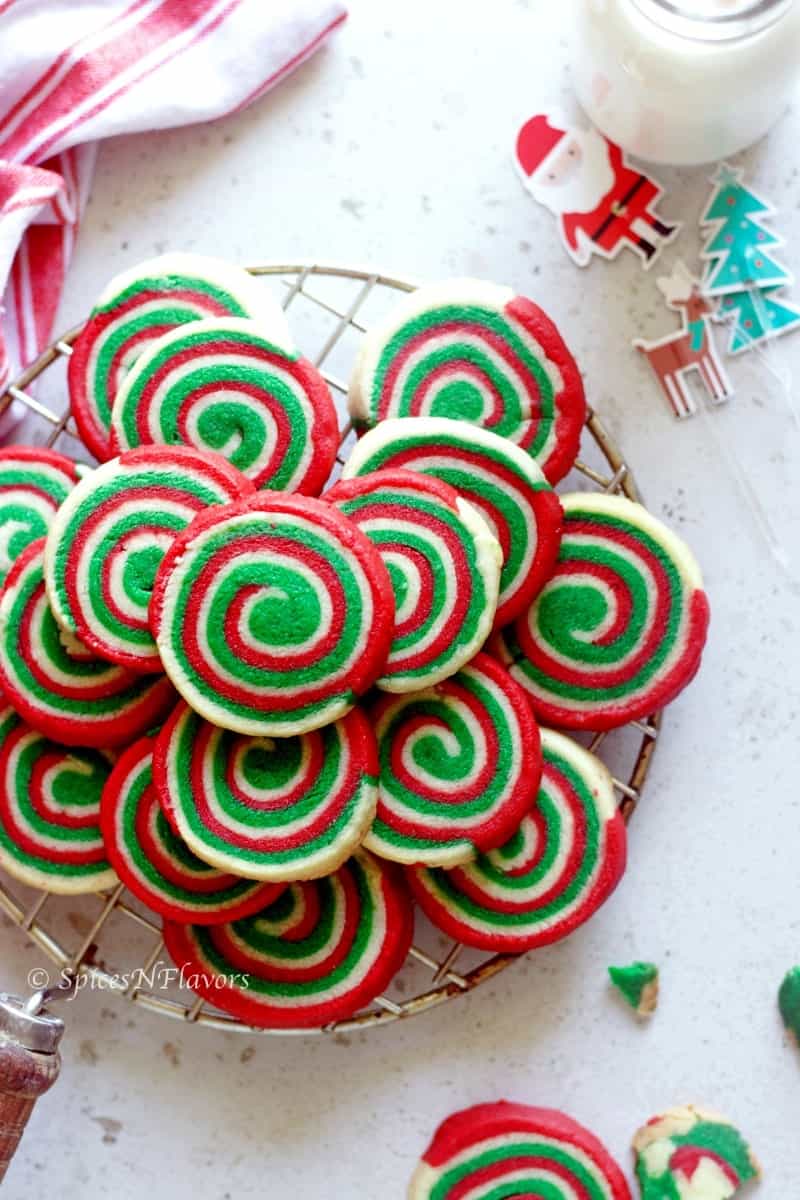 These days there are tons of holiday cookie recipes easily available online. Then why to try this recipe for pinwheel cookies?
Hmm.. I get it.. Here is my top 3 reasons for you to try this amazing pinwheel swirl cookies
1. It looks super festive. The red and green pinwheels are just perfect to classify as classic Christmas cookies
2. These are Eggless. With most of us turning vegetarian and vegan these days eggless pinwheel cookies
are the need of the hour.
3. Being flavoured with classic holiday cookies - Vanilla and Peppermint make it the perfect old-fashioned pinwheel cookies to try. Needless to say these peppermint pinwheel cookies are one of the best Christmas cookie recipes.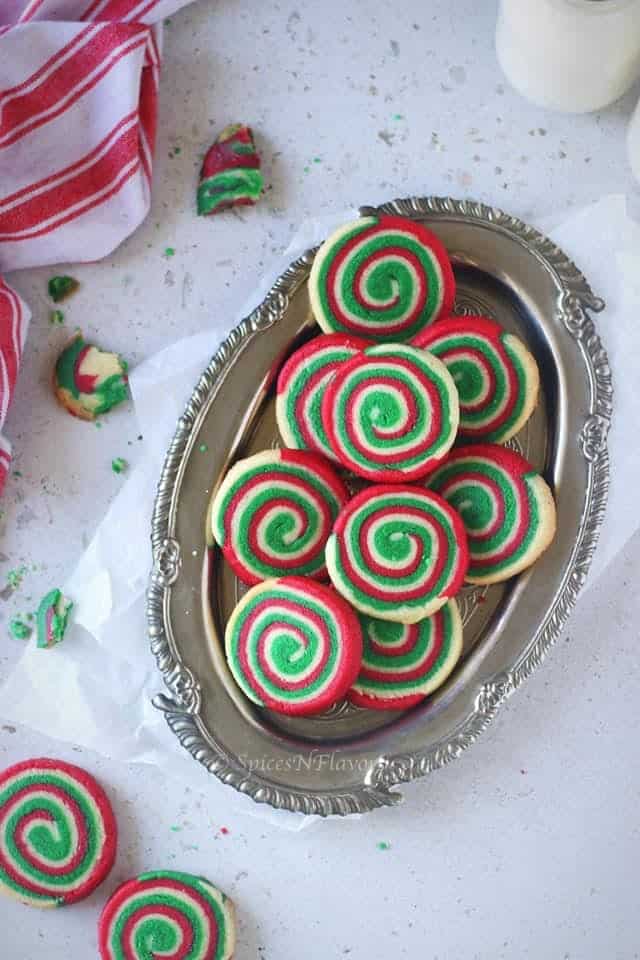 I understand that I am super late at sharing today's recipe on Christmas pinwheel cookies.
But guess what you just need - Flour, Butter and Sugar to make these Christmas cookies aka peppermint pinwheel cookies which I am sure most of you might be having handy at home with you right now.
Am I correct?
And it is absolutely not a must to flavour these easy pinwheel cookies with peppermint. You can choose your own favourite or whatever you have handy. In fact, ginger powder and cinnamon powder are two other things that scream Christmas.
To top that you also do not need so many colours to make this Christmas swirl cookies.
What I mean is you can either choose to go for red and white or green and white or red and green combination instead of the three colourful cookies like I have shared in this Christmas pinwheel recipe.
And if you guys have some time then definitely check out my
A. Christmas Tree Cupcakes recipe and
B. Chrsitmas Stained Glass Cookie recipe too and impress your friends and family.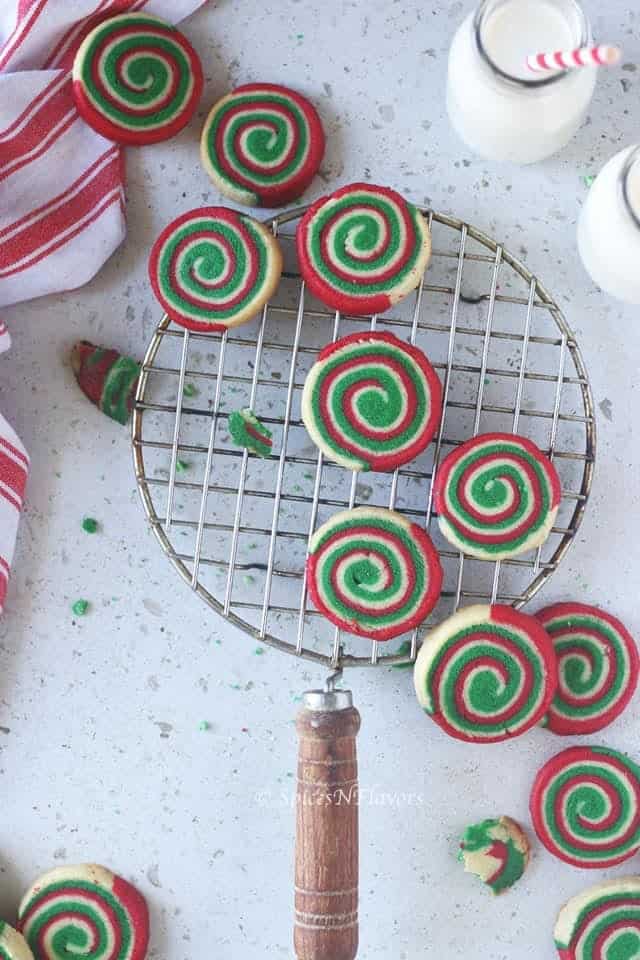 How to make pinwheel cookies?
Previously I have shared with you all how to make checkerboard cookies, today's method is somewhat similar.
Instead of layering it above another as we did in that case, here for Christmas pinwheel cookies we have to make a cookie dough log.
Basically, all you have to do is roll out your cookie dough. Place it one above the other and roll it into a log just like we do for a swiss roll cake.
And then slice them evenly to reveal the beautiful spiral cookies.
Here is a detailed recipe on how to make Christmas sugar swirl cookies?
Liked this recipe?
Let us know by giving it a star rating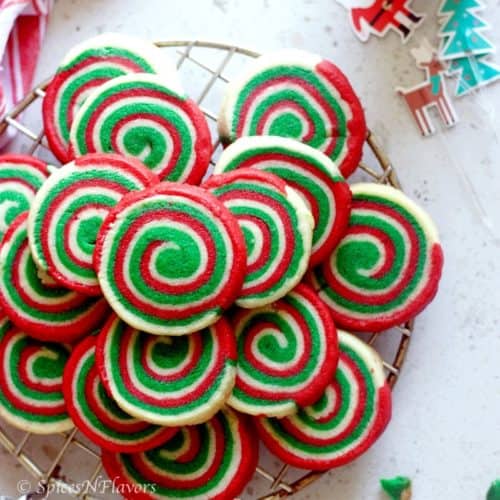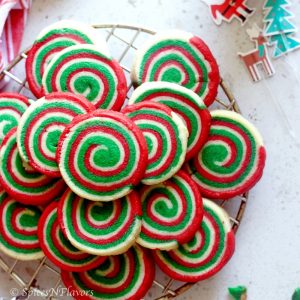 Print
Christmas Pinwheel Cookies
Make your holiday baking fun with these tasty old fashioned Eggless Christmas Pinwheel Cookies!! Ditch all the chocolate, raspberry and salted caramel cookies and try this classic combination of vanilla and peppermint red and green cookies for kids with this easy to follow simple shortbread cookie recipe video
Ingredients
1

cup

Butter

(chilled and cubed)

1

cup

Sugar

3

cups

All Purpose Flour/Maida

1/4

tsp

Salt

2

tbsp

Water

1

tsp

Vanilla Essence

1/2

tsp

Peppermint Essence

Green and Red Food Colouring
Instructions
Using the paddle attachment of your stand mixer, beat together butter and sugar until combined.

Meanwhile mix together salt and flour. Keep aside.

Once butter and sugar are combined, add a tbsp of water and combine.

Then add the flour mixture in 3 batches. That is add 1/3 of flour mixture, mix until you see no dry bits of flour. Scrape the bowl down and add other 1/3 of flour mixture. Repeat the process until all the flour is mixed in.

Finally, add in the remaining water and vanilla essence. Mix until everything comes together to a dough. Do not over-knead the batter.

Take the dough out onto your workstation and divide into three equal portions.
Making Peppermint Dough
Take one portion of the dough back into the stand mixer. Add the green food colouring and peppermint extract and combine until the colour is evenly mixed.

Once the colour is evenly mixed transfer the dough onto a parchment paper Roll out into a rectangle shape of 9x12 inches to be precise.

Transfer the parchment paper to a baking tray and let it chill in the fridge until you work on the remaining 2 portions.
Making Plain Dough
To the second portion do not add any colour. Leave it blank just roll it down to 9x12 inches rectangle.

Now place this parchment with the plain (colourless) dough on top of our previously rolled peppermint green dough and put it back in the refrigerator.
Making Red Dough
To the final portion of dough add red food colouring and mix until the colour is evenly mixed.

Repeat the process of rolling out and placing the parchment on top of the white plain dough now.
Layering and Rolling the cookie dough
Now take the red dough along with the parchment on top of your work top.

Place the white cookie dough on top of the red one with the non-parchment side dough sticking on to the red dough.

Gently remove the parchment paper and place the green dough again non-parchment side touching the plain dough.

Once they are soft to roll, gently, starting with one of the straightened sides, roll the dough into a log shape (like a swiss roll cake) until you reach the other trimmed dough edge. Use the parchment paper to lift the dough to get it started. Once the dough log is complete, gently pinch the seam closed along with any breaks on the outer red layer.

Cling wrap and let this chill in the refrigerator for 30 mins.

Once chilled using a serrated knife make even cut to reveal the beautiful

holiday swirl cookies.

Place them on a baking tray lined with parchment paper and bake in a preheated oven of 180°C for 13-15 mins until the base turns light golden brown in colour.
Video
Notes
1. In order to achieve that vibrant colours, I have used a good amount of food colouring in the dough. You can, however, adjust it as per your choice.
2. The recipe can be made using just 2 colours along with any different flavour choice like ginger, cinnamon etc.
3. Also, make sure to roll the cookie dough tightly so that there are no air gaps in between once you cut the dough to make individual swirl cookie.
Did you make this recipe? Tag me today!
Tag me @spicesandflavors to get featured on my FB and Insta pages
Tip to achieve that perfect round pinwheel swirl cookies.
I have a secret tip to share with you all.
And that is to use emptied paper towel roll.
That is when all the paper towel is used up the cardboard lining that you find inside it just save it.
Divide it into two using a scissor as shown in the video.
Place the cookie dough roll on top of it so that the base of dough does not fall flat while refrigerating and you get a perfectly round holiday pinwheel cookies when you slice them.
Cutting the post to be short and sweet, I hope you enjoyed today's post on Christmas Pinwheel Cookies. If you did then do let me know by tagging me, tweeting me or instagram me. I would love to follow you and your posts.
Pin this to your Cookies or Christmas board on Pinterest.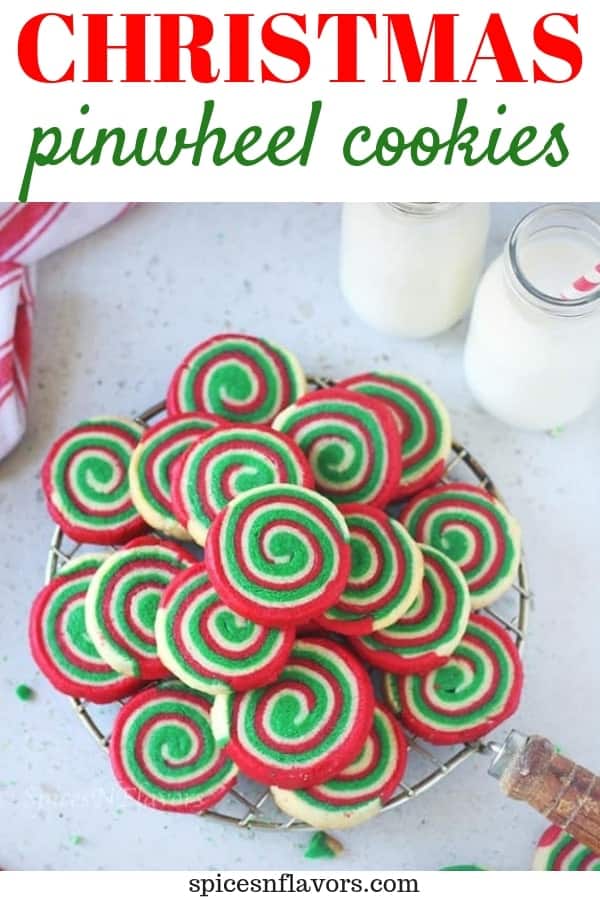 See you soon in my next one.
Until then
Hugs
Sushma.