If you have used your Instant Pot just to make soups for dinner till now, then these 7 best instant pot hacks would definitely blow your mind and change the way you use your Instant Pot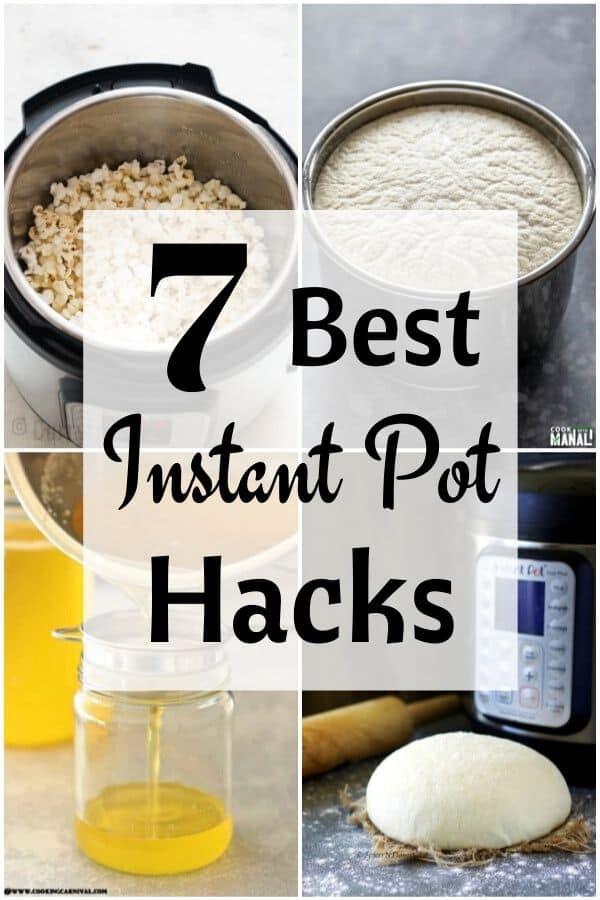 Got Instant Pot for Thanksgiving or Christmas or New Year Eve's??
First of all welcome to the community.
So are you a seasoned Instant Pot user or still scared to take that magic pot out of your box??
Won't really matter.. As you will be intrigued by these Instant Pot Hacks collection and would wonder why didn't I think of it!!!
So by now, you all might be knowing that Instant Pot is often referred to as Magic Pot.
Yes, it is one electric pressure cooker model that includes everything in one - slow cooker, yogurt maker, rice cooker, it even has options for baking too.
But other than these there are so many other different and unexpected ways to put your Instant Pot into use.
Oh yes!! Be it proofing bread or actually baking it, cakes, brownies, yogurt, beverages, dried beans, rice, dog food or baby foods even jams and pickles; you name it and let's make it .
In fact, making alcohol in IP is also totally feasible.
So if you are ready to move over from making basic Instant Pot Soups then here are 7 ways to hack it.
7 Best Instant Pot Hacks that will blow your Mind:
1. Instant Pot Melted Chocolates:
How to melt Chocolate in Instant Pot - the easiest Instant Pot hack you would not want to miss. Keeping the chocolates melted longer for dipping, for decorating has never been easier!!
Using instant pot as a double boiler to melt chocolates would be your best friend hereon.
Find 2 bonus recipes plus ideas on things to do with melted chocolate in video format by clicking here.
Recipe: SpicesNFlavors
2. Instant Pot Yogurt:
Well, I had to include this in this post as hands down this is one hack that I believe every new owner must know.
This recipe from "Amindfullmom" includes step by step instructions on how to make yogurt in an electric pressure cooker.
And as the post promises, it Includes directions for nonfat, full fat and Greek yogurt; ways to naturally sweeten yogurt.
In short EVERYTHING you need to know about making Instant Pot Yogurt.
Recipe: amindfullmom
3. Instant Pot Bread Proofing
Did you know that you can proof dough in Instant Pot?
Proofing dough in instant pot has to be one of the best Instant Pot hacks you could ever come across.
Get consistent results each time with this trick be it summers or winters.
Learn how to proof dough in instant pot along with links to easy bread recipes in the post by clicking here.
Recipe: SpicesNFlavors
4. Instant Pot Ghee
Traditionally used in Indian cooking, Ghee is a class of Clarified butter popular for its high smoke point and Nutty-toasted flavor.
Because of the consistent heat from Instant Pot, the cooking time for ghee remains the same every single time which means a lesser chance of burnt ghee.
This post on Instant Pot Ghee has every minute detail for nailing it in the first attempt.
Recipe: CookingCarnival
And if you are looking for ways to use up the ghee, I have a really cool Ghee Cake that you must not miss to make.
5. Instant Pot Jam
Yes, you read it right!!
Did you know you can make jam in the Instant Pot.
Homemade Jam recipe with no added pectin, no cornstarch or preservatives would definitely impress your loved ones.
I had made spiced Christmas Jam for Christmas this year and gifted it to my friends and family.
You can check the recipe by clicking here.
Recipe: SpicesNFlavors
6. Instant Pot Tea
Making Indian Chai Tea has never been this easier.
Do you have guests coming over or Do you drink tea the first thing in the morning?
Then this Instant Pot Tea recipe would be a boon for you.
One of the best hacks that you could ever try.
Recipe: Vidhyashomecooking
7. Instant Pot Fermented Batter
If you really struggle with making well-fermented batter for making soft and spongy idlis and crispy dosas then this post has got you covered with everything you need to know.
A staple batter found in every south Indian household.
Instant Pot really helps to ferment the batter no matter what the temperature is outside. A boon for us living in cold countries.
Check out the step by step detailed tutorial that has every minute details specified by clicking here.
Recipe: CookwithManali
Bonus Recipe:
Yes I did mention 7 best Instant Pot Hacks but trust me there are so many other things that this magic pot can do that one post just won't do the justice.
So just linking few bonus recipes that I think you guys will be interested in knowing.
Instant Pot Popcorn
A quick and easy recipe that you can whip up using just 3 ingredients
The perfect companion for your Netflix Binging.
Check out the post on Instant Pot Popcorn that covers 3 ways to jazz it up too.
Recipe: Curry Trail
Few other recipes that I think you will like:
Instant Pot Vanilla Extract - Well I am planning to make an entire blog post on this so yeah do keep watching this space or just subscribe to our Youtube Channel for latest updates.
And we are not done yet..

Some Unexpected Instant Pot Hacks
1. Instant Pot DIY Crayons
This would be so much fun!!
No more wastage of crayons. Check out the detailed tutorial from here.
2. DIY Dyed Eggs
This would be so much fun to make on Easter eve.
Check out the detailed tutorial by Thisolemom.
3. Instant Pot Dog Food
Oh yes!! This is totally possible.
Check out 5 different recipes from here - dailydogstuff
That was such an interesting post to put together.
If you are like me who absolutely love love love their Instant Pot then definitely all these Instant Pot Hacks are worth trying.
Do share your favourite hack with me in the comments below. And check out our Facebook and Instagram Page for more instant pot hacks.
Pin it for later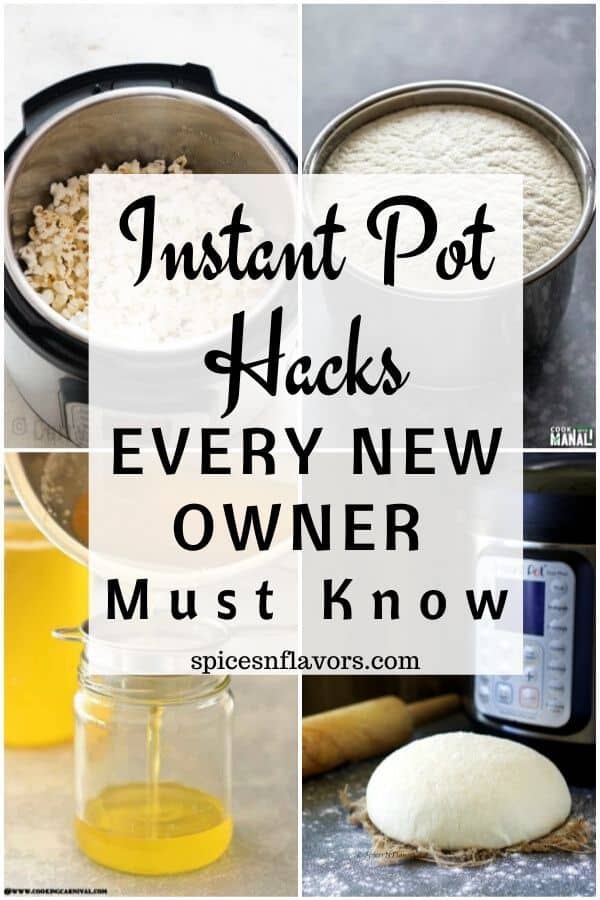 I will see you soon in my next one
Until then
Hugs
Sushma