Christmas Jam - the only edible DIY gift you need this season. This Instant Pot Strawberry Jam spiced with Christmas flavours is an easy Homemade Jam recipe ever with no added pectin, no cornstarch or preservatives so sure enough to impress your friends and family.
And they will start loving the giver more than the gift 😉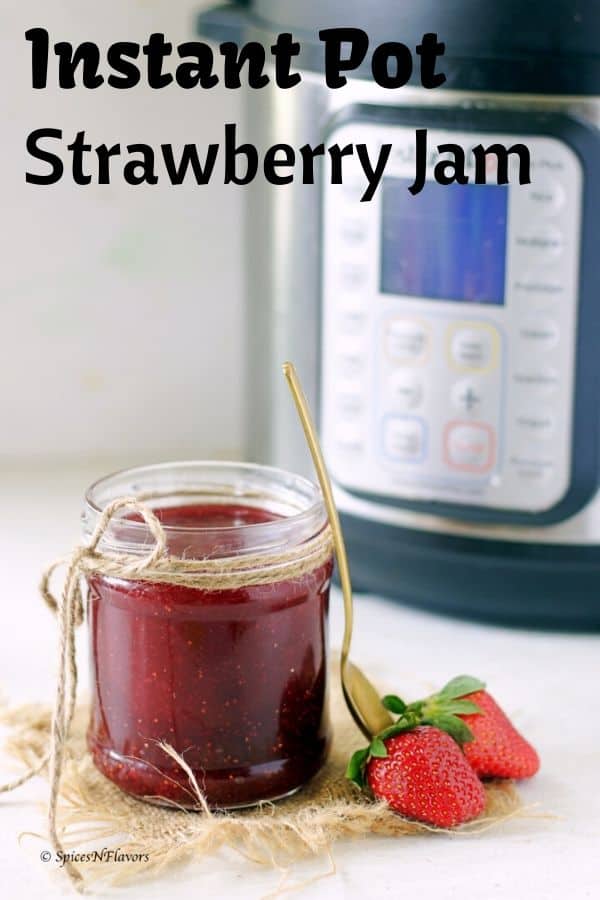 Homemade Jam in this season?
Yes, you read it right!! It is now Summers in my part of the world and fresh berries and fruits are all in full swing now..
I live in New Zealand and we are enjoying Summers now along with Australians when the rest of the world is freezing and we hit Winters from May to August..
So the best way I could think of using the fresh produce has to be this Homemade Jam made in the Instant Pot.
Also, if you have been following this space especially this Christmas Star Bread one you know that I am expecting my second child and in my #38weekspregnancy now, so I wanted something easy edible gifting idea for Christmas and what better than this Instant Pot Strawberry Jam.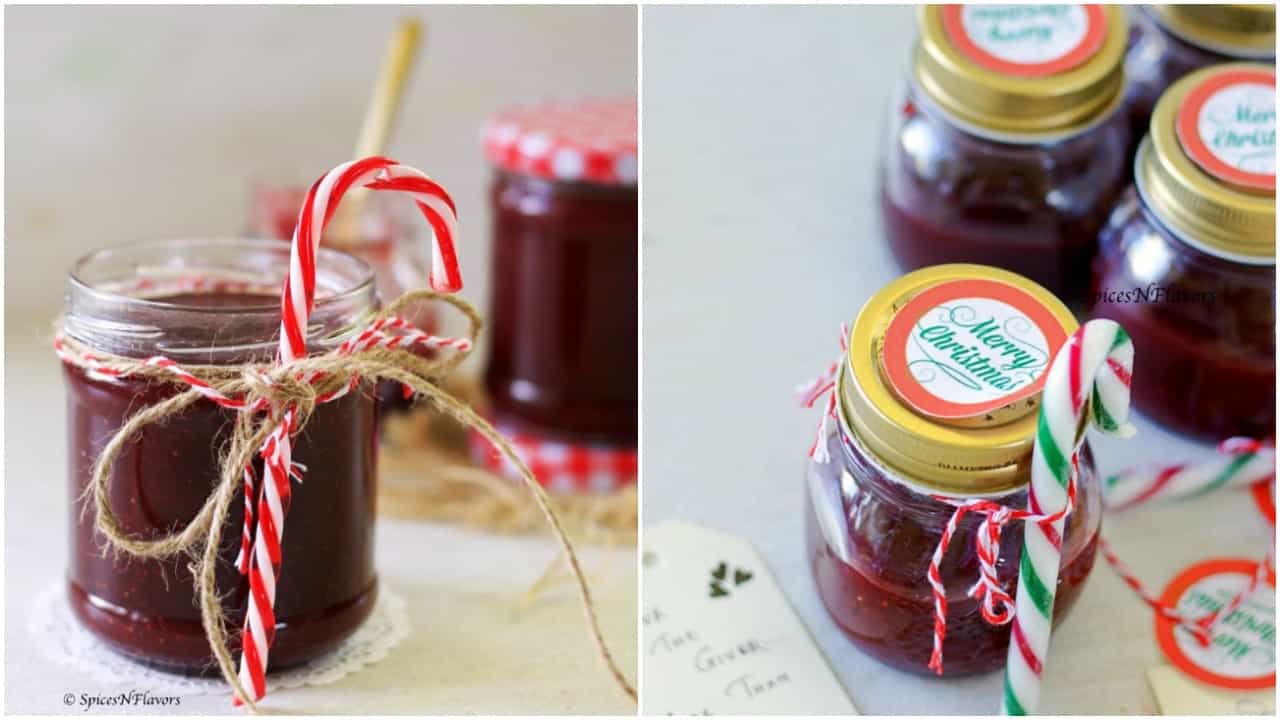 What makes this Instant Pot Strawberry Jam unique?
It is the addition of fall flavours. Simple right!!  A little touch goes a long way..
And those cute little candy canes and stickers on the mason jars complete the Christmas Jam look.
The sweet and tart Homemade Strawberry Jam made without pectin or Cornstarch and the addition of the spices that kicks in the right amount makes this the best Christmas gift that you can opt for.
Not a traditional jam making process but a definitely hassle-free and convenient way of making Jam at home.
So How to make Strawberry Jam at home? 
Start by choosing the fresh and firm strawberries as opposed to riped ones as those would be naturally less in pectin and won't set right also decreasing the shelf life of the jam.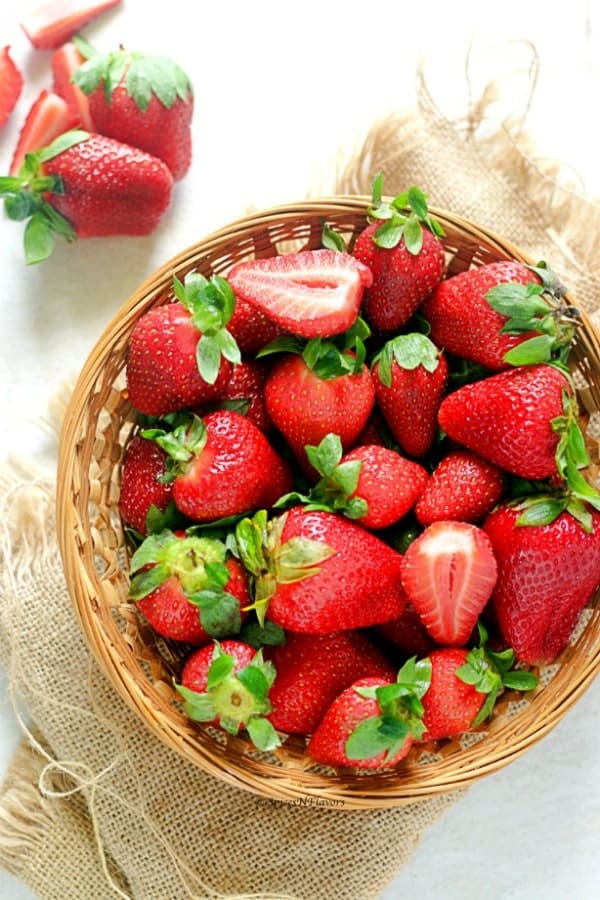 No matter what jam you make, always use fresh and firm fruits to make jams at home.
Step 1: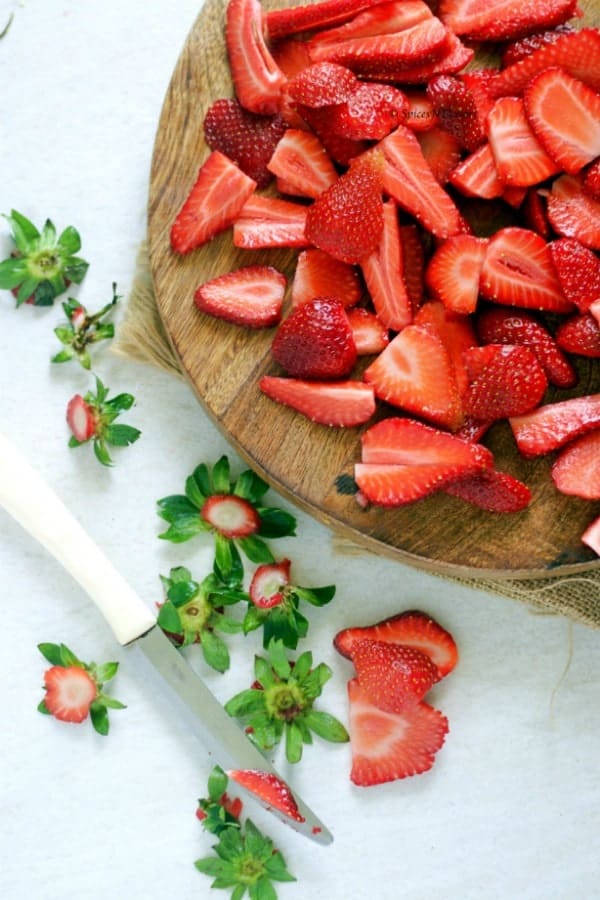 Thoroughly wash the berries, hull and halve them or quarter them doesn't really matter as we are going to pressure cook these anyway.
Step 2:

Add the berries to the base of your pot. Top it with sugar and lemon juice. Give a stir and let it sit for 30 mins.
This process is called, "Macerating"
Basically it is soaking the fruit in sugar to soften it and release its juices, which makes it easier for us to pressure cook later.
Step 3:
Pressure cook the berries for 3 mins using the Manual or Pressure cook mode.
I know some of you might think 3 mins is such a long time, yes even 1 min is enough - but I am mentioning the time that works for both fresh or frozen berries.
So if you intend to use only fresh berries then definitely you can choose to cook the berries for just 1 min.
After that let it release pressure naturally - 15 to 18 mins.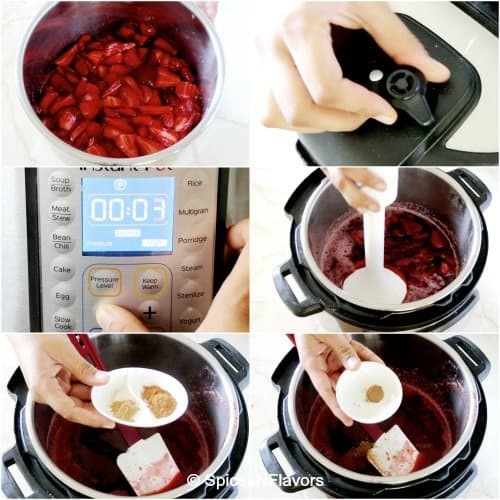 Step 4:
The Final Step is to cook the jam.
Once the pin drops open the lid and cook the jam using Saute mode. Add the spices and cook the jam until the desired consistency is acheived. This would take nearly 15 to 20 mins depending upon how many lbs of strawberries you started with.
So 1lb of berries won't take long to cook down but time will definitely vary depending upon the quantity you started with
Jam Test
You know your homemade jam is ready when it coats the back of your spoon.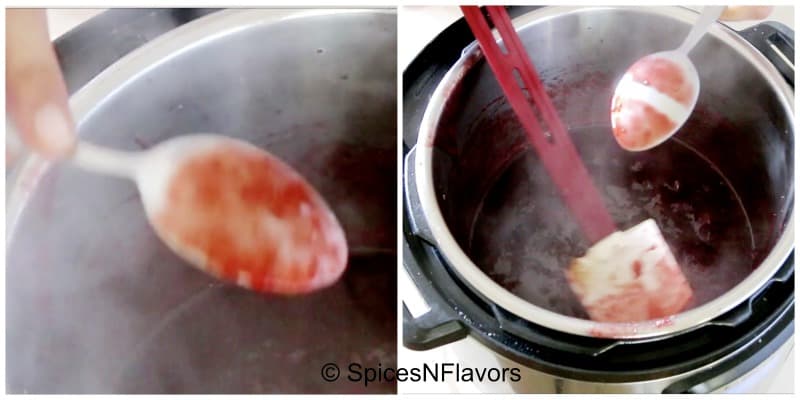 Simply run your finger in between and if the jam stays put without having the need to rush into each other.. lol I mean without mixing again then you know it is ready.
Let is cool completely and then transfer to sterilized jars or first transfer to the jars and allow it to cool completely.
The only point to note is that the jam should be cooled completely before you put the lid on or else due to condensation, the water droplets would drip into the jam thereby reducing the shelf life.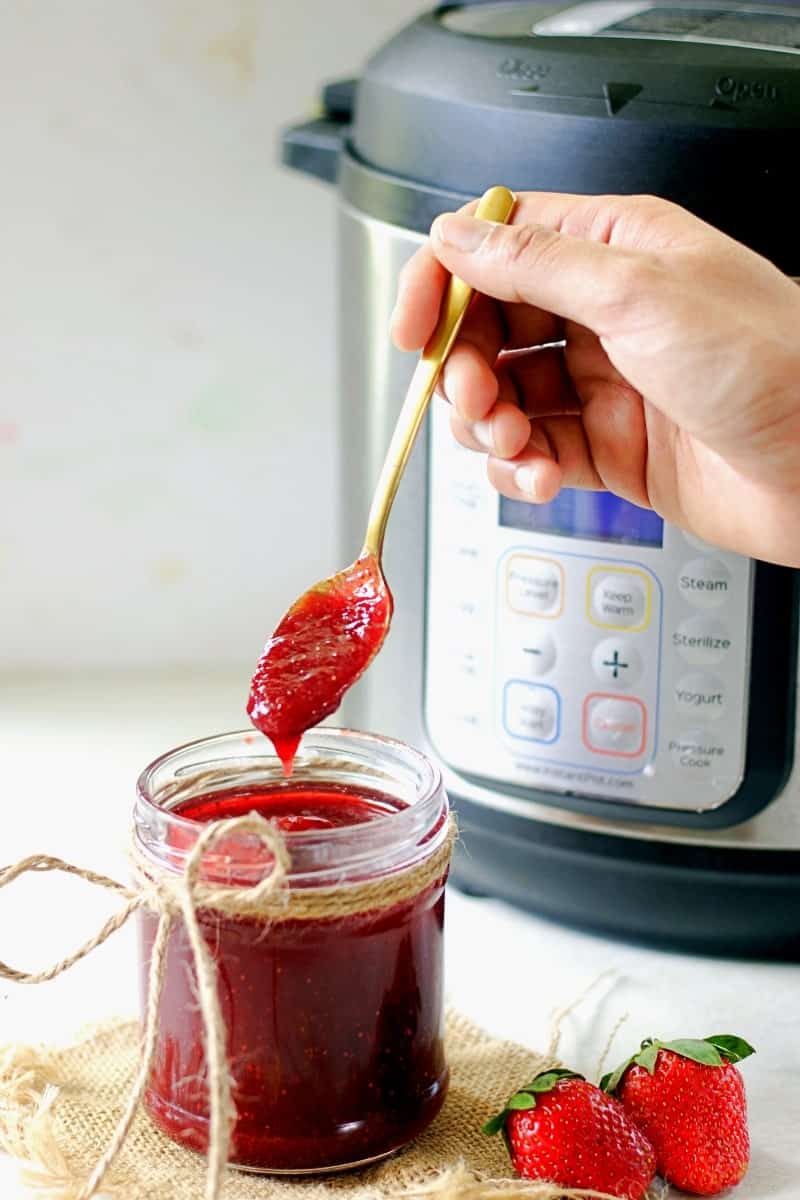 I know.. I know.. and I understand that there is no chance that you will get fresh strawberries in this season..
And that is why I have an alternative for you.
Can I use Frozen Strawberries or Any other type of Fruit?
Oh yes definitely!!
In fact, I halved the recipe and tried it with a batch of frozen strawberries and it worked out just fine.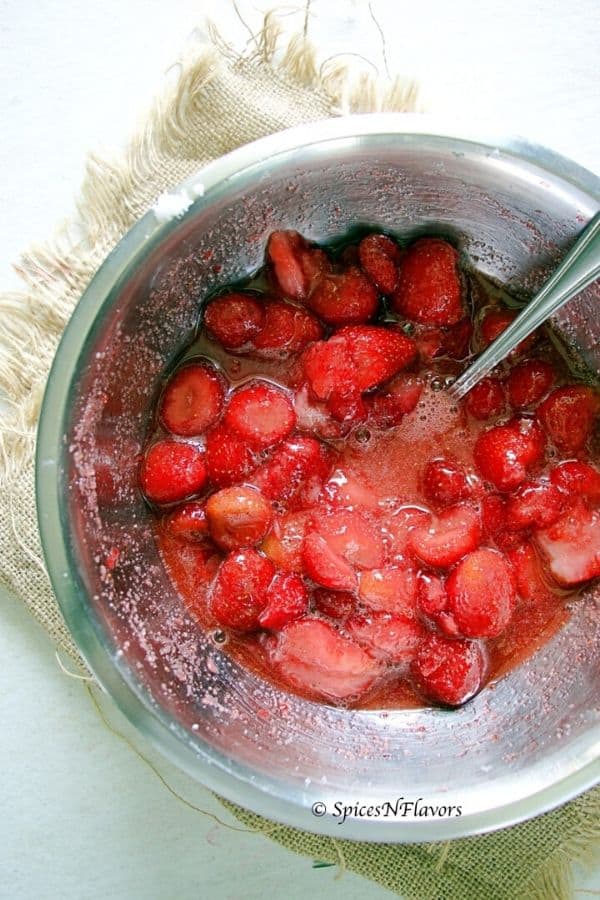 The image above is of frozen strawberries macerated in sugar since these were frozen you can see that the strawberries are whole here.
Only thing is it took me nearly 2 to 3 hours to macerate the berries. Also, do keep it stirring every now and then for even coating.
If planned in advance one can avoid that time as well!! We can thaw the berries overnight in the refrigerator that way next day morning it won't take much time for the berries to soften.
The cooking steps remain the same.
Another thing that I wanted to suggest while making this Christmas Jam is to add CRANBERRIES (a winter fruit) to it.
Little addition of Cranberries would take this jam making to the next level.
I tried to find frozen cranberries but couldn't like mentioned it would be winter in May-July and that is when I would get cranberries. If you can find I will highly recommend you to add it. Refer notes in the recipe section for the quantities.
And yes any other fruit can be used to make Instant Pot Jam like Plums, Cherries or Oranges too.
Some Frequently Asked Questions:
Can I double or triple the recipe?
Yes, certainly you can. Just make sure you do not cross the Max Line marked on the inner pot of your Instant Pot.
The only thing to note is that even though the pressure cooking time would remain the same, the cooking-down stage that is the time on Saute mode would definitely vary.
CAN I USE LESS SUGAR, OR SUBSTITUTE AN ARTIFICIAL SWEETENER?
Yes, you can reduce the sugar a little than what the recipe calls for, however, I would not recommend you to.
As already I have used halve the amount of sugar than what a traditional jam recipe would call for. And I found it to be perfectly sweetened.
You can reduce it if you like or make use of honey over sugar as honey is less processed and healthier in comparison to sugar.
How do you make Strawberry Jam with honey?
Though I have not tried it personally, I do know for a fact that one can use honey as the sweetener in place of sugar to make homemade jams.
1/4 to 1/3 cup honey should work fine for 1/2kg of strawberries.
However, do add it at the cooking stage on saute mode.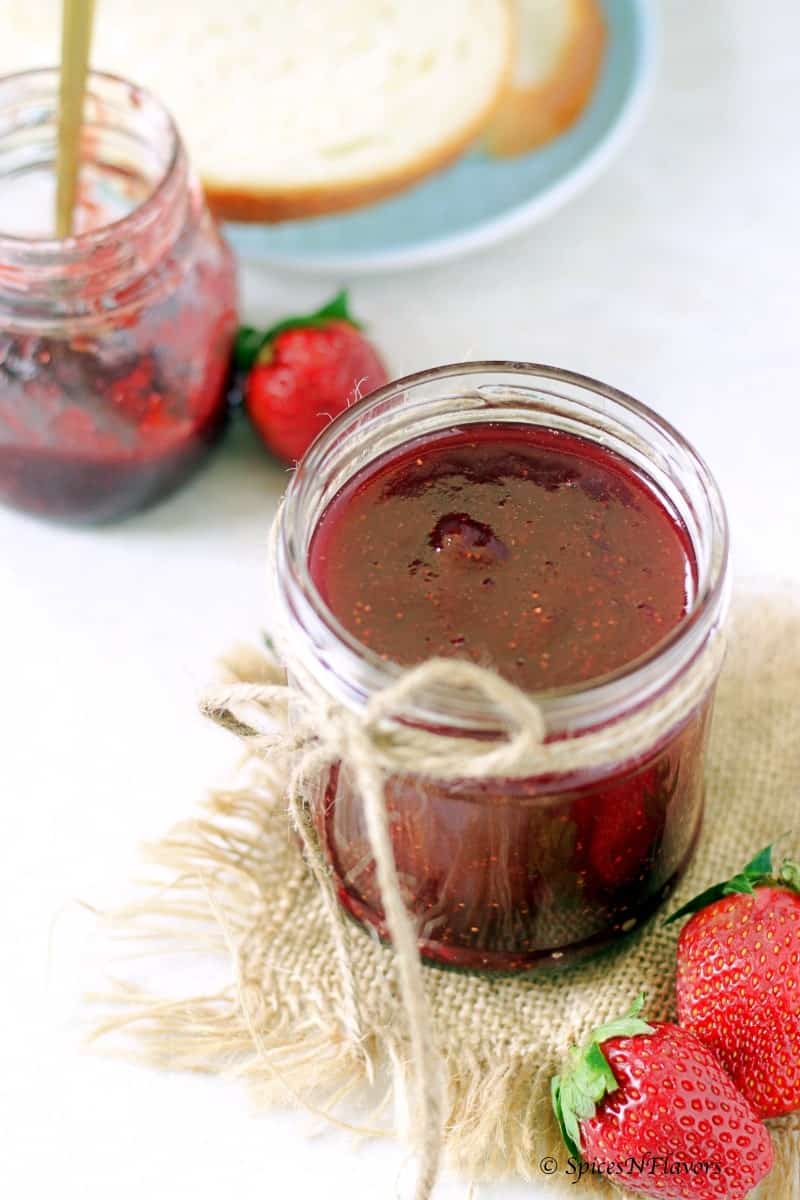 Preserving and Storing:
Personally, I do not have much experience canning or preserving jams. Neither has experience making freezer jams.
But strawberries are naturally highly acidic and also with the addition of lemon juice, I think it would work great. If you have experience preserving jams then I can assure that this Jam recipe would work perfectly fine and also would request you to share the details in the comments below so that I can learn from you.
How to store Homemade Strawberry Jam?
I always make Jam in less quantity that doesn't last for long all thanks to the toddler in my home.
So this would stay good in the refrigerator for up to 3 weeks.
DO I NEED PECTIN OR SUREJELL TO MAKE JAM IN THE INSTANT POT?
This particular spiced strawberry jam recipe does not need any pectin or setting agent.
We are just using 3 basic strawberry jam ingredients - Strawberries, Sugar and Lemon Juice.
Since lemon juice is naturally high in pectin it helps to set the jam as well as cuts down the sweetness of the jam. So a win-win situation.
Neither are we using Cornstarch in this recipe but rather just cooking it down using the Saute Mode.
How to reduce the cooking time?
I understand that some of you might not want to spend the additional few minutes to cook it down to jam consistency. I do have an alternative for you:
Cornstarch: Once you pressure cook the strawberries, bring it to a boil using the Saute mode. And then add the cornstarch slurry - 1 tbsp of cornstarch dissolved in 1/4 cup water. Then stir again and you will observe the jam thickening quickly.I do not like using Cornstarch in making Jams, somehow there is no point of making jams at home if we want to add the cornstarch right!!
Chia Seeds: Another popular way to thicken jams at home is using Chia Seeds. In fact, the addition of chia seeds would make the jam even healthier. Once you pressure cook the jam in an electric pressure cooker. Simply add 1/2 cup of chia seeds to it and let it sit for 4 hours which would give the chia seeds enough time to soak up the liquid and plump up.By this method, you would actually end up making a variation of regular jam which is Strawberry Chia Seeds Jam.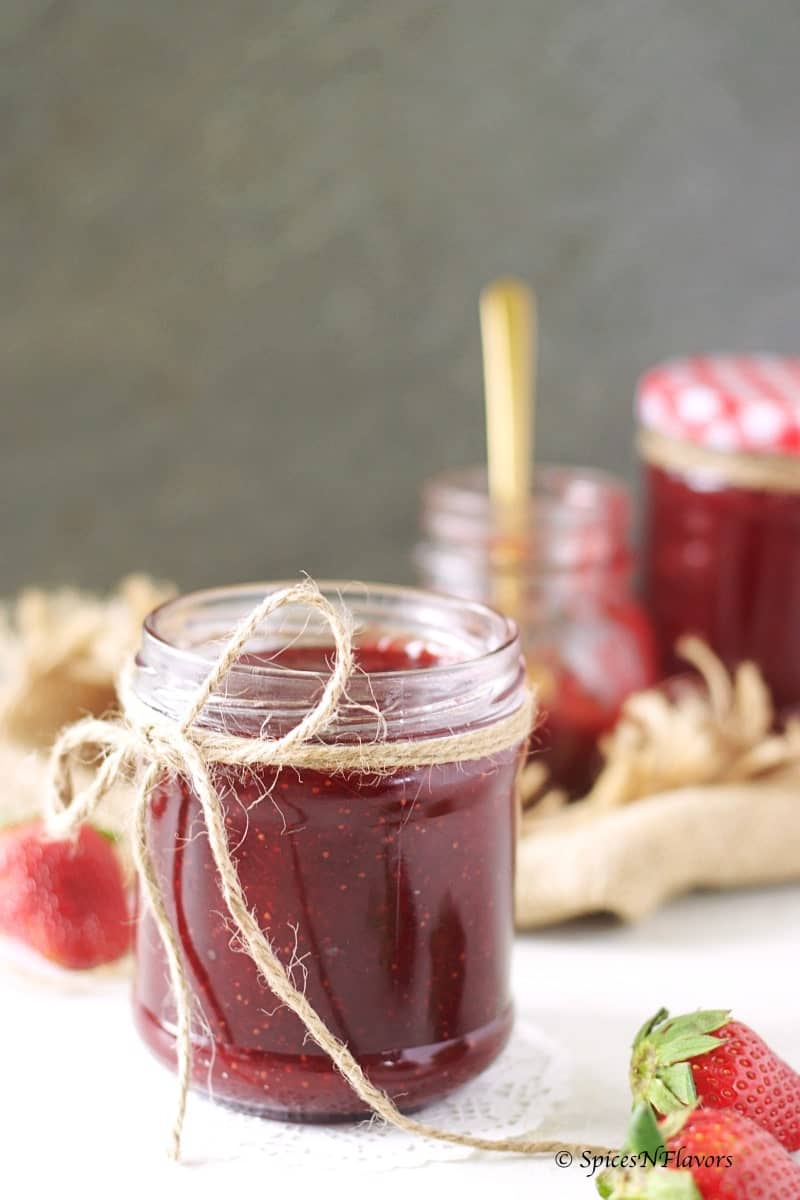 Here are some of my favourite ways to use up your Christmas Jam or simply Instant Pot Strawberry Jam:
Oats... Oats.. Oats.. Oatmeal is one of my favourite breakfast, in fact, I have it every single day. And simply adding this homemade jam on top of it takes the oatmeal to the next level.
Just like oatmeal, you can, of course, make your own granola parfaits - layers of yoghurt, granola, jam and fresh fruit - DIVINE!!
Surprise Cupcakes - a filling inside your cupcakes.
Buttercream Frosting - Check out my Buttercream Frosting 101 to make the best frosting ever and flavour it with the jam to make Strawberry Buttercream.
Christmas Cookies - Linzer Cookies or Thumbprint Cookies; how can we miss that.
My another Christmas favourite recipe - Christmas Star Bread where you can actually see me using the Strawberry Jam the right way!! I mean put to the right use.
Maybe a topping for your favourite Instant Pot Cheesecake recipe.
And of course, a classic toast and jam for Breakfast or even scones topped with jam for breakfast can never go out of fashion 😉 In fact I have paired this Christmas Jam with homemade white bread which you can see in the pictures too will be sharing the bread recipe soon, so consider subscribing to our Youtube Channel for more updates.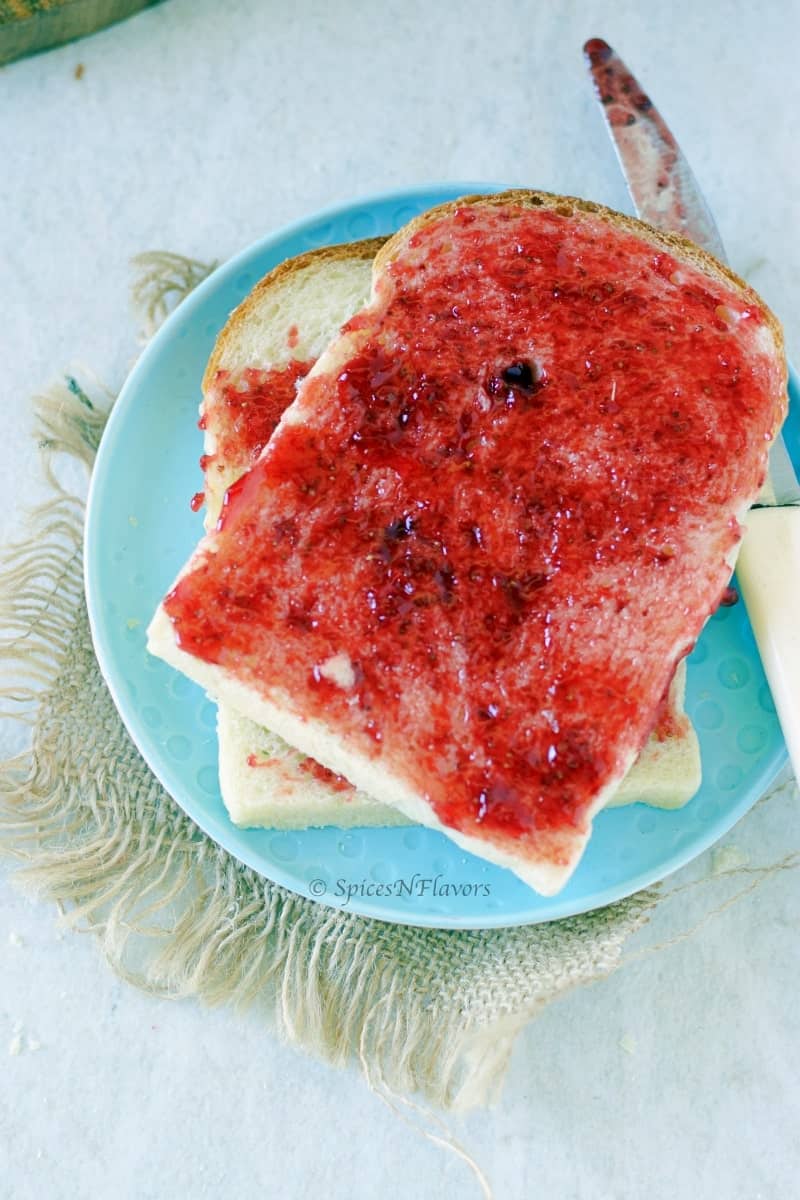 My Top 4 Tips to make and store the perfect homemade jam in Instant Pot
A very basic tip which applies to, making any kind of jam would be to sterilize the Mason Jars before storing it. One simple way that I follow is to give it a quick hot water wash and air dry it completely. I do this during the Macerating Step.
No contact with moisture. Yes, be it while filling the jars, while spreading the jam on the toast or simply using the jam at any given time make sure to have dry hands, dry spoons, dry knives etc and to avoid moisture as that would be the cause of formation of moulds in the jams.
 Do not skip Lemon Juice which is the natural source of Pectin in our recipe which would help to set the jam further.
Choose fresh and firm fruits to make homemade Jams. Avoid riped fruits or fruits with cuts or bruises as jams made with those won't last long.
Here is a detailed recipe on how to make Christmas Jam at home this season:
Before we proceed, sharing few popular Christmas recipes that I think you would be interested in:
Liked this recipe?
Let us know by giving it a star rating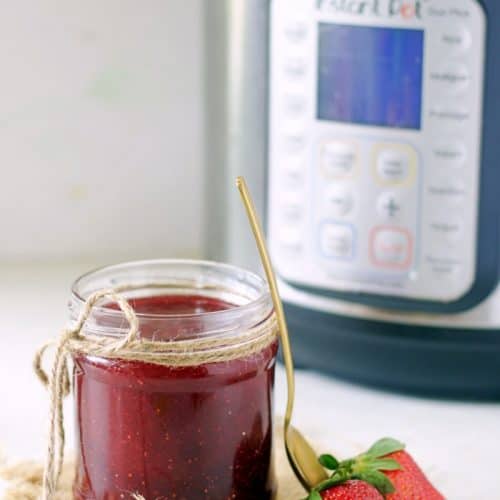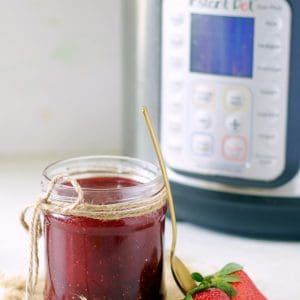 Print
Christmas Jam - Instant Pot Strawberry Jam
Christmas Jam - the only edible DIY gift you need this season. This Instant Pot Strawberry Jam spiced with Christmas flavours is the easiest Jam recipe ever with no added pectin, no cornstarch or preservatives so sure enough to impress your friends and family.
Ingredients
Basic Strawberry Jam Ingredients
2

lb

Fresh Strawberries

2

cups

Sugar

2

tbsp

Lemon Juice
Spiced Christmas Jam
1/2

tsp

Ground Cinnamon

1/2

tsp

Ground Ginger

1

tsp

Allspice powder
Instructions
Wash, hull and slice the strawberries into halves or quarters. Add the strawberries, sugar and lemon juice to the inner pot, stir and let it macerate for 30 mins.

Meanwhile, you can wash the jars in hot water and let it air dry completely.

After 30 mins, close the lid, vent to sealing mode. Use the pressure cook button and set the timer to 3 mins. Allow depressurizing naturally (around 15 to 18 mins).

Once the pin drops, open the lid. The strawberries will be soft and well cooked and would be liquidy. Blitz using a handheld processor you can use a potato masher too if you like your jam to be a little bit chunkier.

Set to saute mode. Add the spices and stirring occasionally cook it down until you reach the jam consistency. This would take around 15 to 20 mins.

Do the jam test and once done, cancel the saute mode, allow it to cool before transferring into mason jars and storing. Or transfer to the jars immediately but still allow it to cool completely before putting the lid on.
JAM TEST:
You know your jam is done when it coats the back of the spoon. Just run your finger creating a gap in between the jam and if it stays in place without the need to rush back and merge into one 😉 then you know the jam is ready.
Stovetop Version:
Once you have macerated the berries, add everything to a saucepan and on a low heat cook until the sugar dissolves completely.

Then turn the heat high and bring it to a boil. Once boiled reduce the flame to medium and stirring continuously cook the jam to the desired consistency.

Make sure to dissolve the sugar completely before proceeding as the sugar might recrystallize upon cooling and would give an undesirable taste as well as you might find it difficult to set it completely.
Video
Notes
Since it is Winters in rest of the world and cranberries are in season, I highly recommend adding 250 gms of Cranberries along with Strawberries to make this Christmas Jam even more addictive.
You can reduce the sugar and use 1.5 cups but I would not recommend as already we have reduced the quantity and I think it is perfect sweetness for a Jam.
And yes you can definitely use frozen strawberries in place of fresh. Only thing is it takes 2 to 3 hours to thaw completely so instead of 30 mins Macernation time period you will have to wait for 2-3 hours.
I have mentioned the pressure cooking timing considering the frozen berries as well. If you intend to make these with only fresh berries then even 1 min pressure cooking would be enough.
Some of my friends are not a fan of bold flavoured Jam, so after step 4 I divided the cooked liquidy berries equally into two and made a plain Instant Pot Strawberry Jam version without adding any spices and an Instant Pot Christmas Jam version.
If you also plan to make two variations of jams in one go like I did by dividing it once you have pressure cooked the strawberries then I would advise you to halve the spices too in that case for Christmas Jam. So for 1 lbs of strawberries, 125 gms of Cranberries (if using), 1 cup sugar use 1/4 tsp each ground cinnamon and ginger and 1/2 tsp All spice powder. 
How to make Instant Pot Strawberry Jam:
I followed all the steps till step 4.
Then under Saute mode simply cook down the berries until it reaches the jam consistency without adding any spices. 
Did you make this recipe? Tag me today!
Tag me @spicesandflavors to get featured on my FB and Insta pages
Conclusion:
Love the Giver and not the gift.
With that intention even in my #38weekspregnancy I have prepared the jam for as an edible Christmas gift for my friends and family.
I must say it was well balanced with the perfect sweetness and tartness.
Not the traditional way of making jams, but definitely a much more hassle-free and convenient way of making jams as the instant pot really helps to maintain the heat throughout.
If you like the recipe and intend to make this or do end up making this then definitely share it with me on our Facebook, Twitter or Instagram page.
I would love to follow you and your posts.
Pin this to your Instant Pot Board on Pinterest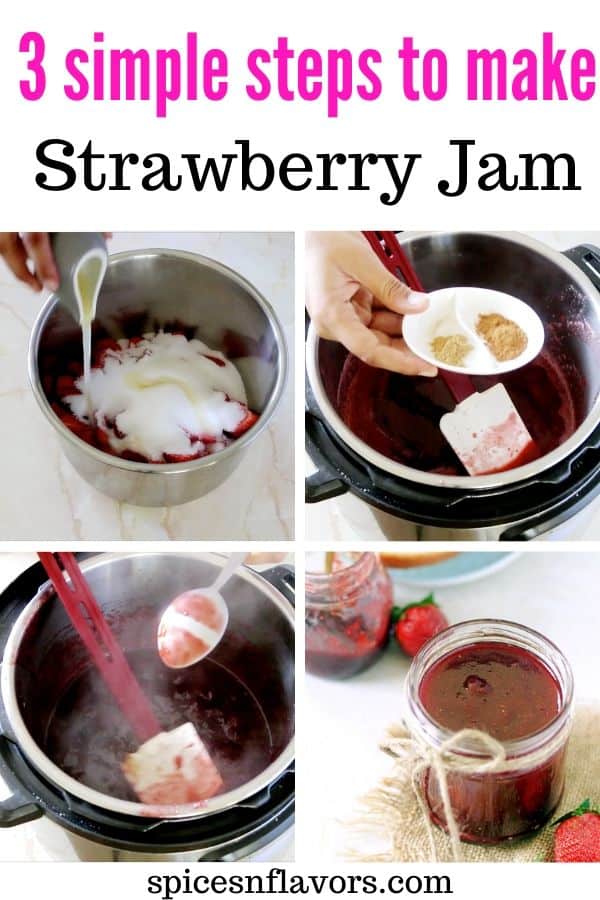 I will see you soon with yet another one.
Until then
Hugs
Sushma.