This Christmas enjoy your morning Breakfast on Bed with this soft and fluffy, perfectly sweetened Star Bread with a cuppa of coffee that can be made in 5 simple steps
Also, find 15 other filling variation ideas in which you can make this star bread recipe in this post.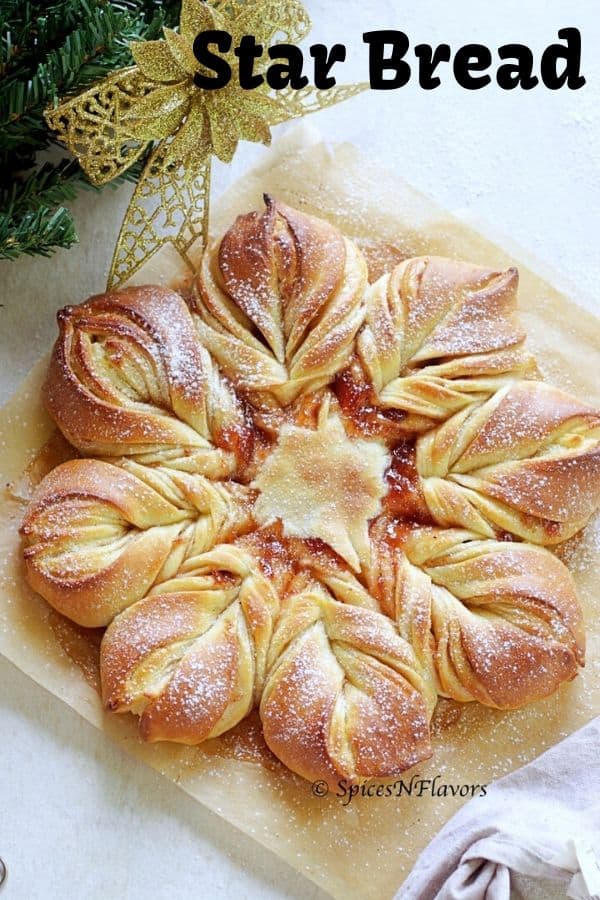 Have you finished setting up the Christmas Tree?? In my house the excitement is on another level.. And do you know why??
WE ARE HAVING A CHRISTMAS BABY!!!
Yay!!! Isn't it amazing.. I mean I am due on this 19th but how cool will it be to deliver on the 25th?? I know the kiddo won't get two presents each year but won't it be amazing to celebrate two occasions each year??
So honestly the paparazzi about Christmas baking is not in full swing this year - perks of #37weekspregnancy
But still can't stop myself from baking fresh bread on Christmas mornings.. So I tried my hands on this striking star-shaped light and fluffy bread this early itself as I really don't know what would 3rd week of December be like.
And oh boy!!! Was I impressed?? Well totally!!!
Did I make any mistakes?? Yes of course!!!
Am I satisfied with the bake?? You will find out..
So here is sharing all the mistakes that I could have potentially avoided so that you could learn how to shape bread in the first go itself.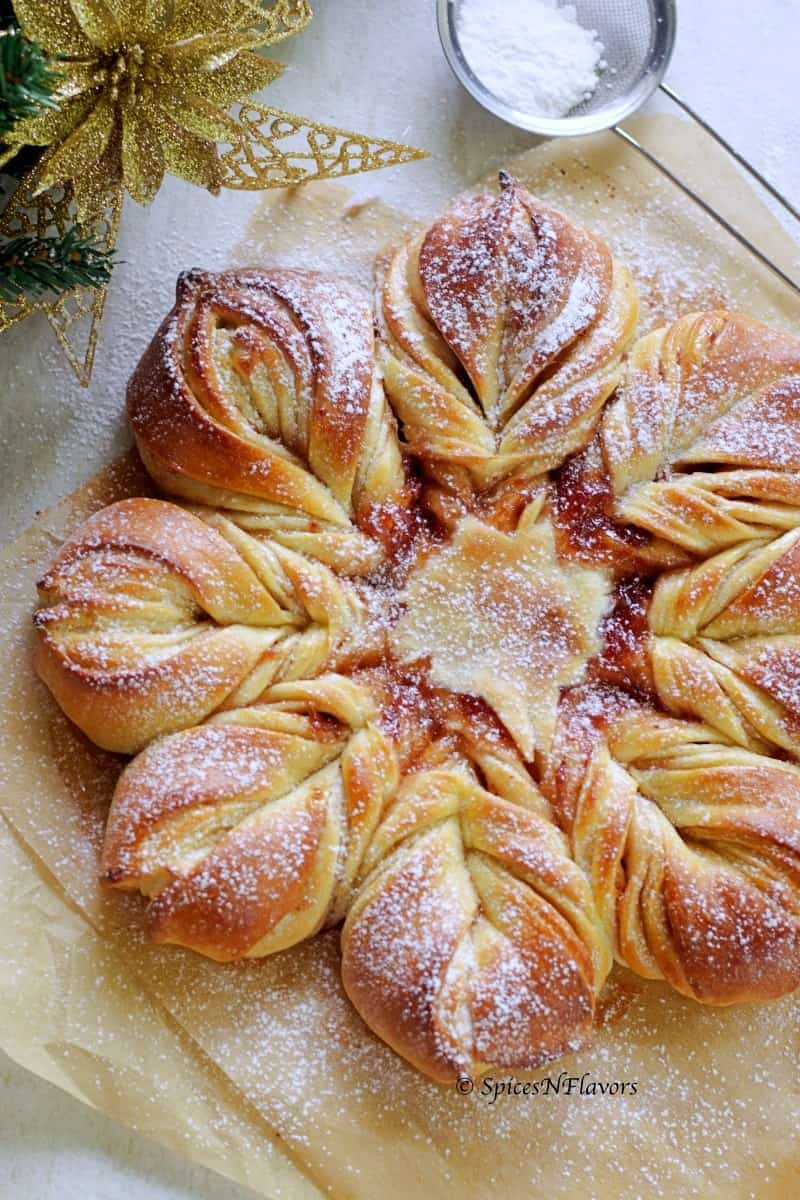 How to make Star Bread in 5 simple steps? 
Step 1: Kneading the Dough
Well, this is a no brainer step. We would start by making the bread dough. The ingredients needed are pretty basic and standard - Flour, Sugar, Salt, Yeast, Butter and Milk. I have skipped using Eggs which acts as enrichment in this bread and instead have used Milk to do the job.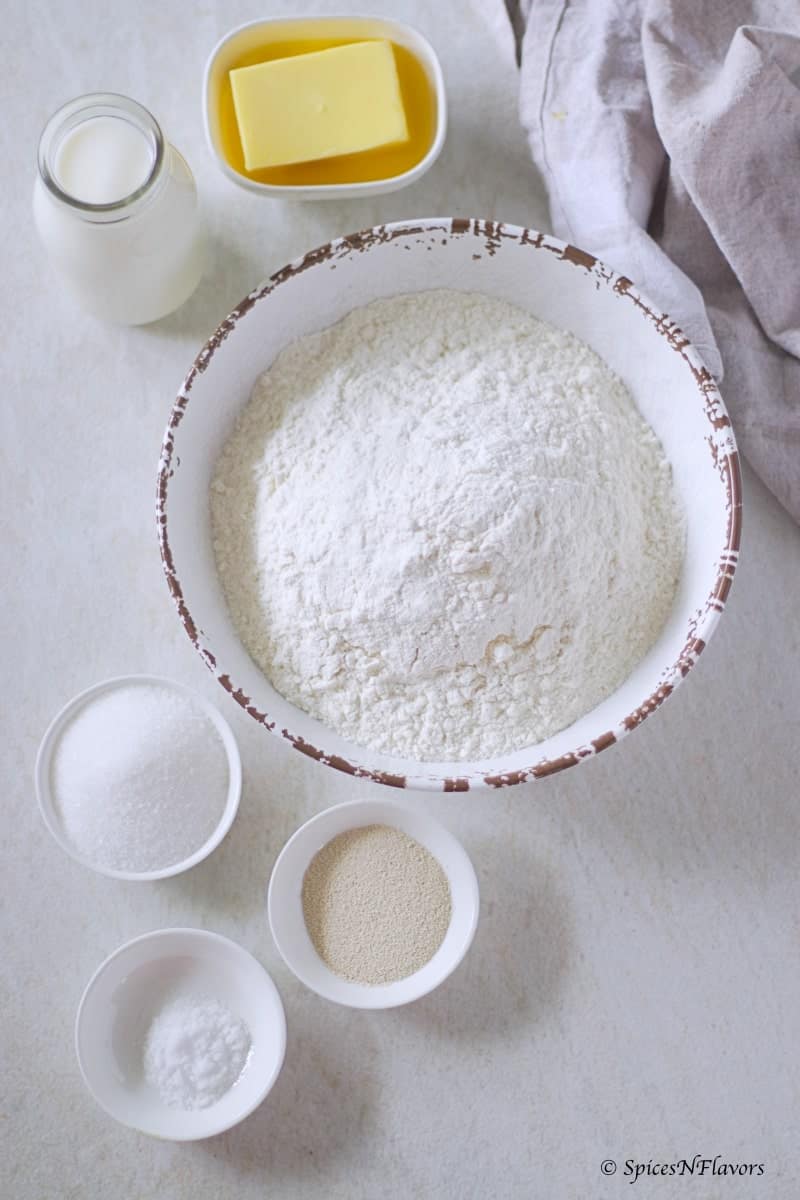 So combine everything until it forms a soft and smooth dough.
Step 2: First Proofing.
Allow the dough to double up in size. So if you do not have an instant pot then simply put it in a greased bowl and allow it to rise for 2 hours at room temperature.
How to proof bread dough in Instant Pot?

Grease the inner pot with some oil. Transfer the dough into it and apply some oil on top of the dough as well so that it doesn't dry out.
Close the lid. Select Yogurt Mode. And set the time to 1 hour.
Step 3: Shaping the Dough.
Well, this is the most interesting part of the recipe. Doesn't it look intricated and complicated? Well, you will be smiling by the end of this part when you find out how simple it is to actually make the bread.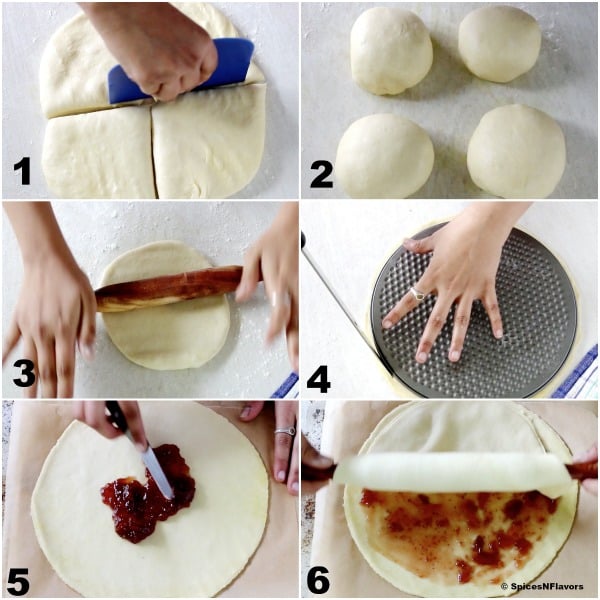 Once proofed, slightly degas the bread and divide it into 4 equal portions (pic 1).
Roll out each portion to 10-inch diameter. You can also use a plate or cake pan base like I have done to cut it out into the exact measurement (pic 2-4). Well, this is optional, it is easy to do bread so you do not have to stress on it.
Once rolled, place it on to a baking tray lined with parchment paper.
The first mistake I think I did was rolling it uneven, if you look closely the centre looks thinner than the sides so when I started with the layering process instead of getting a bulge in the centre once baked it looks flat.
Add a layer of the filling of your choice. I have used strawberry jam here but feel free to use any of your choices or check out the 15 different variations that I have shared below.
The other mistake I did - my filling, if you use, was chunkier, yes I used Strawberry Jam but it was a chunky jam so as you all can see while slicing the bread it oozed out and I lost some shape in the centre. So yeah you try to possibly avoid using chunky filling.
( UPDATE: I now use homemade Strawberry Jam which is much more easier to make and is smooth too)
Repeat the process with the remaining three portions of dough until you reach the very top and remember to leave it bare (pic 5-6).
So 4 layers of dough filled with 3 layers of filling.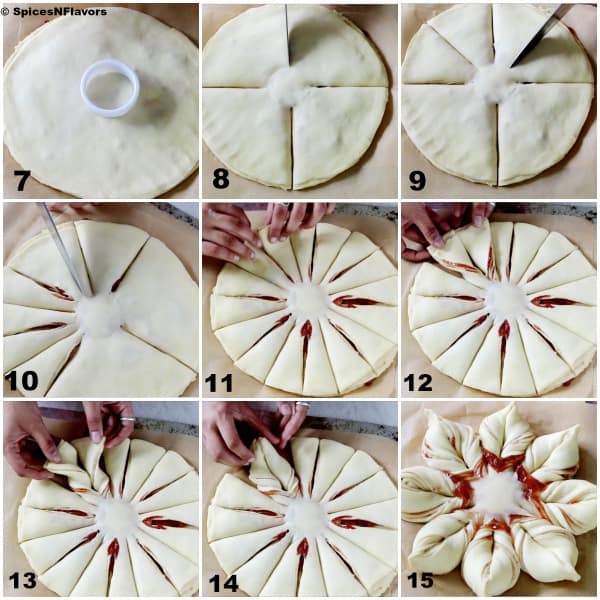 Using a cookie cutter or a bottle lid of approximately 2.5 inches make an indent right at the centre of the dough. This is the centre of the star bread (pic 7).
Make 4 slits perpendicular to each other as seen in the image above (pic 8).
Then make slits following the images above that is at the centre of two slits or you can also refer to the quick video. In all make 16 slits pic (step 9 -10).
Next twist the adjacent two slits outwards two times and pinch at the end to create the tapered effect (pic 11-14). 
Step 4: Second Proofing:
Once shaped simply cover with a cloth and let it rise for 30 mins.
Step 5: Bake that beauty:
Brush the top with some milk.
And bake in a preheated oven of 200°C for 15 to 18 mins.
Voila, that aroma is just enough to pull everyone to the kitchen!!!
Once baked brush the top with some butter and dust with icing sugar
15 Other Filling variations that you would absolutely love:
Cinnamon Sugar:

Well, no surprise there right!! The most common flavour combination of the season!!

 Cinnamon Sugar + orange zest + Fresh or Dried Cranberries:

That would be so aromatic and screaming Fall.. Ain't it??

Nutella:

An all-time hit for any kind of bread filling or even for puff pastries.

Garlic Butter:

Pull apart bread plus chopped garlic and coriander mixed in melted butter is always a winning combination.

Herbed Butter:

Talking about garlic and coriander, another lovely combination would be doing a mix of herbs - coriander and mint or keep it entirely Italian - basil, rosemary, chives, parsley etc mixed in melted butter and then brushed would also be a great choice.

Pesto:

How can I skip this Italian classic - Using pesto would be the most convenient option.

Pizza toppings:

Another classic combination would be to spread tomato sauce and then top it with sundried tomatoes, pizza seasoning, chilli flakes and some cheese of course!!

Cheese and Herbs:

This would be a lovely combination too!! Won't it??

Creamy Cheesy Filling:

Now, this filling is inspired by our Thanksgiving favourite recipe - Cheesy Filo Cups. You would need a blend of cream cheese or ricotta, cheese and some onion.

Jam of your Choice:

Well, I have used strawberry jam today please feel free to use any of your choices.

Nut Butter of your Choice:

Peanut Butter would be an amazing choice. Any other nut butter or even apple butter will also work.

Gujiya BreadImagine your favourite mawa gujiya filling. Just stuff it into this bread and enjoy the non fried baked gujiya for Diwali or Holi. Here is a video tutorial if you would like to see it in action.

Chai Spice:

Well basically you would need warm spices - 1/4 tsp each of ground Cinnamon, ground Cardamom, ground ginger and ground all spice mixed in 5 tbsp of sugar, mix well. Brush the circle with melted butter and sprinkle the sugar topping.

My Indian tadka:

Lol.. This might sound silly but who wouldn't love a classic combination of coconut, sugar and cardamom powder along with cashew nut or almond powder. This is a favourite filling combination used in a variety of Indian sweets.

Chocolate:

I know Nutella would be chocolaty too!! But if you just don't want to buy a jar then simply add some mini chocolate chips or grated chocolate and you would not regret!!

Favourite Chutney of your choice:

Well, again this is where my Indianness comes into play. You can use your favourite chutney of choice. I have already shared 5 of my favourite recipes choose from that or simply use store-bought green and red chutneys.

Christmas Tree Bread:
Not only the filling you can also play around with the shaping.. I used the same bread                 dough and turned it into Christmas Tree Bread.
Those were some of my favourite combinations to slather on the bread. Which one are you going to try??
Once you have the bread made with your favourite filling of choice, I understand sometimes you might have little leftover..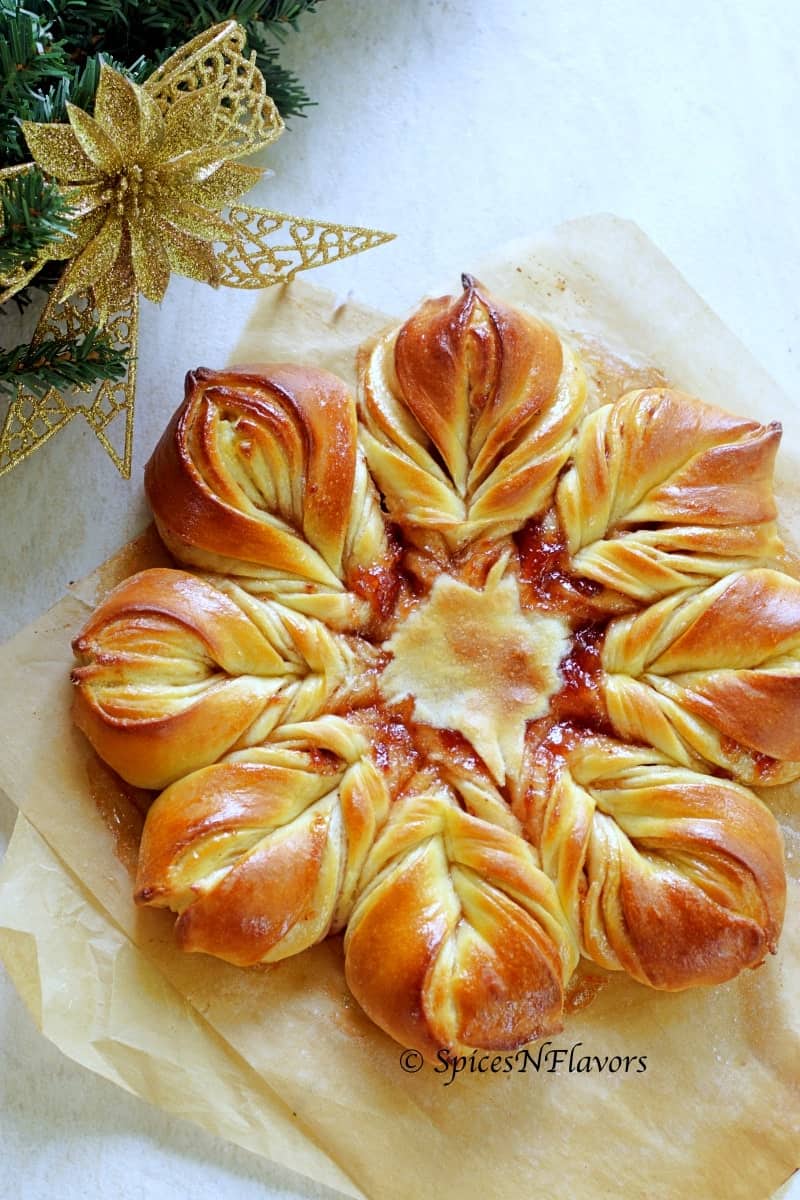 What to do with leftover bread?
You can cover and store the leftover star bread at room temperature for 1-2 days or in the fridge for 4-5 days.
How to reheat leftover bread?
Just dab or brush or spray some water on top of the leftover bread. Either reheat in a microwave for 30 sec to 1 min or warm it up in a preheated oven of 200°C for about 5 minutes, until it's warmed through.
The bread will be soft and taste fresh.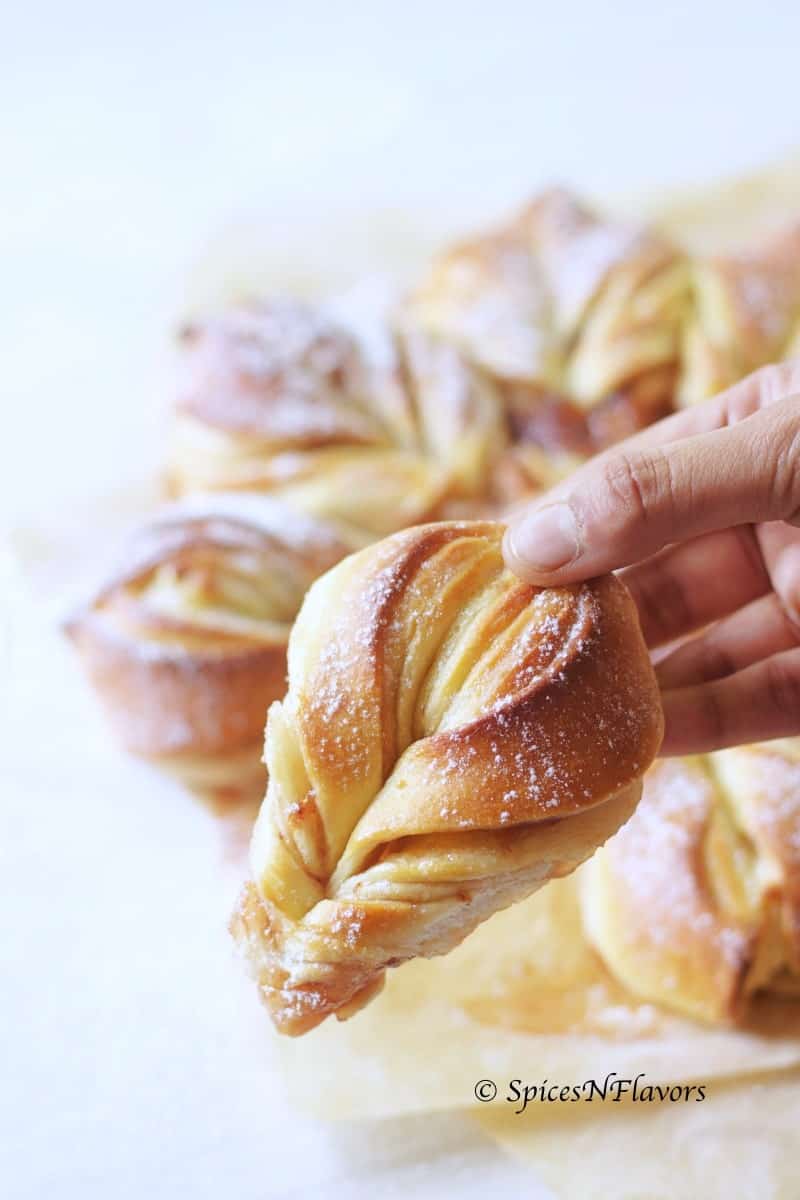 How to store bread dough (Make-ahead instructions)?? 
After the first proofing simply punch the dough to de-gas.
Cover the dough tightly or put in an airtight container, then place it in the refrigerator for up to 2 days or in the freezer for up to 3 months.
If frozen thaw the bread overnight in the refrigerator. Remove the dough from the refrigerator and let it sit on the counter, for 30 minutes.
Punch the dough down again to release any air bubbles. Then, continue with step 3.
Also linking a few other bread recipes that you might want to try:
Here is a detailed recipe guide on How to make Star Bread in 5 simple steps:
Liked this recipe?
Let us know by giving it a star rating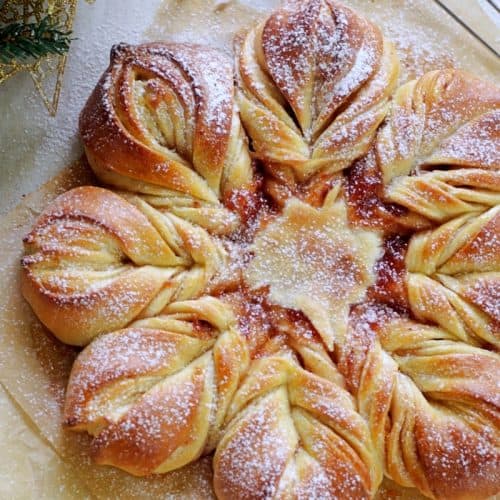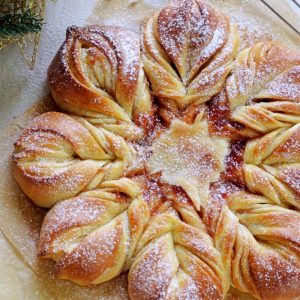 Print
How to make Star Bread in 5 simple steps
This Christmas enjoy your morning Breakfast on Bed with this soft and fluffy, perfectly sweetened Star Bread with a cuppa of coffee that can be made in 5 simple steps
Servings
10
inch bread loaf
Ingredients
3

cups

(370 g) Plain Flour/Maida

2

tbsp

(40 g) Sugar

1/2

tsp

Salt

1/3

cup

(75 gms) Butter

softened

1

cup

(250 ml) Warm Milk

2

tsp

(7 g) Instant Yeast

3/4

cups

Strawberry Jam

(refer notes)
Instructions
In a bowl, add in the milk, yeast and sugar. Give it a stir. Next in goes the softened butter and mix again.

Add the flour and salt little at a time and using a spatula combine together until you get a sticky mass.

Then transfer to a lightly floured surface and knead the dough for around 15 mins until it is soft and elastic. If using a stand mixer simply knead for 5 mins.

Oil a bowl and place the dough in it to rise for first proofing - 2 hours. If using an Instant Pot follow the same steps of oiling the inner pot. Place the dough lightly oil the top of the dough too so it doesn't dry out. Close the lid and choose Yogurt mode and set the time for 1 hour.

After the proofing time, punch down the dough to de-gas. Divide evenly into four portions. Roll out one portion into a circle with 10 inch diameter whilst keeping the rest covered to prevent it from drying.

Take 1/4 cup of strawberry jam and spread it all around the circle leaving just an inch of gap at the end.

Roll the next portion too into inches diameter circle and place it on top of the strawberry jam layer. Repeat the steps until you reach the bare top and you will have 4 layers of circles with 3 layers of filling.

Take a cookie cutter or any lid which is 2.5 inch in diameter and make an indent in the centre. This is the centre of the star and then make 16 slits across the dough like the way shown in step by step pictorial form above or from the video.

Twist the adjacent two sections outwards twice and pinch the edges to seal together.

Cover with a cloth and allow it for second proofing - 30 mins.

Meanwhile, preheat the oven to 200°C. After the second proofing, if you find that the bread has lost some shape then again seal the edges first then brush the bread with some milk and bake for 15-20 mins until golden brown and baked through.

Apply some butter once baked and dust with icing sugar and simply enjoy with your cuppa coffee for breakfast
Video
Notes
Make sure the butter is softened and the milk is warm.
Let the yeast proof for 15 mins before proceeding with the recipe if you are using any other variety other than Instant Yeast. 
Choose any filling of your choice as per the variations I have mentioned in the post or of your choice. Only thing to note is that avoid using bigger chunks as you would have a hard time slicing the bread dough. At the same time avoid using juicy filling as it will ooze out and you won't get the look of the star bread once baked. 
This is exactly what happened with my loaf of bread too.. I guess the jam spread a little at the centre and I lost the circular shape effect if you look closely. 
Did you make this recipe? Tag me today!
Tag me @spicesandflavors to get featured on my FB and Insta pages
Conclusion:
Star Bread is a fancy looking bread but at the same time, it is easy to pull it off too..
In this Star Bread Recipe, I have shared a step by step recipe to help you make this bread in 5 simple steps.
A light, soft and fluffy bread that is perfectly sweetened enough to go with your morning cuppa coffee.
Make your Christmas morning special by making this bread and have a great day with your family and friends.
If you like this Christmas Star Bread Recipe then do let me know me by tagging me, tweeting me or Instagram me. I would love to follow you and your posts.
Pin this to your Bread board or Instant Pot Board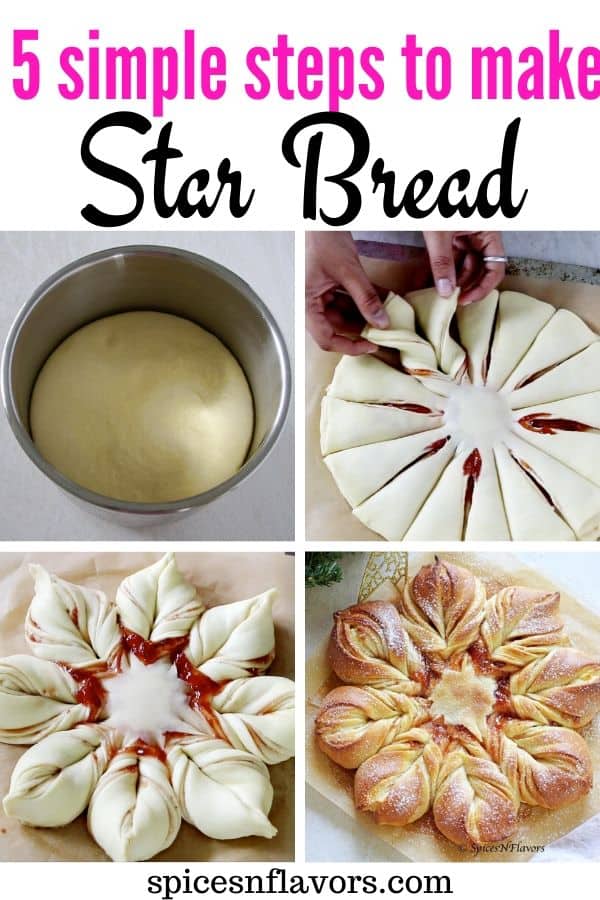 I will see you soon in my next one
Until then
Hugs
Sushma