Ladi Pav / Laadi Pav or Dinner Rolls are basically a soft, light and fluffy bread that goes well with Pav Bhaji, Vada Pav, Misal Pav etc. A common man's delight and is super easy to make at home too..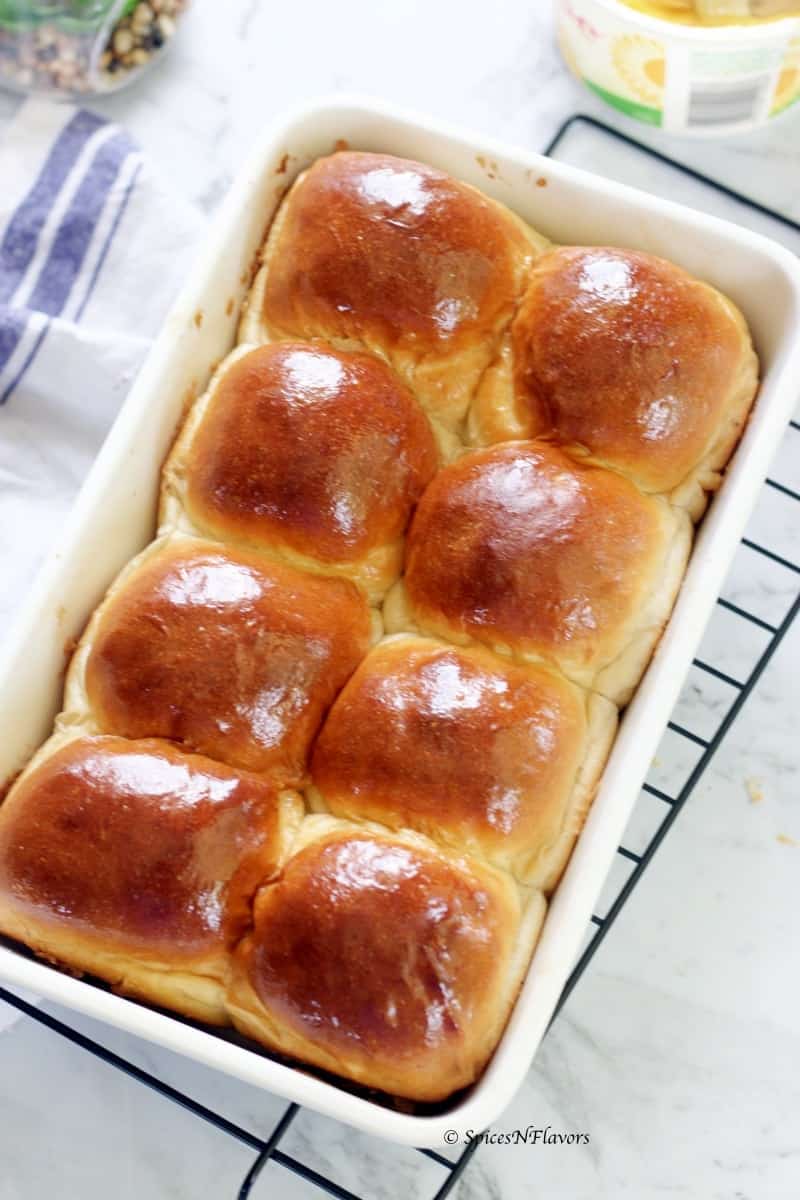 Ladi Pav – that soft, fluffy and light bread with which each and every Indian has a memory attached to..
This Ladi Pav is used as an accompaniment to endless Indian dishes like Vada Pav, Pav Bhaji, Misal Pav etc.
All these being Indian street foods there would definitely be a sweetest memory being attached to it..
If you are now living abroad then definitely you would be missing the Pavs that we get back home..
Comment and let me know Yes or No.. 😀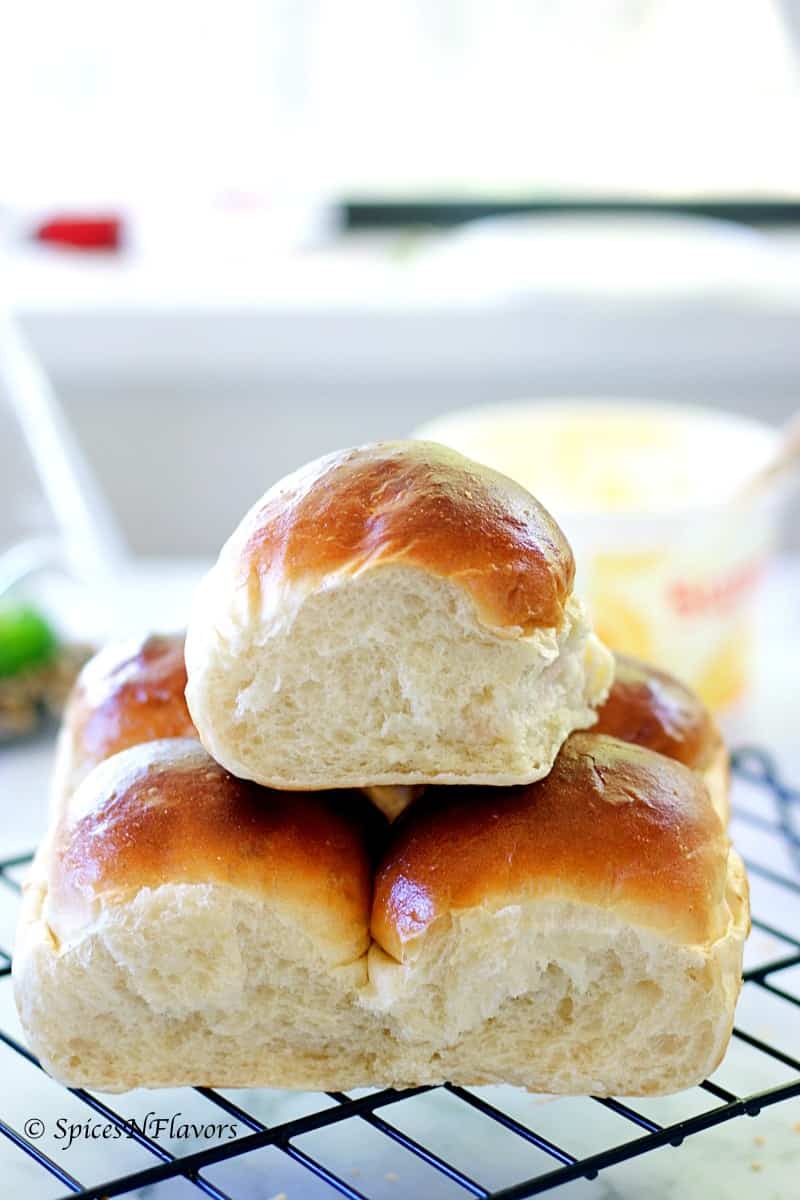 To bake these Ladi Pav you just need the basic ingredients Flour, Yeast, Salt, Sugar and Water.
So if your new year resolution is to venture into bread baking or just baking in general then you ought to start with this one for sure.
A. It is simple
B. Does not involve too many steps
C. Makes use of basic ingredients
D. Is the base recipe for many other breads like a Bread Loaf or even White Bread Rolls
Before we get into the recipe, I would like to share with you all few basics of Bread Baking or this Ladi Pav in particular.
What makes this Ladi Pav soft?
There are two ingredients which helps to keep it softer. Those are
1. Milk Powder and 2. Butter
In the industry Milk powder is often used because it is economical and east to store when compared to Milk.
However in today's recipe I have used half water and half milk. Because there is a difference in Home Baking and Commercial Baking right.
Using both Milk and Milk Powder makes it nice soft.
2. We use a Delayed Fat Method; which means that we have added fat at a later stage. This is because fats tends to inhibit the development of gluten; which is very important in forming the structure of baked bread.
So by adding the butter at a later stage it gives the gluten time to develop.
Also butter here acts as an enrichment which means it helps to soften the baked product.
The above pic is shot from my Samsung S8.
Will you believe if I say it is straight from the cooker..
Ain't it looking soft and fluffy??
Still don't believe me then you must check out my video of these Ladi Pavi you yourself will learn what I am trying to say.. <3
My resolution for this New Year is to encourage and motivate all you guys to start baking because nothing can beat the quality, freshness and customised baked goodies.
And that is the reason why I do so much bakes in cooker because nothing should stop you from venturing into the baking world. Here is the playlist if you would like to get started.
What is yours do comment and let me know.. 😀
UPDATE: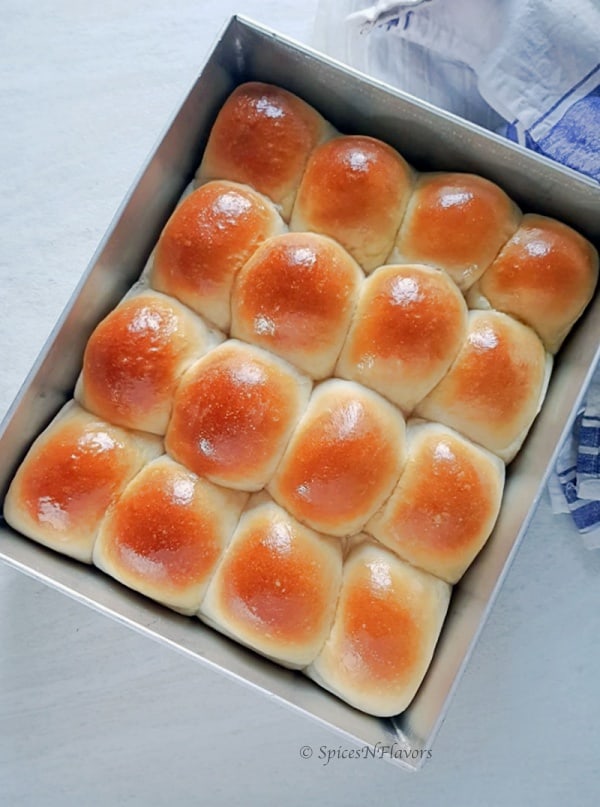 Updated the post with Instant Pot Proofing method on : 27 August 2019
Ever since I have the Instant Pot in my life; I am trying to put it to multiple uses as it is so easy and convenient to use as well as cook in the Instant Pot.
One such fabulous use of Instant Pot is its ability to help proof bread dough in nearly half the time as what it would take at normal conditions.
Now you know I live in New Zealand and the weather.. ufff.. let's not talk about it.. need some sunshine in my life pleaseeee..
So if not for IP, it would have surely taken me 2 hours to proof the bread dough given the weather conditions but IP – the true saviour did it in just 40 mins.. Yay!! Super happy dance.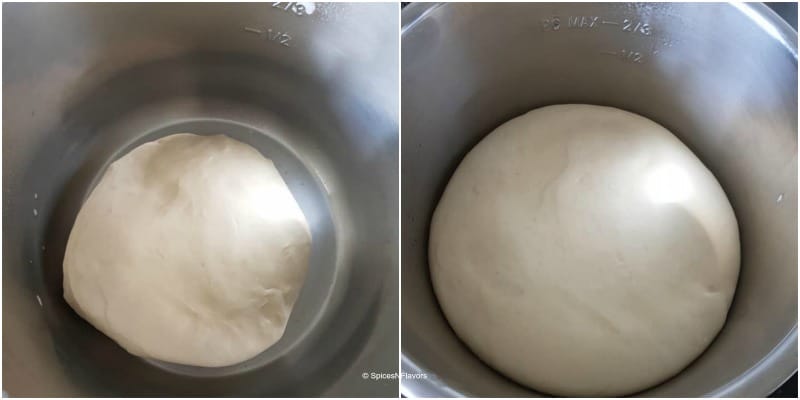 How to proof Bread Dough in the Instant Pot:
So you follow the steps till adding the butter and forming the dough. Then instead of oiling a regular big bowl, oil the inner pot of your IP.
Place the dough in it. Close the lid.
Choose the Yogurt Setting and set the timing for 40 mins. After the timer beeps open the lid to the captivating beauty – The raised bread dough.
And then continue the steps of diving the dough, rolling the dough and second proofing as mentioned in the recipe card.
Also please note that now I do not apply milk right before baking. I have observed that the fat in the dough is enough to get the gorgeous pale colour on top (as shown in the updated image above) whereas addition of milk or eggs before baking gives it a more brownish tone.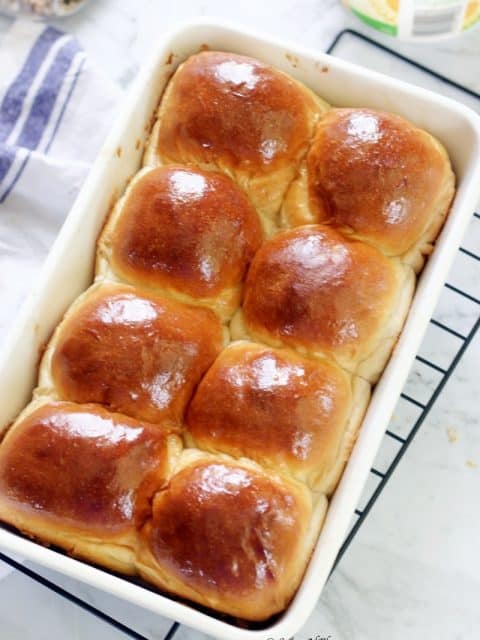 Ladi Pav / Dinner Rolls in Cooker and Oven method
Ladi Pav is an Indian bread that is soft, light and fluffy and pairs so well with Vada Pav, Pav Bhaji etc
Ingredients
500

gms

(3.5 Cups) Plain Flour

15

gms

(1.5 tbsp) Milk Powder

(refer notes)

10

gms

(1 tsp) Salt

15

gms

(1 tbsp) Sugar

25

gms

(2 tbsp) Butter

150

gms

(plus 2-3 tbsp) Milk

(refer notes)

150

gms (1/2 C)

Water

18

gms

(2 tbsp) Yeast
Instructions
Add the yeast to 150 gms water and 150 gms milk mixture and stir. (Refer notes)

Onto your bowl add in salt, flour, sugar and milk powder. Then add in the yeast and water+milk mixture. Using a stand held machine or your hands combine everything to a dough.


Add in the butter and knead well for another few minutes until the butter is mixed well.

If you are doing it by hand then the entire process would take atleast 20 mins and if in stand mixer then 10 mins.

Place the dough in an oiled container for it to prove and double in size for an hour.

Once proved divide the dough evenly into 14 equal size portions. Roll it out to give a proper shape. I have shown the exact way to do it in the video check it out. And place it onto an oiled container close to each other and prove for another 30-35 mins. (refer video for clear picture)

After the second prove bake this in the preheated oven of 200°C for 15-18 mins or in a preheated cooker for 16-20 mins on medium flame
How to Proof Dough in Instant Pot
After the 4th step instead of oiling a big bowl, oil the inner pot of your Instant Pot. Place the dough inside. Close the lid.

Choose the yoghurt button. Set the time to 40 mins.

Once the timer goes off, open the lid and see the magic - the well rise dough. Continue the steps as mentioned above from dividing the dough, rolling, shaping and baking; same as the oven method.
If you like this recipe then do tag me, tweet me or instagram me. I would love to follow you and your posts.
Notes:
1. Milk powder makes the pav softer; however, since we are using milk you can skip the milk powder here. Instead, make the bread entirely with milk only without adding water. So simply skip the milk powder and water altogether if you like and use 300 ml of milk instead
2. The total quantity of milk and water is 300 gms. So start making a dough with just that. However the additional 2 to 3 tbsp of milk mentioned in the recipe is to make the dough hydrated. Which means the dough should not be dry or else you will get harder baked buns. Refer my video to understand what exactly I mean by hydrated. (Learned this tip from Freda, Aromatic Essence)
3. If you are using Active Dry Yeast you will have to activate the yeast. To activate the yeast just combine the yeast with lukewarm water and milk. Give a stir and let it sit for at least 10-15 mins till it blooms and froths up. If it doesn't froth and bubble up it means your yeast is dead. Since I used instant variety I did not do this step.
4. One more reason to mix the yeast with the liquids first is that this way, you ensure that the yeast evenly disperses into the dry ingredients.
5. Please note that I no longer follow the method of milk wash or egg wash right before baking. I have observed that the fat in the dough is enough to give the pale golden colour on top of our dinner rolls.
6. This recipe is similar to our Skillet Pizza recipe. You might want to check that out too. Linking it here for you.
WORD OF CAUTION :
If you are planning to double the recipe and use Instant pot for proofing make sure not to use the lid and opt for glass lid instead. The reason being the dough can rise too much and push the pin-up of the Instant Pot and lock the lid. So it is better to use a glass lid or a plate.
How to preheat the cooker?
To preheat the cooker; add a layer of salt into the base of the cooker. Place a stand on top. Close the lid without gasket and whistle. Pre-heat on med-high flame for 10-15 mins.
Materials used:
I used this rectangular ramekin to bake my bread in the oven and a regular steel bowl to bake it in the cooker. You can use any baking pan with a good height like this or this to bake these.
Highly recommend you to watch the video to understand the steps clearly.
Pin it for later:


I will see you soon with yet another recipe.
Until then
Hugs
Sushma