Soft, Light, Fluffy and Rich; these homemade dinner rolls are so addictive that you would keep coming back for more. This dinner roll recipe is a keeper!!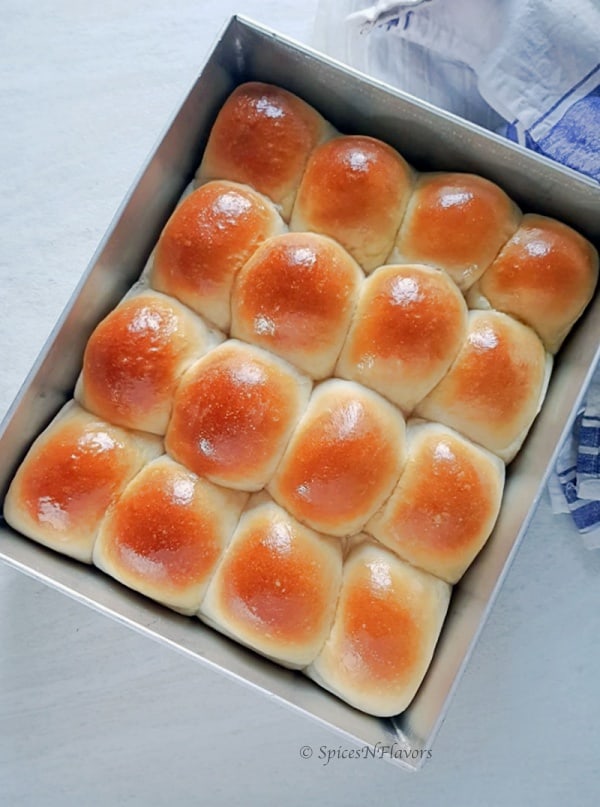 Who doesn't love the aroma of a freshly baked bread?
And this Dinner Rolls recipe is such a basic one that you would end up making it every other week.
Here is a step by step tutorial on
How to make Dinner Rolls at home from scratch in 4 simple steps:
Step 1: Prepare the Dough
This step is uber easy as I use my stand mixer and let the dough hook do the job for me.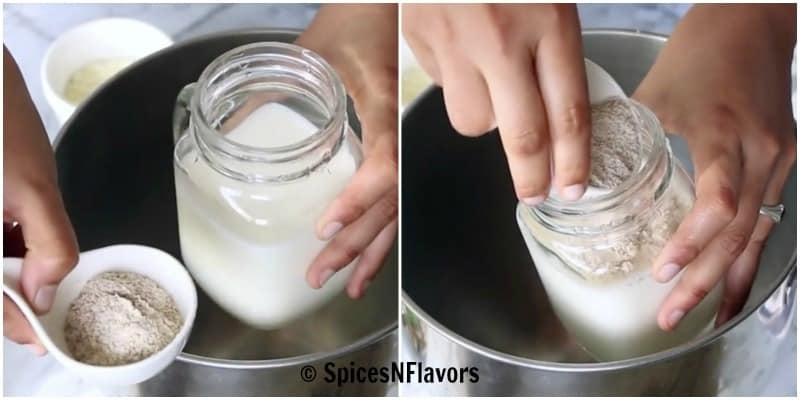 So simply dissolve the yeast in your milk+water mixture and set aside.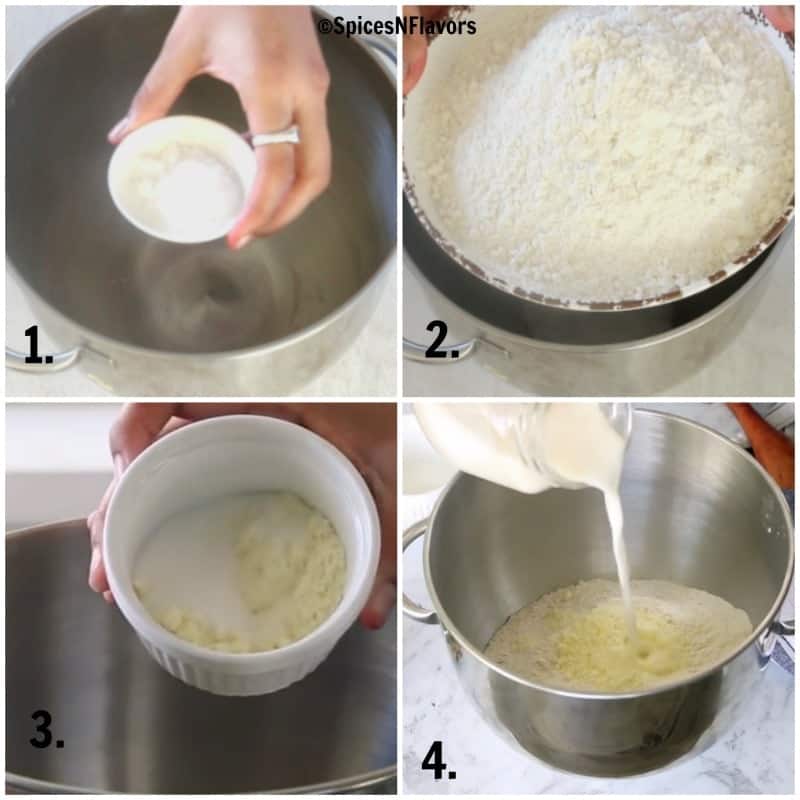 Dump rest of the ingredients into the bowl of your stand mixer starting with salt followed by flour, milk powder and sugar. (image 1,2 and 3)
Add the milk+water+yeast mixture (pic 4) and combine everything into a dough.
Once it comes together add the butter and knead it further for 8 mins.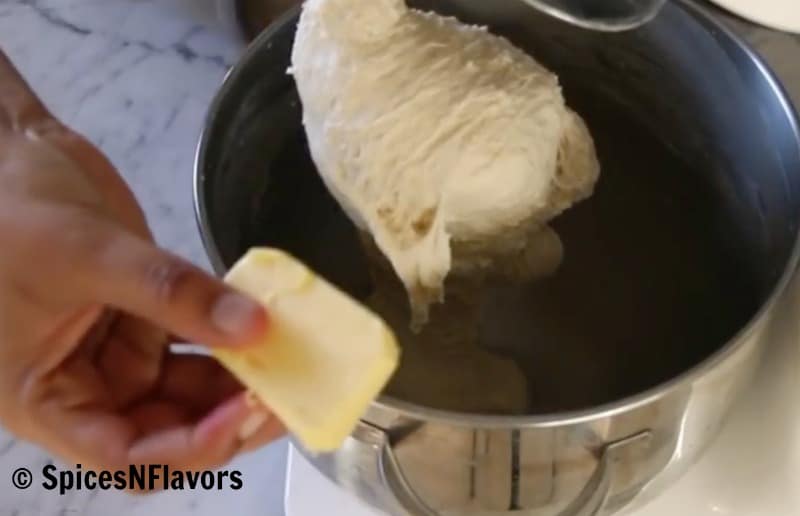 If kneading the dough by hand then you might have to knead for 15-20 mins.
What you are looking for is a slightly sticky or tacky, soft and elastic dough.
To achieve this I ended up adding few tbsp of milk (or water). Do check out the youtube video for the consistency or the notes in the recipe card.
Step 2: First Proofing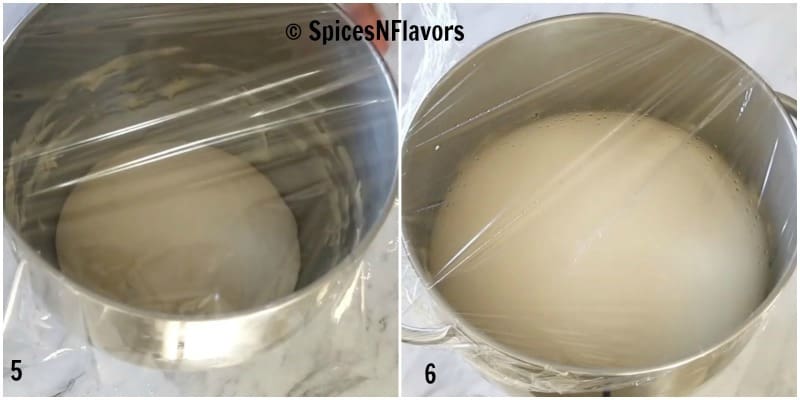 Oil the bowl in which you kneaded the dough and then transfer the prepared dough into it.
Cover it with a tea towel or cling wrap and allow it to proof for 1 hour.
How to Proof Dough in the Instant Pot?
Alternatively, you can also proof the dough in your instant pot. I own an Instant Pot Duo 6 plus and love it.
Proofing dough in the Instant Pot has become my favourite hack!!
I have written an entire blog post on can you proof dough in the instant pot? Do check it for a detailed instructions.
For now,
Simply oil the inner pot of your instant pot or place a parchment paper.
Place the dough into it.
Close the lid. Choose yogurt mode and set the timer to 30 mins.
Step 3: Shaping
Once proved eyeball and divide the dough into 16 equal balls.
However, to get an even shape and size I always and always like to weigh my dough.
I recommend you guys to invest in a measuring scale (have been using mine for 4 years now and still going strong) and then divide the dough into 16 balls of 64 gms each.

Give it a round shape by tucking the sides to the base and rounding it out using your fingers and thumb.
Check out the video tutorial for ease of understanding.
Place it in an oiled baking tray with little gap in between and allow it for second proofing – 1 hour
Step 4: Baking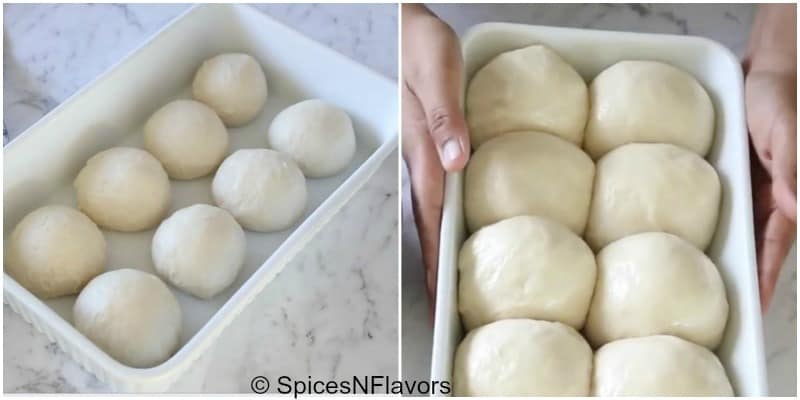 Once proved, bake the dough in a preheated oven of 200 degree celsius (392°F) for 16-20 mins.
While still warm brush some butter on top to get that glossy and sheen effect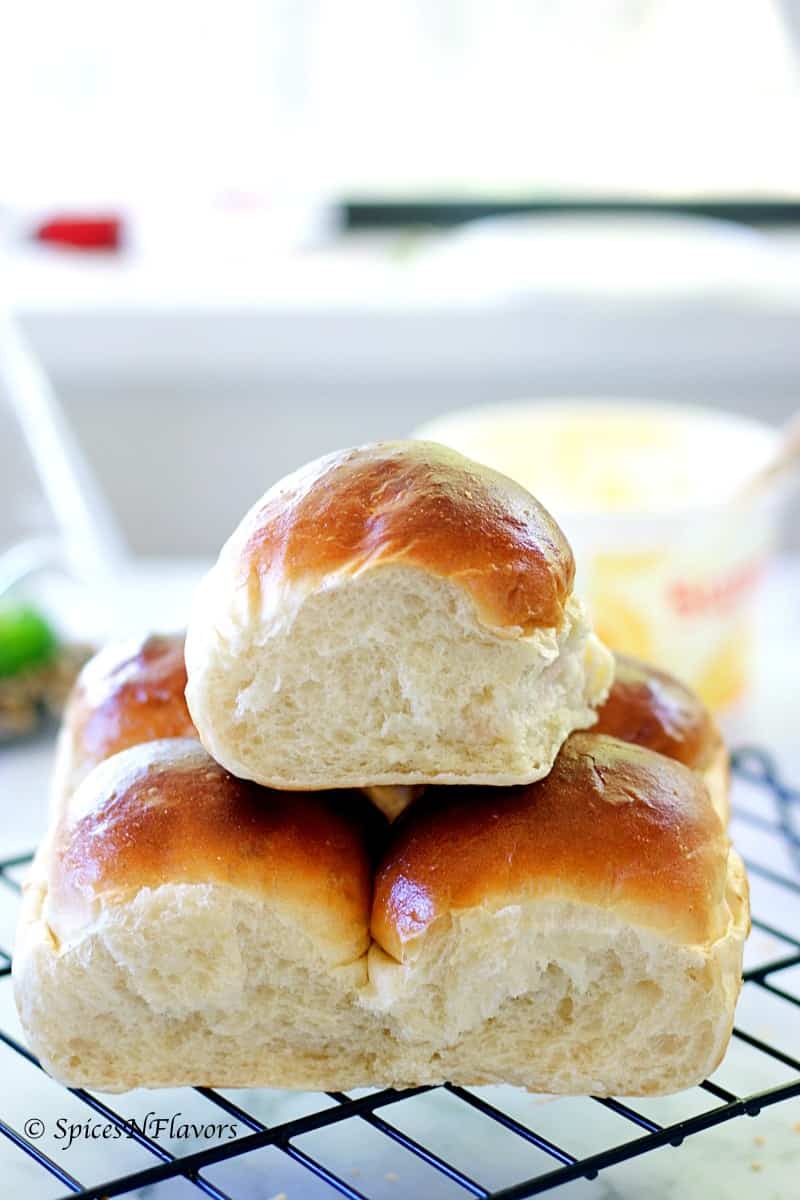 Liked this recipe?
Let us know by giving it a star rating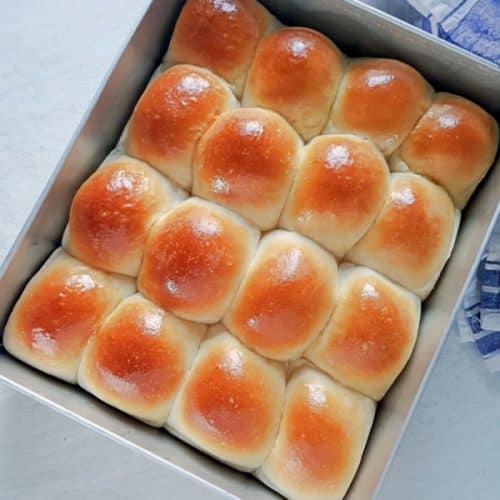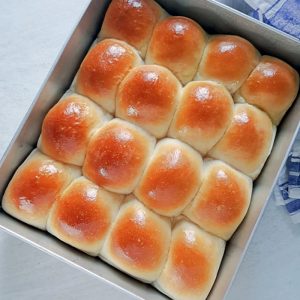 Print
Make Best Homemade Dinner Rolls in 5 simple steps
Soft, Fluffy and Rich; these homemade dinner rolls are so addictive that you would keep coming back for more. This dinner roll recipe is a keeper!!
Ingredients
500

gms

(3.5 Cups) Plain Flour

15

gms

(1.5 tbsp) Milk Powder

(refer notes)

10

gms

(1 tsp) Salt

15

gms

(1 tbsp) Sugar

25

gms

(2 tbsp) Butter

150

gms

(plus 2-3 tbsp) Milk

(refer notes)

150

gms (1/2 C)

Water

18

gms

(2 tbsp) Yeast
Instructions
Add the yeast to 150 gms water and 150 gms milk mixture and stir. (Refer notes)

Onto your bowl add in salt, flour, sugar and milk powder. Then add in the yeast and water+milk mixture. Using a stand held machine or your hands combine everything to a dough.


Add in the butter and knead well for 8 mins in a stand mixer.

If you are doing it by hand then the entire process would take atleast 20 mins

Place the dough in an oiled container for it to prove and double in size for an hour.

Once proved divide the dough evenly into 14 equal size portions. Roll it out to give a proper shape. I have shown the exact way to do it in the video check it out. And place it onto an oiled container close to each other and prove for another 30-35 mins (during summers) and nearly an hour (during winters). (refer video for clear picture)

After the second prove bake this in the preheated oven of 200°C for 15-18 mins or in a preheated cooker for 16-20 mins on medium flame
How to Proof Dough in Instant Pot
After the 4th step instead of oiling a big bowl, oil the inner pot of your Instant Pot. Place the dough inside. Close the lid.

Choose the yoghurt button. Set the time to 30 mins.

Once the timer goes off, open the lid and see the magic - the well rise dough. Continue the steps as mentioned above from dividing the dough, rolling, shaping and baking; same as the oven method.
Video
Notes
1. The basic dinner rolls recipe just needs water to bind everything into a dough.
Milk and Milk Powder are enriching agents so if you do not have milk powder handy, skip it and use flour instead.
Or skip the water and milk powder and use 300ml milk to make the bread dough. 
For an even richer bread, skip the water and use both milk powder and milk.
2. The total quantity of milk and water is 300 ml. So start making a dough with just that. However the additional 2 to 3 tbsp of milk mentioned in the recipe is to make the dough hydrated. Which means the dough should not be dry or else you will get harder baked buns. Refer my video to understand what exactly I mean by hydrated or please scroll up to read the article. 
3. If you are using Active Dry Yeast you will have to activate the yeast. To activate the yeast just combine the yeast with lukewarm water and milk. Give a stir and let it sit for at least 10-15 mins till it blooms and froths up. If it doesn't froth and bubble up it means your yeast is dead. Since I used instant variety I did not do this step.
4. One more reason to mix the yeast with the liquids first is that this way, you ensure that the yeast evenly disperses into the dry ingredients.
5. Please note that I no longer follow the method of milk wash or egg wash right before baking. I have observed that the fat in the dough is enough to give the pale golden colour on top of our dinner rolls.
6. This recipe is similar to our Skillet Pizza recipe. You might want to check that out too. Linking it here for you.
7. Check out the post for pictorial step by step recipe and also for the details all the tools and equiments needed to bake the bread.
WORD OF CAUTION :
If you are planning to double the recipe and use Instant pot for proofing make sure not to use the lid and opt for glass lid instead. The reason being the dough can rise too much and push the pin-up of the Instant Pot and lock the lid. So it is better to use a glass lid or a plate.
How to make Beetroot Dinner Rolls: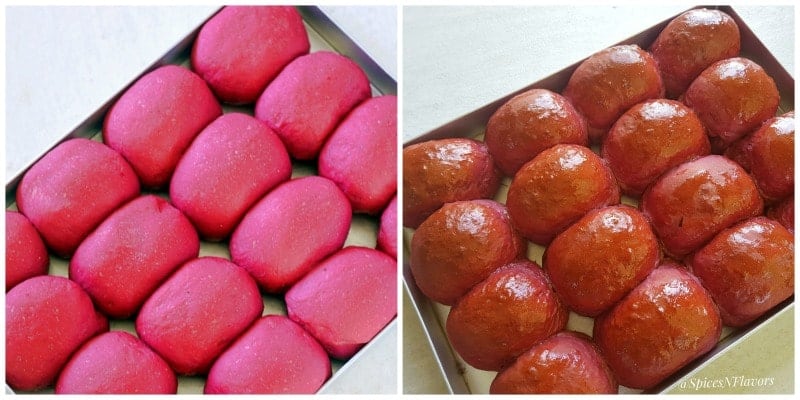 To make these naturally coloured and healthier variation of our plain dinner rolls we would need 150 gms (1/2 cup) Beetroot Puree.
To make the beetroot puree, peel the skin of a medium size beetroot, chop into small pieces add very little amount of water and grind to a puree.
Use 150 gms(1/2 cup) of this puree in place of milk. 
So follow the ingredients and steps mentioned in the above card, just substitute milk with beetroot.
You can follow the same steps for making a spinach dinner rolls too.
Though you will not taste the actual beetroot or spinach, it is a nice addition to have it in your kids lunch box or perfect for Valentine's Dinner Date. 
I have made a separate Youtube video on Beetroot Dinner Rolls. Please feel free to watch it if you like. 
Did you make this recipe?
Tag me @spicesandflavors to get featured on my FB and Insta pages
Originally published on Dec 12, 2017.
Edited on 12 Feb, 2020 to add step by step pictorial images along with improvised tips and tricks. Also updated variations to making a plain bread roll.
Conclusion:
These homemade dinner rolls come together in just 4 simple steps!!!
Soft, light and Fluffy these are so addictive that you would keep coming back for more.
Pin it for later:


I will see you soon with yet another recipe.
Until then
Hugs
Sushma
SpicesNFlavors is a participant in the Amazon Affiliate Program.  The Amazon Affiliate Program is designed to provide a means for sites to earn advertising fees by advertising and linking to products on Amazon. The price you pay as a consumer does not change, but if you make a purchase through one of our links, we receive a small commission – and we continue delivering delicious recipes to you!