Chocolate Covered Treats are one of the easiest treats that you can customise as per need of the hour. And using instant pot as a double boiler to melt chocolates would be your best friend hereon.
This post covers everything you need to know about, "How to melt chocolates in Instant Pot" along with 2 bonus recipes.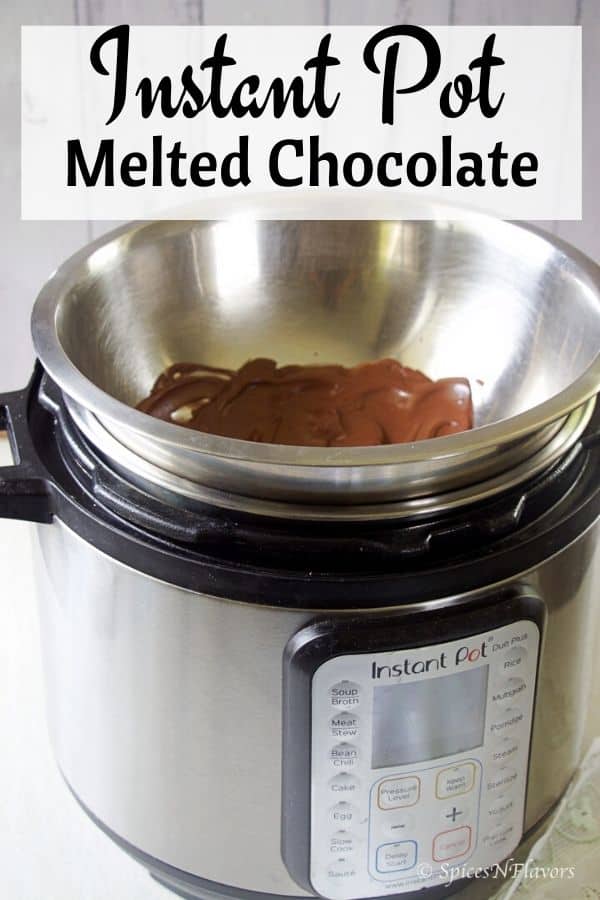 Everything you need to know about melting chocolates in the Instant Pot
Well, honestly I spent the last 60 mins just writing and hitting the backspace key then re-writing again because I really don't know how to write this post on How to use Instant Pot as a double boiler.
Because it is not like a regular bread recipe post or a dessert post or a cake recipe post, where I talk about:
The ingredients or
A Unique and easy technique to get it right or
Tips and Tricks to make the process easier or
Any important pointers that you need to know to have a successful trial of the recipe in the first attempt.
This post is a little different.
It is more of a "How to Basics" that doesn't really involve any recipe as such but I will try my best to include all the details you need to know about getting the right consistency of melted chocolates to make any kind of chocolate covered treats.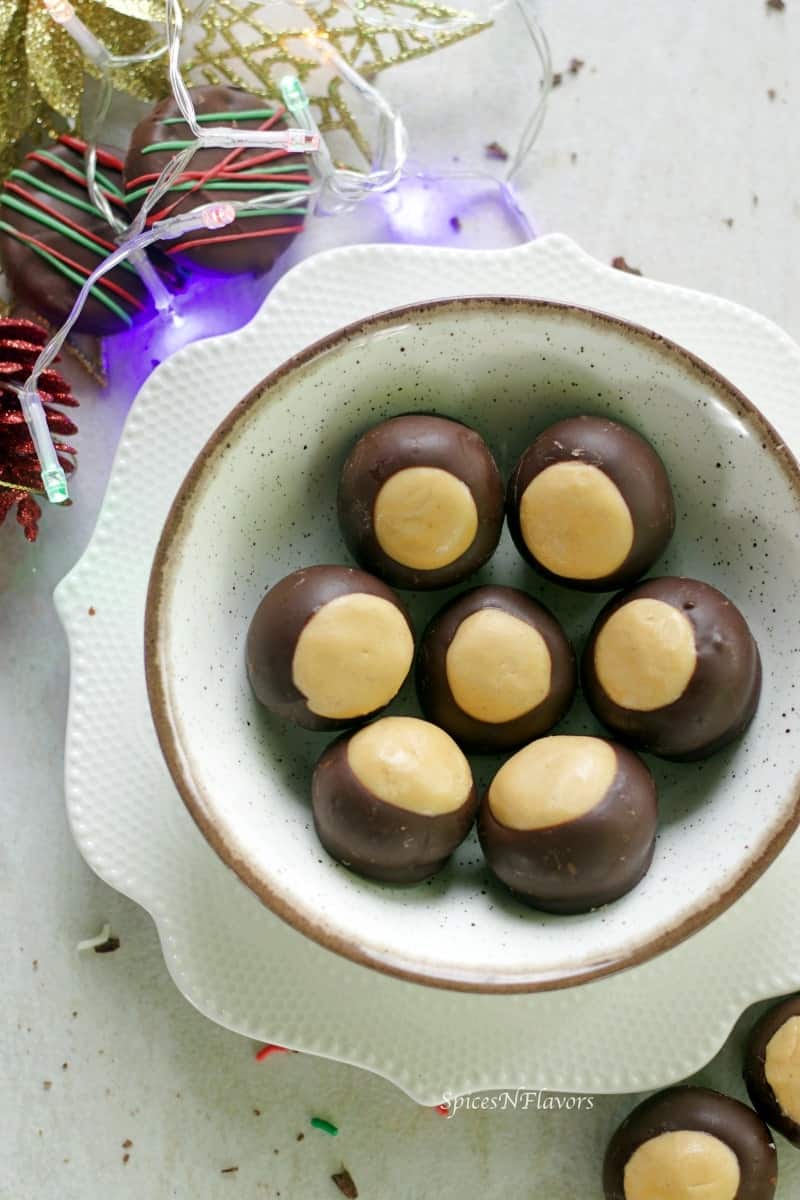 Let us start with,
What is the best chocolate for melting?
There are two kinds of people - one who absolutely enjoy reading blogs, author's stories or the important tips, techniques and methods that they share.
The other who absolutely hate scrolling to get to the recipe part.
In short what I am trying to say is, I have already shared a detailed post on Chocolates - Everything you need to know.
So I will spare all the blabbering behind the types of chocolates, why does my chocolate clump, why did my chocolate sieze etc in this post and directly share the end result but if you are someone who loves reading then please feel free to check that post by clicking on the link here.
The easiest and best form of chocolates to use for any kind of chocolate decorations or for home baking purpose has to be - Compound Chocolates.
Basic ones being - Those named as Chocolate Melts in the grocery stores the common brand being Nestle or Cadbury

The ones labelled as Baking Chocolate in the form of bars. Again the common brands being Nestle or Cadbury (this is not a sponsored post.. how I wish it were 😉 )
Candy melts -works great for dipping too as it set relatively faster than compound chocolates.
Almond Barks
If you do not mind spending a little more you can try Ghiradelli chocolate for dipping as well.
However, there is one particular variety that I would ask you to avoid and that is CHOCOLATE CHIPS.
Chocolate chips are designed in a way to hold their shape while baking.
You might have noted this while making a Chocolate Chip Cookie. You can check out the recipe for an eggless version from here.
It does not melt easily and retains its shape and hence you do not want to use it as it would not melt easily like a regular compound chocolate will and it will remain thick.
Now that you know what chocolate to use, let me clear your thoughts on can you melt chocolate in instant pot?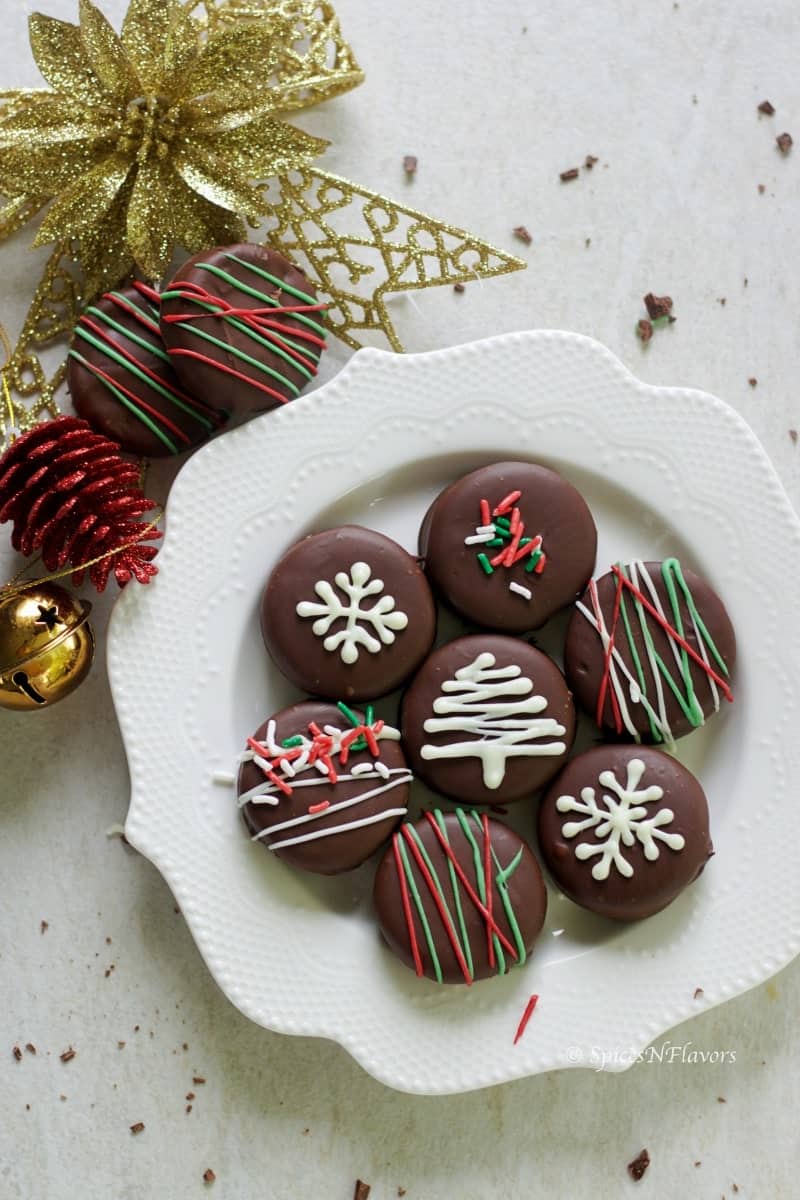 How to Melt Chocolate in Instant Pot
We will be using Instant Pot as a double boiler to melt chocolates.
For those of you who do not know Double Boiler is basically a method of cooking which relies on steam.
Basically, you have a pot of gently simmering water and a larger bowl that sits on top of it. Yes, that just sits and is not immersed.
As the water doesn't touch the upper bowl, the ingredients get the perfect amount of heat to melt or cook from the steam coming from the base pot.
The main purpose of this set-up is to gently heat delicate food like custards, chocolate, sauces or even lemon curd.
And this is were our might Instant Pot comes into play.
In order to make Instant Pot Melted Chocolates we would need:
1. Instant Pot, of course!!
2. A stainless steel or glass bowl that sits on top of the instant pot.
3. Compound Chocolates
Step 1:
Add 2 cups of water to you Instant Pot (Image 1) and select the Saute Mode (Image 2).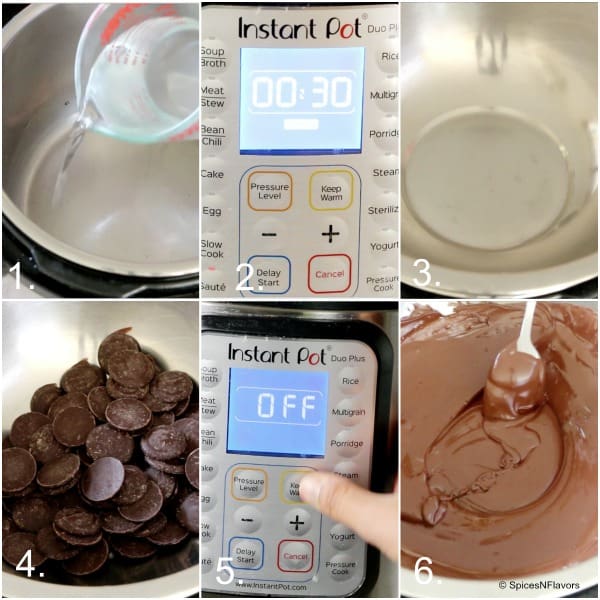 Step 2:
Once the water starts simmering and you see steam coming from it. Place the metal or glass bowl on top of it (Image 3).
Step 3:
Add chocolate melts or chopped chocolate to it (Image 4).
Cancel the saute mode and switch to keep warm mode (Image 5).
Stir until chocolate is dissolved (Image 6).
Keep the keep warm mode on to keep the chocolates in the melted form only.
Use in a variety of recipes as you desire.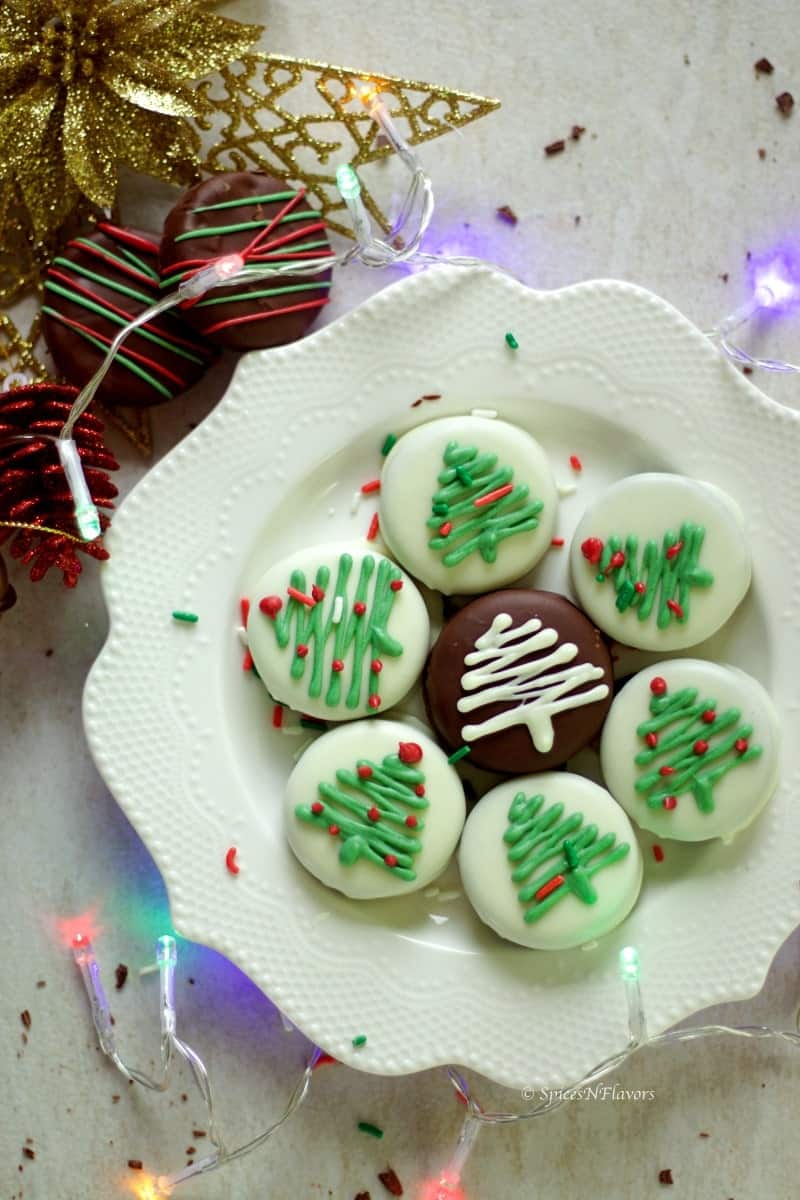 Advantages of using Instant Pot to melt Chocolates:
There was no more.. Damn.. it is hard again (no pun intended 😉 ).. I need to melt it again.. put it back in the microwave or switch on the stove.. the bowl is too hot.. etc..
All thanks to the Keep Warm Mode Setting of the Instant Pot.
1. Yes, the Keep Warm Mode function helps to keep the water warm all the time thereby transferring heat to the metal bowl placed above it and hence the chocolate remains in the melted form for longer.
2. Since Instant Pot works on electricity you can practically move it to any part of your house and not remain confined to the kitchen. Sit with your family.. enjoy your favourite show on the television and at the same time relish making chocolate covered treats for everyone.
3. That is my next favourite part.. involve your family too.. yes, kids would be more than happy to assist you with this as they would get to eat it then and there 😉 Everyone can join hands.
4. You do not need to buy any other equipment like an additional double boiler and clutter your kitchen top. One appliance is enough to do all the job.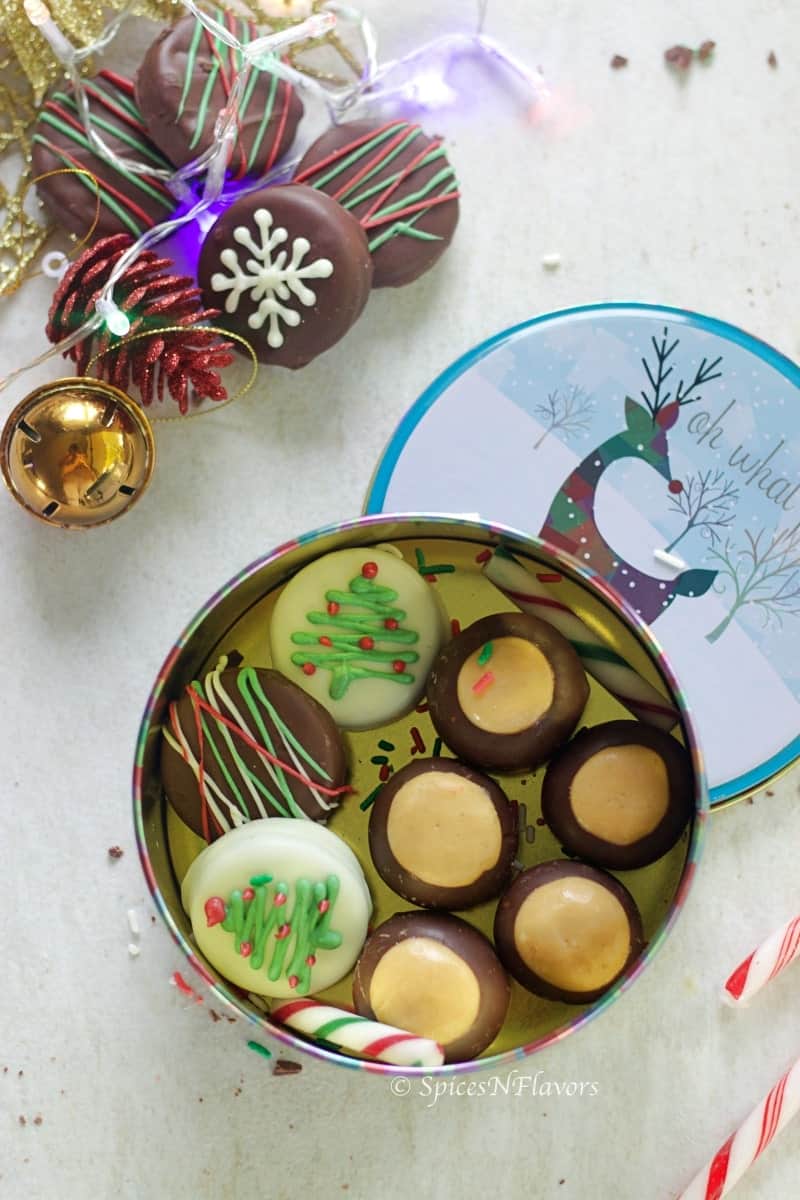 Different ways to use up the Instant Pot Melted Chocolate:
1. Chocolate covered strawberries are the most common dessert treats that you can make for any occasion. Be it for Valentine's Day, or serving it as Easter Carrots, for Baby Shower parties, New Year celebrations and so many others.
Simply dip the strawberries in the melted chocolate till the top. Allow the base coat to harden completely.
Fill a parchment paper cone with some more melted chocolate and draw lines on top as part of the decoration. Place sprinkles of choice to complete the look.
I made a tuxedo for the man of the house as a treat for Valentine' Day.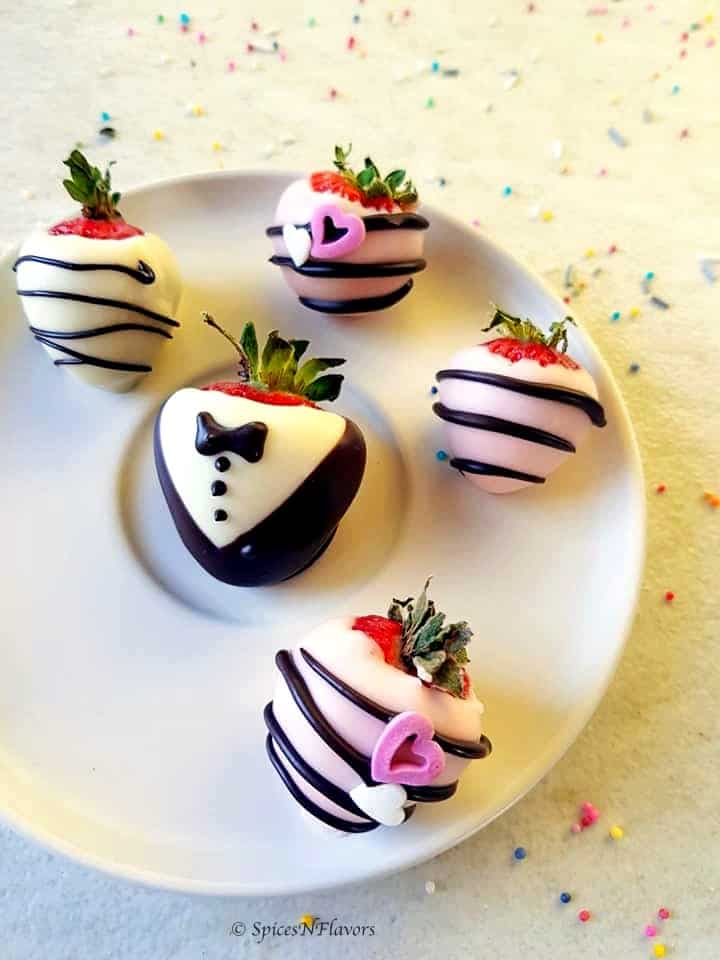 2. Making chocolate cups out of it is my all-time favourite. I usually serve Mango Ice-Cream in them. You can basically serve anything in it from ice-creams to fruit salads or just simple whipped cream.
3. Every year I also make chocolate bars to gift my friends and family. You can easily customise the flavour option when you make it at home.
3. Off-lately our favourite way of using melted chocolates is by making this smashable chocolate heart (It is trending all over the internet these days).
4. And whenever I have some chocolate left-over from any projects I often tend to make easy peasy Chocolate Barks out of it. Even after making today's recipe with the leftover that is what I made. You can use chocolate barks to decorate so many things like these cookie cups or cakes.
5. Dipping cookies in melted chocolate is a joy in itself. So Satisfying.
6. This technique would work like a charm while making donuts, eclairs and other pastries.
7. Making chocolate decorations for cake decorating would be a breeze too.
8. If you love making cakes and find writing on it difficult, then this tutorial using melted chocolate would be super helpful.
9. Truffles are always a holiday must have recipe.
10. And the best.. Imagine a girls night out with Instant Pot as a Chocolate Fondue.. so cool right!!!
Bonus Recipes:
In this post find the recipe on how to make Buckeyes which is basically peanut butter balls and chocolate-covered Oreos that is literally a child's play.
Oh by the way, if you have some time handy, then you can try making your own homemade Oreo Cookies too. I have shared the recipe on the blog that you can check out from here.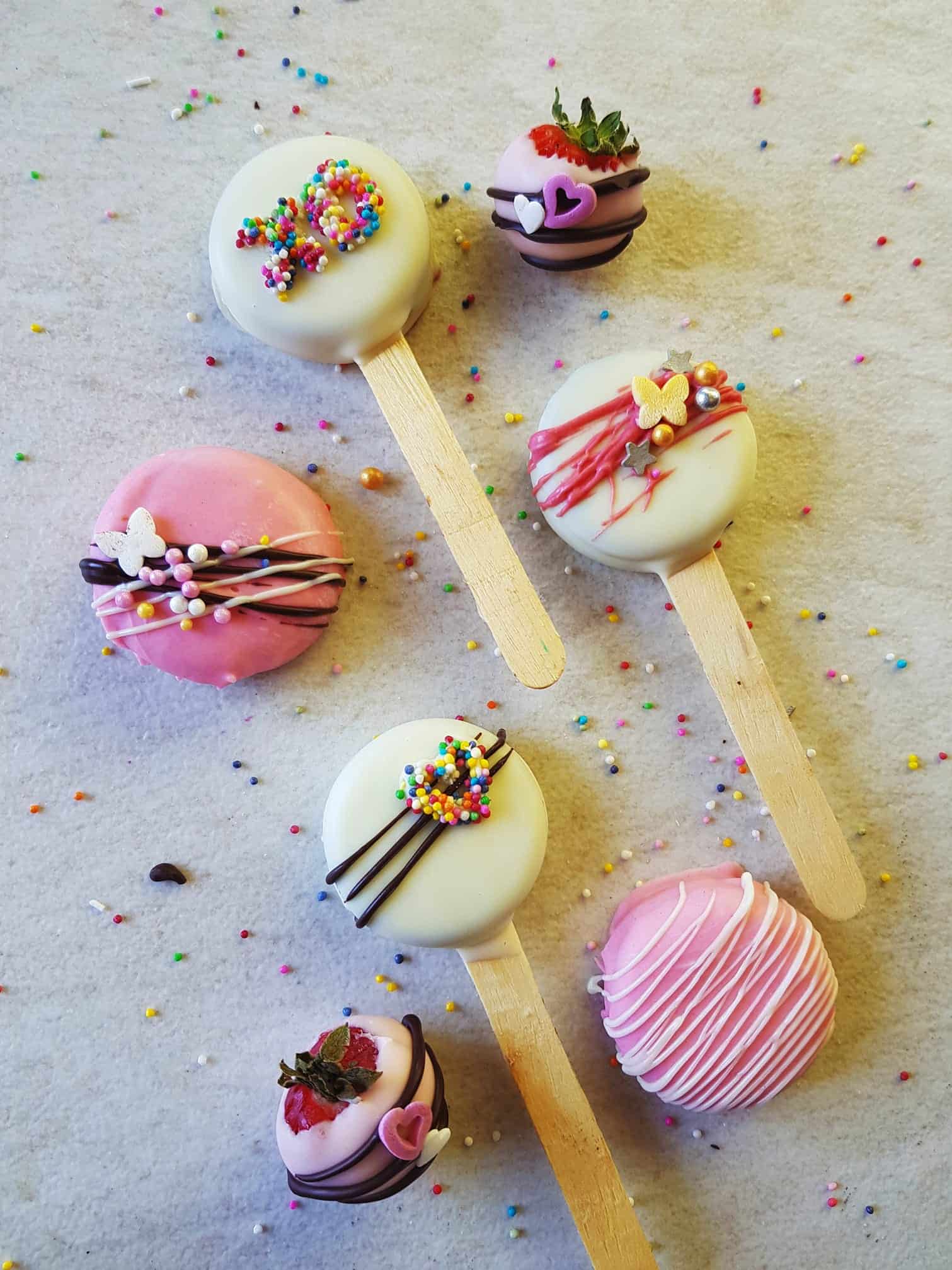 More Christmas Recipes
UPDATE:
Post updated on 09 February 2020
Updating the post to add pictures on chocolate-covered strawberries and also chocolate covered oreo popsicles decorated as per Valentines Day theme.
If you like this recipe or happen to try it then share your experience below in the comments by giving it a STAR RATING or let me know by tagging me, tweeting me or Instagram me. I would love to connect with you and your posts.
Consider joining the community of 200K+ subscribers on Youtube.
Liked this recipe?
Let us know by giving it a star rating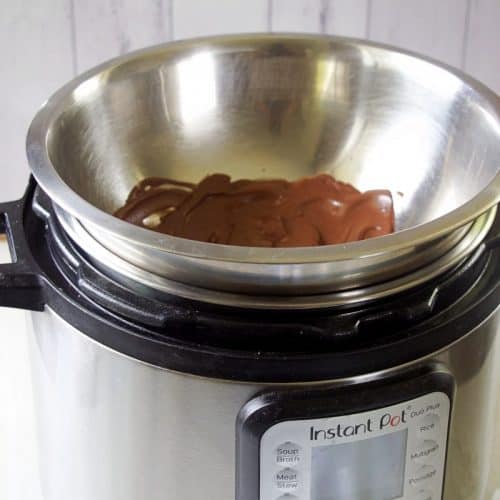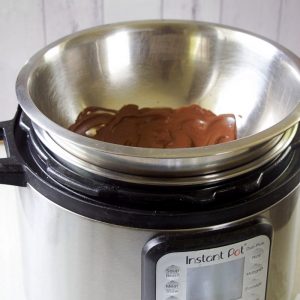 Print
Instant Pot Chocolate Covered Treats
Learn how to use instant pot to melt chocolates and thereby use the melted chocolate to make a variety of chocolate-covered treats.
Servings
1
cup melted chocolate
Ingredients
290

gms

(1 packet) each of Dark and White Chocolate melts
For Buckeye Balls
1

cup

Peanut Butter

softened

1/4

cup

Butter

1/2

tsp

Vanilla Essence

2

cups

Icing Sugar
For Chocolate Dipped Oreos
1

packet

Oreo Biscuits

sprinkles of your choice

Red and Green food colouring.
Instructions
How to melt chocolate in an Instant Pot
Add 2 cups water to the base of the inner pot. Select the Saute Mode.

Once the water starts simmering and you see the steam coming out. Place a metal or glass bowl that would sit on top of the Instant Pot and add the chocolates to it.

Cancel Saute and choose the Keep Warm Mode. Stir the chocolate until it is all melted.

Keep the melted chocolate on Keep Warm Setting itself until you need. That way the chocolate would remain in the melted state only.
Buckeye Balls
Take the peanut butter, butter and vanilla essence in a bowl. Whisk until it is all combined.

Do scrape the bowl every now and then to ensure that everything is mixed evenly

Add sugar little at a time and whisk until it comes together. Finally shift to using your hands and combine until everything comes together like a cookie dough.

Using a tbsp as a measurement, measure out the dough and roll it between your palms to a smooth ball.

Place on a baking tray lined with parchment paper. Keep it in the refrigerator for 15 to 30 mins to chill.

Using a toothpick, pick up a ball and dip it into the melted chocolate leaving small bit of the peanut butter balls exposed to get that signature buckeye pea look.

Transfer it to another tray lined with parchment paper for the chocolate to set and firm.
Chocolate Dipped Oreos
Take one oreo biscuit and dip it into the melted chocolate.

Using a fork, lift the biscuit and tap your hands so that the excess chocolate drips off.

Place on a tray lined with parchment paper so that the chocolate sets completely.

Once the chocolate sets decorate it as per your needs. You can watch the video in the recipe card to see how I have decorated mine.
Video
Notes
The main reason why a chocolate seizes and clumps together is when it comes in contact with moisture. And hence once you start seeing the steam coming off the sides of the bowl, remember to switch to Keep Warm mode from Saute so that the water does not boil over.
You can read more about, "How to melt chocolate the right way" from here or watch it in a video format from here. 
Do stir the chocolates while melting to avoid the chances of it getting burnt.
After using the melted chocolates for dipping Buckeye Balls and Oreos, with whatever was left out I made some chocolate barks. You can check the recipe for the same from here. 
Oh by the way, if you have time handy you can also make your own Homemade Oreo Cookies, check out the recipe from here. 
The trick to get even chocolate coating is to gently tap your hands to remove the excess drip rather than tapping on the fork. That way not much pressure transfers to the fork and only the excess chocolate drips away.
You can also use white candy melts for a darker and more even coating. If using white chocolate then dip the strawberries, oreos etc twice. So dip it once. Allow the chocolate to cool completely and then dip one more time. 
If you are using glass bowls, sometimes due to the change in heat the bowl might get stuck to the pot once the saute function has been turned off. If that happens simply turn it on and the bowl would be released in 2-3 mins. Make sure to handle the bowl with care as it would be HOT. 
Did you make this recipe? Tag me today!
Tag me @spicesandflavors to get featured on my FB and Insta pages
Conclusion:
Instant Pot melted chocolates is one of the basic hack that one can try.
The main advantage is its ability to keep the chocolates melted for a long duration of time without having the need or should I say without worrying about the chocolate hardening especially at this time of the year.
There are variety of recipes in which you can make use of this hack, like while making chocolate covered strawberries, pretzels and few others that I have mentioned in the post.
I think I have pretty much covered all the doubts you might get while melting chocolates the right way.
Still if you have any other queries do let me know in the comments below and I will try to answer them all..
Pin this for later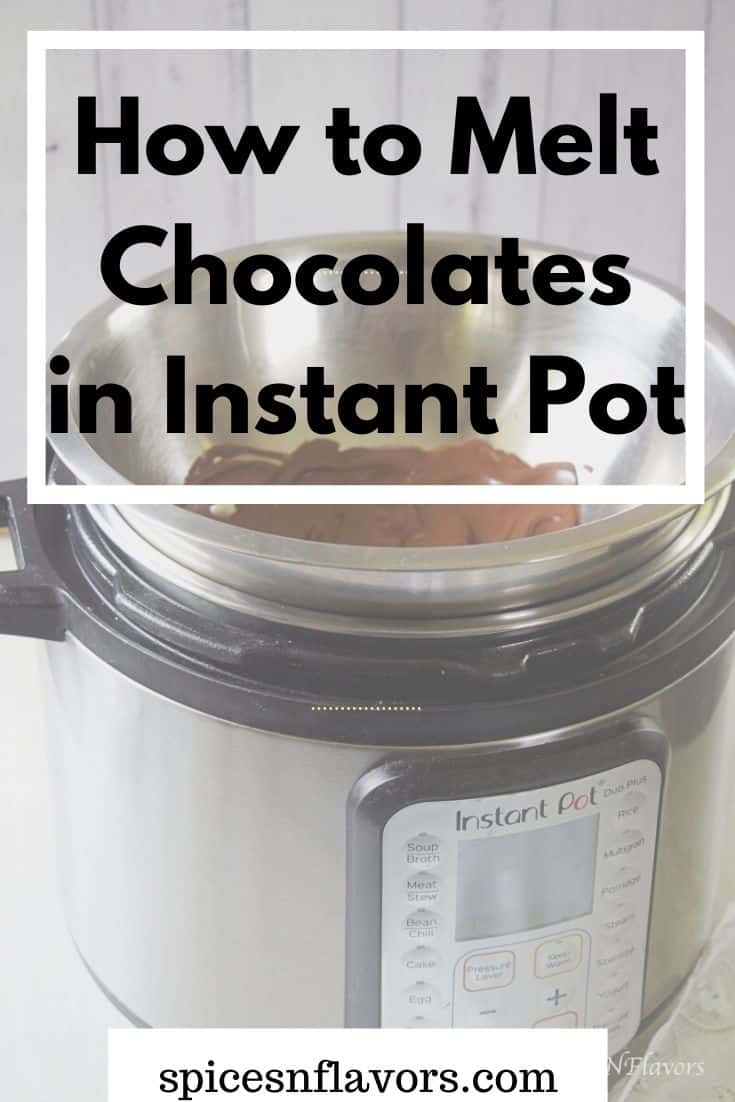 I will see you soon with yet another recipe
Unitl then
Hugs
Sushma
SpicesNFlavors is a participant in the Amazon Affiliate Program. The Amazon Affiliate Program is designed to provide a means for sites to earn advertising fees by advertising and linking to products on Amazon. The price you pay as a consumer does not change, but if you make a purchase through one of our links, we receive a small commission – and we continue delivering delicious recipes to you!