Pikachu Cake is a great DIY cake idea made without using any; pikachu cake pan; for your next pokemon birthday theme party.
Follow this easy step by step format to make not only pokemon birthday cakes but any cartoon character cake. Instead of looking out for where to buy pokemon cake or pokemon cake near me, with these easy to follow steps you can make one for your kiddo and win their hearts <3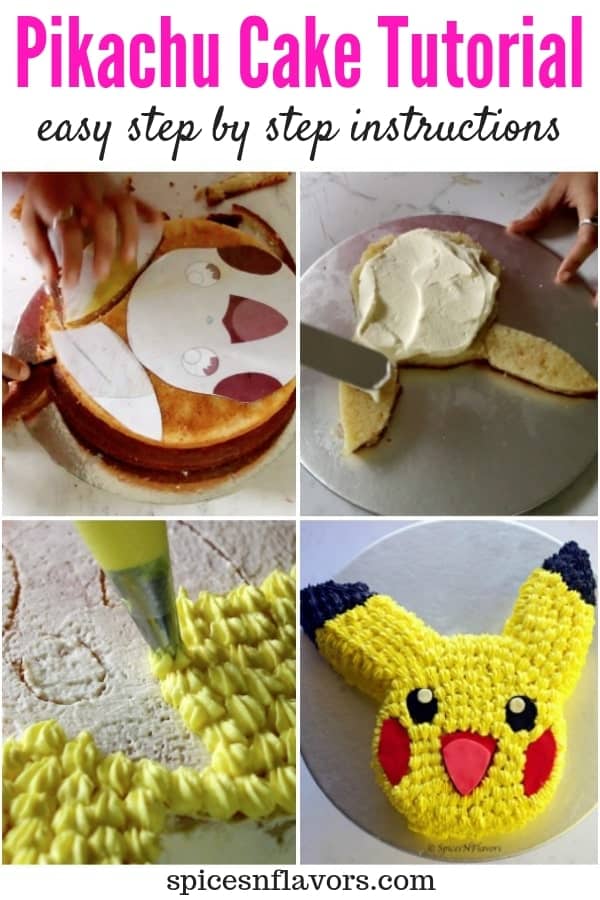 Pikachu Cake - one of my very first attempt at making a carved cake as well as a cartoon character cake.
Recently, I got an opportunity to bake an 8 inch Pikachu Cake for a dear friend. I was so so so excited that I thought I should film and record the entire process of this simple pokemon birthday cake because you can use this as a base method to try any other birthday cake as your needs.
The biggest advantage of making the Pikachu Cake in this way is that
1. You do not need a PIKACHU CAKE TIN
2. Any size right from 6 inches to 10 inches can be made. Of course, I would recommend a minimum of 8 inches for this particular cake because in 6 inches the face of our Pikachu Cake would be too small.
3. Can be made in any cake flavors. Today, I have made the ever trending cake flavor - Eggless Pineapple Cake.
4. It is a minimal fondant pokemon cake as in we are just using fondant to make the eyes, mouth, and cheek.
First things first, there are few things that you would need before making this easy Pikachu Cake recipe and those are
1. Pikachu face template for cake
2. Cake base. You can use a readymade cake mix or follow this simple Eggless Vanilla Cake or Eggless Chocolate Cake recipe.
3. Filling and Frosting of your choice.
4. Star Nozzle
5. Piping Bag
6. Fondant or Almond Icing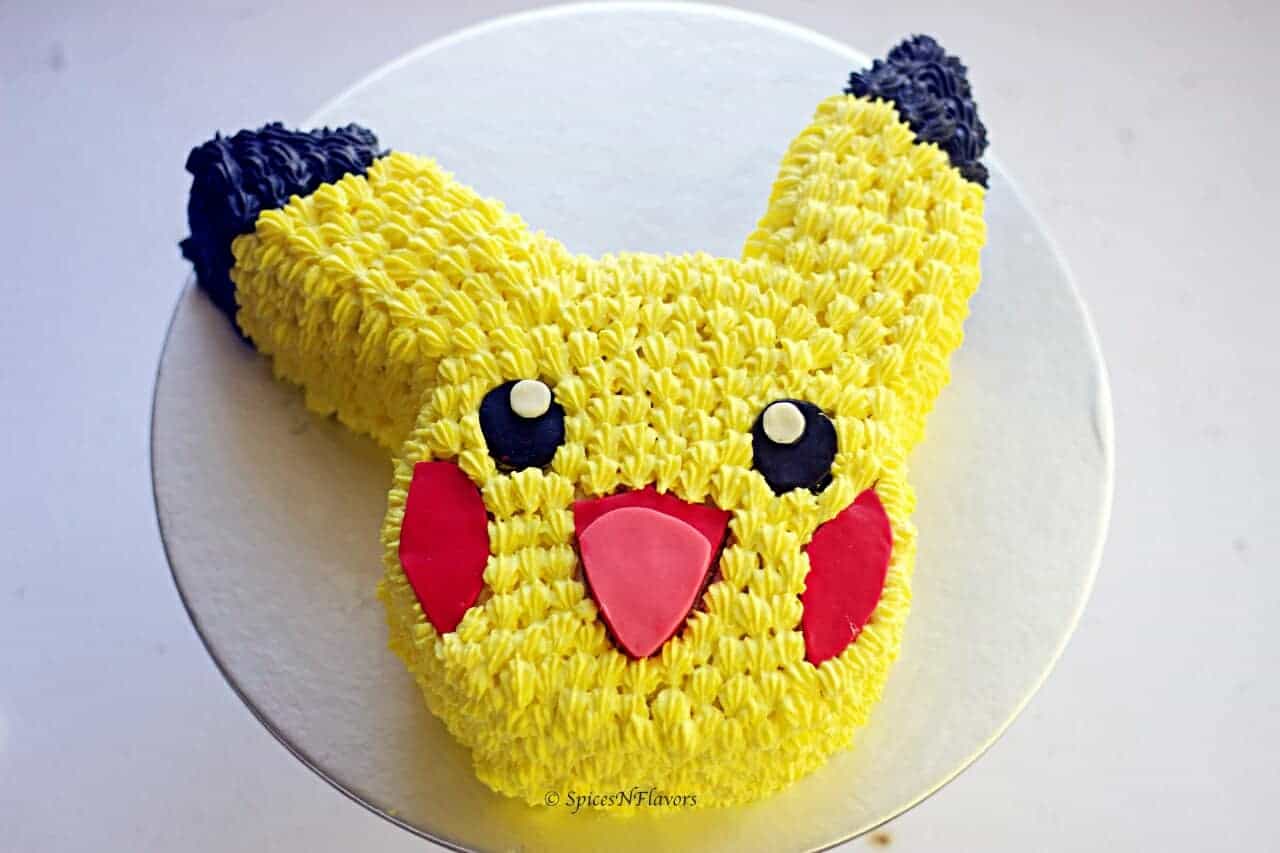 Here is a step by step tutorial on how to make a Pikachu Cake?
Step 1: Print the template
Like I said you would need a Pikachu Cake template. Depending upon your requirement, print the template online and stick cello tape on to the back of the template.
I have shared the template from where I have downloaded this in my youtube video. You can check that from here.
The one thing that you have to note is print the template in a way that everything fits the cake tin.
For eg: I wanted to bake an 8-inch cake so I printed out the template such that it fits the cake tin properly as you can see in the pic.
Step 2: Carve the Cake Base
Pro Tip: Prepare your cake in advance and let it sit in the refrigerator for a minimum of 3 hours. That is because it is easier to carve chilled cake rather than carving a freshly baked cake which is crumbly and much softer.
So place your template on top of your cake and start carving it to its shape.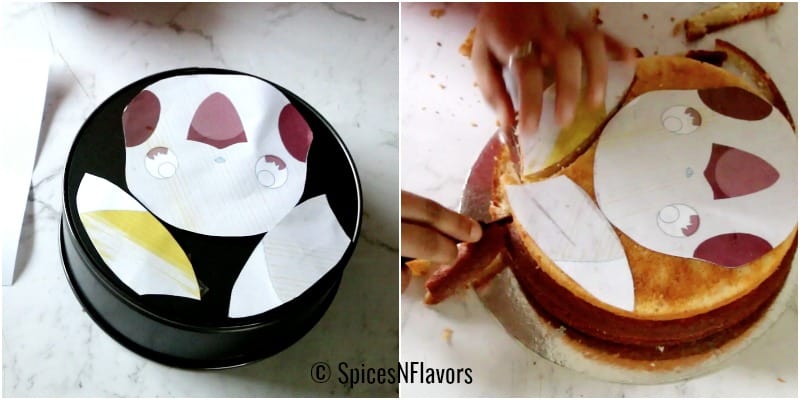 Step 3: Fill and Frost
Fill and frost the cake depending upon your desired flavors and medium of frosting.
I have followed the steps of Eggless Pineapple Cake.
Crumb coat the cake and refrigerate for a minimum of 1 hour and in the meanwhile start making the toppers.

Step 4: Make Fondant toppers
For Pikachu cake topper we would need eyes, mouth, cheek and nose.
Cut out the same from the template and keep aside.
Colour your fondant in the shades of red, black and rose pink.
Roll the fondant to even thickness. Place the template on top and using a sharp knife just cut the desired shape. Smoothen the sides to make it look even.
Pro Tip: To avoid the fingerprints on top gently roll the top using your rolling pin that would get rid of the fingerprints.
Step 5: Piping
Finally start piping the cake with stabilized whipped cream frosting. We would be using two colours - black for the ears and yellow for the rest of the face.
Using a star nozzle star piping, push to release the icing and pull towards you to make a tail. You can view the exact way of piping in the video.
Just make sure that you pipe everything in one single direction to make it look even.
Step 6: Final Assembly
Once you are done with piping. Just place the fondant toppers on top and do any last minute piping to make it look even.
Finally, place a chocolate block to make a pikachu birthday cake with name all ready to be delivered to your client.

Even with the detailed step by step tutorial I am sure you might have some doubts regarding this pokemon birthday cake.
Say for eg: How do you achieve the intense black colour as shown in the pics for the ears of this Pikachu Cake?
Yes, to begin with, you would need lots and literally lots of black food colour.
But apart from that what you can do is make the icing ahead of time and let it sit in the refrigerator for 2-3 hours. That helps in intensifying the colour. You can use this same technique to make a red colour too.
I am looking for a complete pokemon theme party what else can I make to go along with it?
Using the same base recipe you can make a pokemon cupcake, Pikachu cupcakes, pokemon cake pops.
These days pull apart cupcake cakes are super trending. So definitely you can also make pokemon cupcake cake or Pikachu cupcake cake.
Making a pokemon cake is not difficult at all, all you would need is some pre-planning in terms of allocating time to chill the cake and making your flavors and fillings in advance.
Another thing that you need to have is Patience. It would take a little extra time to pipe everything evenly.
It might happen that at some point the frosting might start to melt due to the warmness of your hands. To avoid that
1. Use less frosting at a time in your piping bag
2. Refrigerate the piping bag for 5 mins, in short, take a break and then start piping again.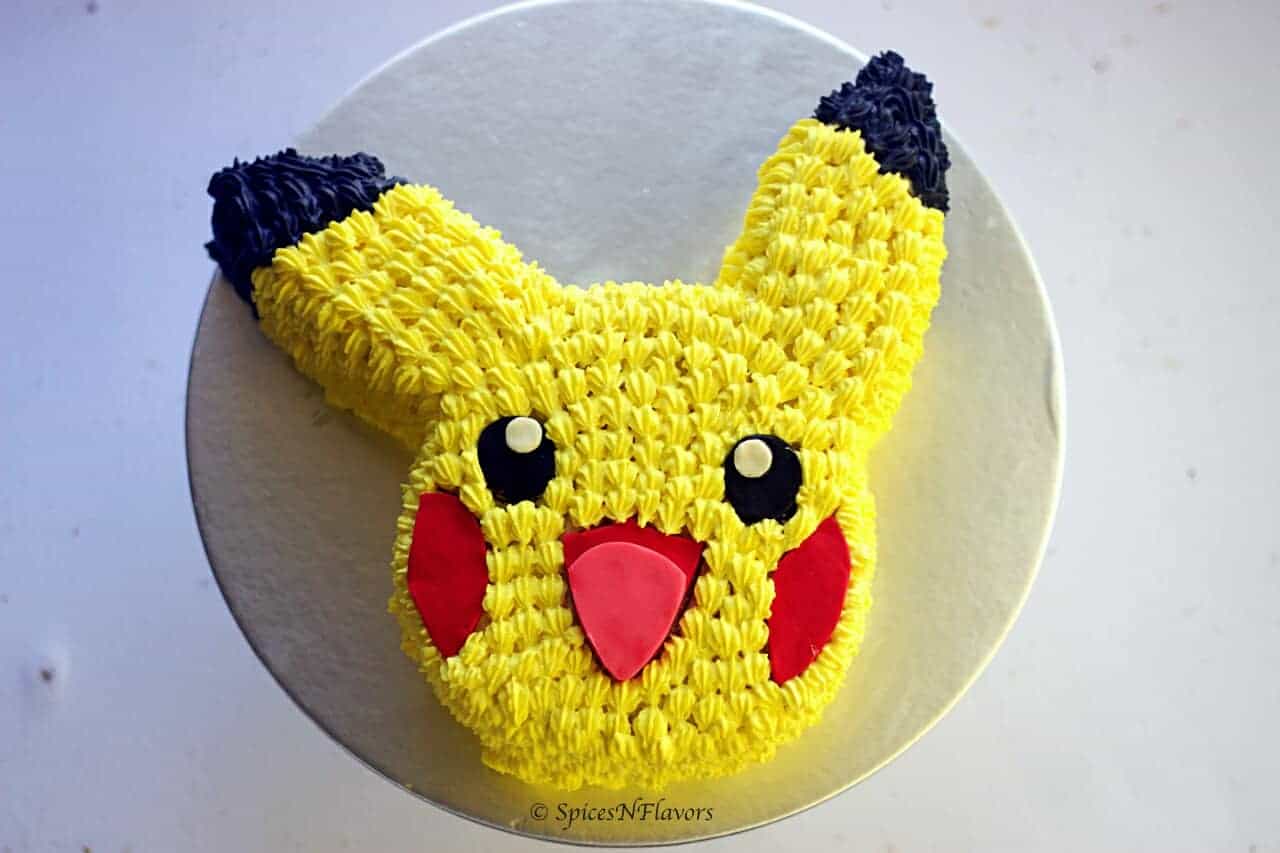 Wondering what other cakes can you make using the same technique:
Well, then you can make a
Batman cake
Baby Mickey mouse cake
Scooby Doo Cake
Dinosaur cake
Peppa Pig cake
Transformers birthday cake
Dory birthday cake
My little pony cake
Little mermaid cake
Mario cake
Tinkerbell cake
Comment below and let me know if you want to see such tutorials further and which cake do you want me to bake next.
IF you thought that this tutorial on pokemon pikachu cake without pikachu cake mold was helpful then let me know by tagging me, tweeting me or instagram me. I would love to follow you and your posts.
Pin this for later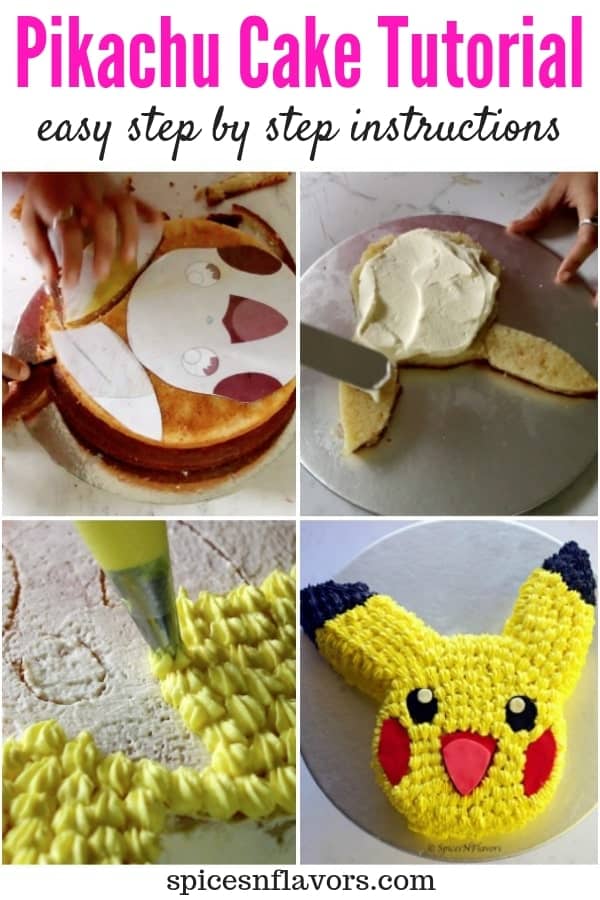 I will see you soon
Until then
Hugs
Sushma