Spider Web Cake - I have got you covered with an awesome, fun and cool yet SCARY, SPOOKY and Creepy cake tutorial this Halloween that you can EASILY and EFFORTLESSLY recreate at home with just basic ingredients.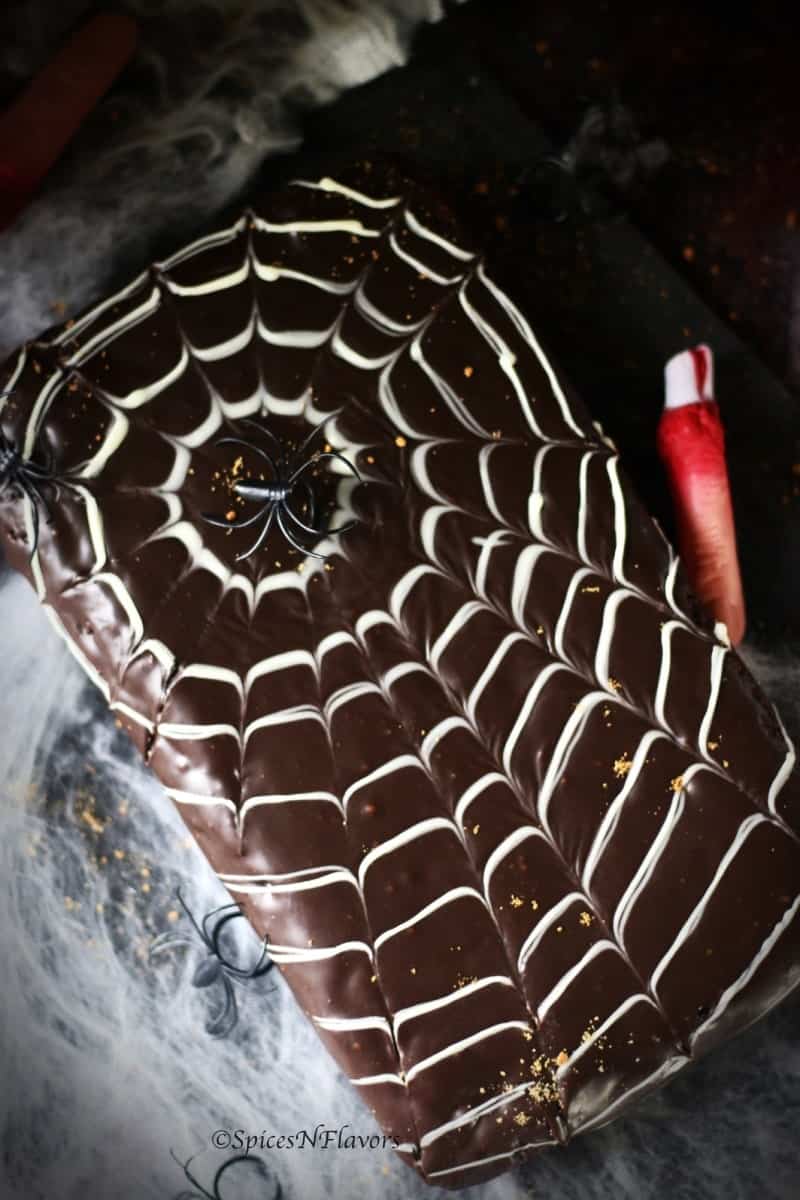 Spider Web Cake design is an easy DIY Halloween treats that would go hand in hand with your Halloween Party this year.
Back in India, I had no clue about Halloween. We never celebrated this day then. It is only after I came to this part of the world that I saw little kids dressed up as cute Halloween Witches, Ghosts; the dollar tree stocked up with ghost decorations and stuff.
That is when I also realised the internet is flooded with Halloween cookies, Halloween cakes, Halloween cupcakes, Halloween cake recipes, Halloween cake fingers, Halloween cake pops, Halloween gingerbread house, Halloween finger cookies and so many more.
In fact, I even have an entire board on Halloween foods and treats on Pinterest that you must definitely check out for more inspiration and ideas.
And so finally it was time for me to give in and make a Halloween chocolate cake for myself. Since this is the first ever time I am trying and celebrating Halloween I thought to start with something simple.
Nothing could be simpler than this Halloween Spider Web Cake design!!!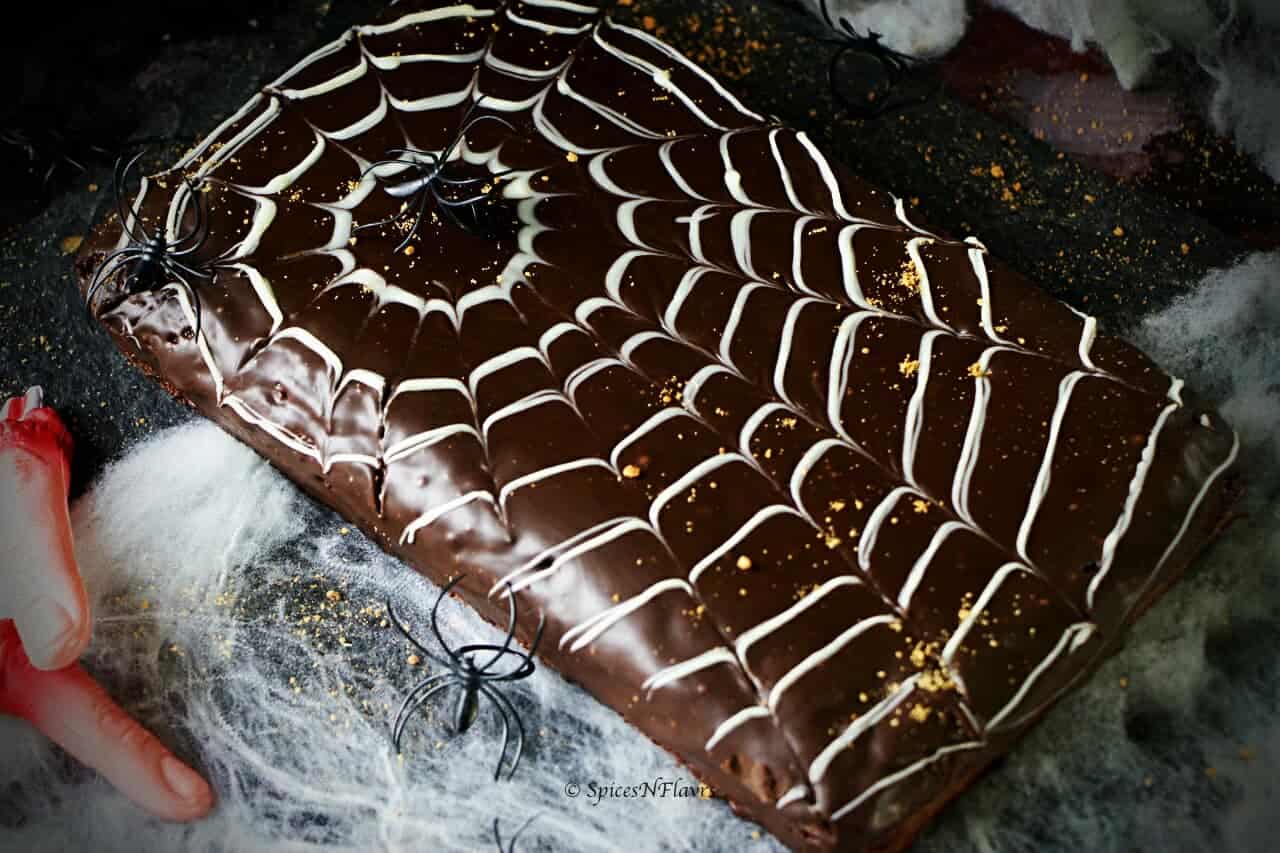 There are so many ways in which you can make a spider web icing design.
One of the most common ways is a spider web cake with marshmallow. To make marshmallow spider web cake all you have to do is microwave the marshmallows, and once it is warm enough to touch just take some in between your hands stretch and place on the cake.
And that is how you make marshmallow spiders or marshmallow cake. How simple is that!!
But even for that, you need to make at least 3 layered cake first and then decorate. I wanted something even simpler.
Another way is to make spider web icing. As in you can pipe the spider web design using buttercream or stabilized whipped cream. And that would explain your question on how to draw an easy spider web design on cake. In fact, this also explains how to make a spider web on a spiderman cake.
Piping is the key.
But wait, not everyone can do that. I can see some of you nodding.
Hang on with this post as I am sharing an even simpler spider web cake recipe..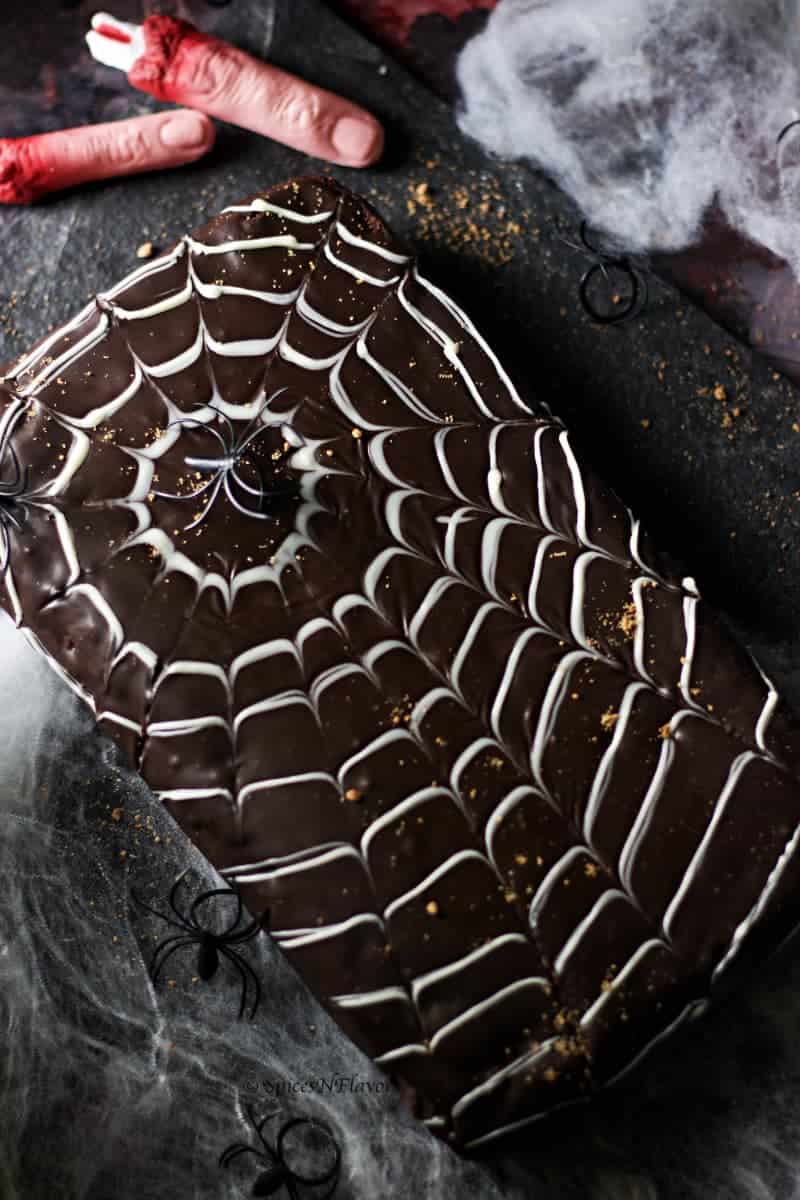 I know some of you are still not convinced that this is the simplest Spider Web Cake decoration you can make.
Let me tell you exactly why it is easy to make a chocolate Spider Web Cake
A. We are using an eggless chocolate cake as the base. With the No-Fail and easiest recipe of the moist chocolate cake that I have shared previously you can never go wrong. And if you want you can also use a chocolate cake premix or simply use a store-bought chocolate sponge cake. Anything will work.
B. To top our base chocolate cake we are making a chocolate ganache which is ridiculously easy to make and needs just 2 ingredients. Yes, I am serious.
C. Finally moving onto, how to pipe spider web on cake. Don't worry as neither do you want a mastery in piping techniques nor do you want any kind of icing or buttercream. We are going to make it simply with melted white chocolate. You will see exactly how to draw a spider web in an easy way.
Trust me on this you will be surprised to learn how ridiculously easy it is to make edible spider cake decorations.
And if you like this one consider checking our 3 cute and ridiculously easy Eggless Halloween Cupcakes Decorations too.
Here is a detailed DIY tutorial on how to make Halloween spider cake recipe:
Liked this recipe?
Let us know by giving it a star rating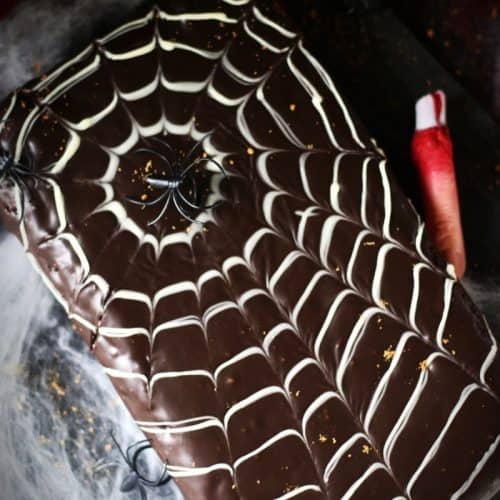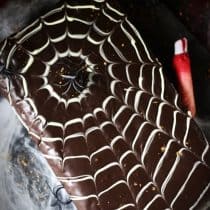 Print
Halloween Spider Web Cake
I have got you covered with an awesome, fun and cool yet SCARY, SPOOKY and Creepy cake tutorial this Halloween - Spiderweb Cake that you can EASILY and EFFORTLESSLY recreate at home.
Ingredients
1

Chocolate cake

(refer notes)
For the Chocolate Ganache
130

gms

Chocolate, Chopped

65

gms

Cream
Melted White Chocoate - 1 tbsp
Instructions
Prepare the chocolate cake (use store-bought or premix or your own favourite) and let it cool completely

Heat the cream until it just starts to boil and immediately pour over the chopped chocolate. Allow it to stand for a minute and then stir to combine. Let it sit in the refrigerator for 10 mins to thicken a bit and your ganache is all ready.

Melt your chocolate and keep it ready in a piping bag (refer notes)
To assemble
Trim the chocolate cake if needed to level the top.

Pour the thickened chocolate ganache on top, spread it evenly on top of the cake.

Before the ganache sets immediately make roundels using melted chocolate on top of it starting from one corner of the cake. (refer video for clear steps)

With the help of a toothpick to make the cobwebs on top. Again refer video for a clear idea.

Once the ganache sets completely, arrange some spiders on top, place some fingers or bats to decorate. Slice a piece and enjoy.
Did you make this recipe? Tag me today!
Tag me @spicesandflavors to get featured on my FB and Insta pages
Notes:
1. Here is a super simple recipe for making the best chocolate cake recipe. You can follow this or choose any of your own favourites. I have baked this in a rectangle pan. If you want to make a vegan chocolate cake then you can click here for the recipe.
2. I have used a combination of dark and milk chocolate to make the ganache. But you can choose either one or any that you like.
3. There are two videos that I would highly recommend you guys to watch - How to melt chocolate the right way and the other is how to make your own parchment paper cone at home. This would be helpful for you to melt your white chocolate to the right consistency and also to transfer it to a parchment cone.
So I have used some ready-made spiders that are not edible. However, you can choose to make your own chocolate spiders. I found this tutorial on chocolate spiders recipe online which is super easy.
Apart from this edible spider web for cake and the chocolate spiders, you can also make few other spider web cake topper like this halloween owl cookies, ghost cookies, bat cookies or orange spider that would go well with this spider cake decoration.
That was my take on chocolate spider web cake.
Do share with me what other spooky cakes are you planning for halloween cake decorations..
I have some other ideas that I might make this year or probably next year like this
a. Dirt cup recipe
b. Graveyard cake
c. Halloween popcorn balls
d. Halloween cheesecake
e. Spider Web cupcakes
f. Ghost cake
g. cat cakes
h. Halloween pastries
i. Easy dirt cake recipe
I hope you liked this post on how to make Spider Web Cake recipe. If you did do let me know by tagging me, tweeting me or instagram me. I would love to follow you and your posts.
Pin this Spider Web Cake for later: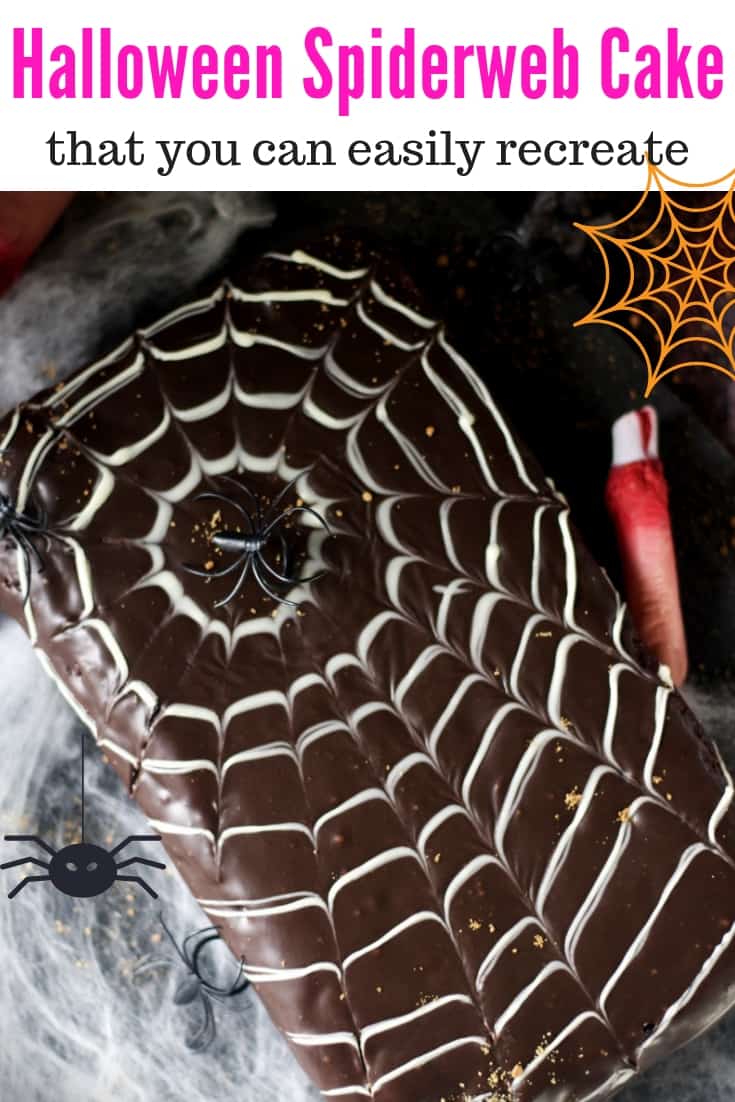 I will see you soon with yet another one
Until then
Hugs
Sushma