Rasam powder or Rasam podi is one of the integral spice of any South Indian kitchen. As the name suggests it is used to make South Indian Rasam aka tomato tamarind soup.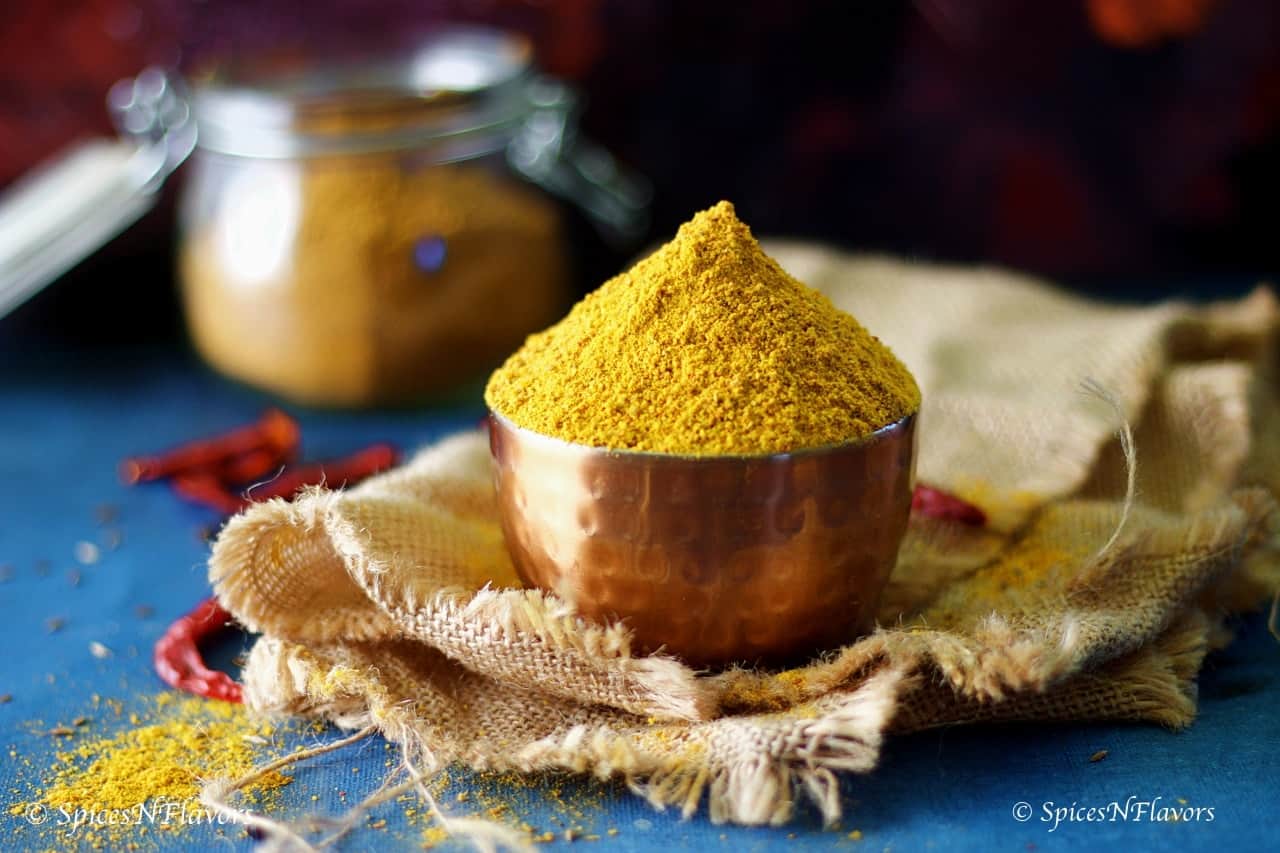 Rasam powder is used to make Rasam.
And what is Rasam?
Rasam is basically a South Indian soup which can be enjoyed on its own or served with steaming hot rice. It is prepared using tamarind juice which is then cooked with tomatoes, turmeric powder, lentils and lastly spice mixture is added to enhance the taste.
You can make the spice mixture or to say Rasam powder fresh or grind it before hand and use as when needed as it stays good for 3-4 months in an air tight container.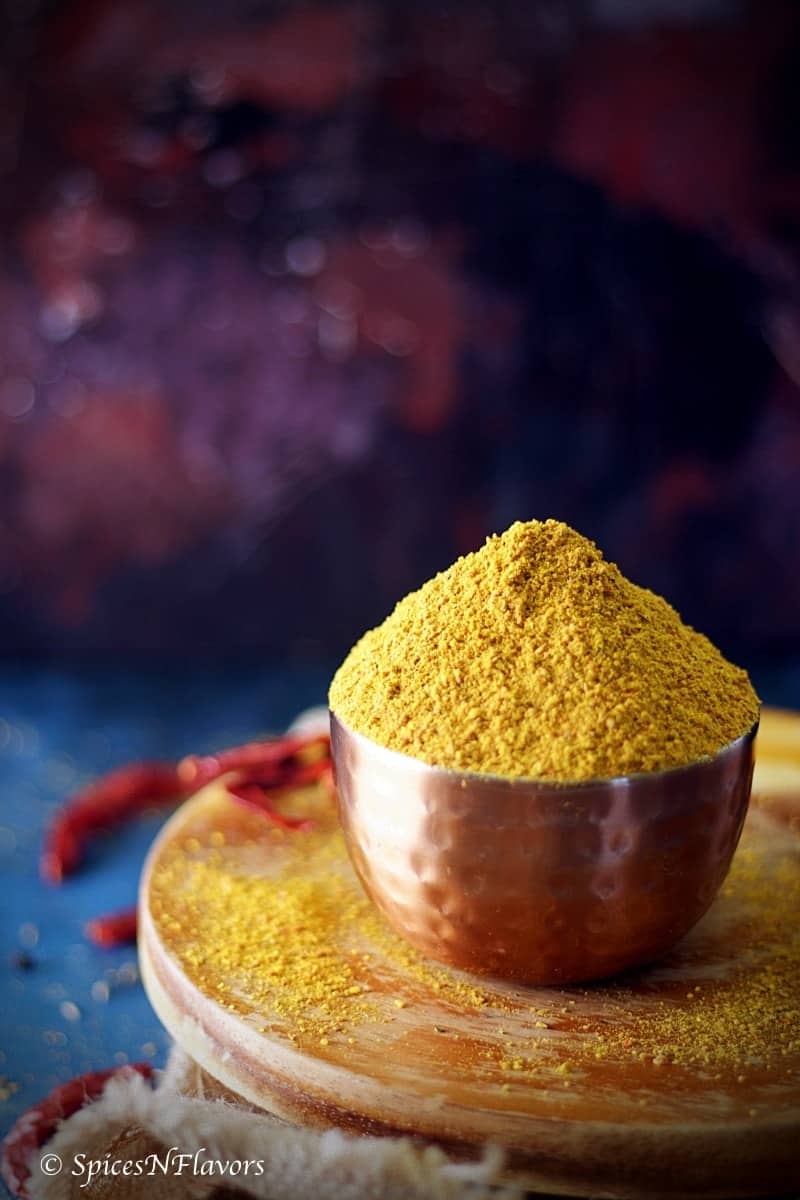 There are a variety of rasam that you can make if you have this Rasam powder ready. Every household in South of India is bound to have few podi (powder) varieties at any point of time and Rasam powder is one among them.
Would you believe if I say making this Rasam powder at home is like Cake Walk!!
I always used to think that it is practically impossible for me to make some quint essential spice powders like Sambhar powder, Idli podi or Rasam Powder at home. I always thought it to be a tedious process.
But this Rasam powder takes just 15 minutes of your time and that too with just 5 ingredients.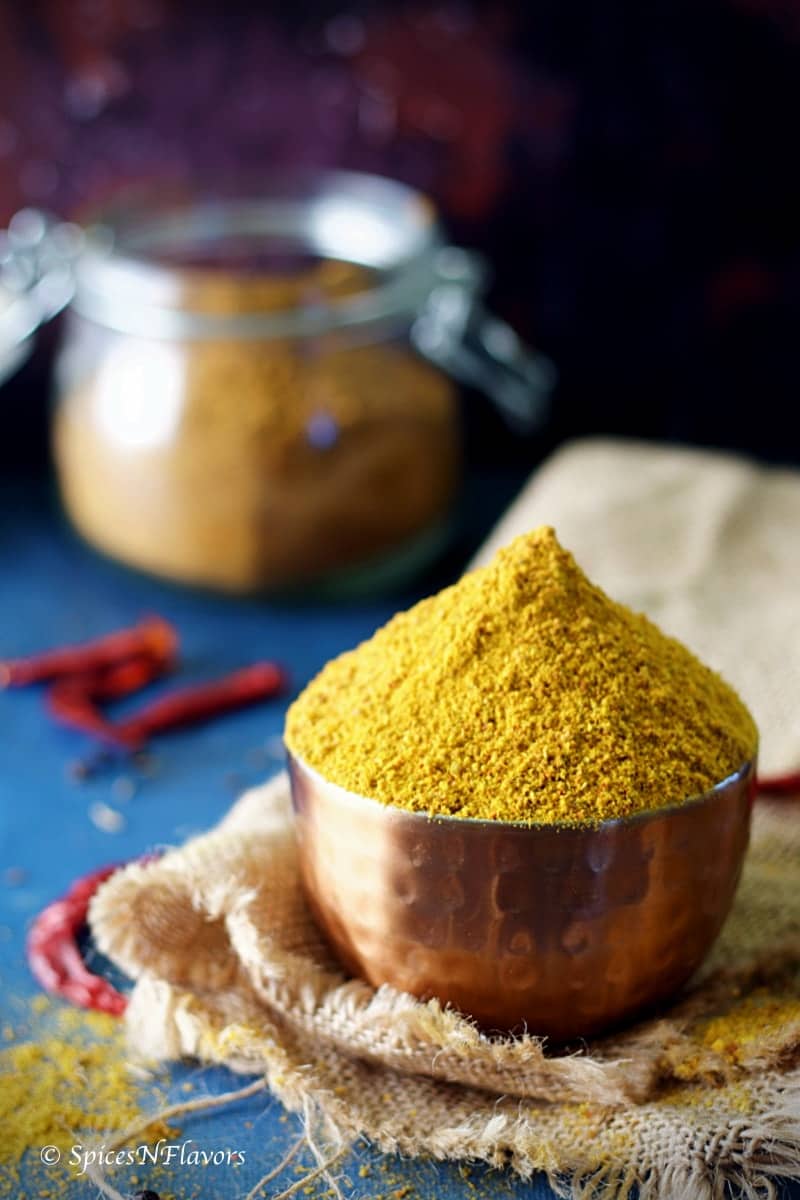 Rasam is a very comfort dish. As it has a soup like consistency it is the comfort food one can have, when, you are down with fever, cough or cold. There are specific variety of rasam like Melagu (Peppercorn) Rasam, Pundu (Garlic) Rasam etc, which when had during illness is very soothing to your throat.
The Rasam powder is not only used in making various kinds of rasam but also is used while preparing certain stir fry veggies. It is one versatile powder that is must have in our household and the best thing is that it requires only 5 ingredients to make it.
5 ingredients and 2 steps and your versatile spice powder, Rasam powder is ready to use. A Mum's recipe never fails. Make this spice mixture ready and you will never regret.
Without any further delay lets get started with the recipe of Rasam powder.
Liked this recipe?
Let us know by giving it a star rating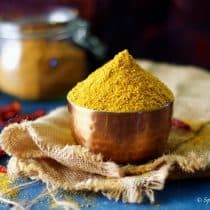 Print
How to make Rasam Powder at home
Rasam powder is the spice mixture that is used to make South Indian speciality or comfort food Rasam which is basically tomato tamarind soup.
Ingredients
1/2

tsp

Oil

15-20

nos

Dry Red Chillies

(spicier ones)

1

cup

Coriander seeds

1/2

cup

Black Peppercorns

1/2

cup

Cumin seeds

1/2

cup

Toor Dal

2

tsp

Turmeric powder

(optional)
Instructions
In a pan heat the oil and dry roast the red chillies until they turn dark in colour. Once roasted transfer to a plate and let cool completely.

In the same pan roast coriander seeds until aromatic and dark in colour. Transfer to the plate to cool completely.

Next roast in the peppercorns until it starts popping.Transfer to the plate to cool completely.

After that roast cumin seeds until it turns brown. Transfer to the plate to cool completely.

Finally roast the toor dal until brown in colour. Transfer to the plate to cool completely.

Once everything is roasted and cooled transfer to the mixer and grind coarsely.

If you wish you can add turmeric powder once it is grinded. Mix and your Rasam powder is all ready.
How to Store?
Transfer the rasam powder to a clean dry air tight container. It stays good for 3-4 months. Use 2 tsp of it as and when needed.
Did you make this recipe? Tag me today!
Tag me @spicesandflavors to get featured on my FB and Insta pages
Comment below and let me know if you wish to see the recipe on how to use this Rasam powder.
Till then enjoy some authentic south indian recipe:
1. Apple Gojju
2. Ven pongal
3. Sakkarai Pongal
Notes:
1. Adding turmeric powder and curry leaves is optional. While the preparation of Rasam we add turmeric powder and curry leaves so there is as such no need to add it while grinding the powder. But if you wish to add you can add 2-3tsp turmeric powder and 1 cup curry leaves to it. Add turmeric powder directly while grinding whereas curry leaves has to be dry roasted and then grounded.
2. You can always halve or double the ingredients. The ratio of coriander seeds to other ingredients used has to be 1:0.5. If you are using 1 cup coriander seeds all other has to be 1/2 cup.
3. If storing for a longer period, take care you should not touch it with wet hands. Keep away from wet things. After a month whenever you are using mix it well with your measuring spoon and then add it to the rasam.
4. The spice powder tends to loose bit of its aroma over time but it tastes the same like day one.
Do try this simple and easy to make Rasam powder and let me know your feedback by tagging me, tweeting me or instagram me. I would love to follow you and your posts.
Pin it for later


See you soon with another recipe
Until then
Hugs
Sushma