Who doesn't love Bagels? Bagels are the perfect addition to any breakfast or brunch spread. That said, did you know there are ways to store bagels that can allow you to enjoy them for longer? There are certain things you need to know about how long do Bagels last in the fridge, freezer or at room temperature so that you can make them last for weeks without losing quality or taste.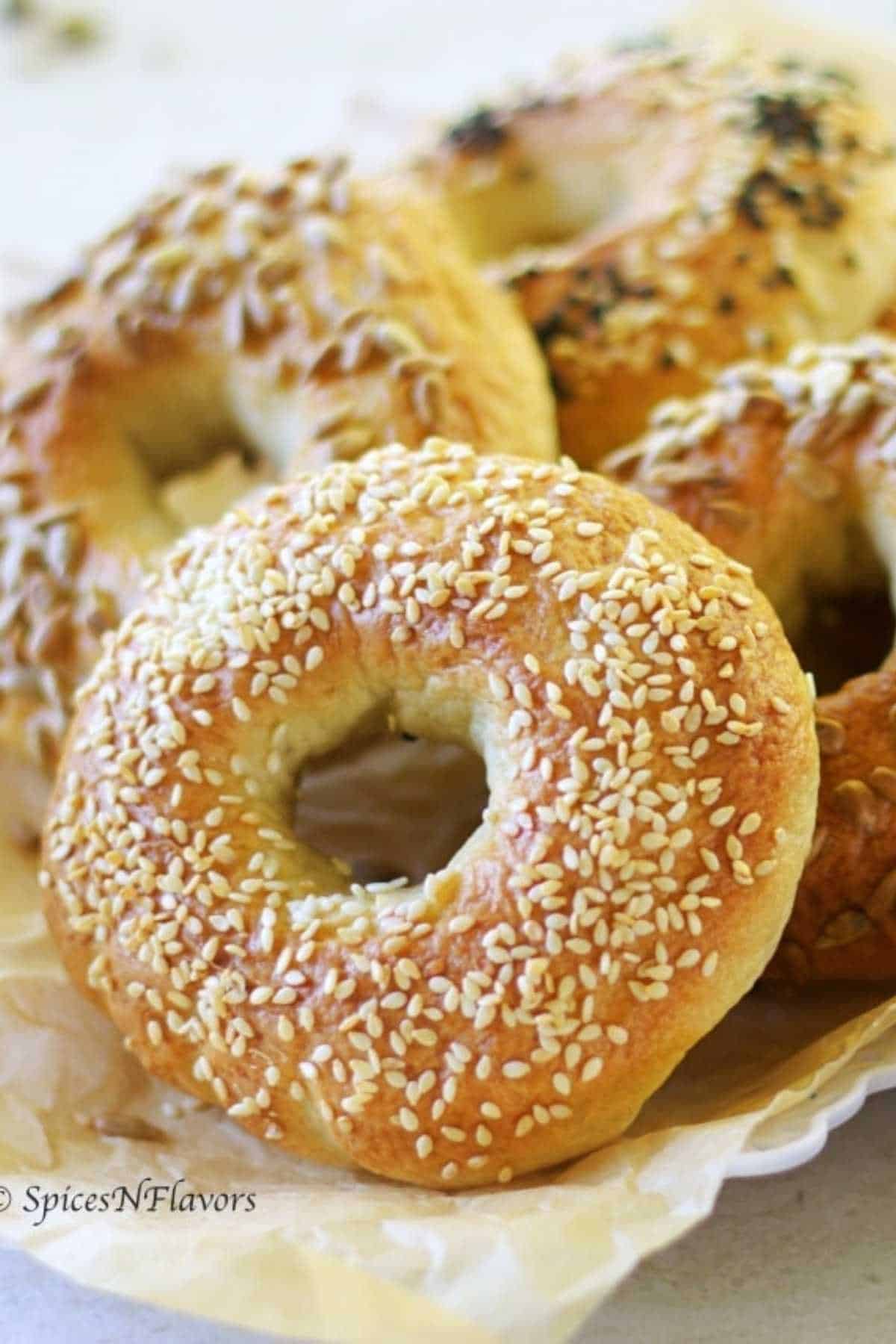 How long do Bagels last?
To get the longest shelf life of bagels, make sure you're storing them in an airtight container at room temperature for 2-3 days. Pop it in to the refrigerator to extend the shelf life by another day or two or simply freeze them and it would last for 3 months.
If you're trying to figure out how long your bagels will last, it's best to start from the beginning—how and where you bought them.
We'll take a quick look at each scenario and what it means for your bagel shelf life.
Fresh from the store: If you bought your bagels fresh that day, they were probably pre-packaged in a plastic bag like most bread is sold. You can keep them in this package on your counter and they should stay fresh for 2 to 3 days. If you stick them in the fridge, they should still be good for another day or two after that (though they may get a bit stale).
Frozen from the store: If you bought frozen bagels, they will likely come packaged in a plastic bag as well. You can keep these bagels in their packaging without defrosting and they should retain their quality for 3 months, possibly even longer with no real decline in quality.
Bought from an artisan bakery: If you bought your bagels from an artisan bakery, chances are good that they were not pre-packaged. They might have been put into a paper or plastic bag for you, but it's unlikely that these bags seal very well. In this case store the bagels in the brown paper bag itself overnight at room temperature or in an air tight container in the fridge for 5 days or freeze for 3 months.
Fresh made at home: If you are like me and love making bagels at home: I know it tastes the best but it has the least shelf-life. Homemade Bagels would last for 2 days at room temperature, 4-5 days in the fridge and 3 months in the freezer.
How long do bagels last in the fridge?
You can make the bagel last 5-7 days in the fridge which is longer than if you left it at room temperature. But there's a catch!
Storing bread and bagels in the fridge can actually make them dry out more quickly (blame the dry cold air!!). I do have a little trick on reviving your Bagels further in the post though.
So Is Refrigerating Bagels Worth it?
When we say that you should avoid refrigerating your bagels, we don't want to set off any alarms. Good news is you CAN use the fridge.
The fridge can extend the shelf-life of your bagels, and as long as you don't mind taking a few extra steps to revive them before you eat them (see below), it's totally fine.
I just want to make sure that you understand the process of storing your bagels in the fridge and what it does to their texture and flavor.
So place your bagels in an air tight container and refrigerate for 5-7 days.
You may find that if you tend to let your bagels go uneaten for a week or so, this method may work better for you than for someone who goes through a pack of bagels in a few days.
How To Keep Bagels Fresh Overnight?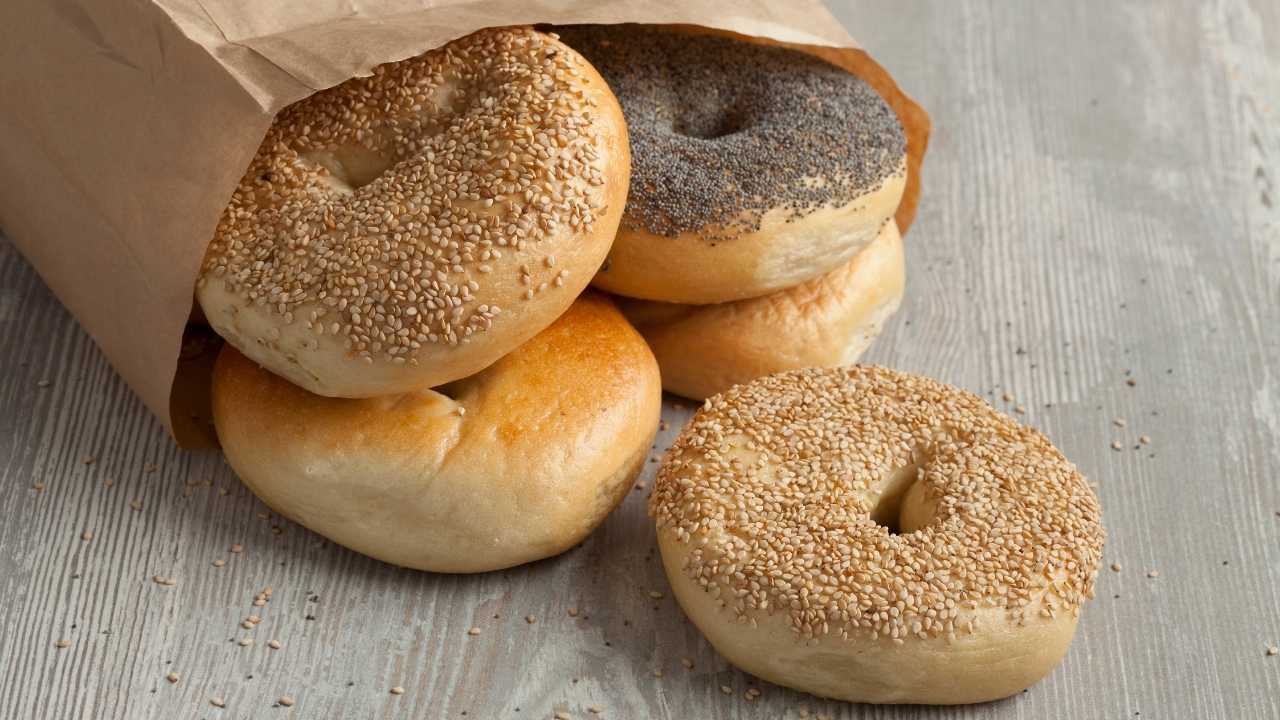 If you want to keep your bagels fresh overnight, the best way is to store them at normal room temperature in the paper bag they came in that is their original packaging or in an air tight container, bread box or bread bag if you don't have the paper bag.
In addition to storing the bagels in a dry place, there are few more pointers or useful tips to consider:
Bagels and bread should be stored in a cold, dry place that has no direct sunlight or heat.
Make sure they're kept away from dampness and moisture.
To keep bagels from drying out, you can try keeping them in a paper bag first, followed by a plastic bag. The paper bag absorbs moisture, while the plastic keeps it from drying out.
Alternatively place the bagels and bread in an airtight container. This helps maintain the right balance of humidity so that the bagels don't dry out or get soggy.
How long do Bagels last in the Freezer?
Bagels stay good for up to 3 months in the freezer and freezing bagels is probably the best way to keep them fresh for few days or several months.
First thing - Slice bagels into two. Then wrap each bagel in a cling film or aluminum foil and place in a ziplock bag. Do remember to label them correctly.
Then place in the freezer for up to 3 months.
How to Defrost Bagels?
If you want to defrost bagels, don't leave them on the counter.
Slice your bagels before freezing and once frozen pop them in the toaster or in the oven.
They will both thaw and toast at the same time, providing you with a perfect, crispy mouthful.
Do Bagels Go Bad?
Bagels are a type of bread that contains no fat, but are packed with carbohydrates. They're often eaten with lox or other spreads, such as butter or cream cheese.
The "expiry date" on bagels is debatable because they do not technically expire. They can last a long time due to their low moisture content and lack of fat even beyond their expiration date.
However, bagels are best when eaten within a few days of baking. They will begin to harden soon after that, and the quality decreases quickly.
Most bagels grow stale after only 3 to 4 days of storage, and most people toss them at that point. You can however eat the bagels at this stage too by reviving them,
Eventually, mold growth or black spots will develop on the bagels.
Those without preservatives may get moldy within a week or two, whilst others may keep for a longer period of time
It is at this point when you know that your bagels have gone bad, another indication being the off smell and moldy bagel should not be consumed whatsoever.
How to Revive Stale Bagels?
You can revive stale bagels in a snap by toasting them in a toaster oven or using a microwave-to-bagel trick.
Toast them . This is probably the easiest method. A fresh toasted bagel is crunchy on the outside and chewy in the middle.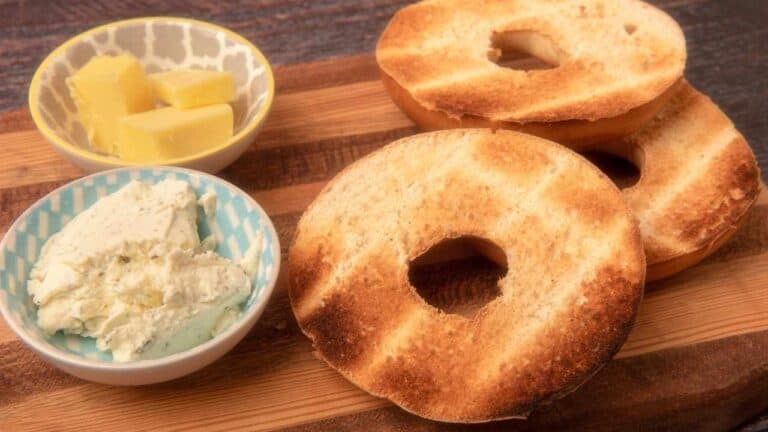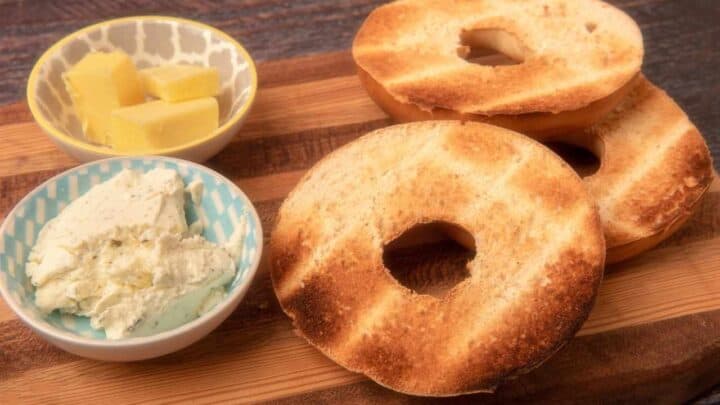 You can do this in a toaster oven or in a regular oven (preheated to 375°F or 190°C).
Put your bagel in the oven for 4-5 minutes if it's not extremely dry.
If your bagel is extremely dry, spray it with water, or even immerse it in hot water before placing it in the oven.
Microwave the bagel while covered with a damp paper towel.
You can microwave the bagel at 20 seconds, then see how that goes. If you need more time or moisture, continue in 10-second increments until you reach your desired result. Warm bagel make the best breakfast on cold days!!
Air Fryer Bagels: Or simply consider reviving the bagels by turning it into a pizza bagel. I am soon going to share a recipe for the same on the blog.
If you need a fresh bagel for breakfast on a hectic weekday morning or on a Sunday morning when you are simply lazy, just try my 2 ingredients Bagels recipe.
You can thank me later 😉
My Recommendations:
Undoubtedly the best bagel is one that's freshly baked, nothing like fresh bagels but the others can stay pretty close to that if you follow the simple steps in this post.
It is ok to buy frozen bagel instead of fresh ones as you can stash the whole package in the freezer. You won't miss out on any flavors and you can put them directly in the freezer without any hassle.
So as a general rule, good idea is to enjoy your bagels fresh or freeze them for 3 months with proper storage. If you are storing the bagels in the fridge then they would last for up to a week but do consider toasting or microwaving them.
Let me know what do you like to enjoy with your bagels? Cream cheese or Peanut Butter.
Related Posts that you may enjoy:
Sources:
Wish to Join US for the love of BAKING? Subscribe to our Youtube channel. Follow along on Facebook, Instagram, and Pinterest for all the latest updates!