Key Takeaway: Learn how to store cupcakes both unfrosted cupcakes and frosted cupcakes overnight to keep them fresh for the next day as well as instructions on freezing the cupcakes.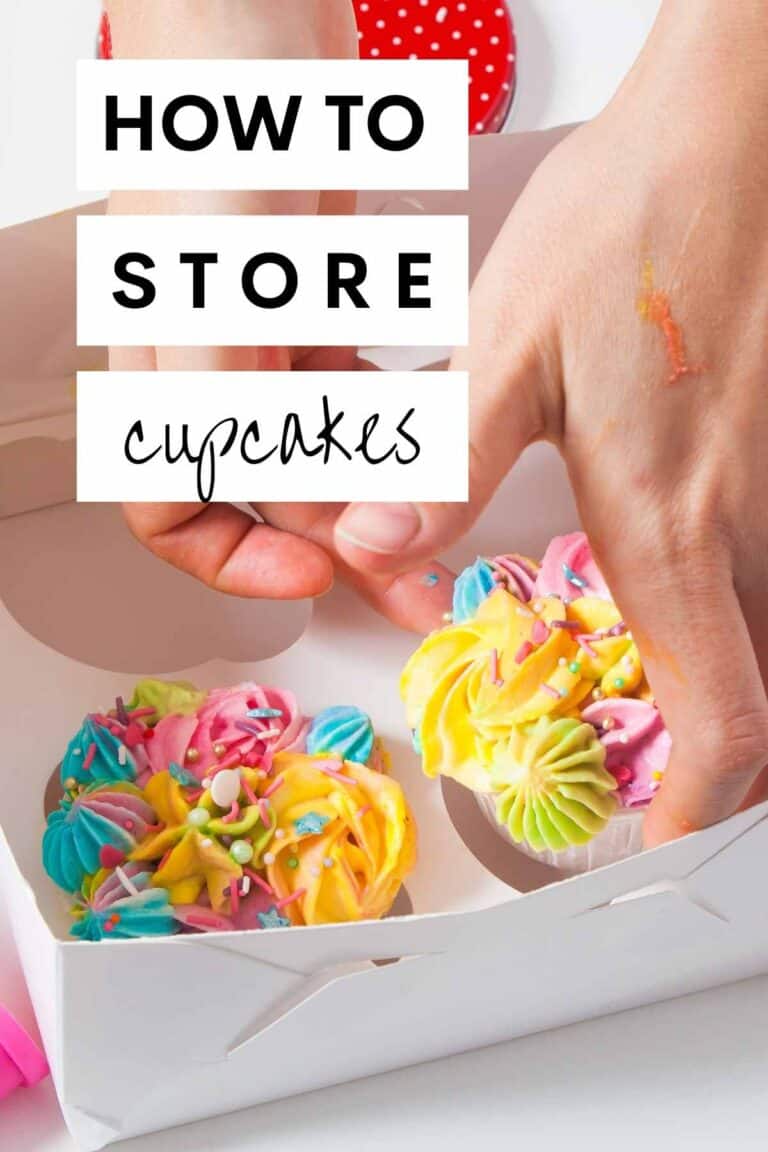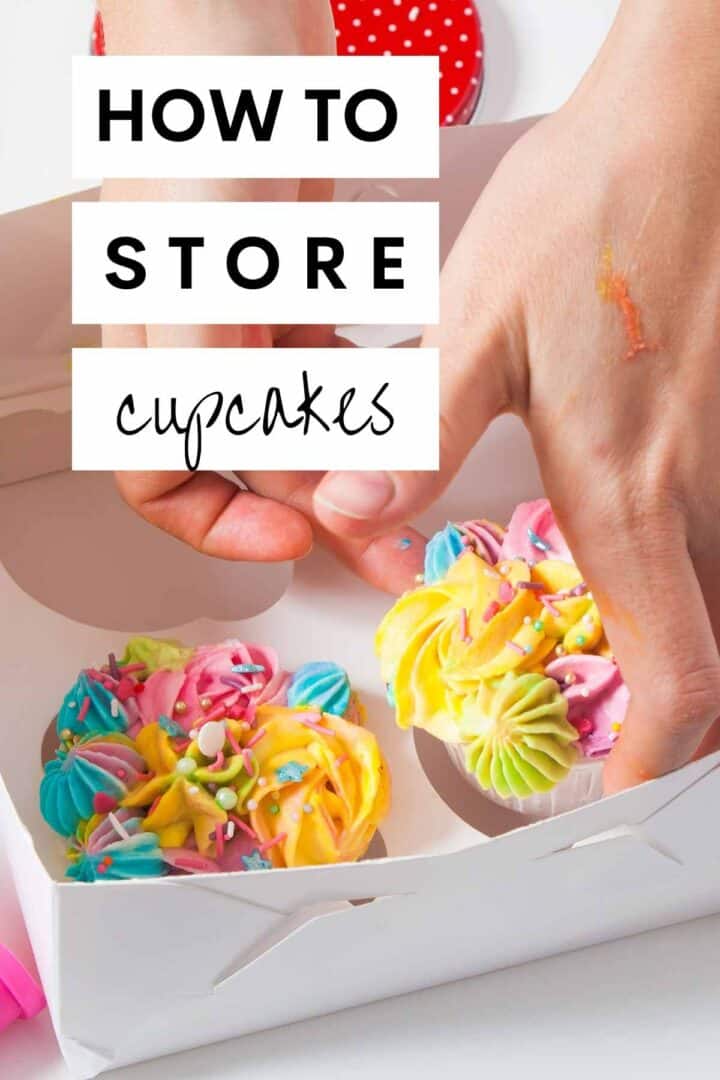 Whether you are a homebaker going to be making and selling cupcakes or you are a mom looking to organize your kids birthday party, you might want to learn how to properly store the cupcakes for the stress free D-Day.
Isn't it the common question that you have always had while making your perfect cupcake?
Let me share with you all a step by step instruction on how to store cupcakes.
For the ease of understand I have divided this blog post into the following sections. So it will cover:
How to store frosted cupcakes.
How to store; store-bought cupcakes.
Finally instructions on storing unfrosted cupcakes.
My recommended method of storing cupcakes.
When to Store Cupcakes?
Cupcakes are a tasty and fun treat, but there are times when it makes sense to make them ahead of time.
For example, if you've planned a party or bake sale, it can be much easier to make and store the cupcakes ahead of time.
If you plan to sell the cupcakes at a bake sale or sell them in bulk, then it makes sense to make them ahead of time. It's not economical to make a batch from scratch every time you plan to sell them.
A week before the big sale, make up a large batch and store it in the freezer. Thaw as needed.
Or you simply have little leftovers be it the ones you got from the grocery store or you made for a date night. Do not throw it away, lets learn to store it..
Ain't no shame in storing or freezing your cupcakes when done right (I will be sharing how to do that too!!) plus makes a great last minute dessert when you have guests or you want to indulge in one!!
How to Properly Store Cupcakes?
As a general rule of thumb always store your homemade cupcakes in an airtight container away from sunlight on your countertop for a day OR in the fridge for 4-6 days.
Keeping your cupcakes in a closed container keeps them moist and prevents them from drying out and also prevents from contamination.
How to Store Frosted Cupcakes?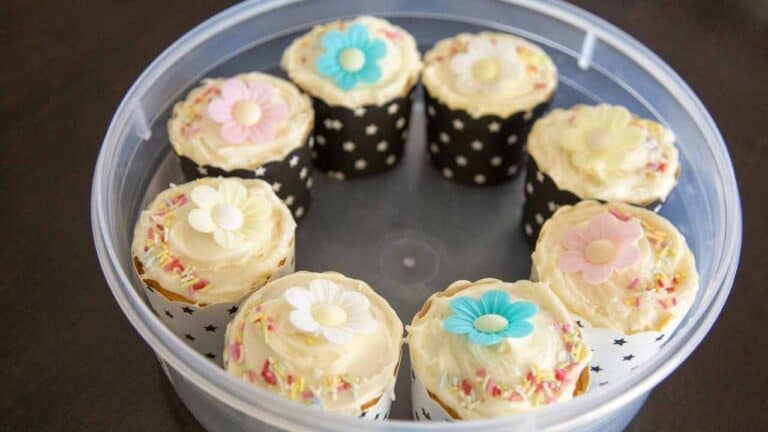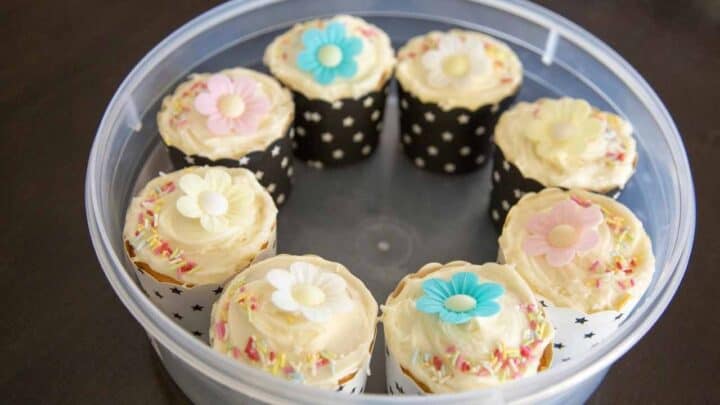 Overnight:
If you are planning to consume your cupcakes in the next 1-2 days your best bet is store the cupcakes at room temperature in an air tight container.
Find a deep container. Place your cupcakes in a single layer. Cover with the lid and let it sit on your counter-top away from sun for 1-2 days.
This technique would work for cupcakes frosted with buttercream or ganache. In fact this is probably the best way to store as they will not dry out and the cupcakes will be ready to eat at all time.
This won't work for a cupcake made using whipped cream frosting as the frosting would melt at room temperature and being a perishable product will go stale and become inedible. It is better to store them in the refrigerator at all times.
In the Fridge:
It is ideal to store cupcakes in the fridge for upto 4-5 days. And here is how you do it.
The steps remain the same; place the cupcakes in a single line in an airtight container and store it in the refrigerator for 4 to 5 days.
It would just be the same irrespective of any frosting that you have used - ganache, buttercream, whipped cream or even royal icing.
In the Freezer:

If you want to store the cupcakes for longer then freezing them is your best bet.
Partially freeze: Place the cupcakes in a single layer on a cookie sheet and then place them in the fridge for 2-3 hours or in the freezer for about an hour.
Individually wrap: After the frosting on top is frozen. individually wrap the cupcakes using a saran wrap.
Place in a ziplock bag or freezer bag: Do remember to label them correctly and then freeze for 3 months.
This method would work great for buttercream frosted cupcakes and even for ones with ganache frosting and cream cheese frosting or my frosting recipe without butter.
Please note, in all the three ways, you do not need to remove the cupcake liners. I have always stored the cupcakes with the liners on and once thawed they are just the same as fresh cupcakes.
Pictured here in this post is our eggless red velvet cupcakes without buttermilk recipe.
Can you Freeze Cupcakes?
Yes definitely you can. It would be just the same as the freshly made ones. The only thing to note is to thaw them before serving.
How to Thaw Frozen Cupcakes?
If you have individually wrapped them then it becomes easier to just take out the ones you need.
Remove the saran wrap and let them thaw in the refrigerator overnight. Just take them out 30 mins before serving and keep at room temperature.
If thawing directly at room temperature the cupcakes may take a little longer like 3-4 hours to thaw completely.
Either way do remember to remove the saran wrap and then thaw so that the little condensation does not affect the frosting on top making it squishy or worst case totally ruins it.
Can you freeze cupcakes with whipped cream frosting?
No you cannot. I would not recommend because the texture of the cream alters while thawing and sometimes can be unpleasant to eat and the frosting will not hold up when thawed. Rather I would recommend you freeze the unfrosted cupcakes (using the method mentioned in the post below) and frost the cupcakes on the day of the party or a day prior and store it in the refrigerator.
This was all about storing homemade cupcakes with icing.
How to store, Store-bought Cupcakes?
The best way to store them is by keeping it in the same box and try to mimic the same way in which they came. Store bought cupcakes are packaged in a way that they help keeping the cupcakes fresher for longer.
So store bought cupcakes with buttercream, ganache and royal icing can be store in the same box at room temperature for a day or in the refrigerator for 4 days.
The ones with cream cheese or whipped cream frosting should be kept in the fridge at all times.
If you happen to rip their packaging accidentally then the best way to store them would be in the air tight container. The steps remains the same as the ones explained above.
How to Store Unfrosted Cupcakes?
This method of storing the cupcakes is best if you plan to frost the cupcakes with whipped cream frosting later on.
Even though the method of storing the cupcakes remains the same one of the most important aspect here is to make sure that the cupcakes are COOLED COMPLETELY before you even think of storing them.
Overnight: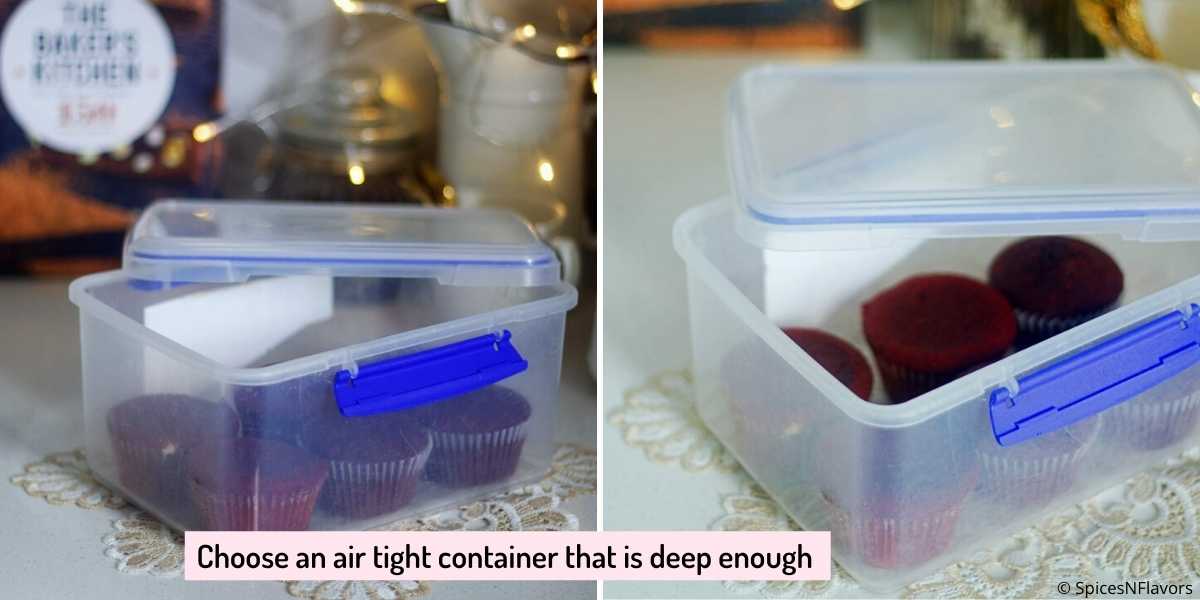 The most important thing to ensure is to check whether the cupcakes are cooled completely which you can ensure by simply touching and feeling the cupcakes.
Take a deep air tight container, and place the cupcakes in a single layer. Since these are unfrosted you can even stack them one above the other by placing a parchment paper in between.
Leave it at your counter-top away from sunlight for 2-3 days. And they are ready to be eaten at any time of the day or ready to be frosted at any time.
In the Fridge:
Follow steps 1-2 as mentioned above and then simply close the lid and store in the fridge for a week.
If using butter based cupcakes or cupcakes with melted chocolate it might turn solid in the fridge. Just allow it to thaw for 30mins to an hour before serving.
You can definitely frost them when cold but just allow it to come to room temperature before serving.
In the Freezer: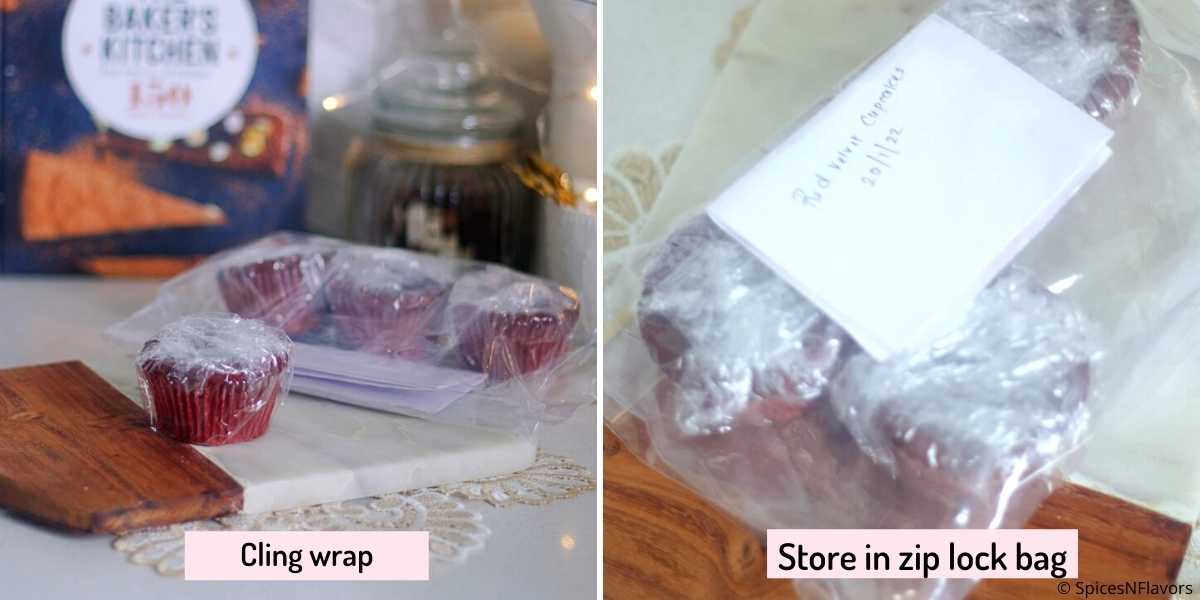 The steps remains the same as the ones for frosted cupcakes which is to wrap them individually first then place in a ziplock bag and store for 3 months.
You can certainly stack them one above the other once frozen if you have space constraints.
To Thaw:
Simply take it out of the freezer and let it sit overnight in the refrigerator and then for 30 mins to an hour at room temperature or directly thaw at room temperature for 3-4 hours.
How to store cupcakes with fondant toppers?
Fondant cannot be refrigerated as they will start wilting once out of the fridge. It is recommended to place the fondant toppers on the cupcakes right before delivery. If you have to store them then pack it in an air tight container and store at room temperature (best option) overnight or in the fridge for 3 days. Not recommended to freeze them as there are possibilities that the colour might bleed.
Which frosting ingredients perish quickly?
Another thing to consider while storing cupcakes is the type of perishable toppings or fillings.
Dairy Products like Milk, butter, cream cheese and eggs are frosting ingredients that tend to perish quickly. So as a general rule of thumb if your cupcakes have toppings or fillings that are fresh, such as fresh fruit or whipped cream, or any of the perishable ingredients then don't forget to store them in the fridge until you're ready to eat them.
On the other hand Sugar, shortening and meringue powder are frosting ingredients that do not perish as quickly so they can be stored at room temperature for 2-3 days. They may last a little longer than that, but not that the cupcakes and the frosting might end up dry and hard.
| | | | |
| --- | --- | --- | --- |
| | | | |
| | | | Cling wrap and use zip lock bag |
| | | | Cling wrap and use ziplock bag |
| | | | Cling wrap and use zip lock bag |
| | | | |
Top Three Key Takeaway :
#1 Cool Completely:
Always and always cool your cupcakes completely even before thinking of storing them be it at room temperature, in the fridge or the freezer. This must be your key takeaway from this post.
#2: Wrap 'em up tight
It might seem like frosted or unfrosted cupcakes are pretty durable, but if you leave them sitting out in your kitchen without any protection, they'll dry out before you know it. To keep your cupcake fresh, wrap the unfrosted cupcakes in plastic wrap or foil and place them in a resealable plastic bag. If you want an extra layer of protection, put them in an airtight container after wrapping.*
#3: Pick buttercream as your frosting
For the most part, frostings are pretty similar when it comes to storage time…but there is one exception: buttercream. Buttercream frosting holds up the best and it will help your cupcake stay fresh. Even though cupcakes made with other frosting like ganache and cream cheese can also be frozen but nothing like buttercream. Check out our Buttercream 101 recipe post for the recipe.
Frequently Asked Questions
How to store cup cakes when made in bulk?
When you are making hundreds of cupcakes it is practically impossible to wrap each of them individually. In that case I would say line the counter top with cling wrap and place about 20 cupcakes close to each other in a row of 5 and then cling wrap them together. Place them straight in the freezer. Since they are partially frozen you can also stack another set of cupcakes on top of them.
Frosted cupcakes stored in the fridge tends to get harder?
Since cupcakes are usually made of butter which is hard when cold and soft at room temperature it makes sense to not eat your cupcakes straight from the fridge instead allow it to come to room temperature for 30 mins and then eat. The maximum period to store them in the fridge is 4-5 days beyond that the cupcakes will be hard and dry no matter what you do.
What should be the temperature of the fridge for storing cupcakes?
You don't have to change the temperature setting of your fridge to make way for cupcakes. It can be stored at the same temperature as before.
How to avoid condensation on cupcakes when stored in the fridge?
Firstly make sure that the cupcakes are cooled completely before you store them. Secondly any frozen food when brought to room temperature will have some condensation due to the temperature shock. Simply take a kitchen paper towel and dab it on top to remove the water droplets or run a fan near the cupcake. However letting the cakes to stand at room temperature for a while so that the condensation has time to evaporate is the easiest trick.
Should I store the cupcakes with the cupcake liners?
Yes absolutely. No need to take the liners off, they won't cause the cupcakes to go soggy. The liners do stay intact after freezing. That being said make sure to use the best quality ones.
How to avoid sticky tops?
If you are living in a humid climate this is unavoidable. Dabbing a kitchen paper towel does the trick or try changing the recipe.
Can I use aluminum foil to wrap cupcakes?
Cling wrap is the ideal way. My suggestion would be to wrap with cling wrap first and then with aluminium foil for an extra layer.
My recommended method of Storing:
I like to bake cupcakes the night before. Allow to cool completely and then store in an air tight container at room temperature away from sunlight. I have also stacked the cupcakes on top of each other without any issue. Just remember to use a parchment paper in between if using oil based cupcakes.
Next day prepare the frosting and frost cupcakes.
Once frosted, no matter what type of frosting is used; I have always kept the cupcakes in the fridge as this makes the frosting to go harder which makes it easier to put it into the cupcake cavities while transporting without causing any issues like smudging of the frosting. Cold cupcakes do come to room temperature during transportation making it soft again to be consumed.
This I feel is the easiest and the right way to make a lot of cupcakes. Let me know your preferred way of storing.
Wish to Join US for the love of BAKING? Subscribe to our newsletter and Youtube channel. Follow along on Facebook, Instagram, and Pinterest for all the latest updates!