Hyderabad Karachi Biscuits recipe - a famous biscuit originated from the Karachi Bakery; Hyderabad India.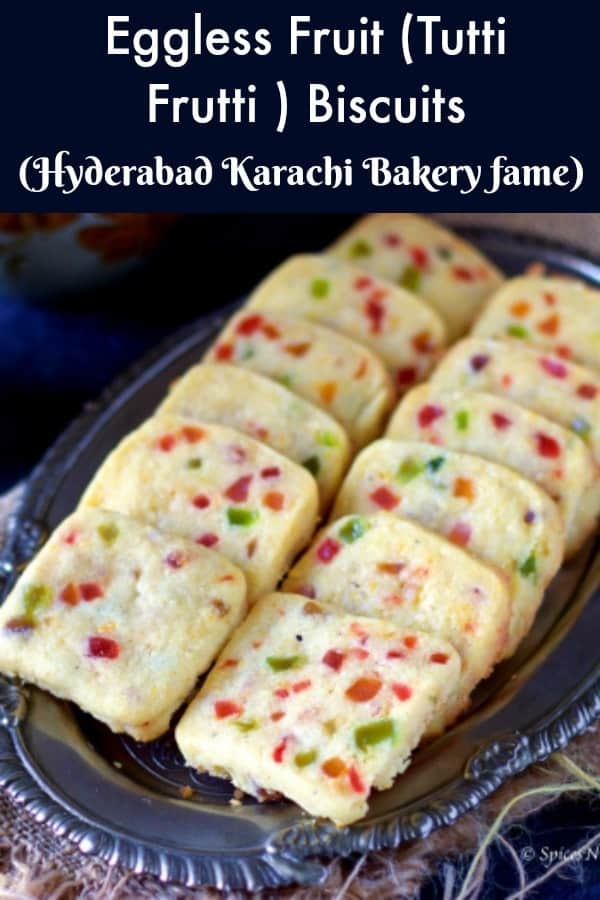 Hyderabad Karachi Biscuits recipe is one of those Indian biscuits; that is flavoured with everything Indian you could ever imagine.
Like I said these biscuits gets its name from one of the famous bakeries back in Hyderabad; Karachi Bakery; famous for its fruit biscuits, rum cakes, plum cakes and many other.
These Hyderabad Karachi biscuits are basically a fruit biscuit that has a dominant flavour coming from the tutti frutti, pineapple essence and the orange zest. If you have never tried these Hyderabad Karachi biscuits then I insist you to try it at least once because its sooooo freaking amazing bursting with the flavours of fruit.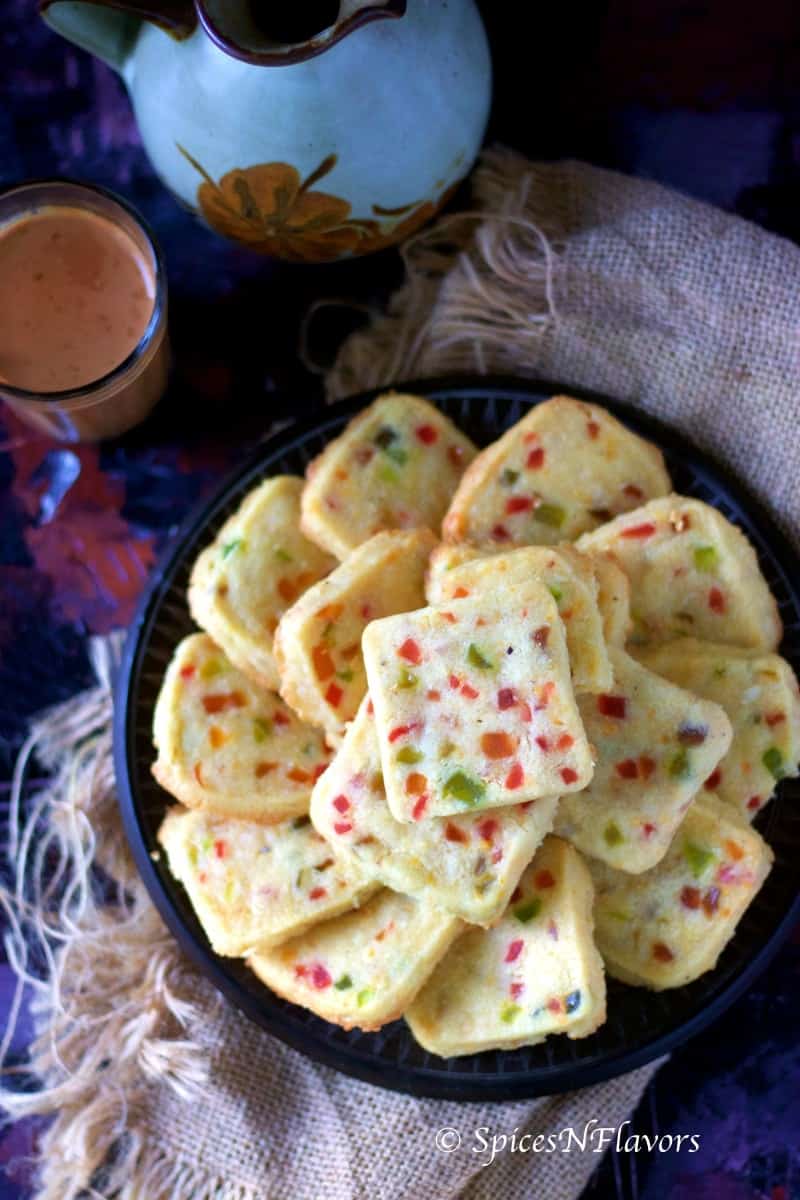 Why am I insisting you guys to try this Hyderabad Karachi Biscuits?
1. The crispy and crumbly texture of the biscuits makes it perfect to go along with Indian tea.
2. This biscuit is sweetened perfectly enough to suit your taste buds.
3. It is bursting with the flavours of fruits - tutti frutti, pineapple and orange
4. Perfect biscuits for high tea - looks classy and expensive
5. Pretty enough to gift it your friends and family on occasions like Diwali, Birthdays, New Year etc.
6. And most importantly no one can stop at just one - they would keep coming back for more.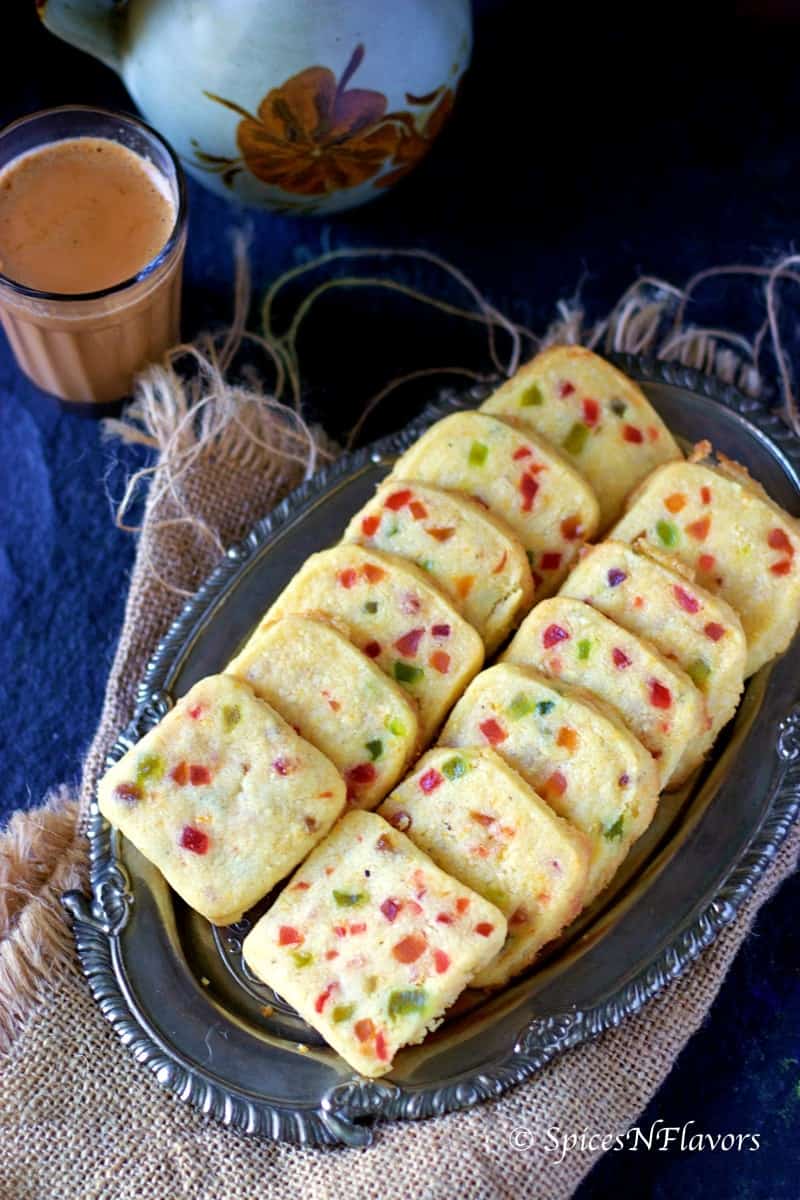 If you would ask me to describe these biscuits then all I have to say is that,
The brown biscuits looked so inviting when it came out of the oven; the fresh buttery smell of the biscuits swept me off my senses. The craving for the first bite of the cookie intrigued me so much that I couldn't wait for it to cool down completely. A perfect crunchy top, so brittle, that you can audibly hear the crunch as it cracks in your mouth; the shattering of the grains of sugar and flour with your bite; the buttery melt-in-your-mouth texture of the biscuit will make you crave for the second bite and then the third.. Someone stop me please..
Hyderabad Karachi Biscuits has that crispy and crumbly texture yet the buttery melt in your mouth feel.. oh my goodness.. just try this for once.
If you guys are wondering what tutti frutti is; then let me talk about it briefly. Tutti Frutti usually refers to candied raw papaya. These are little brightly coloured confectionaries that is generally used as a topping in bakery products like these biscuits, cakes etc and also available in the form of ice-creams; as a filling in between paan.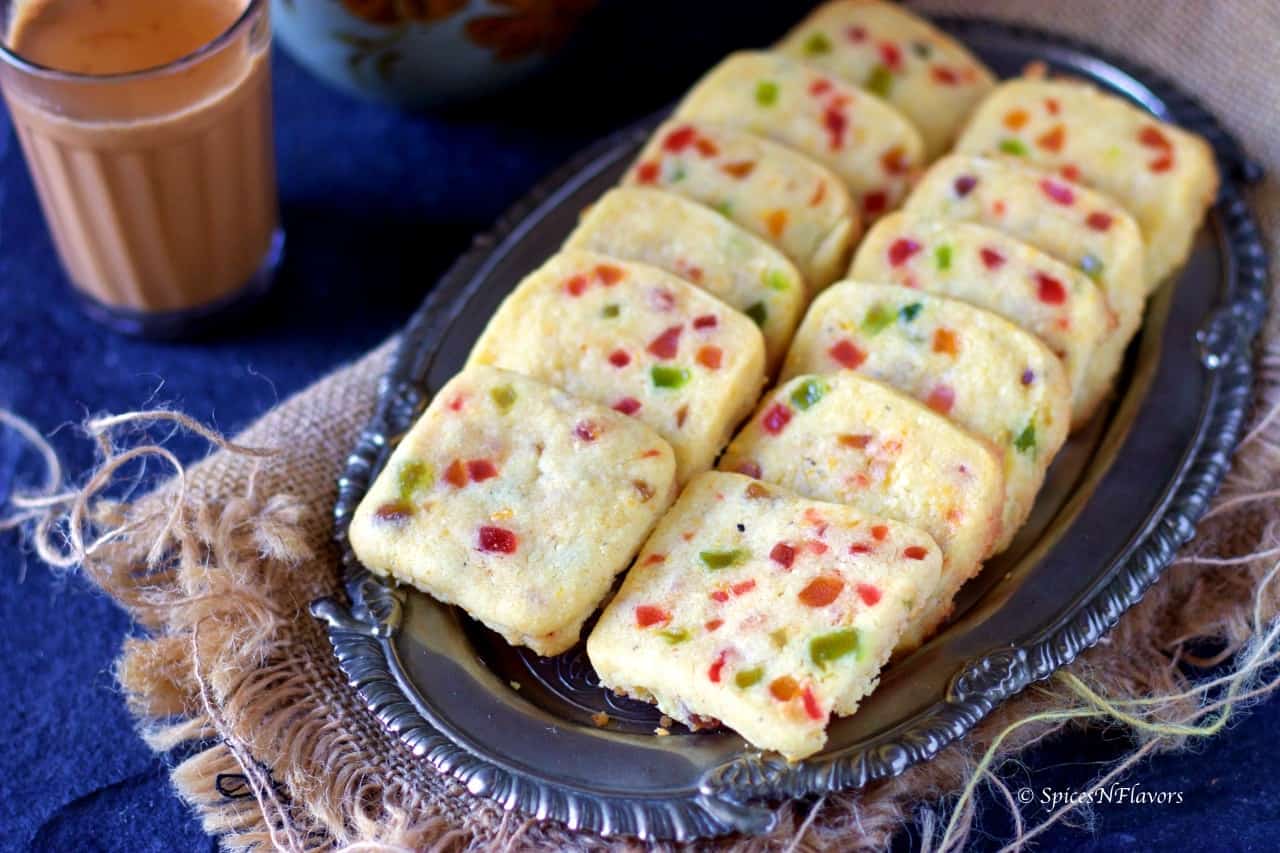 Related Recipes:
Liked this recipe?
Let us know by giving it a star rating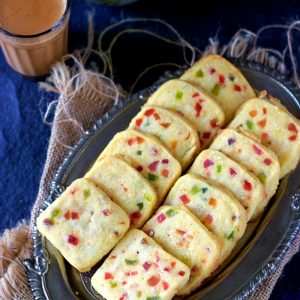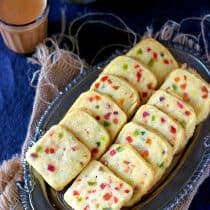 Print
Hyderabad Karachi Biscuits | Tutti Frutti Biscuits | Fruit Biscuits
Hyderabad Karachi Bakery fame biscuits; these are crispy, crunchy and crumbly with Indian flavours all mingling together to make your tea time special
Ingredients
3/4

Cup

Plain Flour (Maida)

1/4

Cup

Custard Powder

1/4

Cup

Cashew Powder

1/2

tsp

Baking Powder

Pinch of Salt

113

gms

(1/2 cup) Butter

softened

1/2

Cup

Powdered Sugar

(refer notes)

1/2

tsp

Pineapple Essence

1/2

tsp

Cardamom Powder

Zest of 1 orange

1/2

Cup

Tutti Frutti
Instructions
Cream together the butter and sugar until combined around 3 4 mins depending upon how soft the butter is. ( No need to cream it until soft and fluffy like we do for cakes)

Add in the pineapple essence, cardamom powder and orange zest. combine together.

Meanwhile, mix all the dry ingredients in one bowl and add it to the creamed butter and sugar in two stages (reserving around 2 tbsp flour) and combine together.

Finally, its time to add the tutti frutti. Mix it in the reserved flour first and then add it to your cookie base. Combine together to form a dough.

Never knead the cookie dough; just combine it until everything comes together as a dough.

Give it a circular log shape first and then press it into a rectangular shape. (Refer vide for clear understanding). Cling wrap and refrigerate for 2 hours until the butter firms up.

Then cut them into 1/4 inch thickness. Lay on a baking tray lined with parchment paper and bake in a preheated oven, 180°C for 12-15 mins until it has golden brown edges but pale centre.

The cookies would be soft when straight out of the oven. Allow it cool completely it would crisp up.
Did you make this recipe? Tag me today!
Tag me @spicesandflavors to get featured on my FB and Insta pages
Notes:
1. You can use cornflour in place of custard powder but then it won't give you that striking yellow colour and also custard powder adds a flavour to these Hyderabad Karachi Biscuits.
2. Instead of using cashew powder you can use any nut powders of your choice. (basically nut powder is nothing but simply pulsing the nuts in the blender to get a powder form)
3. And of course you can skip the nut powder entirely and use the same amount of Flour instead but I would not recommend that.
4.To make the powdered sugar all I did was measured out 1/2 cup of regular sugar and then powdered it in a regular mixer. And used it in the recipe.
If you like my today's recipe then do let me know by tagging me, tweeting me or instagram me. I would love to follow you and your posts.
Now that you are here I would highly recommend you to also check my Indian Bakery style Butter Biscuits that has just 3 main ingredients.
I will see you soon with yet another recipe.
Until then
Hugs
Sushma