Jeera Biscuits are crispy and crunchy salty biscuits, mildly sweet and packed with the flavours of roasted jeera that is cumin seeds.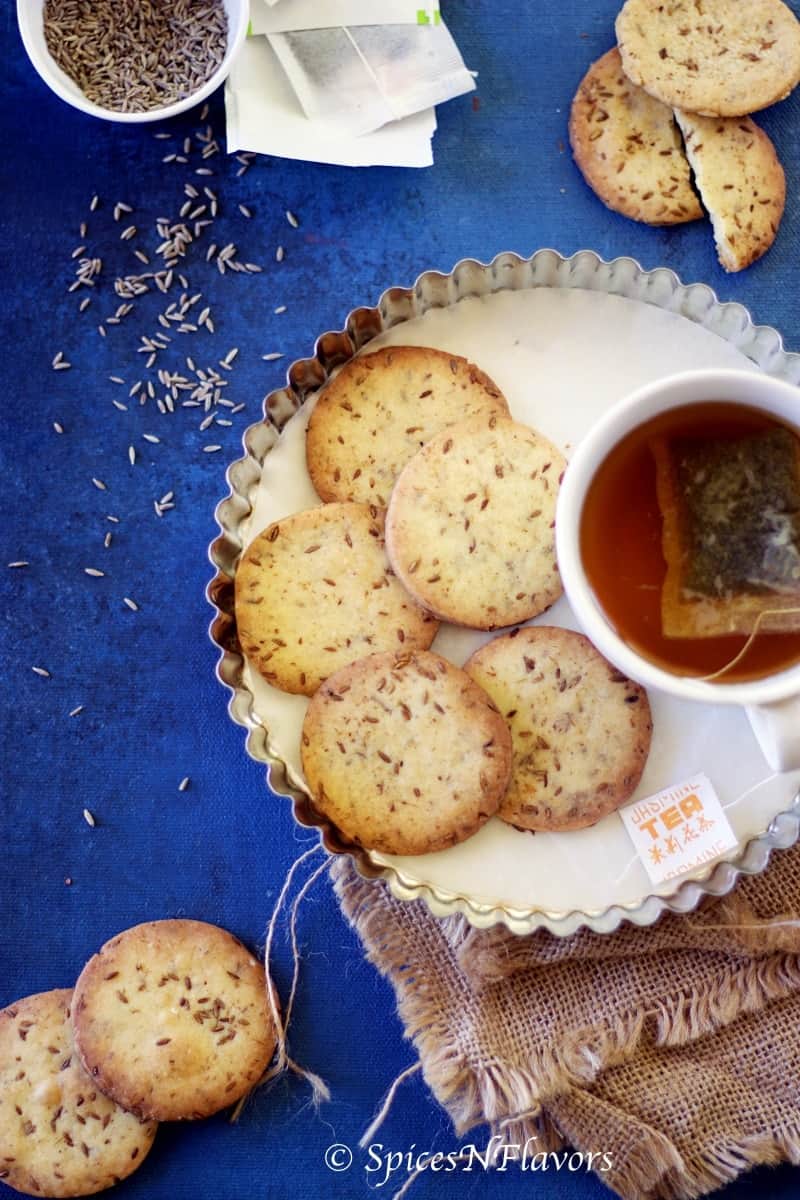 Jeera Biscuits are a version of the most famous recipe from my blog - 3 ingredient Butter Biscuits.
Yes, these are buttery prominently crispy but what makes these Jeera Biscuits stand apart is the subtle saltiness and the flavour of the roasted cumin seeds.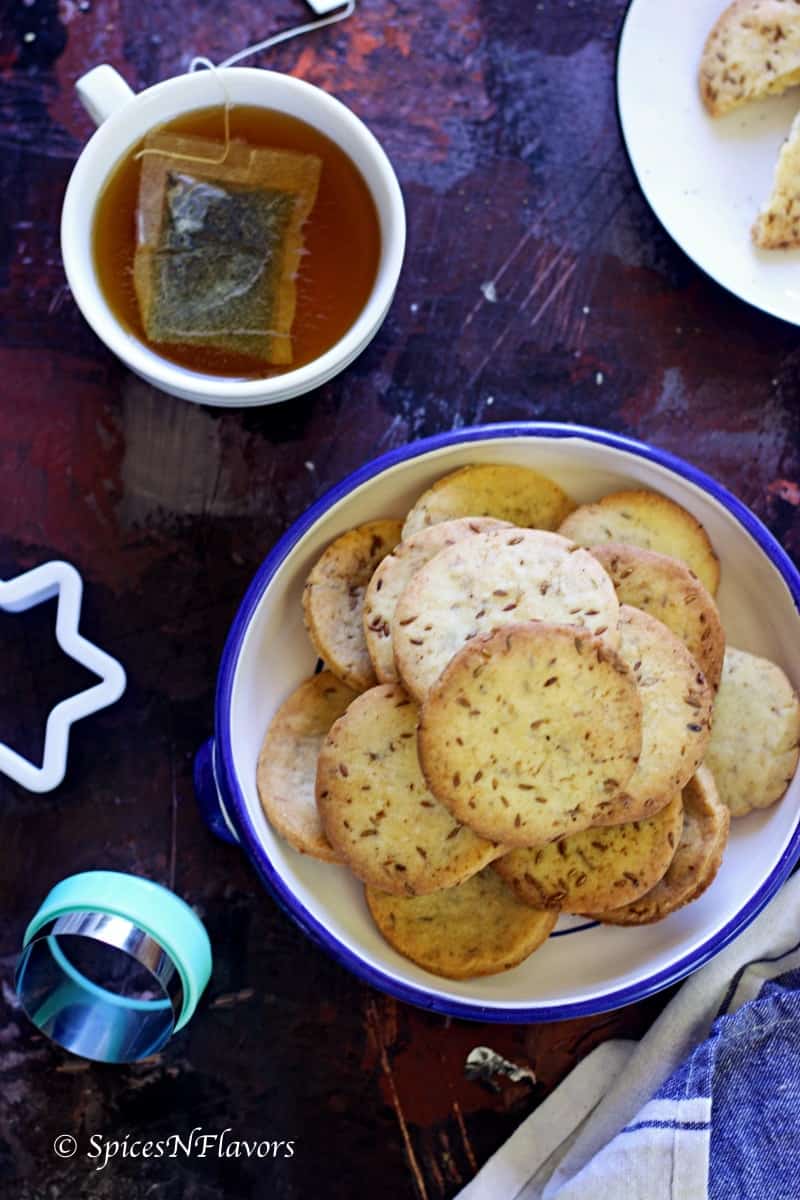 By now you all might know that I am a big time cookie junkie... I am a sucker for biscuits or cookies that goes perfectly well with my evening tea.
And if it is homemade then there is nothing like it.
I make cookies once in every two weeks at the least. This space is so full of cookie post.
I clearly remember starting with this Chocolate Chip Cookie where I even talk about the science of baking. If you like reading or knowing the science related to baking then you must definitely check it out.
And I have a whole playlist of Cookie recipe on my Youtube Channel. You must definitely check that out.
I have possibly made all types of cookies on earth.. 😉 And if there is anything left then do comment below and let me know would love to try it as well.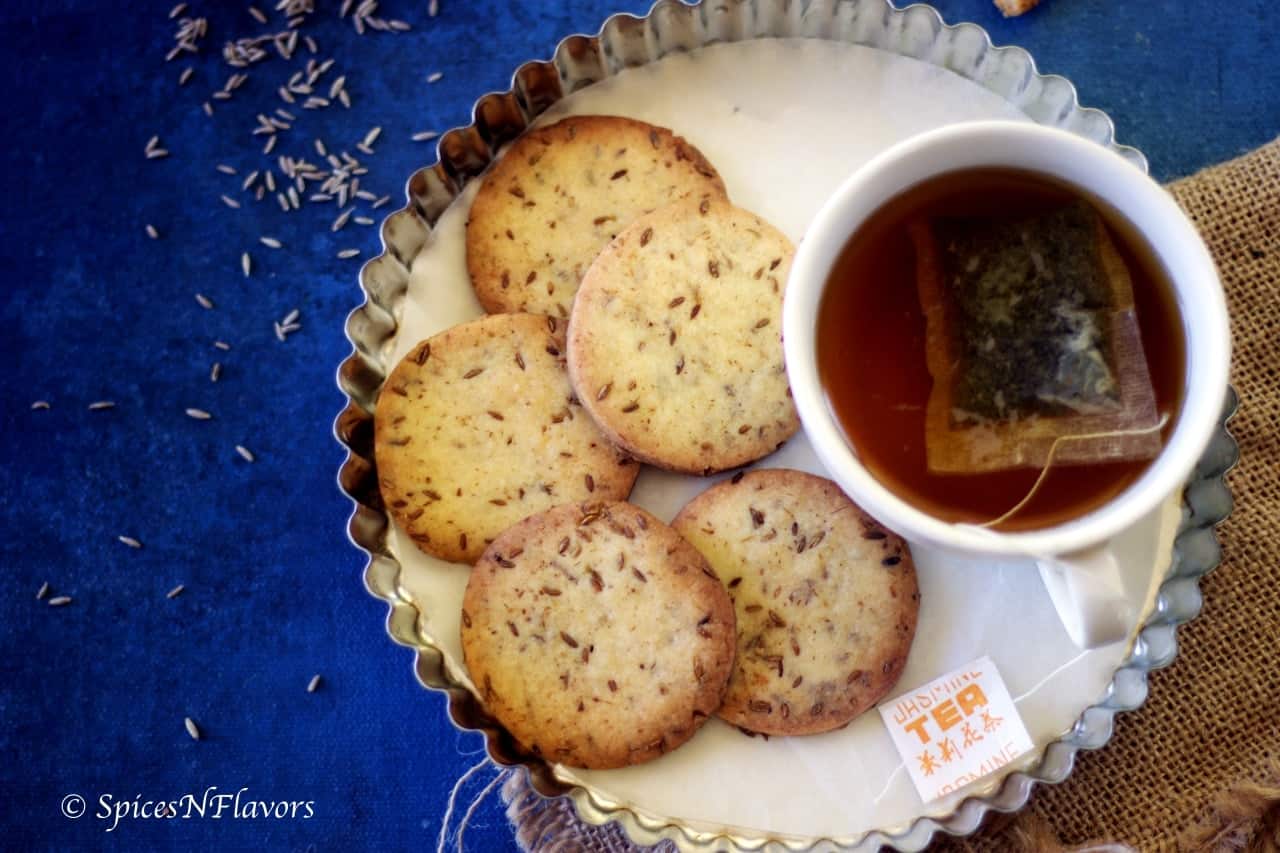 I agree that I have not done justice to the Jeera Biscuits in the pictures that I have taken today.
But trust me for once guys and try these cookies for yourself once and I am cent percent sure you would love these Jeera Biscuits.
These Jeera Biscuits like I said is more of a salty biscuit rather than the usual sweet ones. However you can reduce the amount of salt if you wish to and it would still taste good.
But as the name suggests the main ingredient or to say the main flavour comes from the roasted jeera.
The roasted whole jeera along with the little salt pairs so well with each other making it one of a kind.
Here is the detailed recipe for you guys:
Liked this recipe?
Let us know by giving it a star rating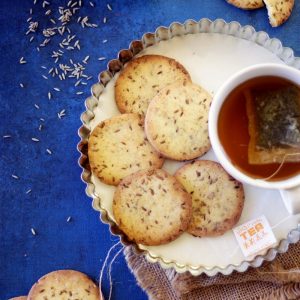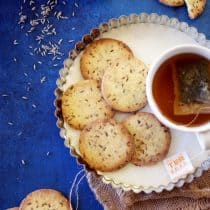 Print
Jeera Biscuits | Cumin Cookies
A little salty and little sweet; these Jeera Biscuits are packed with the flavours of roasted cumin; perfectly crisp and crunch biscuits for your evening tea time.
Ingredients
1

cup

Maida/All Purpose Flour

1

tsp

Salt

113

gms

(or 1/2 cup) Butter

softened

1/4

cup

Icing Sugar

(Refer notes)

1

tbsp

Jeera (Cumin Seeds)

Milk as needed

(Refer notes)
Instructions
Start by roasting the jeera or cumin seeds until fragrant and slightly darker in colour. Keep aside to cool until needed.

Cream together the butter and sugar until nice and creamy.

Add the dry ingredients (flour + salt) in two stages until combined.

Finally, add in the jeera and combine it into a cookie dough using your hands.

Transfer it to your worktop. Flatten it out to form a circular dough. Cling wrap and let it refrigerate for 10-15 mins.

Roll out the chilled dough to even thickness. Cut out desired shapes using your favourite cookie cutter. Transfer to a baking tray that has been lined with parchment paper.

Bake in a pre-heated oven of 170°C for 10-12 mins until golden on the sides and pale in the centre.

(You can always re-roll the scraps too).
Did you make this recipe? Tag me today!
Tag me @spicesandflavors to get featured on my FB and Insta pages
Notes:
1. Since many of you asked me for measurements in cups on my 3 ingredients butter biscuits video; I tried to give it in here. I figured out that 113 gms is 1/2 cup of butter as per US metrics and have followed that here.
2. You can also use powdered sugar instead of icing sugar
3. Since I had creamed my butter and sugar well; my mixture was not dry and I could easily bind it all together into a cookie dough. If you find the dough to be dry then you can use 1 tbsp milk (a maximum of 3-4 tbsp) at a time to find the dough.
If you like my today's recipe then do let me know by tagging me, tweeting me or instagram me. I would love to follow you and your posts.
Pin this for later: