Pumpkin Custard is an EASY and SIMPLE Pumpkin dessert recipes that you could ever make.
This Fall inspired best Pumpkin dessert recipe is perfect for holidays. Made with no eggs, fresh pumpkin puree (or canned pumpkin puree) and pumpkin spices, this unique recipe from scratch is perfect for Thanksgiving!!!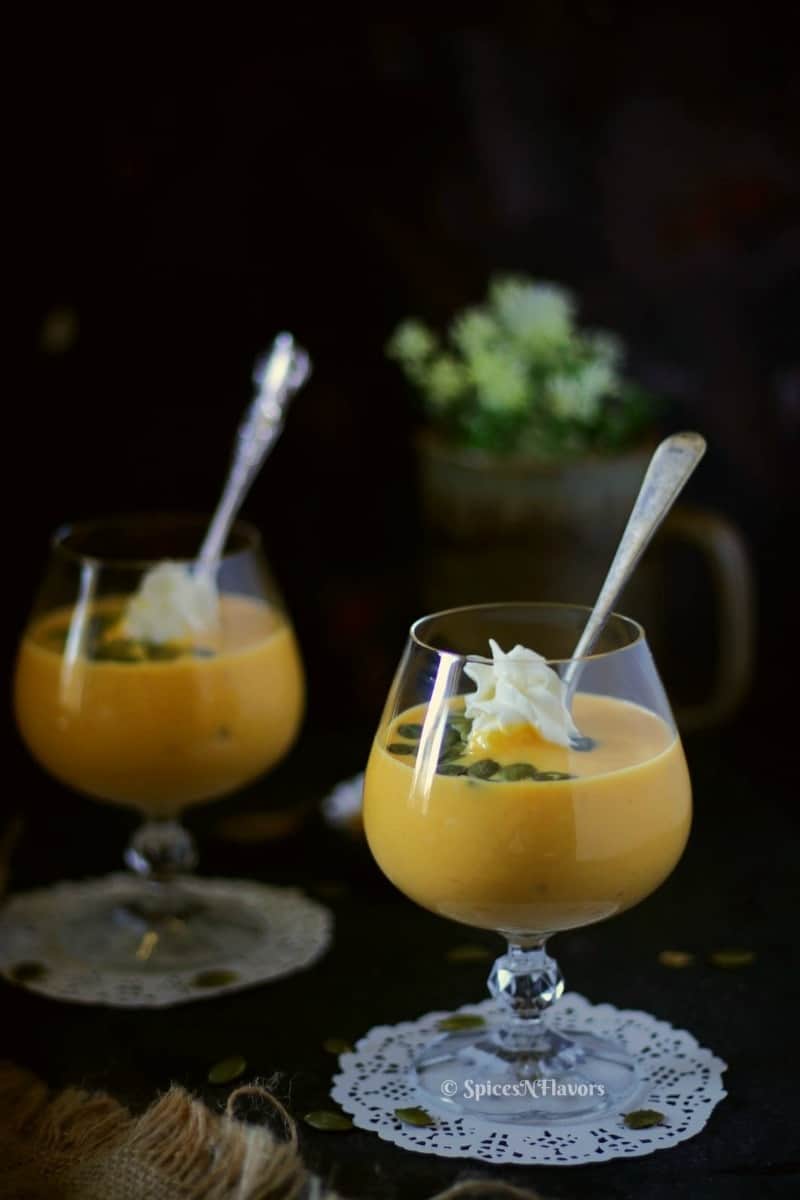 Pumpkin Custard recipe is one of those easy pumpkin desserts that you can make in no time. Can't believe its already that time of the year when everything screams "PUMPKIN". If you are looking for some vegetarian pumpkin recipes then look no further.
This fresh Pumpkin Custard recipe is the answer to whatever you seek. Do you know why?
A. It's an easy pumpkin dessert recipes for a crowd. Yes, you can easily double and triple the quantities and serve it in a trifle jar; garnish with some pumpkin seeds and just watch your guests serve themselves cups after cups of this warm creamy custard or chilled custard.
B. Yes, this best Pumpkin Custard can be served warm or chilled. I liked it when it was chilled but trust me it tastes equally good when warm.
C. Can be made using canned pumpkin puree OR wait for it this recipe is the best fresh pumpkin recipes that you could lay your hands on. Read on to find out more about how to cook pumpkin easily at home?
D. Fresh Pumpkin Puree, Pumpkin spice, and Custard flavor make it the best pumpkin holiday recipes.
E. Can be easily veganized. Just substitute coconut milk for milk and this Pumpkin Custard with coconut milk is all you would crave for this Fall.
F. Also falls under a nut free desserts category.
Pumpkin Custard Dessert is all I am craving for this season. What is your most favorite fall dessert recipe? Do share it with me in the comments below.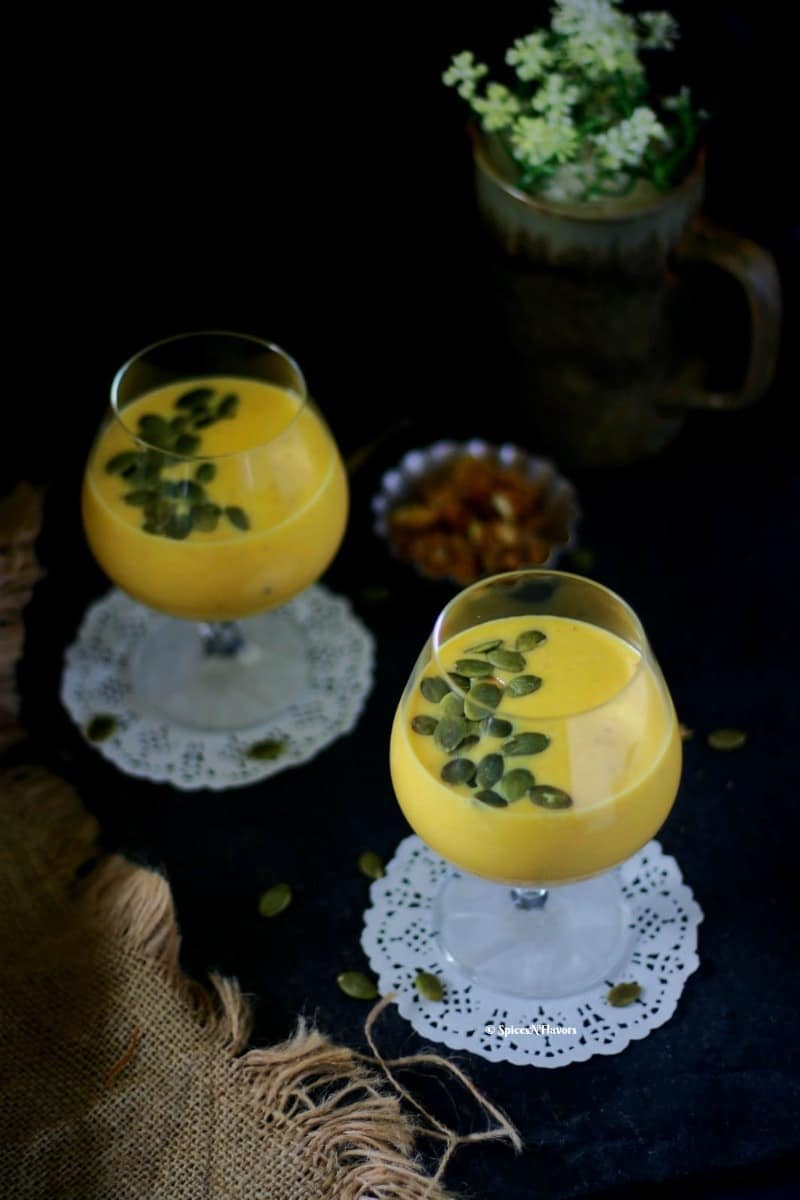 For those of you who are not following me on Youtube yet, let me tell you that my MAC crashed a few days back and I would not be able to upload videos anytime sooner. So excuse me for that but definitely keep an eye on this space as I would be adding amazing desserts recipes here and you can expect the video format of the same shortly.
Sorry about that guys. Hope you understand. Just make yourself this Kaddu ki Kheer, relax and enjoy winters.
Kaddu in English is known as "Pumpkin" and Kheer is a form of pudding from Indian Subcontinent. So this is basically a recipe for Pumpkin Kheer. However, since I have used a shortcut here by adding Custard Powder to this recipe you do not have to babysit and slow cook it, unlike our regular kheer recipes and hence it is a perfect Eggless Custard recipe that all of my vegetarian friends can also enjoy.
You can increase the amount of custard powder (just like I did in this recipe) in here and use this as a filling of the pie, in short, a perfect pumpkin custard pie recipe. Just make yourself a tart base and fill it with this Pumpkin Custard. I also have the recipe for an eggless tart base just in case you are looking for it.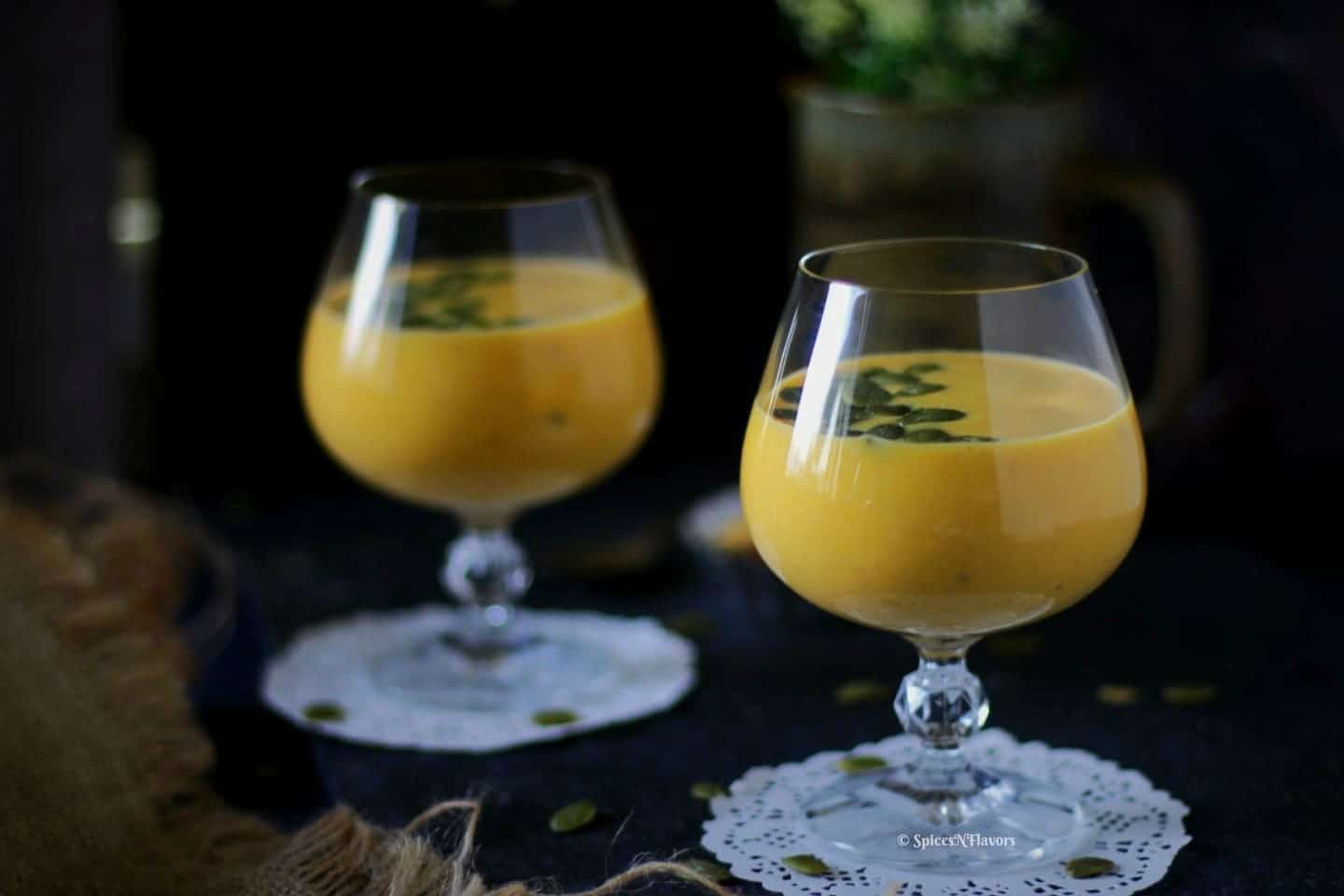 How to make pumpkin puree at home?
You won't believe how simple it is to make homemade pumpkin puree. All I did was remove the skin off from the pumpkin. I have a secret super easy way of doing it. You can check it from my hacks video. 😀
So remove the skin off, chop it into small cubes. Transfer it to a pot of boiling water and let boil until soft and blend once cooled or pressure cook it for 3 whistles allow the pressure to subside and blend or simply bake them in a preheated oven of 200-degree Celsius for 15-20 mins until soft.
Basically, all you have to do is just cook the pumpkin until soft and then blend in a mixer to get the puree. This is exactly the same pumpkin puree for baby that you might have made for your little ones.
So instead of looking for where to buy pumpkin puree, make yourself a batch using fresh pumpkin now that it's in season and use it for a variety of recipes.
Are you looking for some pumpkin puree recipes inspirations?
Then I have an entire list for you. You can choose to make this Pumpkin Custard or Kaddu ki kheer, pumpkin puree cookies is what I am going to share next so definitely keep an eye on this space. Also pumpkin bread pudding, pumpkin cinnamon rolls, kaddu ka halwa, pumpkin bread, pumpkin pie, pumpkin ice-cream and lots more. The list just goes endless.
I also understand that these days internet searches for a specific diet like paleo pumpkin recipes or be it ketogenic diet or diabetic pumpkin recipes are picking up. I am a novice when it comes to such diet-specific recipes. Do you have any link to blogs or recipes that you follow for the same? If yes then let me know in the comment below I would love to explore these new fields too.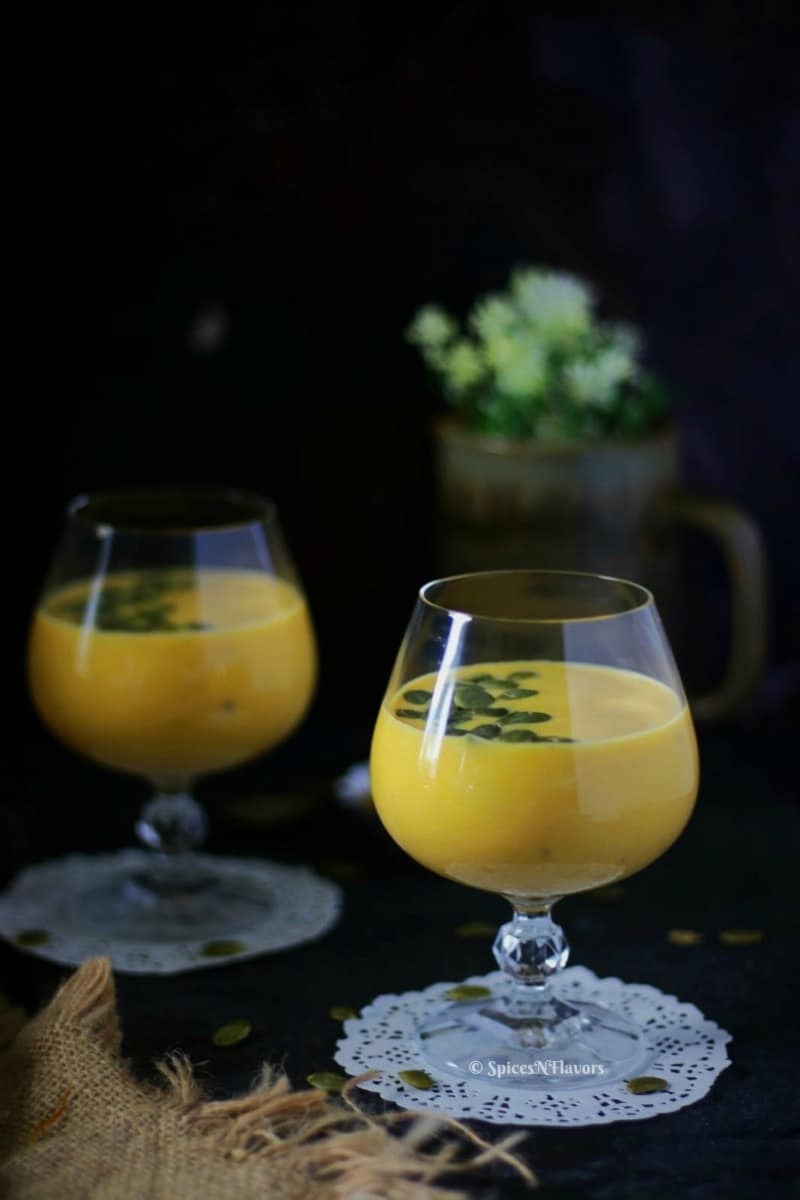 Here is a the recipe for Pumpkin custard or kaddu ki kheer recipe step by step.
Liked this recipe?
Let us know by giving it a star rating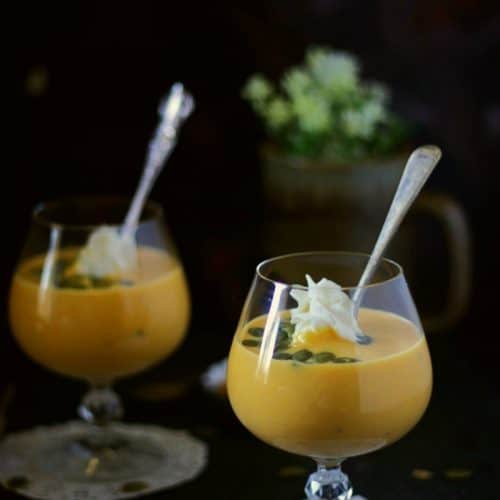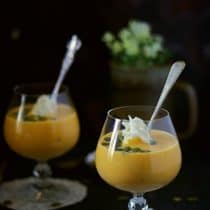 Print
Pumpkin Custard | Kaddu Ki Kheer
Pumpkin Custard is an EASY and SIMPLE Pumpkin dessert recipes that you could ever make.
This Fall inspired best Pumpkin dessert recipe is perfect for holidays. Made with no eggs, fresh pumpkin puree and pumpkin spices, this unique recipe from scratch is perfect for Thanksgiving!!!
Ingredients
2

cups

Full Fat Milk

1/2

cup

Cream

(refer notes)

1

tbsp

Custard Powder

1/2-3/4

cups

Sugar

1/2

cup

Pumpkin Puree

1/4

tsp

Pumpkin Spice powder

(refer notes)
Instructions
Take the milk and cream in a saucepan. Before turning on the heat take out 2 tbsp of the milk-cream mixture and add to the custard powder. Make a slurry and set aside.

Now switch on the gas and bring the milk mixture to a rolling boil. Add the sugar and stir to dissolve. Do remember to stir the milk every now and then so that it doesn't stick to the bottom of the pan.

Let it boil for another 5 mins and then add in the prepared custard powder slurry. Give it a mix. In another 5 mins you will observe that the milk mixture is starting to thicken.

Finally, add in the pumpkin puree and pumpkin spice powder. Mix everything well and stir to achieve the desired thickness. Your super simple pumpkin custard or kaddu ki kheer is all ready to be devoured.

Enjoy it warm or refrigerate until chilled and serve.
Did you make this recipe? Tag me today!
Tag me @spicesandflavors to get featured on my FB and Insta pages
Notes:
1. Every ingredient in this Pumpkin Custard recipe can be adjusted to need and taste. Like adding cream is optional. Use equal quantity of milk instead. I think cream would make this kheer even more creamier.
2. Adjust sugar, pumpkin puree as per taste.
3. Instead of pumpkin spice, you can also use allspice or even plain old cardamom powder would work.
4. If you like to have some texture in your kheer then instead of using pumpkin puree you can also choose to use grated pumpkin here. Just remember to steam it before adding to the milk or roast in ghee until it is completely cooked.
5. In place of custard powder, you can use rice flour too but that would be a plain Pumpkin Kheer recipe and you won't get that custard flavour in your kheer.
How I made Pumpkin Puree at home?
I used half of the pumpkin crown. Removed the skin and chopped it into cubes. Then I laid them onto a baking tray. Added just a tbsp of flavourless oil and then baked in a preheated oven of 200 degree Celsius for 20 mins.
Once it was cooled I blended it into a puree using little water at a time. Used 1/2 cup of it in the recipe and with the remaining made pumpkin soup for dinner.
If you are looking for some unusual kheer recipes to make this festive season then definitely check out this Makhane Ki Kheer Recipe or simply make a plain rice kheer and serve it along with jelly like I have done in this recipe.
I hope you enjoyed this easy pumpkin recipe. If you did then definitely let me know by tagging me, tweeting me or instagram me. I would love to follow you and your posts.. 🙂
Keep an eye on this space as I would be sharing some amazing pumpkin desserts recipe soon. And also would try to upload videos as soon as possible.
Pin this for later: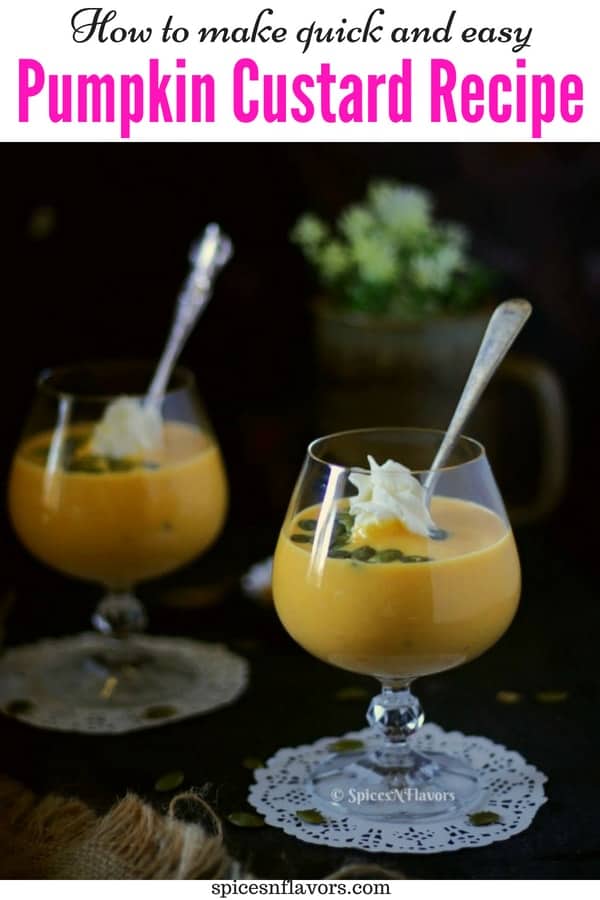 I will see you soon with yet another recipe
Until then
Hugs
Sushma