Whether looking for a quick savoury cake recipe or a simple tiffin box idea for kids, this vegetable cake is the need of the hour.
This Indian Savoury Semolina Cake is a simple, easy and healthy cake recipe using semolina and yogurt that is loaded with vegetables and has no butter, eggs, APF or sugar.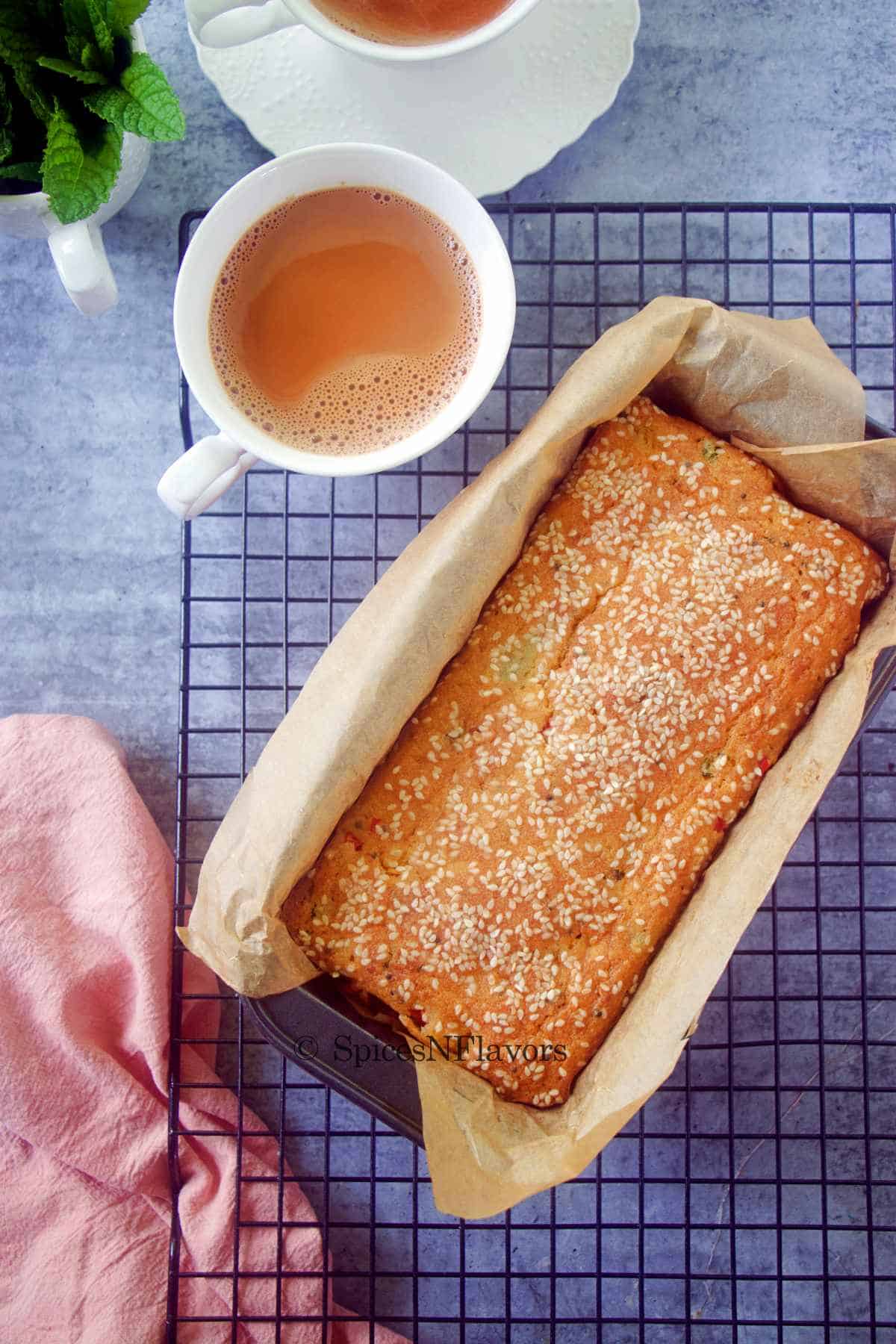 Why try this recipe?
This vegetable cake recipe is refined flour and refined sugar free. And I know so many of us would be looking for an alternative specially this time of the year.
Serving a regular food in the form of a cake would encourage kids to eat more. Right?
Takes hardly anytime to make it. You need not be a PRO in baking to make this cake.
No skills required whatsoever and also no need to worry about overmixing the cake batter and stuff like that.
Can be easily packed and carried along to potlucks, road trips etc.
Ingredients: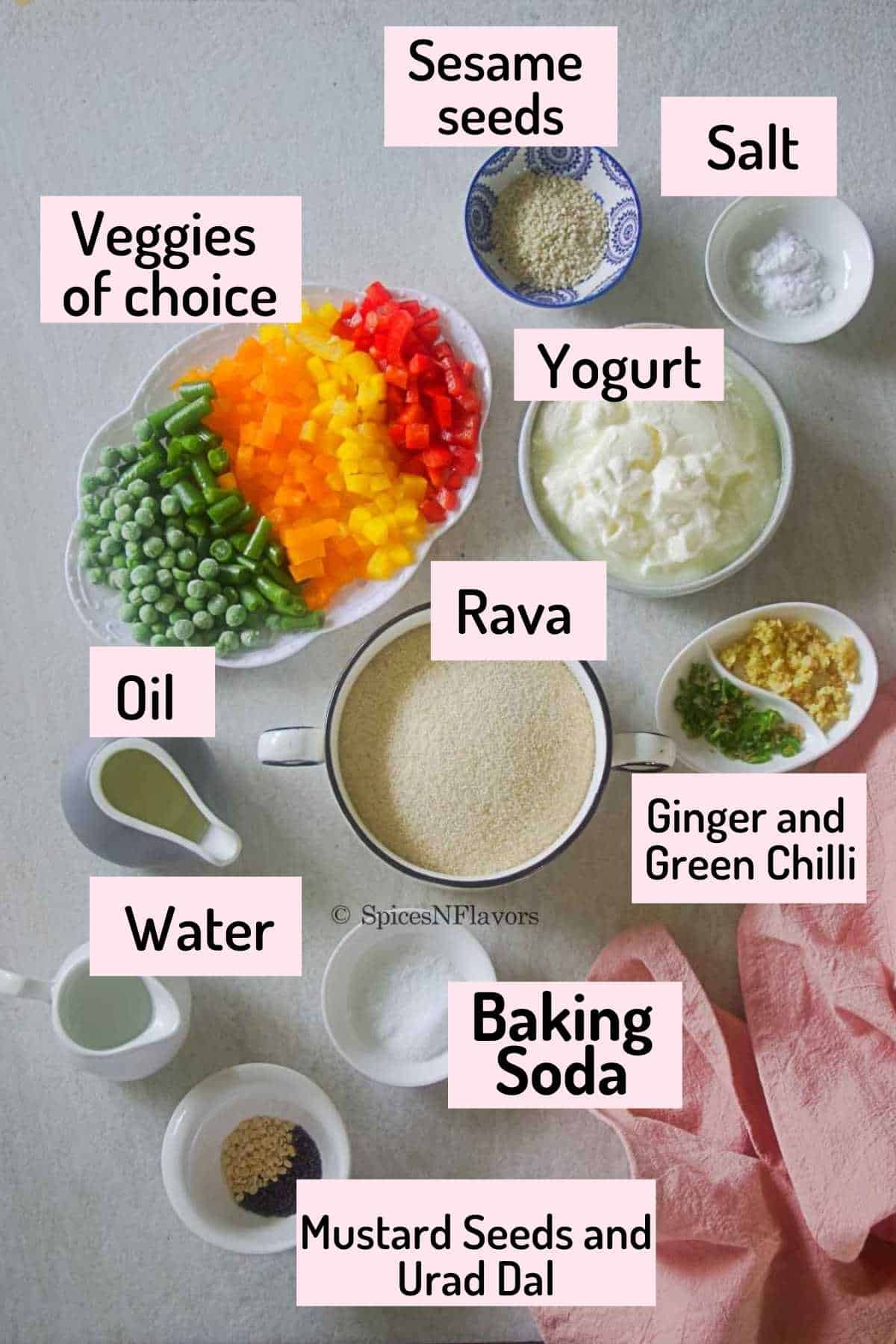 Semolina: Also known as Rava. Using the Bombay Rava variety here.
Yogurt: Use thick part of the yogurt.
Water: Do not use too much water. Around 2 to 3 tbsp should be fine.
Step by Step Recipe Instructions:
Step 1: Soaking the Rava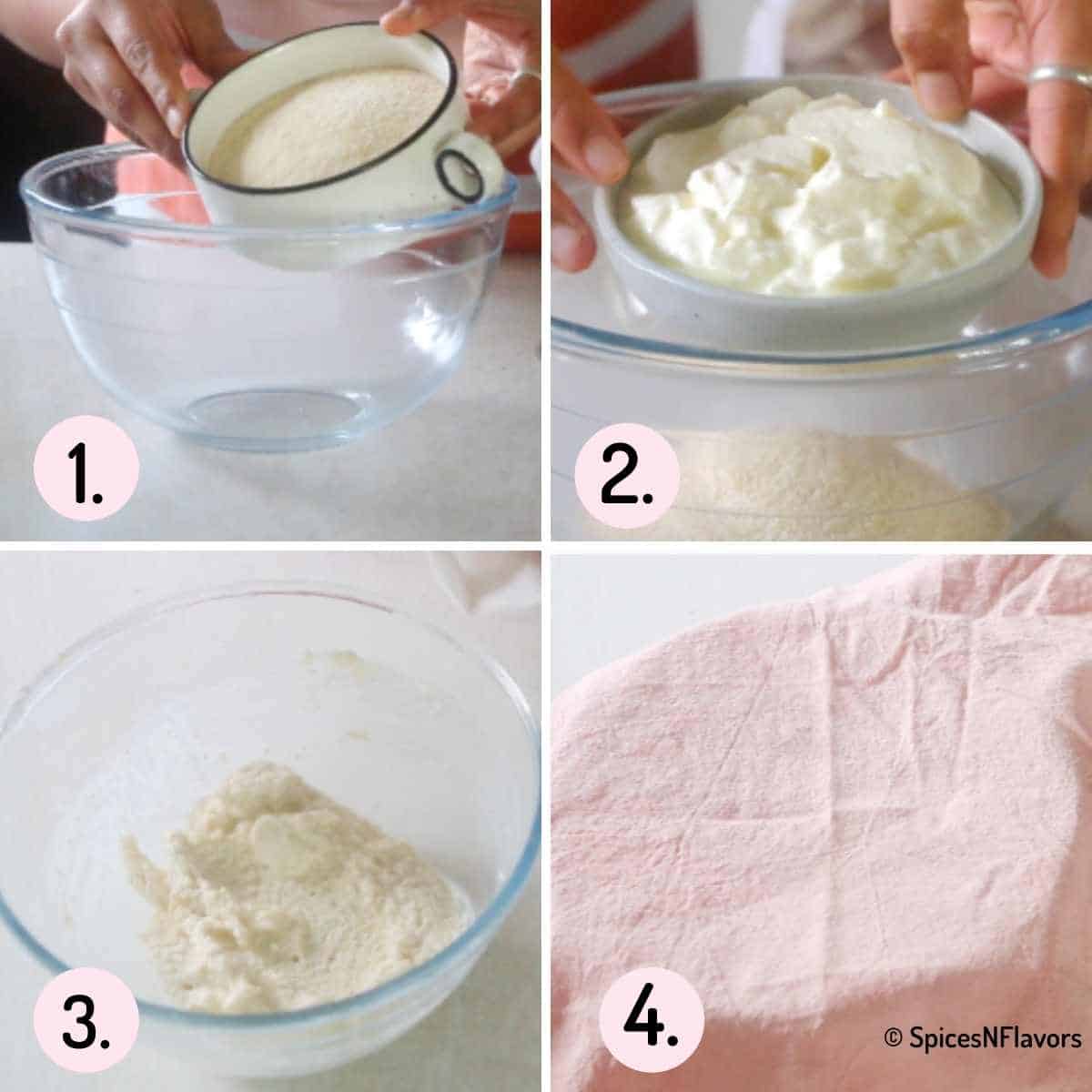 In a bowl, combine the rava that is the semolina and curd (images 1-3).
As mentioned the semolina that I am using here is also known as Bombay rava the ones that we regularly use to make upma at home.
Use the thick part of the yogurt which is at room temperature.
Once mixed, let the rava soak and swell for at least 10 mins. So simply cover with a tea towel or a plate and let it sit aside for 10 mins (image 4).
Step 2 : Prepare the Veggies
Meanwhile let us chop the veggies. I am using tri coloured capsicums or bell peppers, 7 to 8 beans and 1/4 cup of peas today.
You can use any veggies of choice. Cauliflower or brocolli florets, grated carrot will also work.
Also grate the ginger and finely chop the green chillies if using.
Step 3: Preparing the Cake Batter: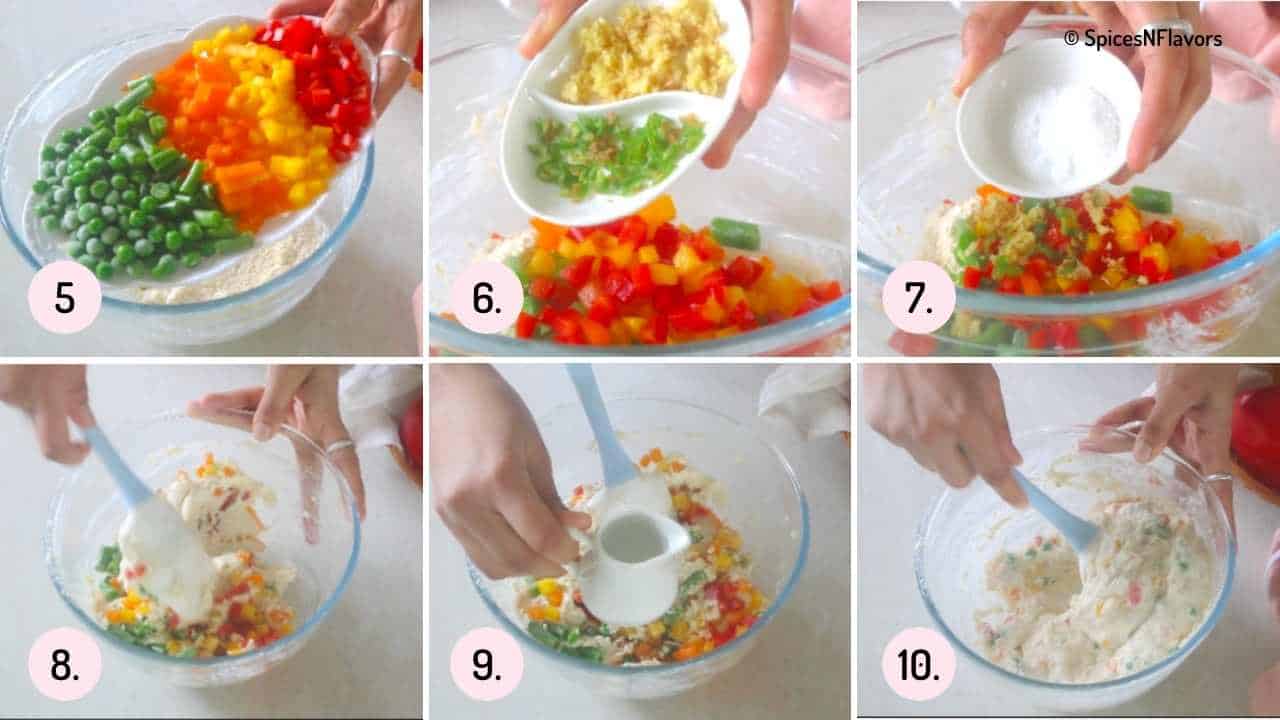 After 10 mins, add the chopped veggies, grated ginger, green chillies and salt into the bowl.
Combine well (images 5 -8).
To get it into a batter like consistency add water a tbsp at a time and mix (image 9 -10).
Remember the batter will get even more runnier upon the addition of baking soda so do not be tempted to add too much water at this stage.
You can always adjust the consistency later too.
Step 4: Prepare the Tadka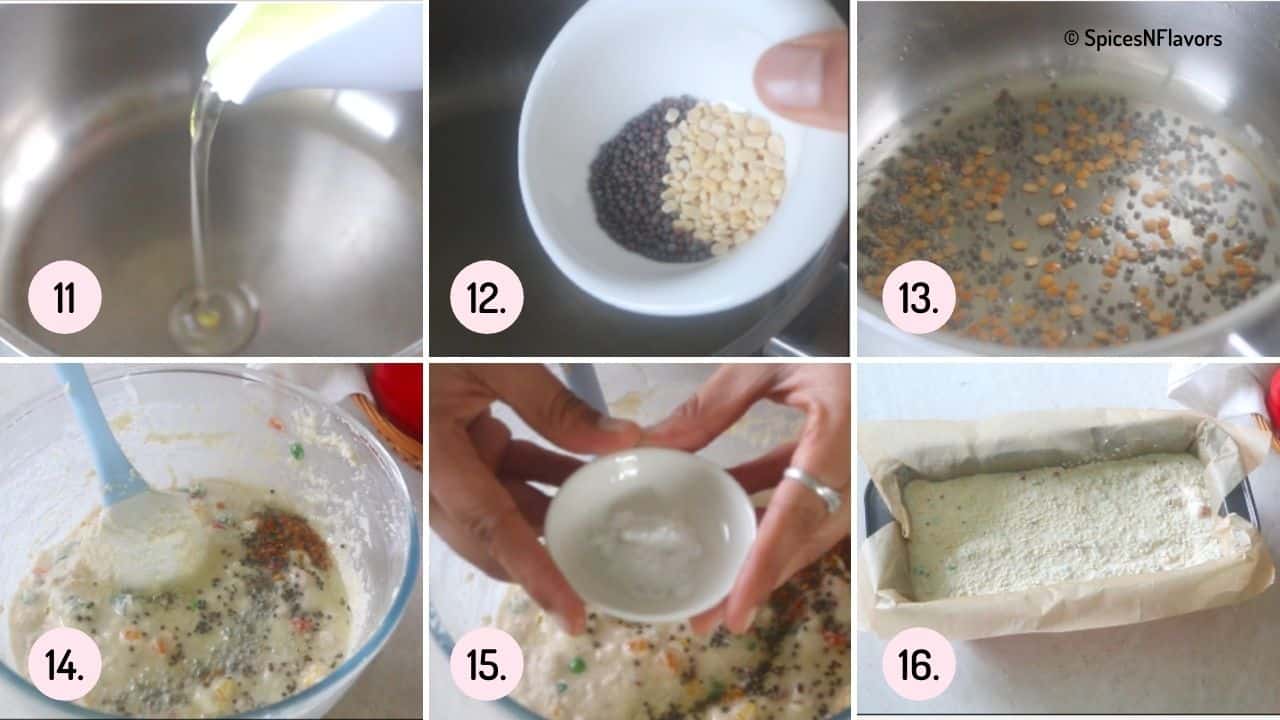 In a separate pan, heat some oil.
Once hot, crackle the mustard seeds and urad dal until golden brown.
Transfer it to the bowl along with baking soda.
Working quickly mix everything into a cake batter like consistency and pour it into the prepared cake pan (images 11-16) .
The size of the pan that I am using today is 7x3 inches.
Level the top off.
Sprinkle some sesame seeds to garnish.
And quickly off it goes to baking in a preheated oven of 180°C for 45 to 55 mins or until a skewer inserted in the centre comes out clean.
Let it sit in the pan itself for 3 mins then allow the cake to cool completely in the wire rack before slicing and enjoying it with your favourite cup of tea.
Recipe Tips:
The most important thing is to not use too much water. As that would make the batter too wet; it would take a longer time to bake in the oven and also would be sticky to eat.
It is necessary to let the rava and yogurt mixture to sit for atleast 10 mins so that the rava gets time to absorb the liquid.
Once you add the baking soda, do not let the batter sit for a longer time on the countertop. Working quickly transfer it to your prepared loaf tin and into the oven at the earliest.
Chop your veggies finely so that it is easier for kids to bite into it. Use a selection of different coloured veggies to make it attractive.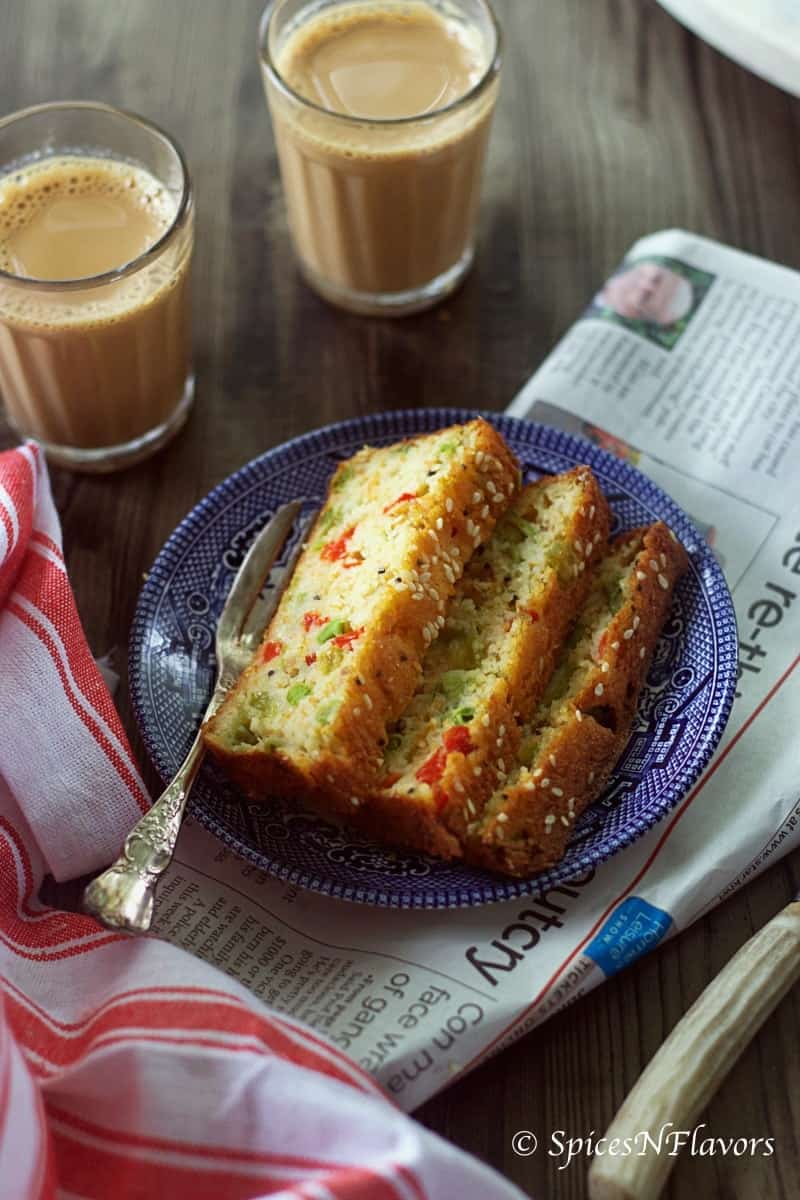 Storage Instructions:
You can store the Vegetable Cake in an air tight container at room temperature for upto 2 days.
You can also freeze it for upto a month in a freezer friendly container.
Related Savory recipes:
Healthier Cake Recipes: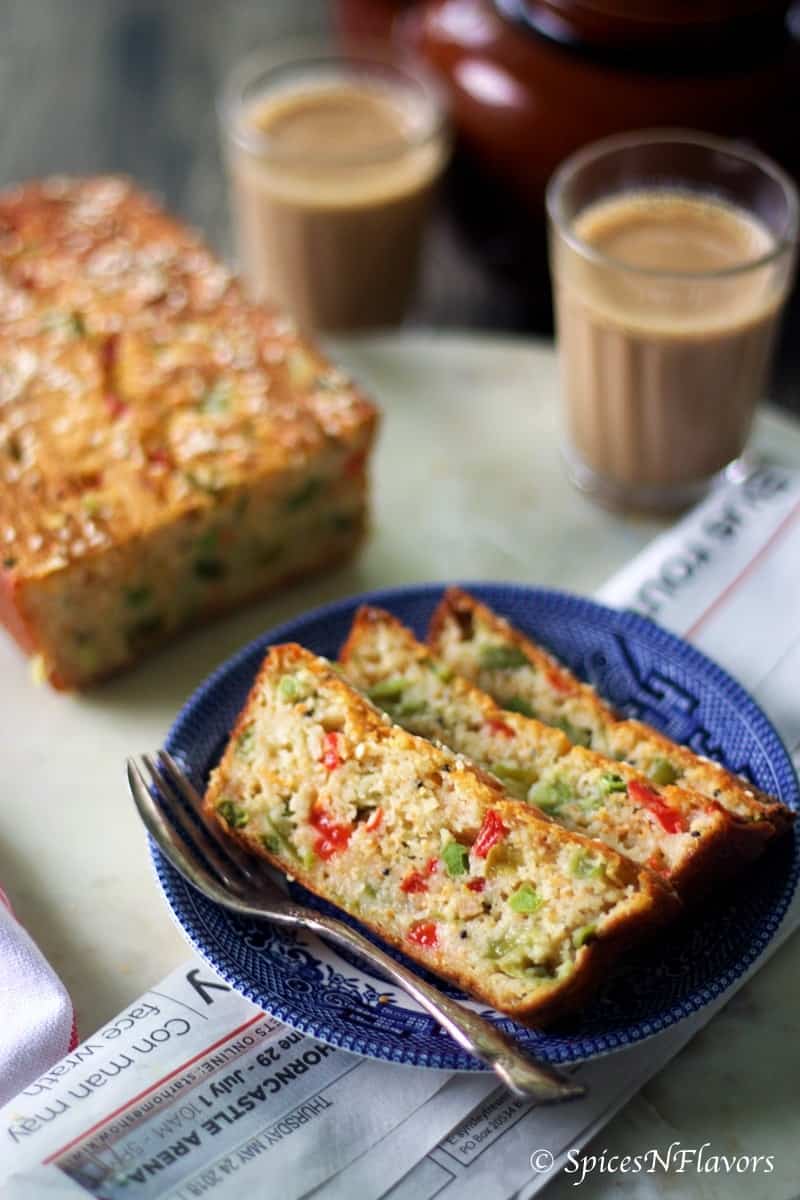 Wish to Join US for the love of BAKING? Subscribe to our newsletter and Youtube channel. Follow along on Facebook, Instagram, and Pinterest for all the latest updates!
Liked this recipe?
Let us know by giving it a star rating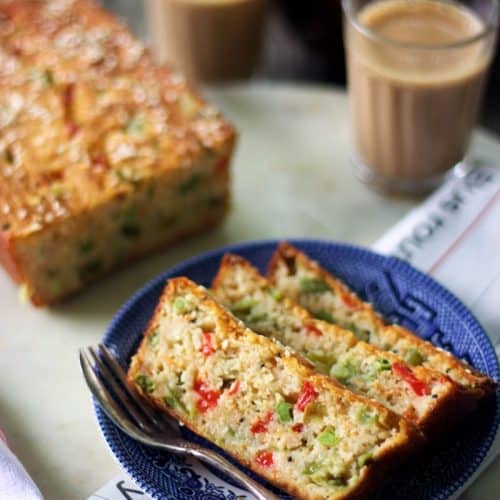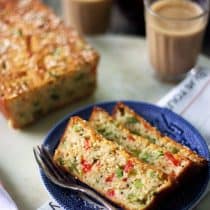 Print
Vegetable Cake | Savoury Semolina Cake
A savoury cake made using Rava and Yogurt that is loaded with veggies and has no eggs, butter, maida or sugar making it perfect for a hearty breakfast or pack it into your kids lunch box.
Ingredients
1

cup

(175 gms) Semolina / Rava

1

cup

(200 gms) Yogurt or Dahi

1/4

portion each of tri coloured peppers

5-6

Beans

1/4

cup

Green Peas

1/2

tsp

Grated Ginger

1

Green Chiili, finely chopped

refer notes

3/4

tsp

Salt

1/2

tsp

Baking Soda

Water as needed

refer notes

1/2

tsp

Sesame Seeds
For the Tadka/Seasoning
1.5

tbsp

Oil

1/2

tsp

Mustard Seeds

1/2

tsp

Urad Dal
Instructions
Mix together the rava and yogurt until combined. Let this sit on the countertop for at least 10 mins.

Meanwhile, chop all the veggies, grate the ginger, chop the green chillies and keep it ready.

After 10 mins, add the veggies into your rava batter. Give it a mix.

In goes the salt, green chilli, ginger. Mix everything and add little water around 2-3 tbsp to get it into a batter like consistency.

Prepare the tadka. For which heat up the oil and once hot add in the mustard seeds and urad dal. Let it crackle. And then transfer to the rava batter.

Add in the baking soda also. Give everything a final mix and quickly without wasting any time transfer it to the prepared loaf tin. Sprinkle the top with some sesame seeds.

Bake in a preheated oven of 180°C for 45-50 mins or until a skewer inserted in the centre comes out clean.
Video
Notes
Absolutely any veggies of your choice can be used. No hard and fast rule there.. 🙂
But there is a rule for the usage of water.. hehe.. I would recommend you guys to not use more than 5 tbsp of water for this recipe. Now I cannot give you an exact measurement of water here because it all depends upon the consistency of curd and the quality of rava that you are using. Add 1 tbsp at a time. I have used 3 tbsp in total. Remember the batter will get a runny consistency upon addition of baking soda so add water carefully. 
Too much water in the batter would make the cake wet and would also take longer to bake in the oven. Even after baked it would still feel wet. 
You can skip the green chillies if you are making it for your little ones. The spiciness from the ginger would be enough for them but definitely add finely chopped chillies if you are making it for the entire family.
If you are planning to make it for breakfast the next morning or for packing it into their lunch boxes then I would highly recommend you guys to chop the veggies the previous night to make your work lot easier and smoother in the morning.
Do let the rava and curd batter let sit for 10 mins so that the rava can absorb the liquid.
One more point to note is that once you add the baking soda, act quickly do not let it stand for a longer time on your kitchen counter. Working quickly, get it into the oven at the earliest.
My honest opinion for you guys: I baked this cake twice in the past week but I felt that this cake remains dense even after the baking time. It feels like it is underbaked whereas it is not.
Then why am I still sharing it with you guys?
Well, it tastes delicious. And even though I agree with the fact that we eat with our eyes first but let's be honest at the end of the day my taste buds wins over my eyes. An absolute must try recipe in terms of taste and health 😀
Nutrition
Calories:
101
kcal
|
Carbohydrates:
15
g
|
Protein:
3
g
|
Fat:
3
g
|
Saturated Fat:
1
g
|
Cholesterol:
3
mg
|
Sodium:
265
mg
|
Potassium:
83
mg
|
Fiber:
1
g
|
Sugar:
2
g
|
Vitamin A:
63
IU
|
Vitamin C:
5
mg
|
Calcium:
32
mg
|
Iron:
1
mg
Did you make this recipe? Tag me today!
Tag me @spicesandflavors to get featured on my FB and Insta pages
Note: This recipe was first published on Jun 18, 2018 now updated with a detailed video, step by step tutorial with pictures and more tips and tricks on Jan 4, 2020.