Sssshhhhh.... Don't let anyone know that you just need 2 ingredients and 3 steps to make this Classic French Palmiers Recipe!!! Its a top secret between us 😉
If you think making classic French recipes is difficult and not your cup of tea.
Then I am here to change your mindset totally with this recipe.
Perfectly crispy, buttery and flaky, sweet and crunchy made using just 2 ingredients, this Palmiers recipe would take you down the lane to your childhood memories.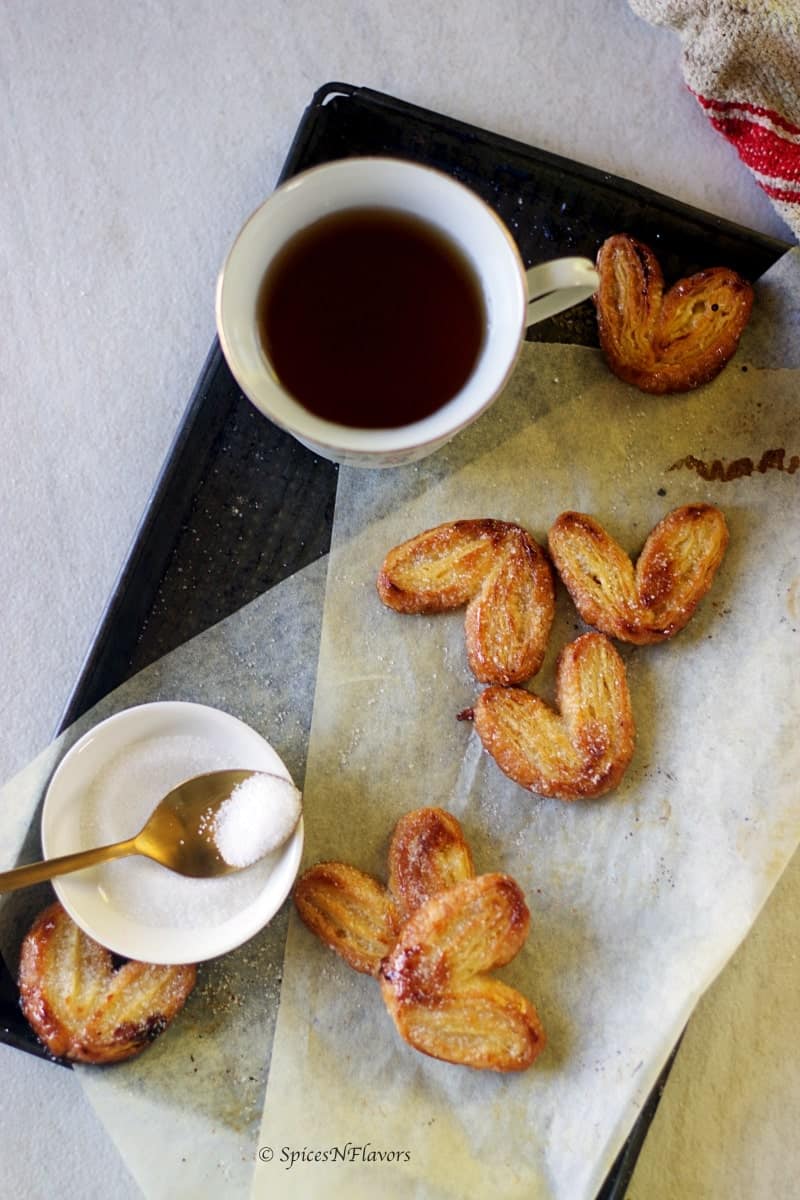 But, What is Palmiers?
Also known as elephant ears, pig's ears; a palmier is basically a French Pastry.
Made using puff pastries and sugar these are a flaky, crispy, buttery sugar sprinkled cookies.
If you are a 90's kids you would remember the Britania Little Hearts biscuits from your childhood. After seeing and tasting these cookies you would be taken back to your glorious childhood days.
Though making a puff pastry is not difficult, it is, however, time-consuming and needs lots of patience. But when you have the option of buying one from the market it rather convenient and much easier to use for certain recipes.
Like for these easy butterfly cookies, if you have the puff pastry handy, it hardly takes 5 mins of your active time to make. So when you have unannounced guests next time impress them with these homemade little heart biscuits and they would never believe that it is made by you.
Making Palmiers using Store bought Ready made Puff Pastry
Whenever you buy ready made Puff Pastry for making anything sweet or dessert related always make sure to check the ingredients.
You would need a puff pastry that is made from 100 percent butter for a good flavour and taste to your baked product. Never buy puff pastry that has shortening or animal fat added to it.
Likewise, if you are a vegetarian then never buy readymade savoury puff pastries as it has animal fat added to it.
When I was doing my Level 4 Bakery Course here in New Zealand, we were taught both the puff pastries that is the rich buttery one using real butter sheets in between and for making pies we used the one that had animal fat added to it.
Bakeries do that to reduce the cost of the ingredients which absolutely makes sense right.
So you be cautious the next time you buy it, ok!!!
Now that was one of the major ingredients you need to make these palmier cookies, what is the other Palmier ingredient? 
The Sugar:
I have used regular white granulated sugar.
The thing is the one that we get back in India has bigger sugar crystals as compared to the ones that we get here. So I would recommend you to use caster sugar in that case.
You have to fold as much sugar into the puff pastry dough so as to make it sweeter and crunchier in every bite.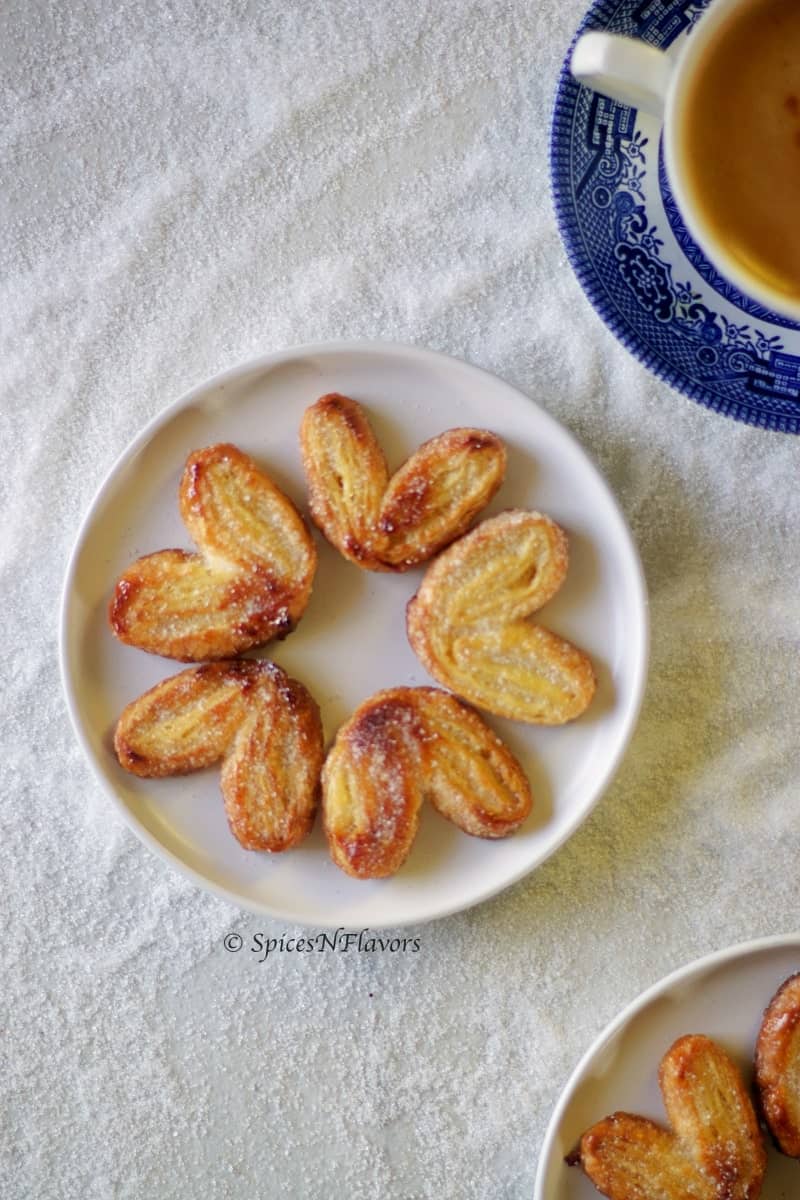 Variations of Palmier recipe
Once you know the basic technique you can add so many different variation to the same.
Like today I have just made a simple sweet palmiers recipe using sugar. 
The other thing that you can do is add just a bit of cinnamon to the sugar to make cinnamon sugar and use that to make a batch of cinnamon palmiers.
Take it to the next level by spreading some Nutella on to the puff pastry sheets and then fold. Oh my god, just imagine the flaky buttery crust giving way to the smooth and luscious Nutella, sheer indulgence isn't it. I am definitely going to try the Nutella palmiers recipe once. 
Apart from Nutella, you can also use any kind of nut butter like peanut butter or almond butter.
Puff pastry cookies with jam is also another cool idea to be honest.
Who wouldn't love chocolate palmier - Just slather some chocolate sauce or ganache in between the sheets and roll it. So cool right!!
One can also make savoury palmiers recipe using this technique.
Fill it with a mix of shredded cheese to make cheese palmier or add pesto, sundried tomatoes and make yourself a batch of savoury Palmiers.
This would make a great quick and easy appetizer idea for your next party.
And now let us see,
How to make Palmier with Puff Pastry?
Liked this recipe?
Let us know by giving it a star rating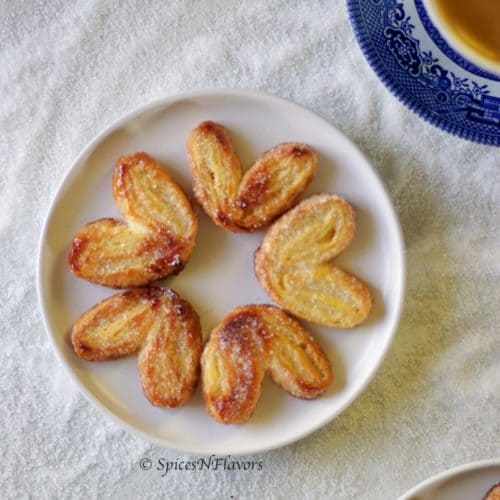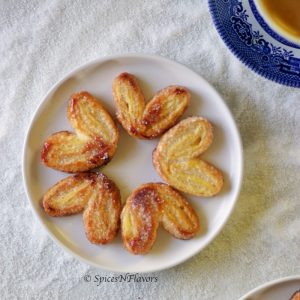 Print
Classic French Palmiers Recipe
The delightfully sweet flaky buttery sugar sprinkled Palmiers cookies, with crunch of sugar and the crunch of puff pastry would surely take you down the memory lane.
Ingredients
1

sheet of

Frozen Puff Pastry

1

cup

Sugar
Instructions
Take a sheet of frozen puff pastry and let it thaw for 5 mins.

After 5 mins sprinkle your worktop generously with sugar. Place the puff pastry on top and roll with a rolling pin. This would ensure that the puff pastry becomes thinner and also the sugar at the bottom would stick to the puff pastry.

Now sprinkle a generous handful of sugar on top of the puff pastry as well.

Start folding the puff pastry. Fold one of the long sides of the pastry by a third. Repeat on the other side also. Now do a second folding so that the pastry meets at the centre leaving just a little space in the centre. Now place one of the folded part on top of the other to create a log like shape. (Refer video for clear picture)

Cling wrap let it chill in the freezer for 10 min and then slice it into 1/4 inch even thickness. Place it on the baking tray lined with parchment paper with enough space in between as they would spread while cooking.

Lightly spread the wings to create a "V" shape so that when they bake they get the perfect heart shape.

Now bake them in a preheated oven of 200°C for 12 mins. Then take the tray out flip the cookies to the other side and bake again for 4 to 5 mins. This would ensure that they get a nice colour on both sides and also you can be sure that they are baked from both sides.

Allow it cool a bit on the tray itself and then store in an airtight container. Serve with evening tea.
Video
Notes
Check out the variations of Palmiers recipe from above to see the different ways in which you can make and enjoy these 

easy palmiers recipe
Did you make this recipe? Tag me today!
Tag me @spicesandflavors to get featured on my FB and Insta pages
I hope you enjoyed knowing the ridiculously easy to make recipe. Make your Valentine's Day even more special with these cute little heart biscuits.
Check out other Valentine's recipe like this:
And if you have no time at all, then this collection of 11 dessert recipes to make in 10 mins would be super handy.
If you liked the idea of these simple Palmier cookies recipe then do share your thoughts with me on my Facebook, Instagram or Twitter page.
Pin this to your Cookies board on Pinterest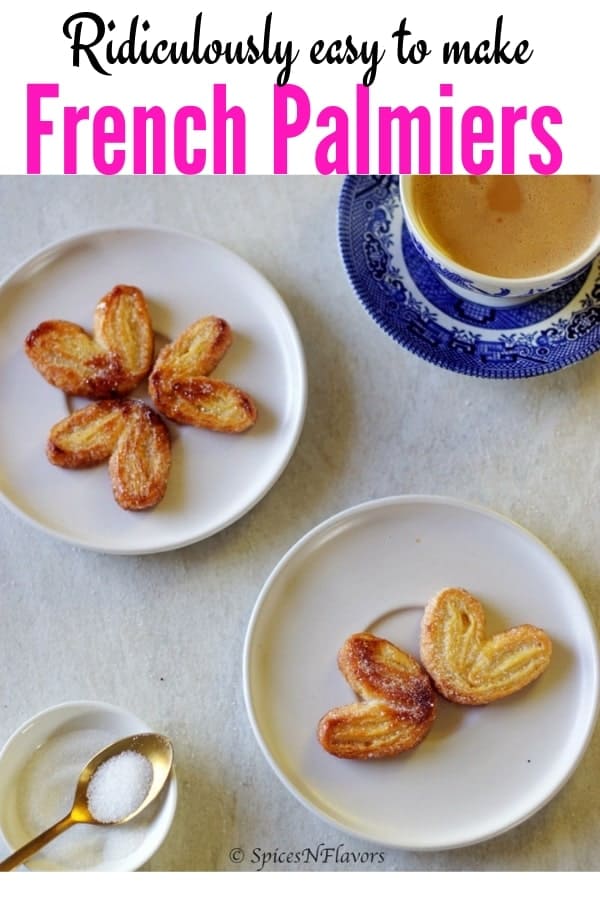 I will see you soon with yet another one
Until then
Hugs
Sushma