Light and fluffy in the centre, crispy on the edges, chocolaty in every bite - if that is how you like to enjoy your Chocolate Waffles then stay hooked there; you have come to the right place!!!
When you find out that these are Eggless Chocolate Waffles its gonna blow your mind.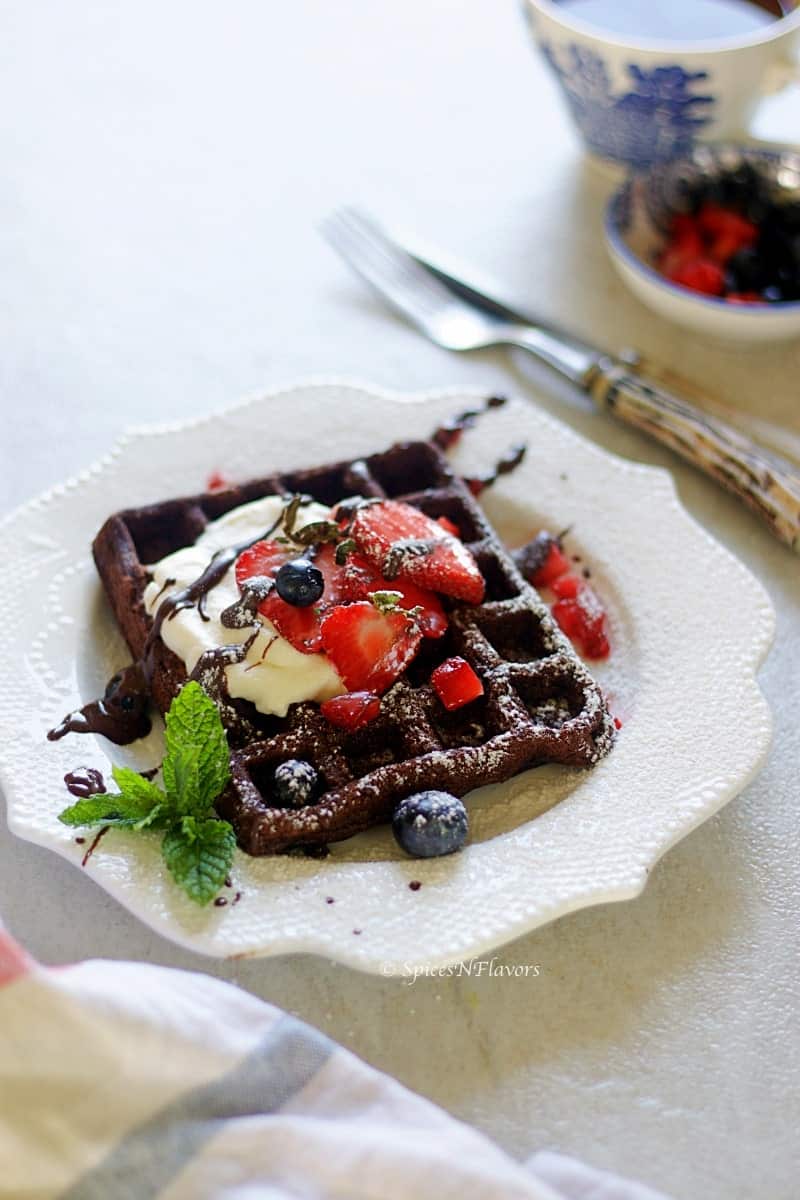 Forget Bisquick or any cake mix waffles, as making your own BEST Homemade fluffy EGGLESS CHOCOLATE WAFFLES is now so simple. Learn how to make this easy breakfast recipe from scratch in this video post that your family would love to wake up to.
What is your favourite thing to have for Breakfast? 
In my case, growing up back in India we had no clue about Waffles, honestly only after I shifted to New Zealand I got accustomed to English Breakfast.
Regular Indian breakfast is never sweet, 90 per cent of the time we like to have hot savoury dishes first thing in the morning.
If you ask me now, well I totally enjoy Oatmeal as my everyday breakfast, literally every single day I can eat oatmeal!! I know sounds weird right but I totally love it and by that I am now inclined more towards something sweet early in the morning.
And what could be better than Waffles!!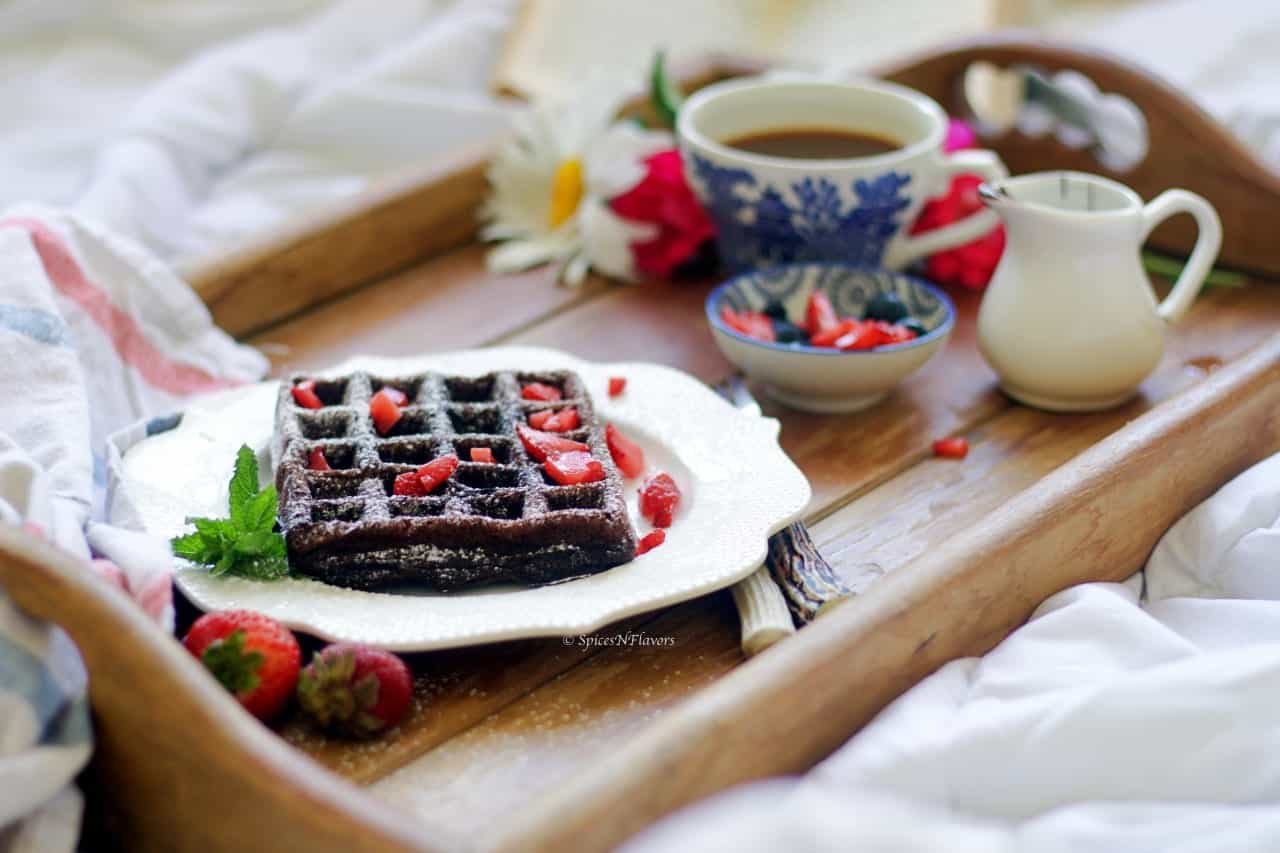 Imagine its Valentine's Day and you wake up cuddled to a bright beautiful morning, the glazing sun rays..
the windows of the balcony open up, allowing a warm breeze across your face making you smile..
Wait, is that the reason for your smile?? Wondering.. right when the aroma of cooking chocolate hits you and you turn around..
Just to find your partner with a tray of fresh beautiful flowers, your favourite coffee, berries, cream and sitting there right is the classic Buttermilk Chocolate Waffles waiting for you to dive straight in...
Now that's perfect morning, you, the love of your life and Chocolate - Love is in the air all around..
Why wait for Valentin's Day, make any morning beautiful with these perfect best chocolate waffle recipe. Just whip it up right away.. Waffles Waffles Waffless totally a delightful treat <3
Here are my top 5 reasons to make you try these 

best breakfast waffles
It is an eggless waffle recipe
Crisp and crunchy on the outside; light, fluffy and tender in the inside - exactly like how a waffle should be.
Classic Buttermilk Waffles recipe
Lightly sweetened... Making it perfect for breakfast which also means you can top it with more chocolate sauce, Nutella etc making it a great dessert option for breakfast 😉
Simple ingredients that you probably have in your pantry right now and simple steps, unlike a regular cake batter which means a beginner can also pull it off like a pro.
[click_to_tweet tweet="Top 5 reasons to try this BEST CHOCOLATE WAFFLES - crunchy on the outside, light and fluffy in the inside. " quote="Top 5 reasons to try this BEST CHOCOLATE WAFFLES - crunchy on the outside, light and fluffy in the inside. " theme="style5"]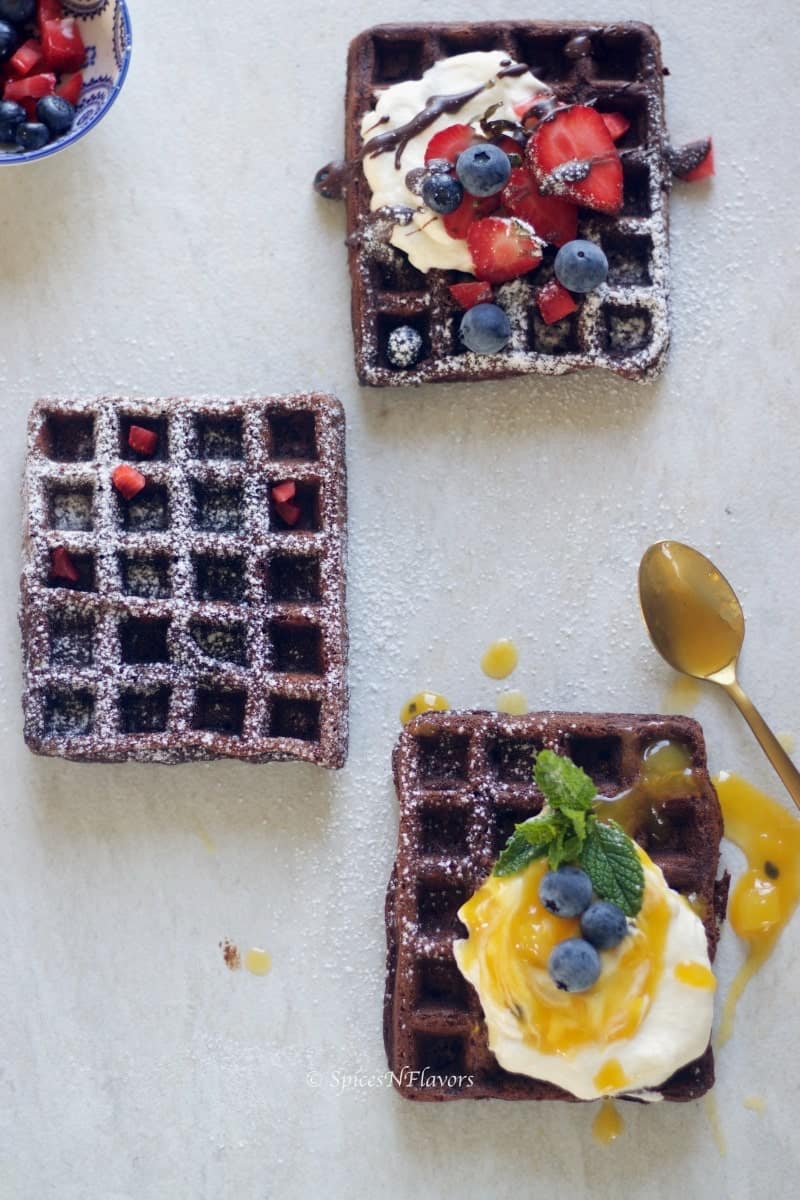 Talking about Simple Ingredients, I just wanted to let you know about the Waffle Ingredients that I have used today:
The secret to making Crispy Chocolate Waffle
Cornflour:
Agreed that cornstarch in waffle recipe is weird, but the main property of cornstarch in baking is that when combined with flour it makes the end product tender in the inside and crunchy on the outside. That totally describes my kind of waffles!
Buttermilk/Milk:
Most Waffle recipes call for either buttermilk or milk. Even in this recipe, you can swap one for other.
However, there is a reason for using both the types of milk in the recipe. I will tell you why..
Buttermilk Waffles are more flavourful as compared to plain Milk Waffles, whereas Milk based waffles are crisper than its buttermilk counterpart.
So by mixing the two, you have the ultimate combination of crispy waffles that is amazingly flavourful.
Oil/Butter:
Again to make a crisp waffle the batter should be quite thin. In that case, using oil would make sense right as it is much thinner fat than its counterpart fat.
But will the oil provide the rich buttery flavour when used alone??
No right - and that is the sole reason to use both oil and butter to make this chocolate waffle batter.
Now you know how to tweak your favourite waffle recipe to make it into a crispy waffle recipe. The role of egg whites is also important in making waffles but since we are making eggless Chocolate Waffles I will skip discussing the same in this post reserving it for the next one.
[click_to_tweet tweet="Learn the secret to make crispy Chocolate Waffles by tweaking your favourite Waffle recipe a bit." quote="Learn the secret to make crispy Chocolate Waffles by tweaking your favourite Waffle recipe a bit." theme="style5"]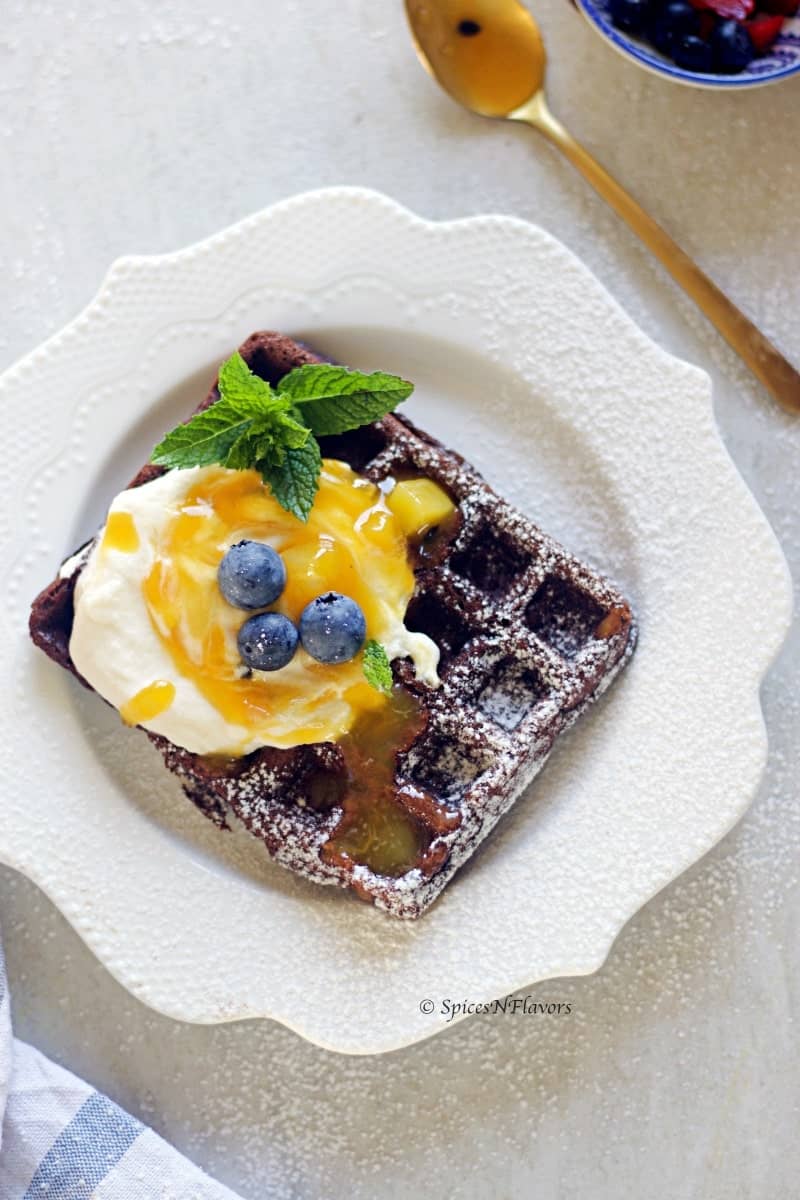 Well, ok agreed that this recipe would give us a crispy waffle but,
Is it an

authentic Belgian waffle recipe?
Belgian Waffles are a much lighter waffle (which means it definitely makes use of egg whites) that has larger and deep pockets to it. Indicating that it uses a specific mode of waffle maker too. (The waffle maker that I own is a Belgian Waffle Maker but not everyone might be owning it)
Also, it makes use of Yeast as the leavening agent in place of Baking Powder.
Another key ingredient is Pearl Sugar.
So keeping the availability of all the ingredients and ease of making the waffles, I have kept this recipe simple. So answering the question No, this is not an authentic Belgian waffles. 
Then why have I written Belgian Waffles Co Style in the title?
Off lately,  westernized desserts like macarons, doughnuts, waffles etc are gaining so much popularity in India.
One such company to take over the market is this Belgian Waffles Co. Upon researching about them and how they make waffles I learned that they use baking soda as a leavening agent and most importantly are Eggless to suit the Indian market needs.
However, the point to note is that they are heavily priced. And honestly, to make these waffles at home would cost you just peanuts. Also, anything homemade is always good right as the secret ingredient is always LOVE.
And that is exactly what I have tried to replicate in this recipe to help you make the easy chocolate waffles at the comfort of your home.
So trust me on this and invest in a good waffle maker which is reasonably priced online and make waffles and enjoy whenever you like.
Which Waffle Maker to buy?
Honestly, the one that I own has been handed down to me by a friend which is not a branded one so that means you can use any decent waffle maker to make waffles for your family.
I found these two on Amazon, that is a good brand and has good customer reviews too, you can check that by clicking here and here.
The best waffle maker in the market has to be Cuisinart Waffle Maker. It is a bit expensive but totally worth it. A one-time investment is what I would say.
So you have the perfect chocolate waffle recipe and also the best waffle maker, what next??
Next thing you need to note is,
HOW DO YOU KEEP WAFFLES FROM STICKING TO THE WAFFLE IRON?
These days the waffle makers come with a non-stick coating so you really do not have to worry much. But to be on the safer side I always like to brush my waffle maker with some butter before actually pouring the batter to it.
Like any other appliance, after some usage, the plates can become sticky on its own which would make your waffle stick too. So make sure to clean the waffle maker after every use.
One more thing to note is to cook your waffle completely before opening the lid or else obviously it is going to stick right.. 😀
How to keep Waffles Warm for a long time?
No matter which waffle maker you buy, you can only make 2 or 4 waffles at a time. So by the time you serve them to your family, it is going to become cold which tastes blah!!!
Or imagine you have guests coming over and you want to make it in bulk or want to serve it to a crowd in a party.
Simple, as soon as the waffles come out of the iron machine place them in a single row onto a baking tray lined with parchment paper and place it in a preheated oven of 200 degrees F. This would keep them warm and help them to crisp up a bit too.
Well, of course, do keep an eye on the waffles or else you would end up burning it all.. 😉
Can you freeze these Chocolate Waffles?
Oh yes absolutely.
Individually wrap each waffle with a cling wrap and then place them in a ziplock bag. Do remember to label it. And then freeze them and use it as needed.
Or else you can also line them in a single row onto a baking tray. Freeze them. Stack the frozen waffles on top of each other and place them in a ziplock bag and freeze. Frozen waffles do not stick, so this method would work too.. 😀
How to reheat the Waffles?
Preheat the oven to 160°C. Line the baking tray with parchment paper.
Take the individually wrapped belgian waffles and allow it to thaw for 5 mins. Place it onto the parchment paper and bake for 10 mins. And you have your waffle ready to be served as good as making a fresh batch.
You can also toast them on a toaster or simply on a frying pan too whichever way suits you 🙂
Different Topping Ideas for your Waffle
When it comes to Waffle Toppings nothing can hold you back.
To make it exactly like the Belgian Waffle Co style simple slather some Nutella or chocolate ganache on top. Make sure to use good quality chocolate for making the ganache. If I remember correctly they also place a slice of brownie in between, guess it depends on which flavour you order.
But homemade means all your favourite toppings like whipped cream, ice-cream, berries, Nutella etc just go crazy and add whatever you like.
I enjoyed these with some whipped cream and strawberries. Of course, I cannot stop at one so for the next one I used some whipped cream and passionfruit compote that was leftover from my Fruit Cake that I had shared few weeks back. Totally loved both the combinations.
OR simply add chocolate chip to the belgian waffle batter to make chocolate chip waffles.
Now that you got all your basics covered all you need is the easy chocolate waffle recipe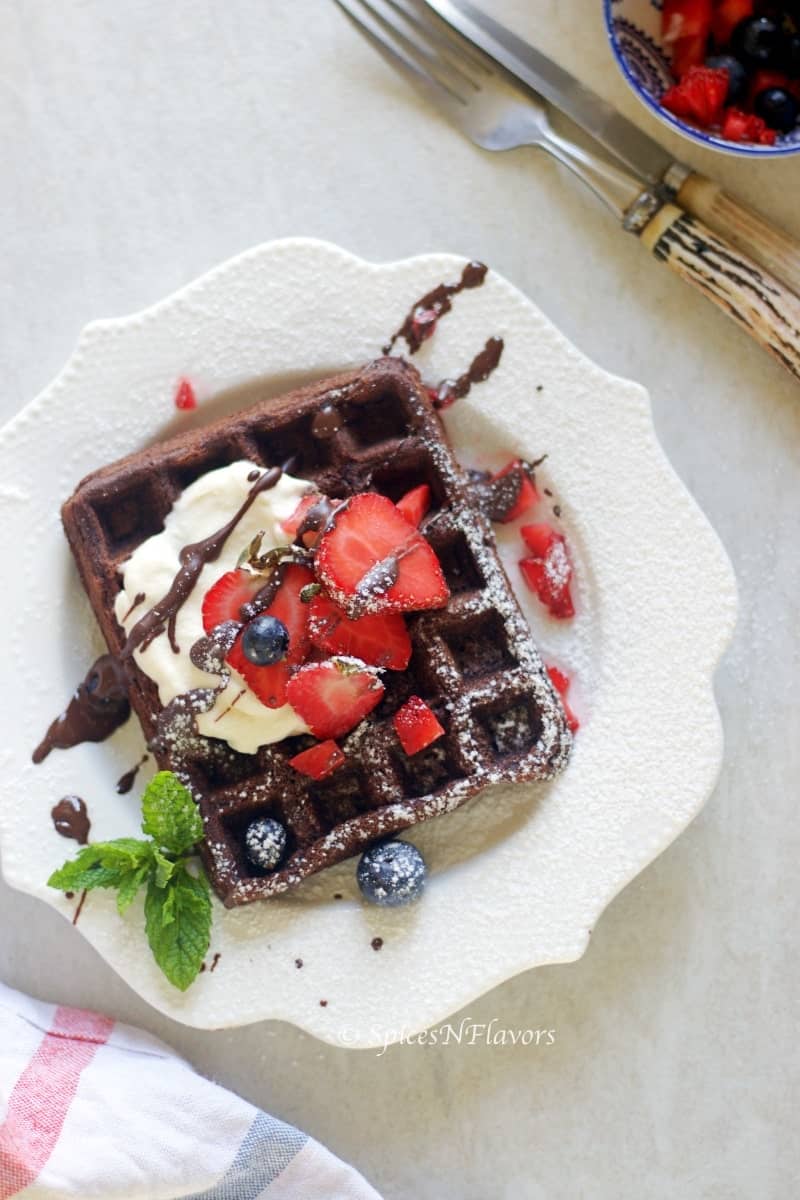 Let's see, how to make Chocolate Waffles from scratch.
Liked this recipe?
Let us know by giving it a star rating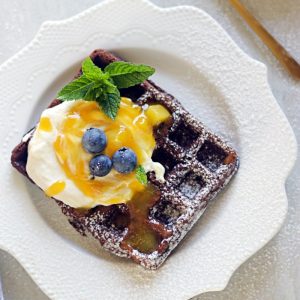 Print
Chocolate Waffles
Forget Bisquick or any cake mix waffles, as making your own BEST Homemade fluffy EGGLESS CHOCOLATE WAFFLES is now so simple. Learn how to make this easy breakfast recipe from scratch in this video post that your family would love to wake up to.
Ingredients
1.5

cups

All Purpose Flour

1/4

cup

Cornflour

1/2

cup

Cocoa Powder

1

tsp

Baking soda

2

tsp

Baking powder

1/4

tsp

Salt

1/2

cup

Sugar

(refer notes)

1.5

cups

Buttermilk

(refer notes)

1/2

cup

Milk

1

tsp

Vanilla

4

tbsp

Oil

2

tbsp

Butter
Instructions
Sift all the dry ingredients - flour, cocoa powder, cornflour, baking soda, baking powder, salt until combined and lump free.

Add the sugar to above and stir to mix.

In a separate bowl combine all the wet ingredients - Buttermilk, Milk, Oil, Butter and Vanilla. Stir to mix and add it to the dry ingredients.

Combine together until mixed. You would get a runny batter.

Brush the preheated waffle maker with some butter and add 1/2 cup of batter in each cavity. Close the lid and allow it to cook for 4 mins.

Take it out and serve warm with the toppings of your choice.
Video
Notes
Check the instructions on your Waffle Maker before you start making waffles. Make sure to pre-heat the waffle maker before starting to make waffles.
The first waffle that you make is always a suicidal waffle. Adjust the amount of batter and colour settings until you get your desired waffle. I use about 1/2 cup of batter in each cavity.
You can absolutely use either buttermilk or milk in this recipe. Same goes for oil and butter. Feel free to read the importance of each ingredient from the paragraph titles Waffle Ingredients from above.
Just like how you are not supposed to open up the oven door whilst the cake is baking, the same rule applies to waffle making as well. Do not open the lid prematurely. 
The waffle on its own is not sweet at all. This makes it perfect for breakfast wherein you can top it up with more additional flavourful toppings like Nutella, peanut butter, strawberries, fruit compote etc.
How to make Homemade Buttermilk?
If you do not have readymade or store-bought buttermilk simply add 1.5 tsp Vinegar to 1.5 cups Warm Milk. Stir and let it sit for 5 mins. And that's your homemade buttermilk all ready to be used. 
How to make Dessert Waffles?
If you wish to make this 

easy waffle recipe for dessert simply increase the amount of sugar to 3/4 cup and then serve it topped with vanilla ice-cream and chocolate sauce.
Did you make this recipe? Tag me today!
Tag me @spicesandflavors to get featured on my FB and Insta pages
I hope you will give this homemade waffle recipe a try this weekend for breakfast, brunch or dessert. Make you Valentine Day's morning special by making them these chocolate waffles with cocoa powder.
Looking for more Valentine Day special inspiration? Check this:
And if you do not have the time then this 11 dessert recipe made in just 10 mins would be super handy to you.
Do share your thoughts with me on Facebook, Twitter or Instagram.
Pin this to your breakfast or dessert board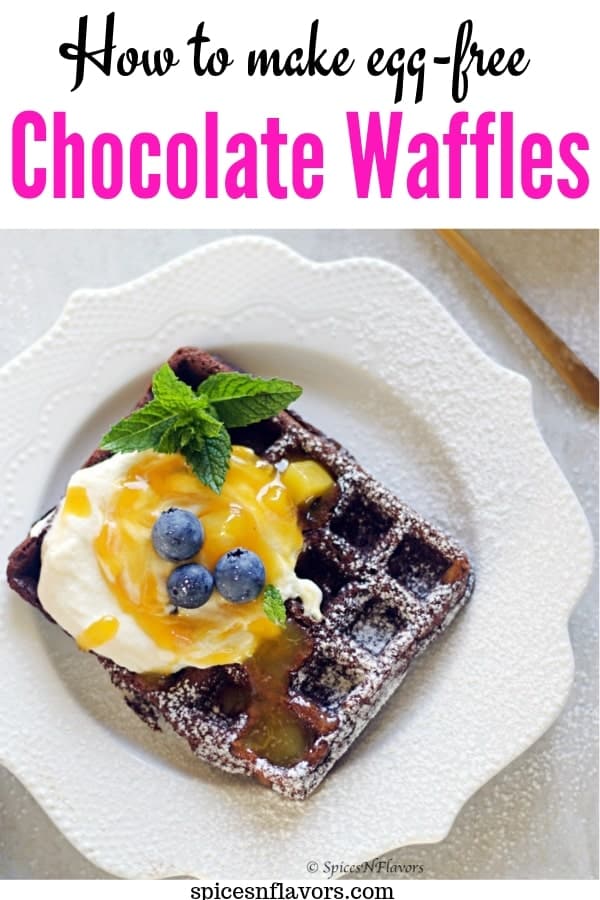 And I will see you in my next one
Until then
Hugs
Sushma