This Gajar Halwa made in an Instant Pot is an Indian Carrot Pudding and is the easiest dessert recipe you could ever come across!!!
Gloriously striking colour, with an enchanting aroma and delectable taste and flavour, these Gajar ka Halwa shots is a perfect go-to dessert for any occasion.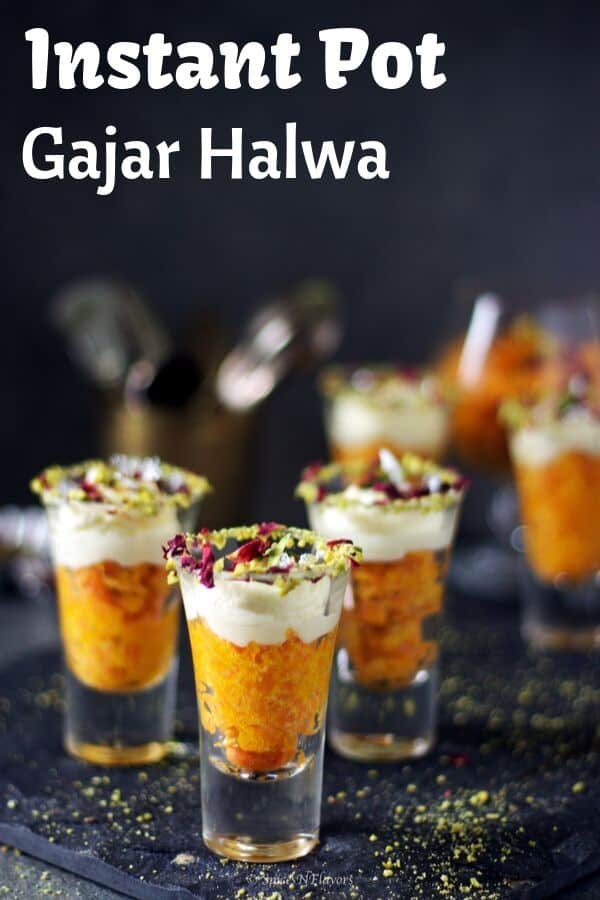 What is Gajar Halwa?
Just wake up any Indian in their sleep and ask them what is your fond memory of Winter season??
The unanimous answer that you would get is Gajar Ka Halwa/Carrot Halwa.
Lol.. Come Winter season and the market is flooded with those juicy red carrots which are ideally used to make this Indian carrot sweet aka Indian carrot pudding..
Everyone will have a memory of their moms and grandmoms stirring carrots in ghee (clarified butter) (ufff.. that aroma..) and eating this hot plain or with a scoop of ice-cream. One carrot sweet recipes that are close to everyone's heart.
Being a traditional recipe, of course, every household has a tale and recipe to it..
Basically it is the Indian version of carrot pudding wherein the grated carrots are slow-cooked by simmering it in full-fat milk and then sweetened with sugar. Flavouring with cardamom powder and cooking in desi ghee or clarified butter gives it a unique aroma and taste.
When garnished with those chopped nuts, it is one dessert that you would just love.
Different household practises:
Some make the gajar ka halwa with khoya, some make the gajar ka halwa without khoya..
And then grandmoms would swear by stirring the grated carrots in milk and ghee until it is reduced for hours and some like me would cheat and make this gajar ka halwa in pressure cooker or instant pot.
Some would make the carrot halwa recipe with sugar and some would make gajar ka halwa with milkmaid that is basically condensed milk.
No matter which way you choose, Gajar Halwa is basically cooking carrots in milk and clarified butter until it absorbs all the liquid and flavour and then sweetened with a sweetener of your choice to make a warm soothing dessert perfect for this season.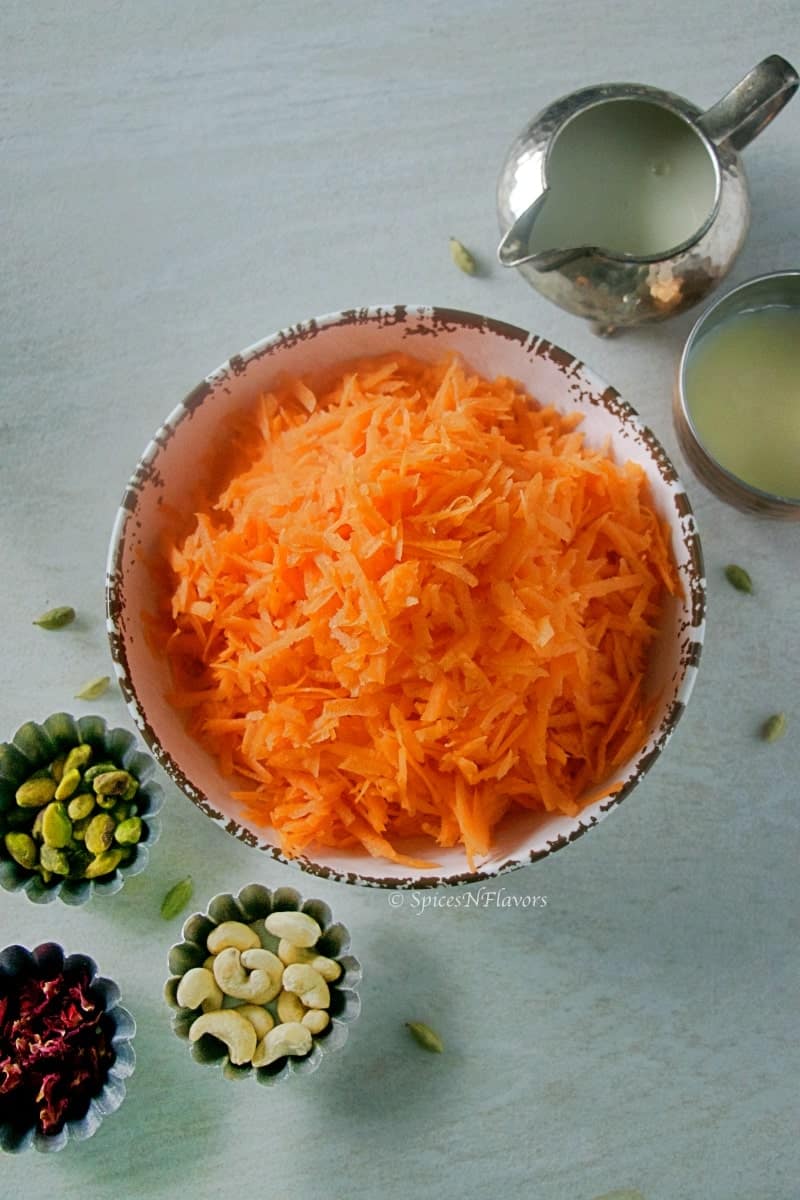 There is a misconception that making Indian desserts is time-consuming and difficult don't worry I am here to break that myth.. Be it this Gajar Halwa recipe or take any of my other Indian sweets recipes like this 15 mins Milk Powder Burfi or Instant Ladoos . Or simply check out this post on
23 indian sweets under 30 mins.. One to be bookmarked.
Here is how to make gajar ka halwa at home in a step by step manner:
Step 1:
Start by grating the carrots using a grater or you can use a food processor to do the job. Set it aside.
Step 2:
How to make Gajar ka Halwa in Instant Pot:
Set your instant pot to saute mode. Add the ghee (clarified butter) and allow it to melt.
Once the display shows hot, roast the cashew nuts until golden brown and set aside.

In the same pot add the grated carrots and saute until it turns soft (around 2-3 mins)
Next in goes the milk and condensed milk. Stir and bring it to a boil.

Cancel the saute mode. Close the lid. Vent to sealing. Pressure cook for 3 mins. Allow NPR for 2 mins and do a quick release. Once the pin drops, open the lid.

There would still be some liquid in it.. that's totally fine.. Just stir it for 3 more mins until it all thickens up and you reach the halwa stage.
Finally, add in the cardamom powder and the roasted cashew nuts and stir. Reserve some nuts for garnishing if you like. And also finish off the remaining ghee.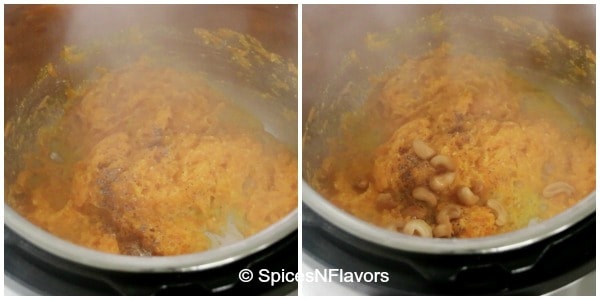 That's it don't know what could be simpler than this recipe..
How to make Gajar Ka Halwa in pressure cooker?
All the steps followed for Instant Pot remains the same in this case as well.
Just that instead of saute mode, you have to set the gas on medium flame.
And for pressure cooking timings, pressure cook for 1 whistle then lower the flame and let it cook for additional 2-3 mins.
Let the pressure release naturally instead of quick-release unlike the instant pot or electric pressure cooker. That's it 🙂
Please note:
I have made this Gajar ka Halwa without khoya or mawa because that is how I prefer it to be. If you would like to make the gajar halwa with khoya then definitely add it once you open the lid and stir.
Also, you can use regular sugar in place of condensed milk, again you will have to add the sugar after opening the lid and then wait for it to melt and thicken again. That means the time taken to make this Indian gajaracha halwa would be more than what is mentioned in the recipe card.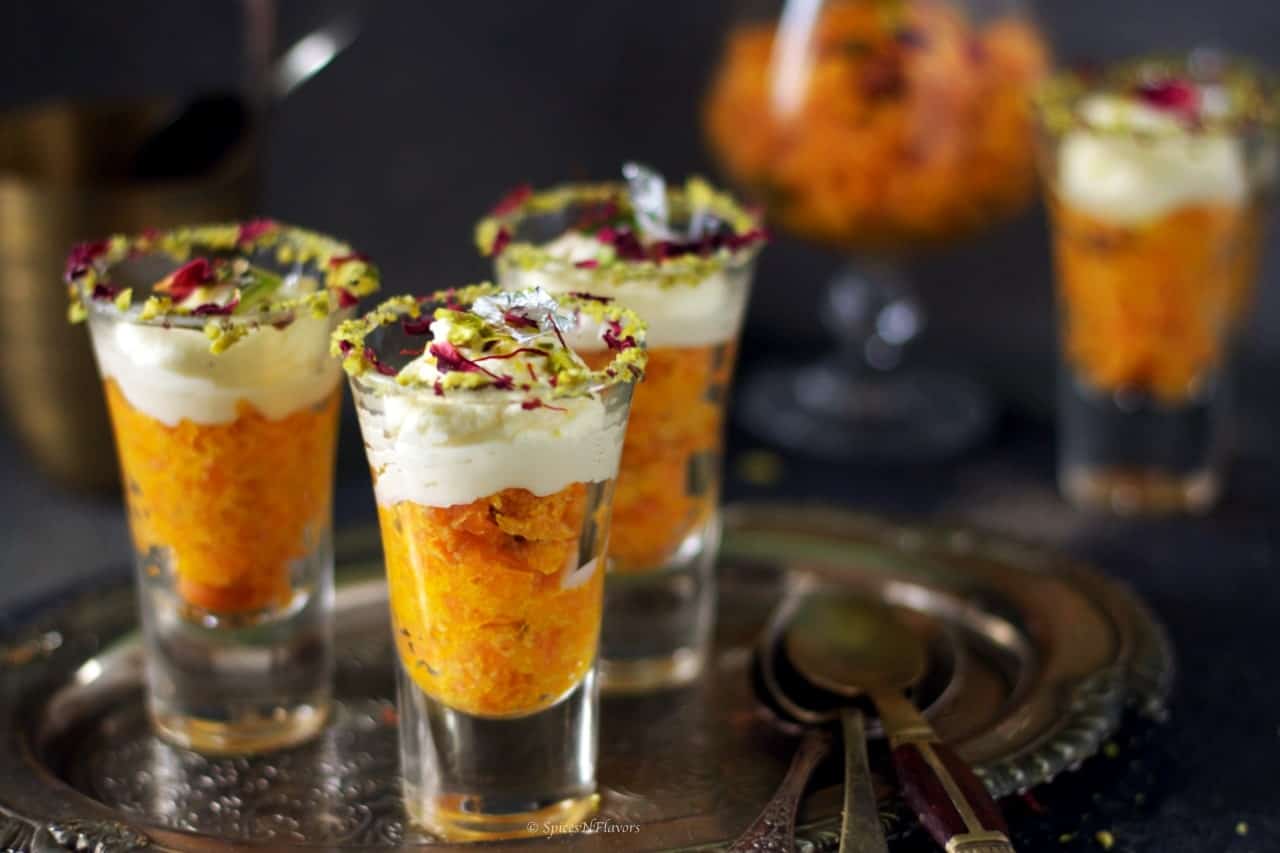 My Mom's 5 tips to make the perfect Indian Carrot Dessert - Gajar Halwa.
Ghee (Clarified butter) - Do not even think of cutting down the ghee or replace it with butter or oil. For the best results always use ghee to make any Indian dessert or Indian sweets recipe.
Carrots - Juicy, Tender and Young carrots work best for this recipe. Usually, red carrots are preferred to make this carrot halwa recipe but it is not available easily in NZ or even in the USA for that matter.Even in India, it is available only in winters. And so let us use the orange carrots itself but make sure to choose the ones that are juicy and not too mature or fibrous. Never chop the carrots. Always grate them using a grater or a food processor.
Sauteing - the carrots in ghee for 2-3 mins gives the best results. There are contradictions to this over the internet and like I said this is one recipe that would vary from one household to another in India. As per my mom, sauteing in the first place yields a better result and I love the way she makes this halwa and so I follow her with no questions asked 😀
This tip is something that I do which is to add 1 to 2 tsp of ghee right before you are ready to switch off the flame. It gives a nice aroma to the dish.
Always use full-fat milk for this recipe. Please, no low-fat versions.
3 variations of making the Gajar ka Halwa:
The traditional way of Slow Cooking the Carrots - Traditionally the grated carrots are simmered in milk and then reduced down until it absorbs all the milk then sweetened with sugar. Now, this method of slow cooking would yield the best ever results but hey I am not in a position to spend hours stirring the carrots in pot.. phew..Alternatively, you can also make the carrot pudding in the slow cooker that means you would be saved from continuous stirring.
Gajar ka Halwa with Condensed Milk - This is the recipe that I have shared with you all today. Using condensed milk totally reduces the time spent on making this Indian sweet recipe yet yielding the same results in terms of taste and flavour.
Gajar ka Halwa with Khoya - This method is used for special occasions as it makes the carrot pudding tastes super-rich. However, I prefer to make gajar ka halwa without khoya because I do not like desserts that make you feel heavy. I like to enjoy a full bowl of warm Gajar Halwa at one go.. do not judge me and adding khoya would make it heavy and you cannot have more than 3-4 tbsp at a go.Alternative people also add milk powder or almond meal to the halwa to mimic the flavour of khoya without heaving down the dessert. 
How to serve this Indian Carrot Pudding:
Usually, Gajar ka Halwa is served warm in a bowl topped with nuts of your choice.
It can also be served hot along with a scoop of vanilla ice-cream. yum..
Or to make it look grand or fancy you can follow the way I have served it in shot glasses or in a jar.
Can we reheat Gajar Halwa and how to store them?
Yes, I just transfer the halwa to a microwave-safe bowl and reheat them every 30 seconds interval and eat it warm.
To store them just put it in an air tight container and store in the fridge for 2-3 days.
Here is how to

how to make gajar ka halwa in pressure cooker or instant pot:
Liked this recipe?
Let us know by giving it a star rating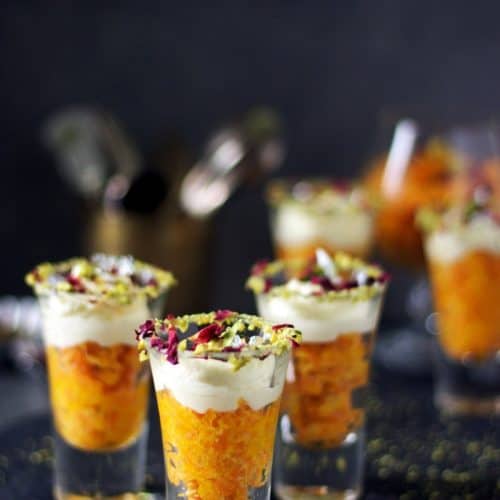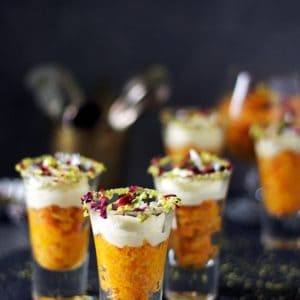 Print
Instant Pot Gajar Halwa Shots
Gajar Halwa is a traditional Indian dessert wherein the carrots are slow-cooked in milk and then sugar. Today sharing a shortcut with you all using Instant Pot without actually losing the taste or flavour profile.
Ingredients
500

gms

Carrots

peeled and grated

1/2

cup

Milk

Full fat

1/2

cup

Sweetened Condensed Milk

5

tbsp

Ghee or Clarified Butter

10

cashewnuts

1

tsp

Cardamom Powder
Instructions
How to make Instant Pot Gajar Ka Halwa
Start melting 3 tbsp of ghee in the Instant Pot using the Saute mode.

Once the display reads HOT, add in the cashew nuts and roast until golden brown. Take it out and set aside. (If you like raisins you can roast them until plump at this stage and keep that aside too.)

Add in the grated carrots and saute them for 2-3 minutes until they turn a little soft.

Next in goes the milk and condensed milk. Stir and bring it to a boil. Do keep stirring in between to avoid burning of carrots as well as milk sticking to the base of the pot.

Once it starts boiling. Cancel the saute mode. Put the lid on. Vent to sealing position. Using manual or pressure cook mode set the time to 3 mins.

Allow 2 mins of NPR and do a quick release. Once the pin drops immediately open the lid and stir everything. You would still see some liquid do not worry just stir for another 4-5 mins and the carrots would absorb all of it and begin to thicken.

At this stage add the cardamom powder and the roasted cashew nuts. Reserve some nuts for garnishing if you like. Give a final stir. And just before switching it off add the remaining 2 tbsp of ghee and stir them too.

Your delicious gajar ka halwa is ready.
How to make Gajar ka Halwa in pressure cooker.
All the steps remain the same.

Instead of Saute mode just keep the cooker on medium flame.

For Cooking Time: Give 1 whistle on medium flame, after which lower the flame to low and cook for additional 2-3 mins. Switch off the gas and allow it to release pressure naturally.
How to make Gajar ka Halwa Shots
Like mentioned you can serve the halwa warm or hot along with vanilla ice-cream in a bowl.

For the shots, make sure to cool the halwa before assembling.

Coat the brim of your shot glasses with some ghee and dunk it in coarsely ground pistachios and dried rose petals.

I used a piping bag to fill the glasses with halwa to 3/4 of its size and topped it with softly whipped cream. Garnish with some chopped pistachios, rose petals, saffron and edible silver foil.
Notes
This recipe is perfectly sweetened enough for us. You can always do a taste test once you open the lid and add more condensed milk if you feel the need to.
Three key things to remember is that - do not cut down on ghee, use full fat milk and grated carrots.
Do stir the carrots every now and then to avoid the chances of it sticking to the base and burning eventually.
I have flavoured the whipped cream with rabdi essence like we did in our Gulab Jamun Cake. However you can use plain vanilla essence too. 
In place of condensed milk you can use sugar but you will have to add it once you pressure cook the carrots. So a time consuming step as open the lid after pressure cooking, add the sugar - wait for it to melt and thicken again. 
If you want to add khoya add it along with the cardamom powder and cashewnuts and stir. Milk powder or almond meal can also be used instead of khoya. 
The whipped cream used to top the jars is:  simple dairy whipping cream and sugar that is whipped to soft peaks. You can also use the store bought cool whip or readymade whipping cream to top it off which I had done while making it for a potluck party. 
Did you make this recipe? Tag me today!
Tag me @spicesandflavors to get featured on my FB and Insta pages
Conclusion:
This Gajar Halwa is a popular Indian dessert that is usually made during winters using red carrots..
The striking colour, the aromatic carrots and a delectable rich taste make this dessert a unique one to try.
I have made few changes to the traditional recipe by making this gajar halwa with condensed milk, without khoya and cooking it in a pressure cooker thereby making this dessert ready in flat 15 mins without the compromise on taste.
Used shot glasses to serve them as I am a huge fan of fusion Indian desserts which you might have guessed from my No-bake Thandai Cheesecake post or be it my Gulab Jamun Cake recipe.
I hope you would give this easy peasy Indian dessert a try and if you do please let me know by tagging me, tweeting me or Instagram me. I would love to follow you and your posts.
Pin this to you Desserts board or Instant Pot board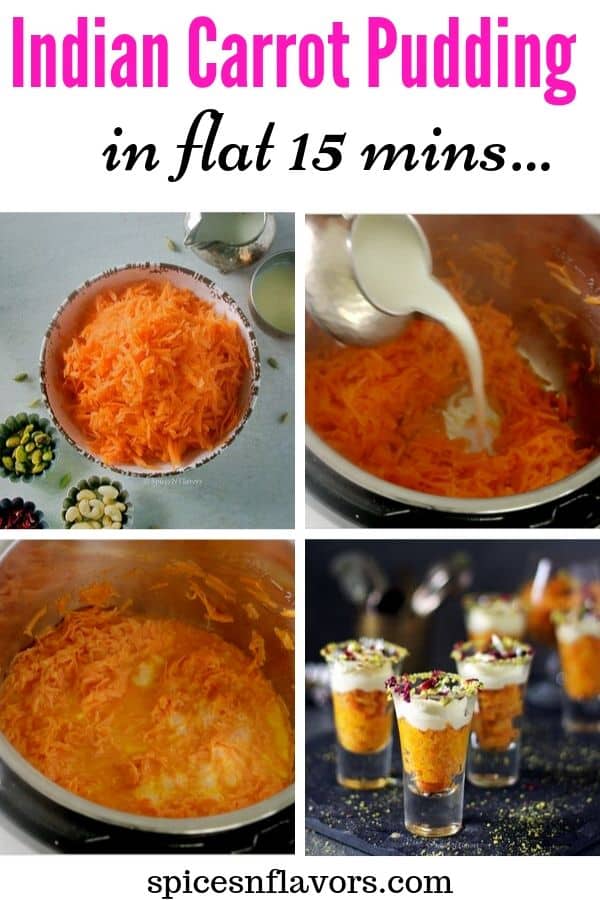 I will see you soon with yet another one
Until then
Hugs
Sushma