Read along to check out all the mistakes that I did which you can avoid!!!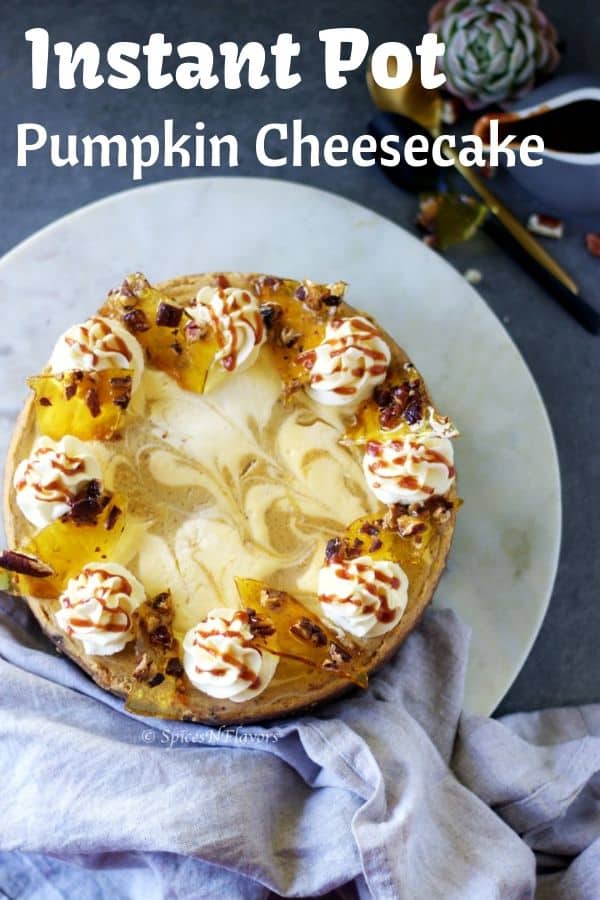 Easy Pumpkin Cheesecake: Epic Fail or Pass
The Internet world is show business. Don't you all agree?
Those flawless Instagram feed with beautiful scenic locations, picture-perfect pout (I am still figuring out whether it should be a duck face or fish face) anyways those beautiful tempting food pictures (a dream feed). A lot goes beyond getting that one perfect shot.
Why am I blabbering all this.. Lady, no one asked you this.. I know some of you might be having this question on your mind 😉
Lol..
So it so happened that the other day when I was shooting this evergreen and classic Fall favourite dessert - pumpkin swirl cheesecake recipe I had a couple of other things to tackle as well like I had a cake order (yes.. that's passion I am a home baker too 😀 ) and we also had invited a family for lunch.
Naturally when you have so many other things to cook you are bound to make mistakes.
And yes I did commit mistakes which is exactly what I am going to address in this post so that you don't do it.
After going through the post do let me know whether I managed to salvage the cheesecake or not 😉
4 mistakes that I made which you can potentially avoid:
1. 6 inch instant pot cheesecake:
I made my nutty pecan crust layered on the pan. Poured the smooth and silky cheesecake filling on top just to find out that there was hardly any headspace left. (Note that cheesecake do rise a bit while cooking or baking). But still, since I had a couple of other things to tackle as well I went ahead and popped it in the IP. Even after 50 mins of cooking time, I realised that the cheesecake was not cooked and to add to that it had started to spill out of the pan.
What a shame!!
Wastage of my time and the ingredients. Sigh!!
Lesson learnt: If you are planning to make a cheesecake using 16oz Cream Cheese in a 6-inch cake pan, make sure that it is tall enough with a minimum height of 3 inches or else you will face this situation. #facepalm. Or simply scale down the recipe starting with 11oz Cream Cheese.
This particular recipe is a perfect 7-inch pumpkin cheesecake recipe.
2. Brown Sugar or White Sugar:
Brown Sugar tends a unique flavour and colour to the baked goodies. This classic flavour goes exceptionally well in Fall-inspired desserts be it pumpkin dessert recipes or apple dessert recipes.
Haha.. but in my hurry burry I ended up using white sugar in place of brown sugar even though yeah let me tell you even though I had weighed each ingredient out and kept it ready near the recording table. But.. anyways #facepalm.
But you go ahead and definitely use brown sugar.
3. Pumpkin Cheesecake Ingredients:
Do you ever find it difficult to follow a recipe word by word?? Have you ever forgotten to add any ingredient while cooking? Do share your funny moments with me.
I did this time I forgot to add vanilla essence to my Cheesecake Batter. Damn!! Though I rectified it while making Instant Pot Pumpkin Cheesecake in Jars.
And with that I can say that little essence just elevates this no-bake pumpkin cheesecake recipe so definitely do include it.
4. P
umpkin Marble Cheesecake or Pumpkin Swirl Cheesecake:
Yes, I am a cake decorator and I simply enjoy watching my cakes look elegant and classy. So how can I make a simple spiced pumpkin cheesecake? I had to do something different right!!
Lol.. Well not to consider this as self boosting or over-confidence.
There are a lot of things that I do not know yet. I tried creating that swirl pattern on top of the pumpkin cheesecake only to realise that I am still an amateur and need little more practice.
This is what I learnt from my mistake:
Do not go overboard with the swirling or else you will end up blending the colours.
Leave a margin around the edges. Since the cheesecake rises a bit while cooking the colours get mixed and the pattern is not clearly visible then. Check out my video for the same.
I did use a bit of orange colour to get a mix of orange and white swirl on top but it seems you would need lot more colour to get that effect like the ones in my individual pumpkin cheesecake jars.
Also, I used way too much batter to create the swirl on top. Little goes a long way.
When the pumpkin cheesecake just came out from the Instant Pot I thought I had failed and would cover up all the flaws by adding homemade caramel sauce on top 😉 But then decided to actually share it with you so that you do not do what I did 🙂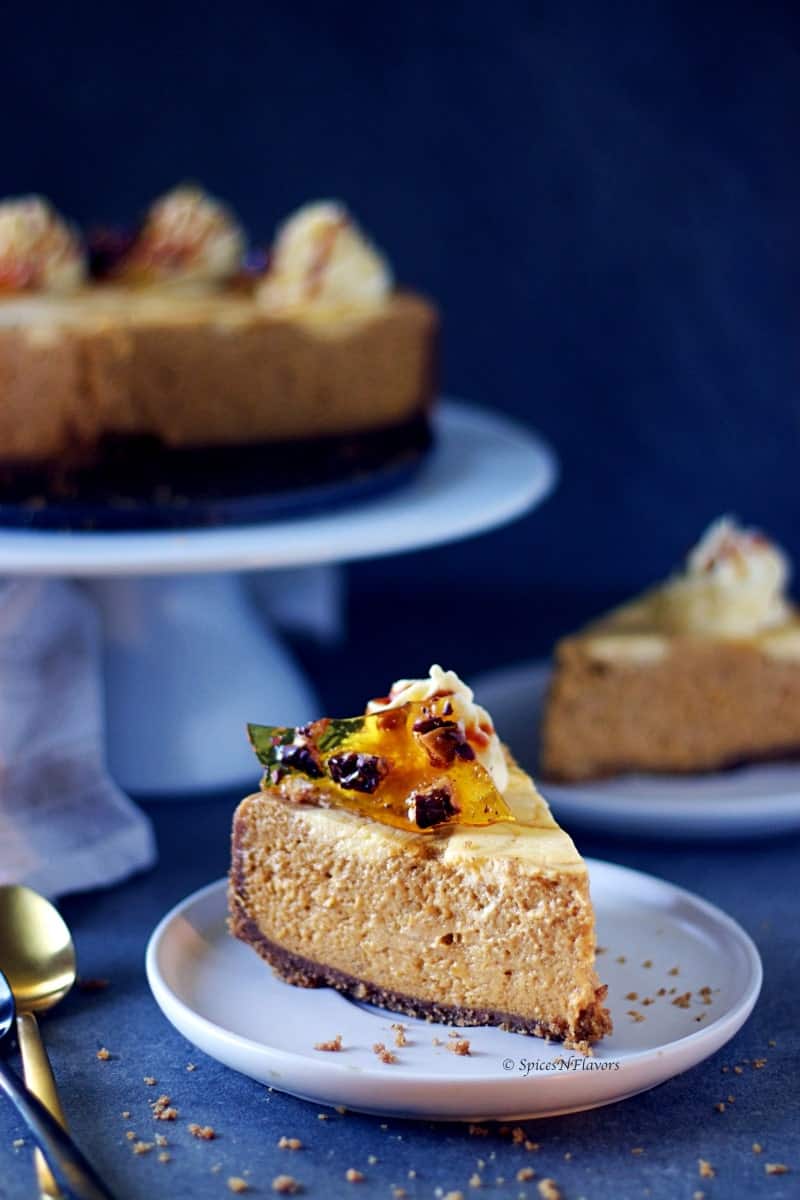 Variations of Instant Pot Pumpkin Cheesecake:
Crust Variations:
Pumpkin Cheesecake with Gingersnap Crust:
Gingersnap biscuits are an ideal crust to make a pumpkin cheesecake. Ginger and Pumpkin is a great flavour combination. I love it in soups specially.
Anyways if you do not find it in where you live you can do what I did which is:
2. Pumpkin Pecan Cheesecake Crust:
I have used digestive biscuits here; you can also go for graham crackers. And add some roasted pecans to it along with pumpkin spice. That nutty crust flavour is so addictive. A must-try.
Please not to make it nut-free simply skip the pecans and it would still taste delicious.
3. Oreos:
Well, one of the most common biscuit bases to use in most cheesecake recipes is Oreos especially in combination with a chocolate flavoured cheesecake. I used this in making the Instant Pot Pumpkin Cheesecake jars as I took it a step ahead to decorate for Halloween as well. A classic combination of Orange and Black.
4. Go Bold - Crustless:
If you are someone who is not a big fan of crusts you can skip making it entirely.
Smooth and Creamy Filling Variations:
Since this is an easy pumpkin cheesecake recipe please do not ask me for substitution of pumpkin.. 😉 (just kidding.. 😛 ) By the way did you know making pumpkin puree in the Instant Pot is the easiest way ever and I would soon be sharing my method of making it so definitely keep an eye.
And yes if you are using store-bought ones make sure to use pure pumpkin puree and not pumpkin pie filling for this recipe.
My classic Cheesecake recipe calls for lemon juice in place of sour cream. But this time I tried this recipe using sour cream instead and honestly the role of both the ingredients is pretty much the same and I also couldn't find any difference in terms of taste.
I also skipped the pumpkin spice powder while making the mini pumpkin cheesecake jars as I wanted to get that Halloween look from the same.
Topping Variations:
I have topped this best Instant Pot Pumpkin Cheesecake with simple whipped cream dollops, homemade salted caramel sauce and pecan praline.
The other options would be:
Whipped Cream with some sprinkles.
Whipped Cream with Pumpkin shaped chocolates that are the mellow creme autumn mix that is available in the market now.
Cream cheese whipped cream.

Pumpkin cheesecake with caramel sauce is totally to die for. If not caramel sauce you can also make a maple glaze, butterscotch sauce or dulce de leche.

Another simple option would be whipped cream with crust crumbs. Whatever biscuit base you are using simply crush it and add it to the top as I have done with the instant pot mini pumpkin cheesecake jars.
Now that brings us to: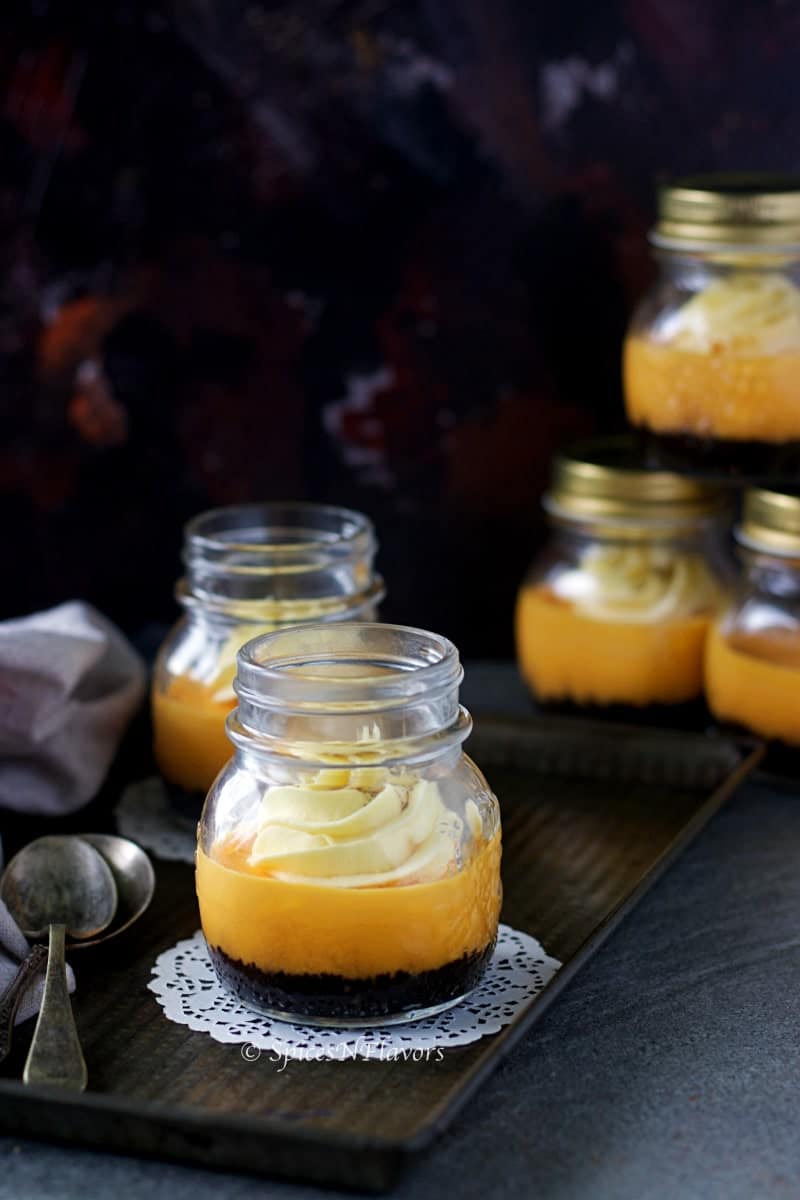 Instant Pot Pumpkin Cheesecake in Jars:
If you are following this space you know I absolutely love Instant Pot Cheesecake in a Jar. It is economical, saves time, energy and also portion-controlled. I have talked more about it in my Instant Pot Cinnamon Roll Cheesecake in a Jar. Another fall favourite dessert you must check out.
Honestly, I had no plans of making the instant pot mini pumpkin cheesecake.
However, I did want to make some spooky Instant Pot Halloween recipes that are not too scary and which can be made with your kid too.
And voila.. these too when combined made a deadly combination.
So simply halve the recipe and you would get 5 cheesecake jars that are so adorable and cute. Don't you think?
If you are looking for some instant pot thanksgiving dessert recipes then definitely this is the one.
Pumpkin + Individual portion-controlled cheesecake = perfect Fall dessert.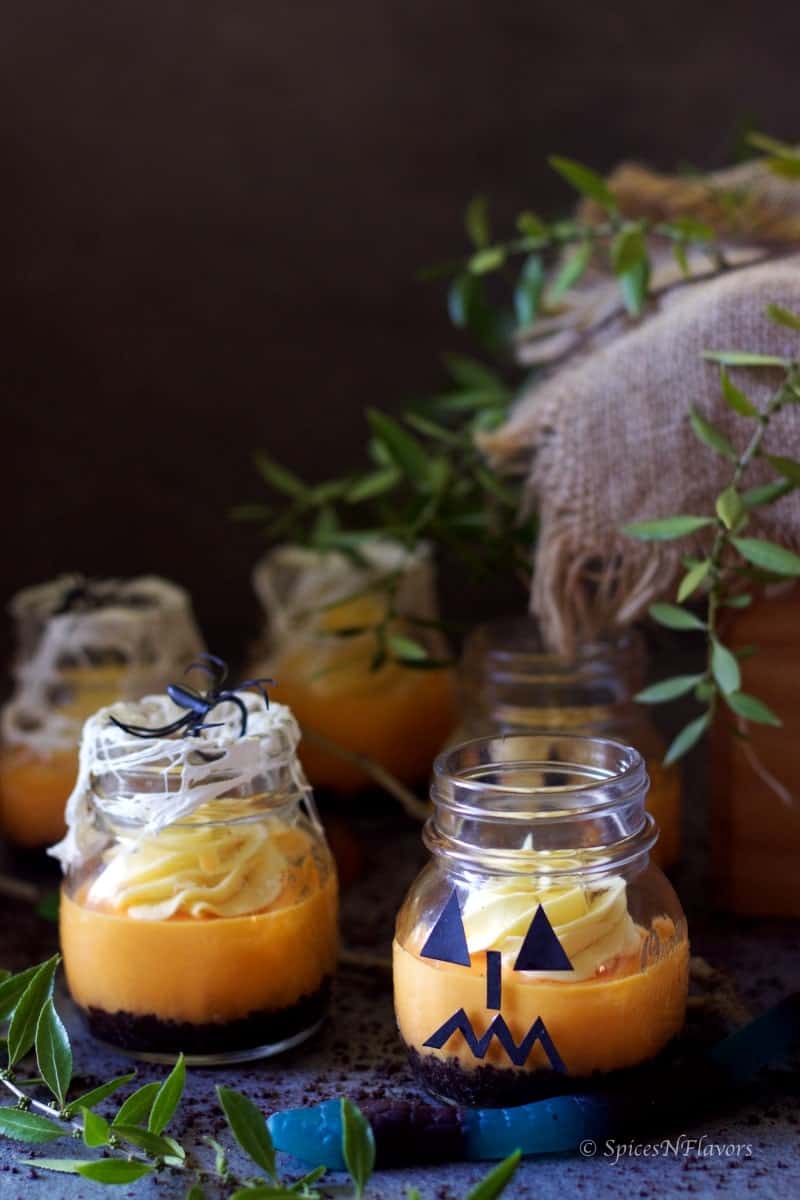 Halloween Cheesecake Jars:
A simple tweak to your cheesecake jars and you have a beautiful dessert that you can actually make this Halloween.
Honestly, Halloween is something that I have not grown up with.. I adapted it after I moved to New Zealand so it is a totally new concept to me. I started with a simple Spider Web Cake last year and that's when I got hooked to making new interesting Halloween desserts.
I have few more Halloween dessert recipe ideas that I will be rolling out soon here.
For today let us see some spooky and not too scary idea:
Halloween Spider Web Cheesecake:
To make these you will need the cheesecake jars, marshmallows and spiders that's it.
So follow the recipe, decorate it as you like and keep everything ready.
Melt the marshmallows in the microwave for 10 sec and while it is still hot (won't be too hot) with the help of your fingers stretch them out and immediately place on top of the jars.
Now I know its a messy job (wear gloves if you like) but a MAJOR TIP for you guys is to act quick here. As if the fondant sets it would be hard to stretch it out and more than that it would not leave your fingers 😉
So once you have covered the top of the cheesecake jars by stretching the marshmallows simply add the person responsible for all this mess. Haha.. I mean a spider here. 😉 You can also make one yourself with the help of chocolates if you like or simply place a fake one, totally up to you.
If you find that the marshmallows have gone hard and is not stretching and sticking properly. Simply microwave it for another 10 sec and use it.
2. Halloween Monster Cheesecake:
This one is super simple. Even your little ones can do this on their own.
To make it simple make the instant pot pumpkin spice cheesecake and decorate as you like with the toppings mentioned about.
Then on a piece of black chart paper simply cut out little triangles to represent eyes, a zig-zag pattern to represent mouth and a straight like to represent a nose.
Simply ask them to stick it on to the cheesecake jars to make a monster face. And they will be thrilled to help you out in this little Halloween Project :D.
And that's how do you make a pumpkin cheesecake jars into super cute spooky and scary Halloween Jars.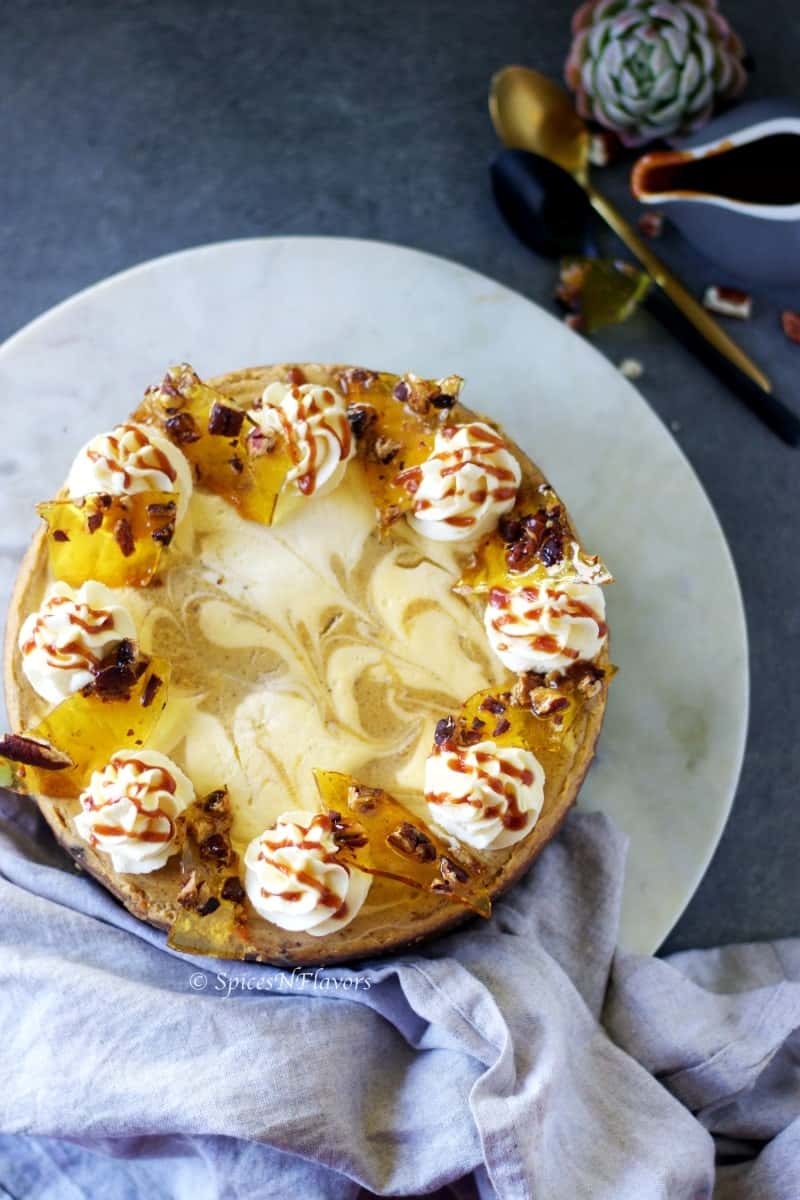 Are you tired of getting cracked tops on cheesecake?
Why did my cheesecake curdle?
Why did my cheesecake turn out lumpy?
If these are some of the questions that you keep on pondering then here are:
My 6 tips to getting perfect cheesecake every single time:
Always and Always use room temperature ingredients to make a cheesecake. It is hard to whip cold cream cheese into a smooth and creamy consistency. This is what leads to the formation of lumps in the batter later on. I have discussed this in my Stabilized Whipped Cream post too, you can check it out if you like.
Once you add the eggs do not whip or beat the batter for long. Just beat it until mixed not more than that. Beating eggs for long-duration creates air pockets which expands while baking or cooking and eventually when it comes out of the oven due to the temperature difference sinks in the middle.
Overheating or over-beating the cheesecake batter after addition of eggs causes over-coagulation of the proteins in the eggs ultimately leading to the curdling of the custard base. So that is one more reason to not beat the eggs too much.
Another precautionary step to avoid the curdling of custard is to add cornstarch or flour to your cheesecake batter. It helps to set the proteins.
Do not press down the crust too much or else you will find it difficult to slice them once the cheesecake sets.
Always and always let stand the cooked cheesecake at room temperature for a while and then place in the fridge for final chilling which helps to set the cheesecake completely.
I have shared a detailed step by step tips in my previous two cheesecake posts. You can check that too if you like. Linking it here for your quick reference:
Here is the recipe for How to make Instant Pot Pumpkin Cheesecake. Well, I have also included the oven method for you guys.
Liked this recipe?
Let us know by giving it a star rating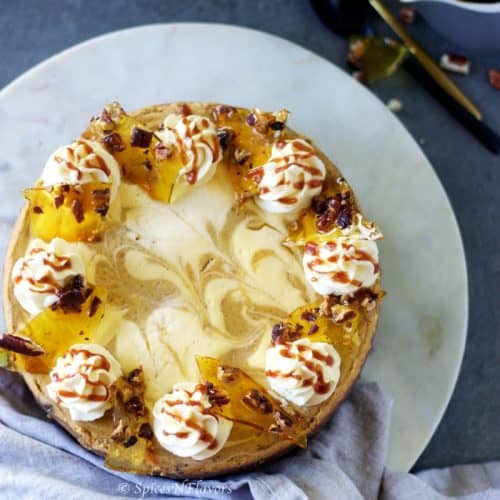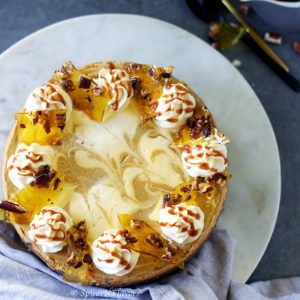 Print
Instant Pot Pumpkin Cheesecake
Add spice to your Holiday desserts recipe with this Easy Pumpkin Cheesecake that just screams Fall in every bite. Made in an Instant Pot this is a perfect no-bake dessert with a smooth and creamy filling, pecan crust and topped with homemade salted caramel sauce. Have also included oven version too.
Ingredients
Cheesecake Crust
1

cup

Biscuit Crumbs

2

tbsp

Sugar

1/4

cup

Toasted Pecans

1

tbsp

Cinnamon or Pumpkin Spice Mix

4

tbsp

Melted Butter
Cheesecake Base
16

oz

Cream Cheese

1/3

cup

White Sugar

1/2

cup

Sour Cream

2

Eggs

1

cup

Pumpkin Puree

1/3

cup

Brown Sugar

1

tbsp

Cornflour

1.5

tsp

Pumpkin spice Powder

1

tsp

Vanilla Essence
Caramel sauce and Praline for decoration
Instructions
Cheesecake Crust
In a mixer pulse together the biscuit crumbs, sugar, cinnamon or pumpkin spice powder, pecans until it is mixed together.

Add in the melted butter and pulse again till it resembles wet sand-like texture. To test it press a handful of the crumbs in your palms, it should stay together without falling apart.

Spray a 7-inch springform pan with some oil and transfer the prepared biscuit crumb mixture to it. Press it down so that it lines the entire base as well as take some to the sides of the pan.

Allow it to chill for 15 mins or until you prepare your cheesecake batter.
Cheesecake Batter
In a bowl, whisk together the pumpkin puree, brown sugar, cornflour, pumpkin spice powder and vanilla until smooth and lump-free. Set it aside.

In a separate bowl, whisk the cream cheese until smooth and creamy.

Whisking continuously add in the sugar and whisk till combined.

Next goes the sour cream and mix that too.

Time for Eggs. Add one at a time. That means to add an egg, whisk to combine and then add the next and whisk that as well.

Before we proceed further, take out 1/3 cup of the batter and keep it aside to create the beautiful swirl pattern on top later on.

To the rest of the batter add the prepared pumpkin puree mix and combine together.

Transfer this to our 7-inch cake pan. Smoothen the top. Add dollops of the plain cheesecake batter here and there from the 1/3 cup batter that you had set aside.

Using a skewer create random lines, zig-zag pattern to create the swirl effect.

Prepare the sling as shown in the video. Place the pan on top.

Add 2 cups of water to the base of the pot using the cup that came along with the pot. Place the trivet and then the cheesecake pan.

Close the lid. Vent to sealing position. Set the timer to 35 mins using the Manual mode or Pressure Cook mode. Once the timer goes off, allow the pot to depressurize naturally.

Take the cheesecake pan out and allow it to come to room temperature. Then place it in the fridge for a minimum of 4 hours to set completely or preferably overnight.

Decorate with whipped cream, caramel sauce and praline or as per your choice.
How to make Instant Pot Pumpkin Cheesecake in Jars
Start by halving the recipe. This would yield 5 to 6 "4 oz" mason jars depending upon how much batter you fill in each jar.

All the steps remain the same. The cooking time will be 5 mins instead of 35 mins as mentioned for the 7-inch springform pan. All the other instructions remain the same.

If you would like to get a step by step instruction on how to make this in jars then you can check my previous post - Instant Pot Mint Cheesecake in a Jar for the same.
How to make Cheesecake in the oven
Take a baking tray and place your cake pan on top of it. Fill it halfway through with boiling hot water.

Bake in a preheated oven of 180°C for 65 to 80 mins until the sides are set and the centre still jiggles a bit.

After the baking time, do not immediately open up the oven door, open it just so lightly by placing a kitchen towel in between so that the door is slightly opened.

Let the pan sit in there for another 1 hour and then take it out and chill in the fridge for a minimum of 4 hours.
Notes
I have used plain old digestive biscuits as my base. You can use graham crackers or even gingersnap biscuits. If using gingersnap biscuits avoid the cinnamon powder or pumpkin spice powder mentioned in the ingredients.
This recipe is perfect for a 7 inch cake pan which fits perfectly well in a 6 quat or 8 quat instant pot. 
I live in NZ and got these cute little mason jars from a local shop but these are available on Amazon under the brand name Quattro Stagioni.
Make sure to use room temperature ingredients.
How to make Halloween Cheesecake Jars
First of all start by using Oreos in place of digestive biscuits or graham crackers.
Next in the above recipe I skipped the pumpkin spice powder in the cheesecake batter and also added a good amount of orange food colouring.
So this gave me a perfect black and orange colour as desired for Halloween.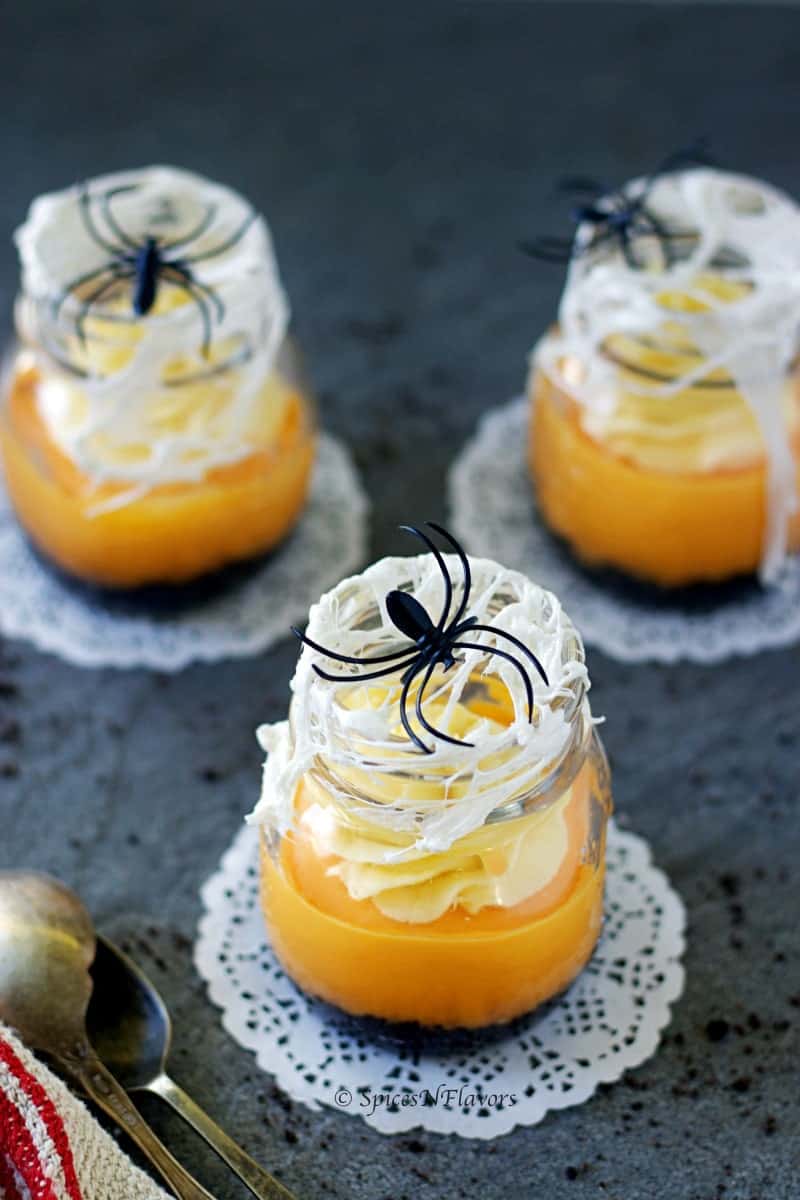 To make the SpiderWeb Cheesecake Jars:
Microwave some marshmallows in the microwave for 10 sec.
Acting quickly take some melted marshmallows in between your fingers and start pulling them apart so that they stretch and create a beautiful spiderweb like patter.
Immediately place them on top of the cheesecake jars. Repeat the process 2-3 times working in a different angle until the top is covered entirely. If in between the marshmallow hardens and you find it difficult to stretch them microwave again for 10 sec and continue.
Finally place the handsome spider responsible for all this mess on top and voila you have your spiderweb cheesecake jar ready for Halloween.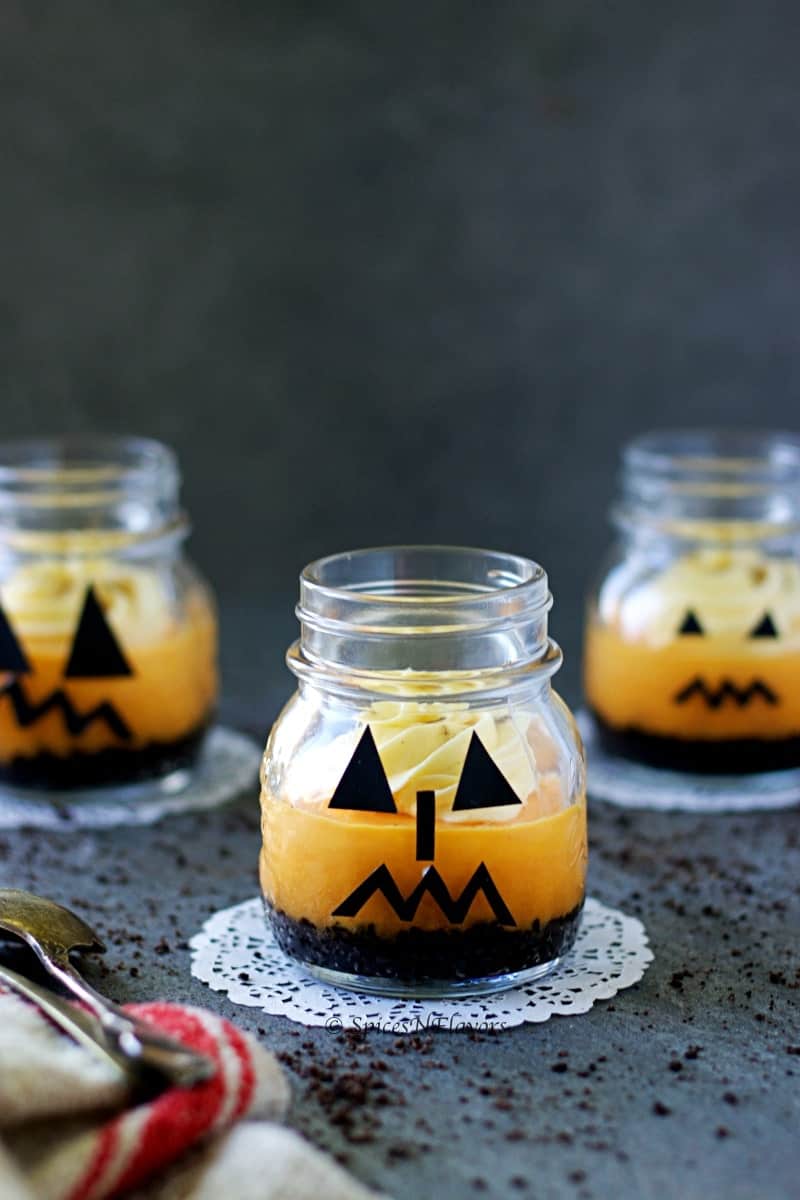 To make Monster Cheesecake Jars:
These are super simple.
Simply cut some small triangles and zig-zag pattern on a black chart paper and stick them on the cheesecake jars.
That's it!! The monster cheesecake jars are ready.
Did you make this recipe? Tag me today!
Tag me @spicesandflavors to get featured on my FB and Insta pages
Conclusion:
A dessert perfect for Thanksgiving, perfect for Halloween, perfect for Christmas!!!
In short, the Fall flavours are bang on in this cheesecake that it would be just the perfect end to your meal this season.
The pumpkin cheesecake itself is not too dense, super creamy and fluffy.
And that nutty crust that's an altogether cherry on the cake.
Topped with whipped cream and caramel sauce this is just a dessert that you ought to try this season. Well, you can also try Instant Pot Cinnamon Roll Cheesecake if you like for this season.
And if you do give any of this a try let me know by connecting with me through Facebook, Instagram or Twitter. Watch the detailed step by step video on Youtube if you like.
Pin this for later to your Instant Pot desserts or Instant Pot Board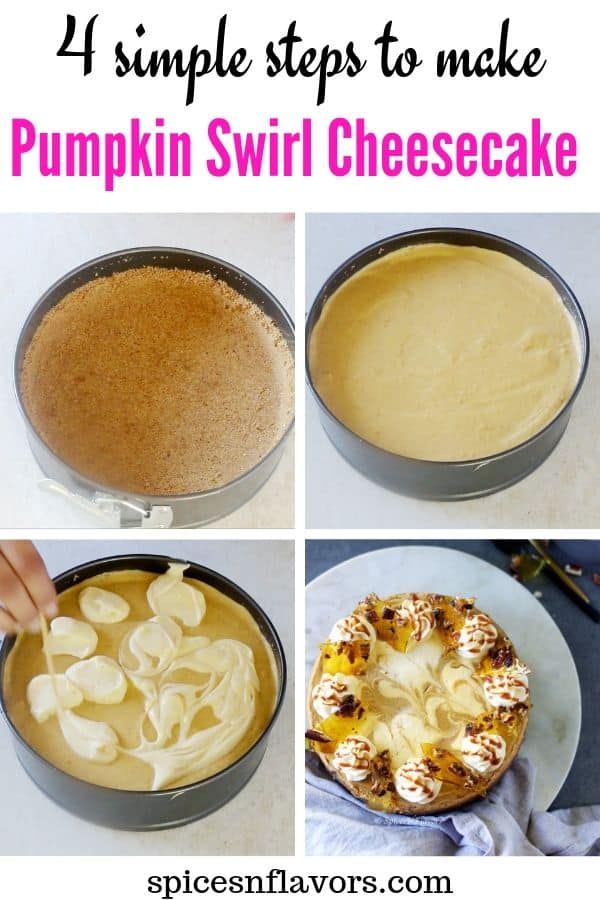 I will see you soon with yet another one
Until then
Hugs
Sushma.