Sourdough discard is an essential component of sourdough baking, but what is sourdough discard anyways, and why is it so important?
In this post, we'll explore the world of sourdough discard, discussing its purpose, why is it important for maintaining a healthy sourdough starter, how to collect it, and easy ways to incorporate it into your favorite sourdough recipes like sourdough bread, quick breads, English muffins to avoid food waste. So, let's dive in and discover the many benefits of this often-overlooked ingredient!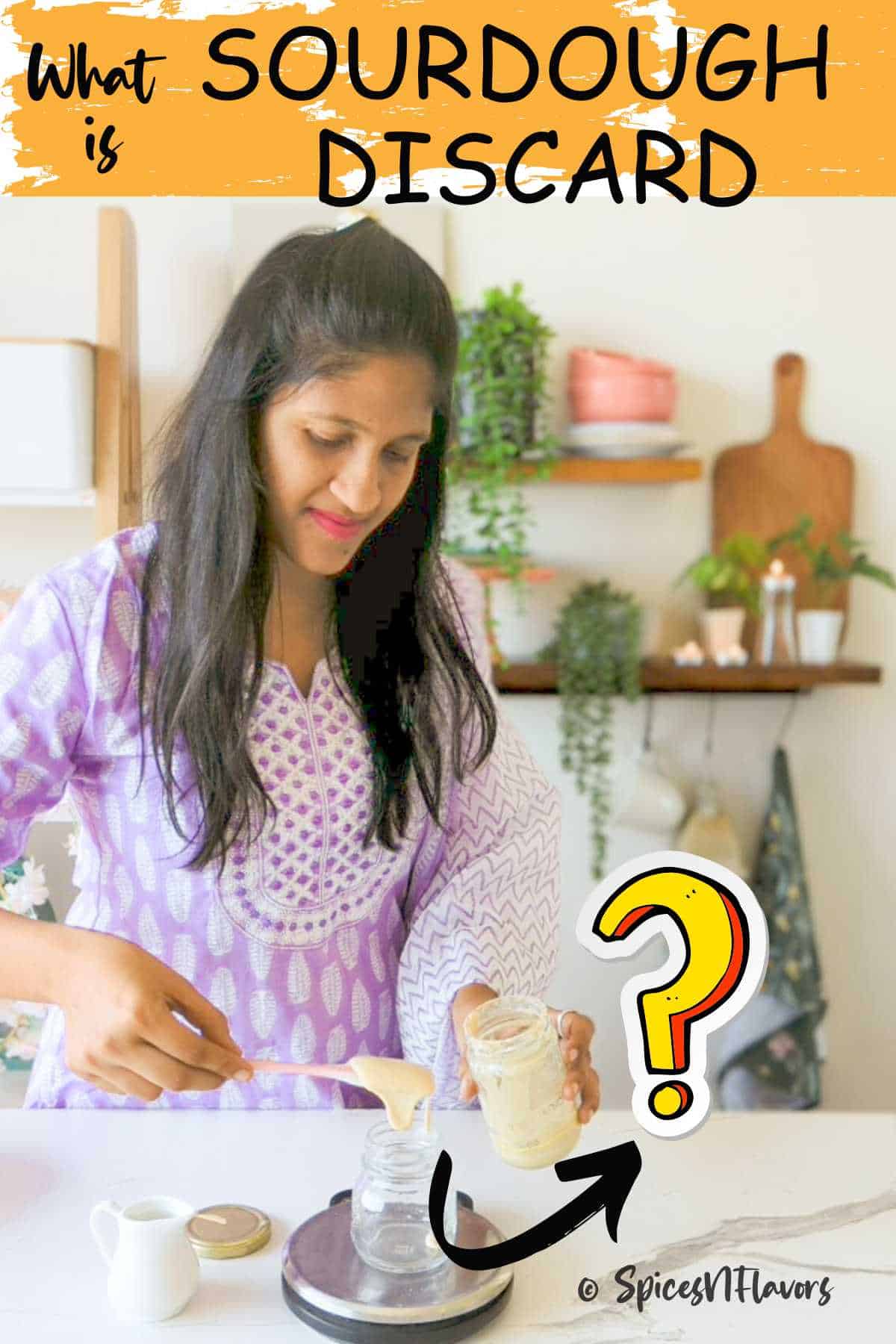 I began my sourdough baking journey in 2020 when grocery supplies were limited and we were in dire need of basics which was not available in the grocery stores
Since I was a beginner myself in sourdough then; I believe if I could do it then anybody can hence I wrote a 15-page blog post on sourdough starter explaining each and every little step you need to know on the basic sourdough terms, how to make it, how to feed it, how to store it and much more.. consider checking it out in your leisure time.
What is Sourdough Discard?
Sourdough discard is the portion of your sourdough starter that is removed and discarded before feeding the remaining starter. It's an important step in maintaining a healthy and active sourdough starter.
But to understand the concept well, you need to first know a few basics of sourdough baking which I have explained in the following two points.
Let's start with
What is Mother Culture?
In sourdough baking, the "mother culture" or "mother starter" is a mixture of flour and water that is left to sit and ferment for several days.
During this time, the mixture becomes populated with wild yeast and bacteria that naturally exist in the environment. Once this fermentation process is complete, the resulting mixture can be used to leaven bread dough and give it flavor and structure.
To keep the mother culture healthy and active, it needs to be regularly fed and maintained with fresh flour and water. 
This helps to ensure that the yeast and bacteria continue to thrive, which in turn helps to produce delicious and nutritious sourdough bread.
Basically, the culture in the jar that you begin with from day 1 onwards is known as your "mother culture".
How to Feed the Starter?
Now that you know it is important to feed the starter regularly to maintain it, let me briefly let you know how is it actually done.
Feeding a sourdough starter is a simple process. Here's how to do it:
Begin by removing a portion of your starter. This is typically done by discarding half of the starter, but you can adjust the amount based on your needs.
Add fresh flour and water to the remaining starter in a 1:1 ratio. For example, if you remove 100 grams of starter, you'll add 50 grams of flour and 50 grams of water.
Mix the ingredients together until well combined.
Cover the starter and let it sit at room temperature for several hours, or until it has doubled in size and has a bubbly, active appearance.
You can then use this refreshed sourdough starter to bake delicious bread and other baked goods. It's important to repeat this feeding process regularly to keep your sourdough starter healthy and active.
Find more details on how to do it every single day from our blog post on sourdough starter.
Starter V/s Discard
To keep you on track here is the gist of the terms.
Sourdough starter is the mix of flour and water that has been left to ferment and develop a natural yeast culture. It's the foundation of sourdough bread baking and is used to leaven bread dough.
Sourdough discard is the portion of the starter that is removed and discarded before feeding the remaining starter.
While the sourdough starter is used to make bread, the discard can be used in a variety of creative ways in your cooking and baking. So, while they come from the same source, their purposes and uses are different.
Why is it important to Discard?
This is the most crucial part of maintaining a healthy starter.
It's important to discard the sourdough starter because as it ferments, it produces acid and bacteria that can affect its quality.
The accumulation of this acidic environment and bacteria in the starter can
Can lead to poor bread quality
And can also make the starter go bad in the long run.
Discarding a portion of the starter helps to maintain a healthy balance of yeast and bacteria in the remaining starter, which promotes its strength and activity.
Additionally, discarding a portion of the starter also helps to reduce the amount of flour and water that needs to be added to the starter during feeding.
For example, you started with 10 gms flour and 10 gms water on day 1.
The starter is usually fed in a 1:1:1 ratio.
So next day, on day 2, you have 20 gms of starter from day 1 and you will further feed it with 20 gms flour and 20 gms water
Now on day 3, you will have a 60 gms starter so you have to further feed 60+60
Day 4: 180 gms starter + 180+180
Can you see how the cycle continues and how it will be impossible to maintain the starter if you do not discard some portion of it?
What are the benefits of Sourdough Starter Discard
Apart from being a good option and more sustainable form of baking, sourdough-baked products are actually good for you when compared to loaf of bread made using commercial yeast.
Regulates pH level: When you discard part of your sourdough starter, you're essentially getting rid of some of the older, more acidic mixture, thereby regulating the pH level of your sourdough starter, leading to a more consistent rise and flavor profile in your bread.
Promotes gut health: The beneficial bacteria found in sourdough starter discard aid in digestion and promote gut health.
Nutrient-rich: Sourdough starter discard is a natural source of vitamins and minerals such as folic acid, iron, zinc, and B vitamins. These nutrients are more easily absorbed by the body due to the fermentation process.
Enhances flavor: The sourdough starter discard adds a unique, tangy flavor to baked goods and savory dishes, enhancing their overall taste and texture.
Overall, sourdough discard can be a delicious and healthy addition to your cooking and baking routine!
So, what are the easy ways to use it?
Here are some easy and delicious ways to use sourdough discard:
Pancakes and waffles: Mix sourdough discard with flour, eggs, milk, and a sweetener of your choice to make fluffy and tangy pancakes and waffles.
Sourdough Crackers: Mix sourdough discard with herbs, spices, and cheese to make flavorful and crispy crackers. This is the easiest way to make good use of discard starter. Simply collect good amount of discard, spread it out evenly on a sheet pan and then bake until crisp. 
Pizza crust: Use sourdough discard in your pizza dough recipe to add a tangy flavor and crispy texture to your crust.
Quick bread: Use sourdough discard in banana bread or zucchini bread for an extra depth of flavor.
Biscuits: Mix sourdough discard with flour, butter, and milk to make fluffy and tangy biscuits.
Other than these common ways to use sourdough discard I personally have also tried few Indian based recipes like Sourdough dosa, 1 ingredient Jalebi, Sourdough appes etc.
Consider checking out the recipes for the same from my Instagram Story.
And while you are there do follow our page for more updates on sourdough baking, regular baking and desserts.
Now you might be wondering, Sushma; would just 20 gms of Sourdough Discard be enough to make all these recipes?
Well for some recipes it might be but the best thing to do would be to collect your Sourdough Discard.
How to Collect Sourdough Discard?
Collecting sourdough discard is a simple process that can be done during regular feedings of your sourdough starter.
And here is how you do it:
Choose a Jar: Just like a starter, a discard also needs to live in glass jar only. Use a separate jar for collecting your discard. This jar can be any size depending on how much discard you plan to collect.
Feed your Starter: Now every time you feed your starter, you would be discarding a portion of it right. Instead of throwing out this portion, simply transfer it to the new jar that you have chosen.
Collect the discard: Depending upon how often you feed the starter, keep collecting the discard in the same jar.
Store the discard: The best way to store the discard is in the fridge for up to a week or freeze it for later use. Just make sure to label the jar with the date and the type of discard.
Now when you are ready to bake you can just grab this discard jar and continue with the recipe.
Since you mainly use sourdough discard as a means to boost the flavour profile rather than as a leavening agent you can use it directly from the fridge too without thawing it.
Can Discard be used to make a new starter?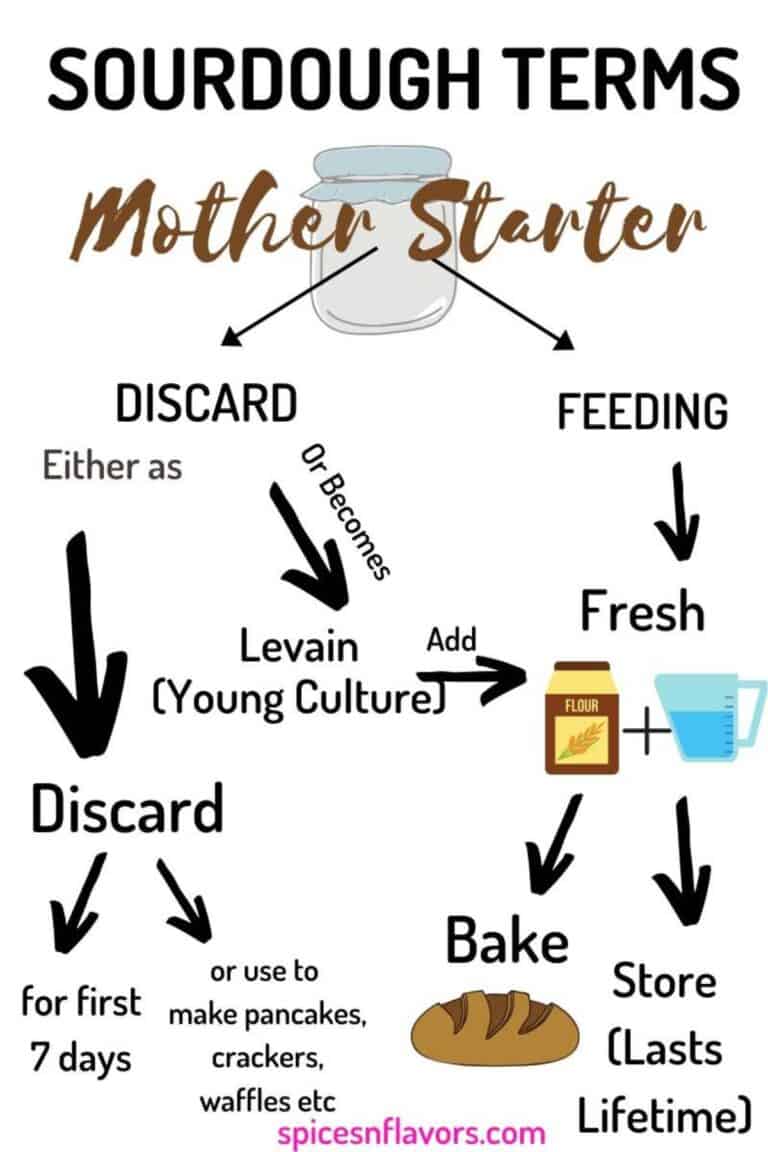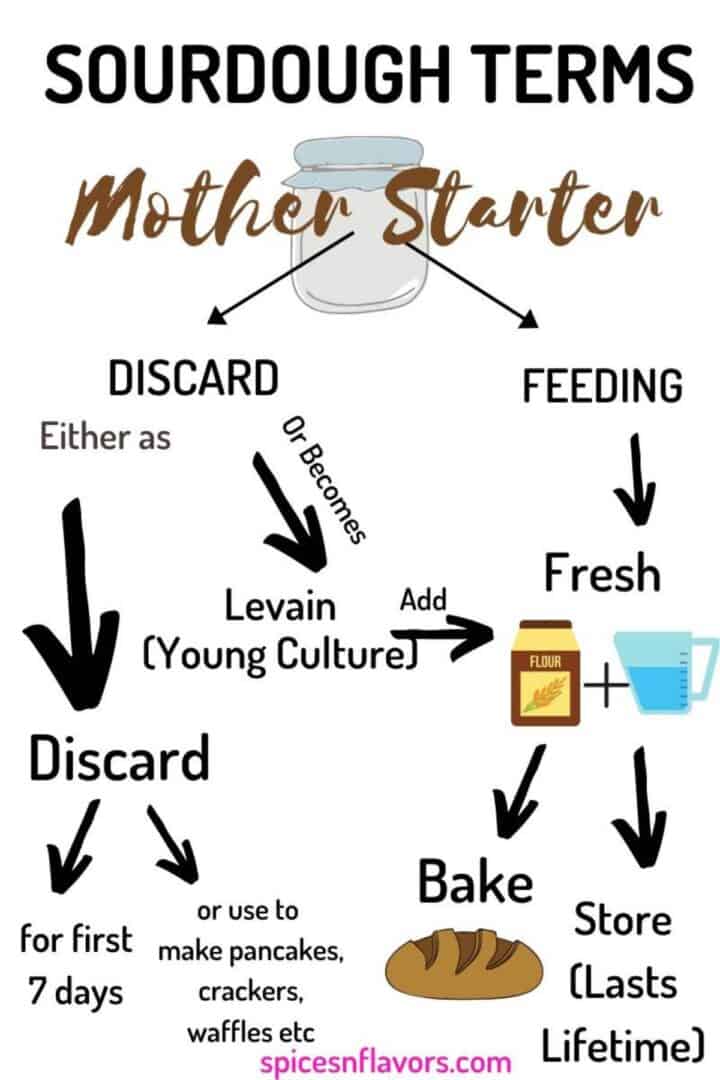 My favorite sourdough discard recipes include turning it into a starter.
Each time when you discard a certain amount of starter from the mother culture, instead of throwing it out collect it in a fresh jar.
To the mother culture feed fresh flour and water and keep it in the refrigerator for further use. So you always have a mother culture ready whenever you want.
And to the discard in the new jar, add the required amount of flour and water to make the levain as the per the bread recipes you want to follow.
So essentially a discarded sourdough starter can be treated as a new starter if you feed it properly and allow it to double.
When is Sourdough Discard Ok to use?
Suppose you are on day 1 of making your own sourdough starter then for the first 7 days you cannot consume the discard.
From day 1 to day 7 throw out the starter that is literally discard them as the name suggests.
Day 8 onwards you can start collecting and using the starter.
But in my personal opinion, I feel that one should start consuming the same only after day 10.
If you have an active starter then in that case:
Sourdough discard is typically safe to use as long as it doesn't exhibit any signs of spoilage or contamination.
If the discard has an off smell or appears discolored or moldy, it's best to discard it and start fresh.
However, if the discard looks and smells normal, it can be used in a variety of recipes to add tangy flavor and nutritional benefits.
In conclusion, sourdough discard is a byproduct of sourdough starter and plays an important role in maintaining a healthy and active starter. It can be used in various recipes, from baked goods to savory dishes, and is a great way to reduce waste in the kitchen. By collecting and storing sourdough discard properly, you can experiment with new recipes and enjoy the benefits of this versatile ingredient.
Have any other queries about what is sourdough discard?? ask me in the comments and I would be happy to help.
Related Recipes:
Wish to Join US for the love of BAKING? Subscribe to our Youtube channel. Follow along on Facebook, Instagram, and Pinterest for all the latest updates!