Sourdough Terminologies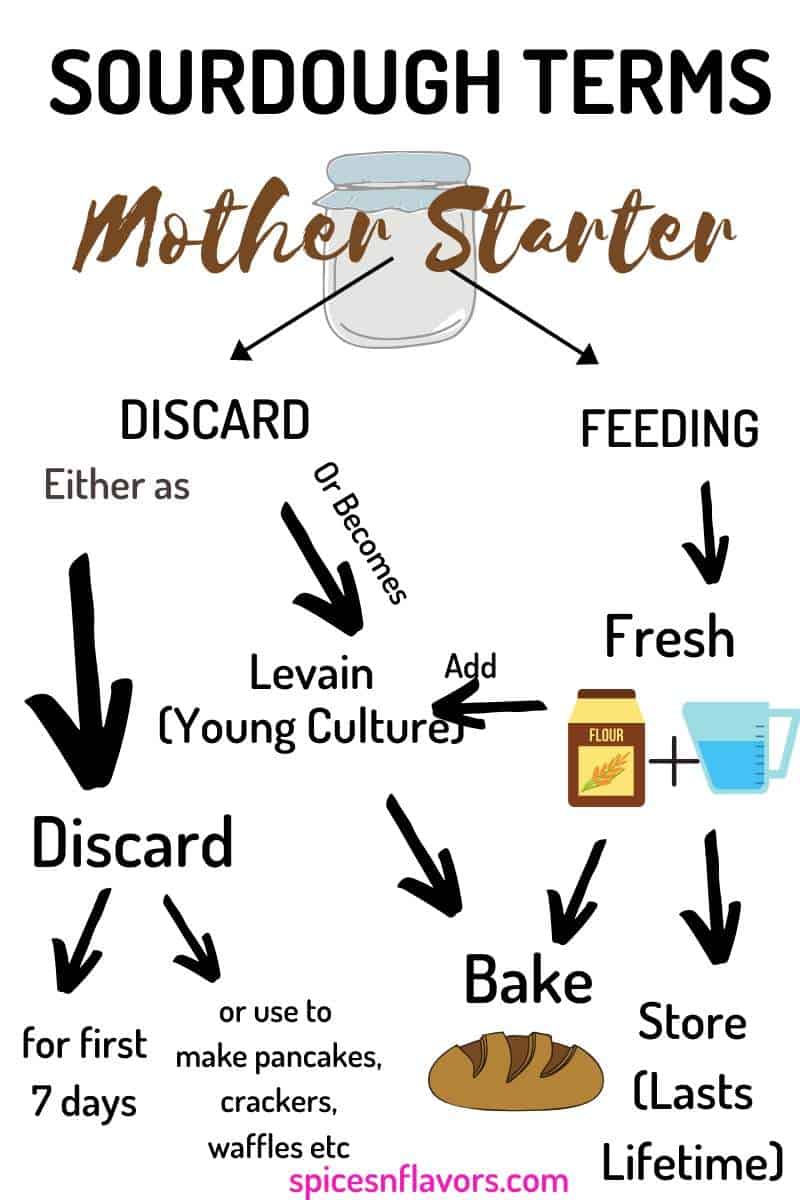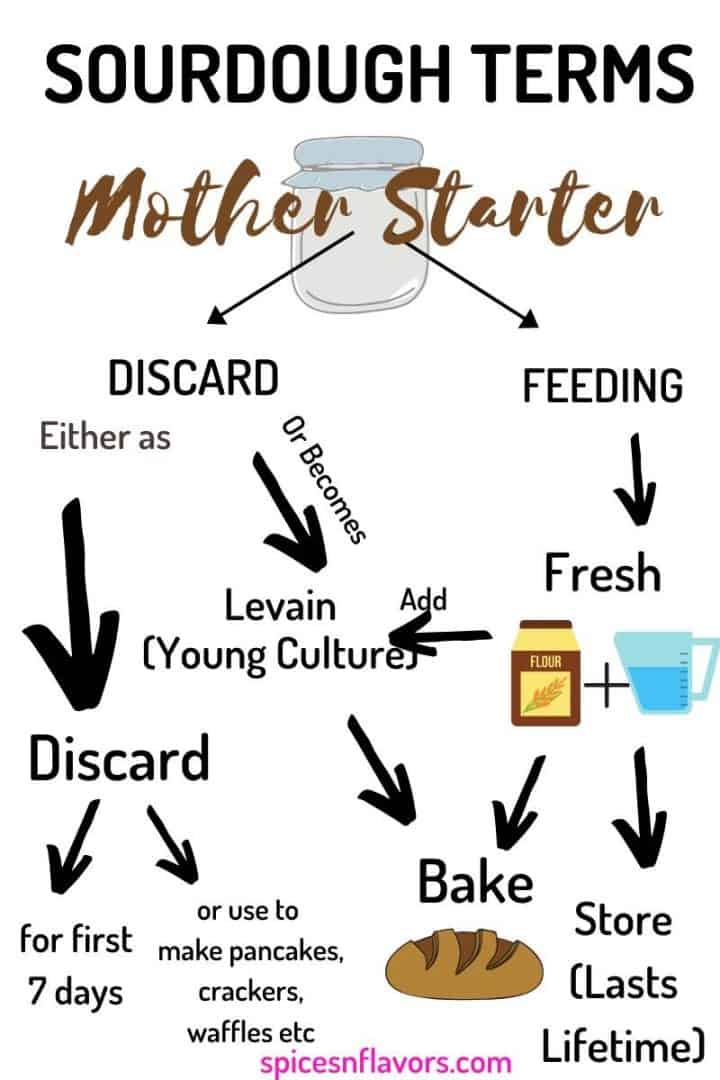 Starter:
A mixture formed by combining water and sugar in a glass jar which is then allowed to ferment and rise by creating gas bubbles.
Mother Starter:
So the starter that you make on Day 1 is known as the mother starter. It is from this mother starter that a portion is taken out and used in recipes by adding fresh flour and water.
Discard:
A portion of the starter is removed from the mother starter before feeding it with fresh flour and water so that the yeast never goes hungry and has a continuous supply of food.
You need not throw away the discard you can use it to make pancakes, crackers, waffles etc.
Check out this post on what is sourdough discard for more details.
Fermentation:
The time duration in which the yeast is allowed to absorb the sugar and form carbon dioxide. This process also creates an acidic environment which makes sure that the bad bacteria are all killed.
Feeding:
The act of adding fresh water and flour to the mother starter every single time is known as Feeding.
Levain (Young Starter):
You will never use the entire Mother Starter to make a recipe as that is what you will preserve for a lifetime!!
Always a portion is taken out from the Mother Starter to be used in recipes.
Example: If you need 120 gms of Starter to make a loaf of Sourdough Bread then you will take out 20 gms from the Mother Starter and add 50 gms Water and 50 gms Flour to it.
And allow it to rise for 6-12 hours.
This newly made starter is known as Young Starter or Levain and this process of rising is known as Leavening.
Hooch:
A brown line appearing in your starter indicating that the starter is hungry and needs more feeding.
Hydration:
A Sourdough Bread is always made in reference to calculating the Hydration - also known as Baker's Percentage.
Hydration represents the percentage of water to flour ratio in terms of weight.
In general the water to flour ratio to make a starter is always 100 percent so equal amounts of water and flour.
(More about how to calculate Baker's percentage while making a Sourdough bread later). For now understand that hydration means the percentage of water to flour.
Example: 70 percent hydration means if the weight of the flour is 1000 gms then the water in the dough is 70% of 1000 which is 700 gms.
If you would like to take examples of the bread that we have done so far (non sourdough) then white bread recipe stands at 60% hydration whereas ciabatta bread is at 80 % hydration.
The more the hydration the difficult it is to handle the dough.
Autolyse/Autolysis:
Autolyse is a technique where in the flour and water is combined until you see no bits of dry flour left (that is the flour is well hydrated) and is then allowed to rest for a while.
This resting period increases the elasticity in the dough making it easier to work, knead or shape, thereby creating a loaf with better texture, rise and flavour.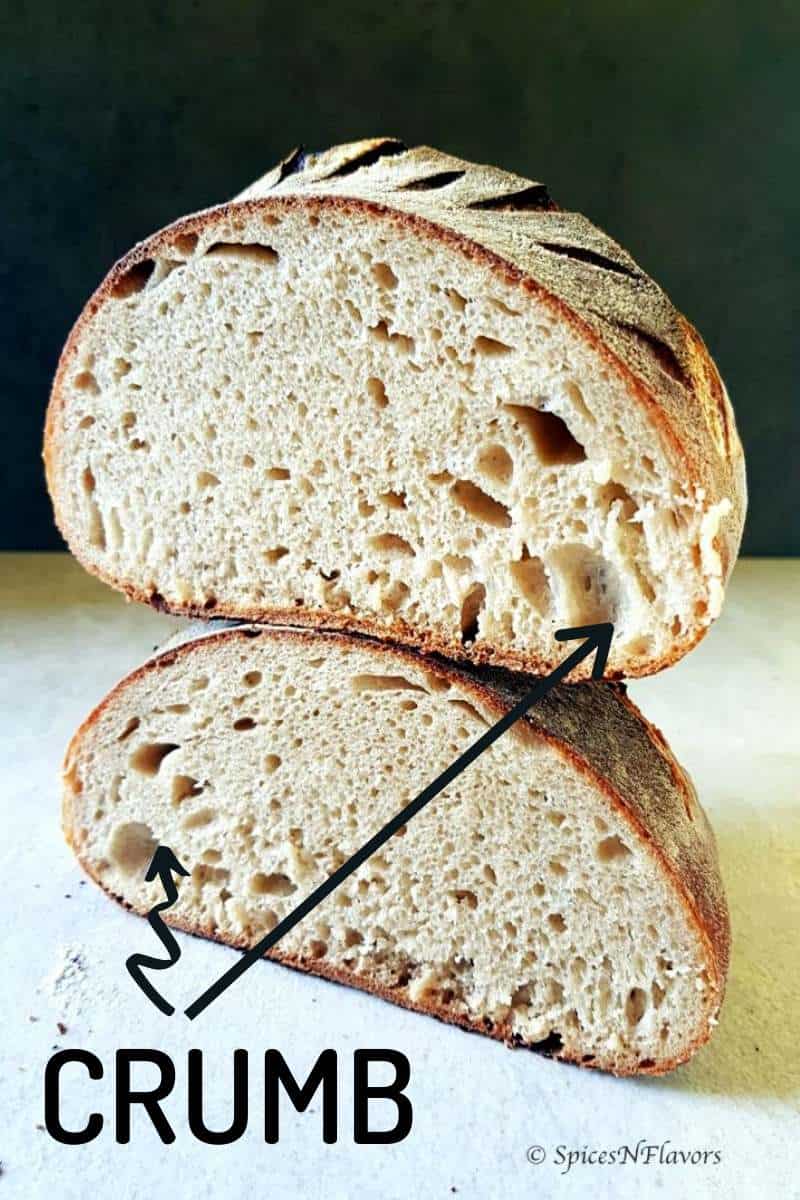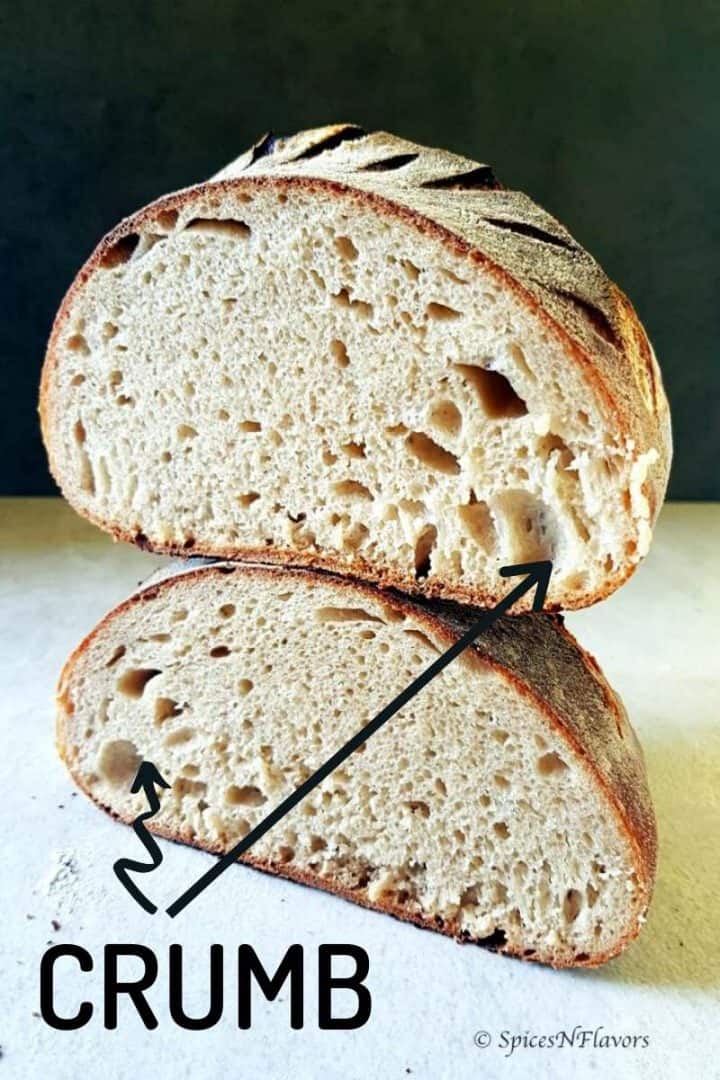 Crumb:
It is simply another word for the texture of Sourdough Bread.
Open Crumbs indicates large airy pockets indicating that the dough was well hydrated.
Tight crumb as the name suggests is heavy and dense without any air pockets.
Proofing:
The time given for a dough to rise.
There are two proofing involved in general:
Bulk Fermentation: This is the process after mixing the starter and before shaping when the dough is allowed to proof in bulk.
Second Proofing: After the bulk fermentation the dough is divided into two or three depending upon the recipe, shaped and allowed to rise again.
Bench-Rest:
The sourdough bread is allowed to rest on the counter-top in the pre-shaping process. That stage is known as Bench-Rest.
Retarding:
Slow Proofing of the dough is known as Retarding.
Usually occurs in the fridge over-night as cold temperature tends to slow down yeast activity.
Boule and Batard
Batard is the bread loaf that is oval in shape whereas boule has round shape.