What is a Sourdough Starter??
A million dollar Question there right!!
Well, think of it as your PET!! It is a live culture after all..
If I had to explain in a lay man's term then we can say that it is a Live Yeast.
Till now you might have used Fresh, Instant or Active Yeast which is available commercially to make your bread.
What did our ancestors use before the commercialisation of YEAST?
They made their own Yeast.
You might be able to relate it to our good old Idli-Dosa Batter here (Indian Crepe Batter) wherein we allow the rice and lentils to ferment overnight what we are doing there is capturing the wild yeast.
That is the same concept applied here to make the Sourdough Starter.
Basically it is a fermented mixture made out of flour and water, which contains micro-organisms like wild yeast and lactobacilli.
To put it in simple terms a starter is a combination of flour, water, wild yeast, and bacteria that live in symbiotic harmony.
You absolutely need some leavening agents in your bread or cakes to make the bread or cake rise and bake.
This is the job of the WILD YEAST here.
Bacteria provides the characteristic acidic (sour) flavour to the bread.
But the Wild Yeast needs Food to feed on and multiply.
Where does the food come from?
The Wild Yeast feeds on the sugar present in the flour, starts thriving and multiplying - produces gas that is Carbon Dioxide as a byproduct.
The gas (Carbon Dioxide) is what causes the Bread to rise.
This gas bubble gets trapped by the protein network commonly known as "Gluten strands" which is formed by mixing flour with water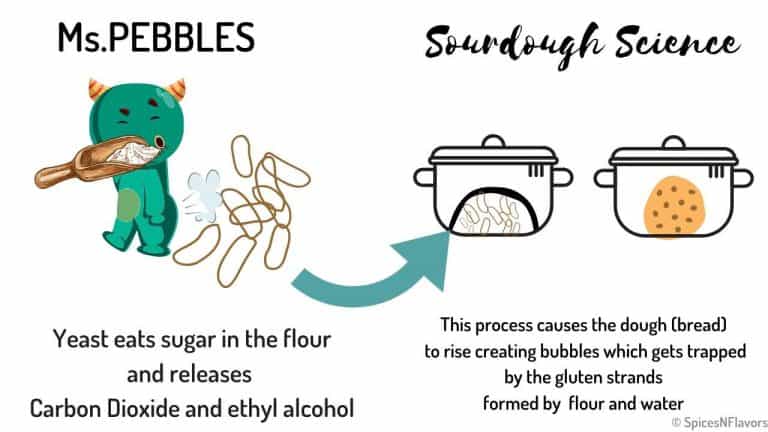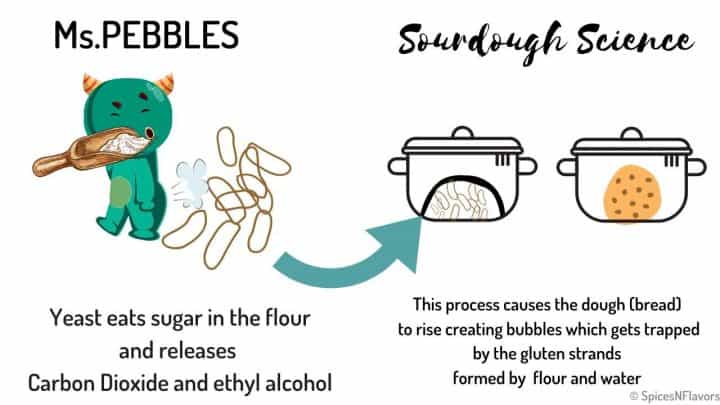 Is it That Difficult to make a Starter?
Absolutely Not..
Take a sip of your coffee and read along.
All you need is Flour and Water.
Seems so intimidating especially if you are a beginner but relax
It is not at all complicated.
You have to remember that it is like a new born baby (in real sense), each baby is different and so is each starter.
No two starters are the same.
There are a couple of factors that causes the difference:
The type, brand and quality of the Flour
Temperature of water
Climatic conditions
We will discuss this in detail in tips condition.
Unless you use HOT WATER there is no way you are going to kill your starter.
So be brave.. hop onto your kitchen and make the STARTER RIGHT NOW!!!
If you get stuck at any point, please feel free to email me or DM me on Instagram I am always ready to help.
We had an amazing group of people come together in this journey with me. I would love to have you onboard too.
And that is pretty much what a Sourdough Starter is.
Let us see few commonly used Terms so you understand what I am talking about.