Ok What?? Yes you read it right.. This Eggless Mango Mousse Recipe is made without using gelatin or agar agar and needs just 3 ingredients and 10 mins of your time.
The only dessert recipe you need to try NOW!!!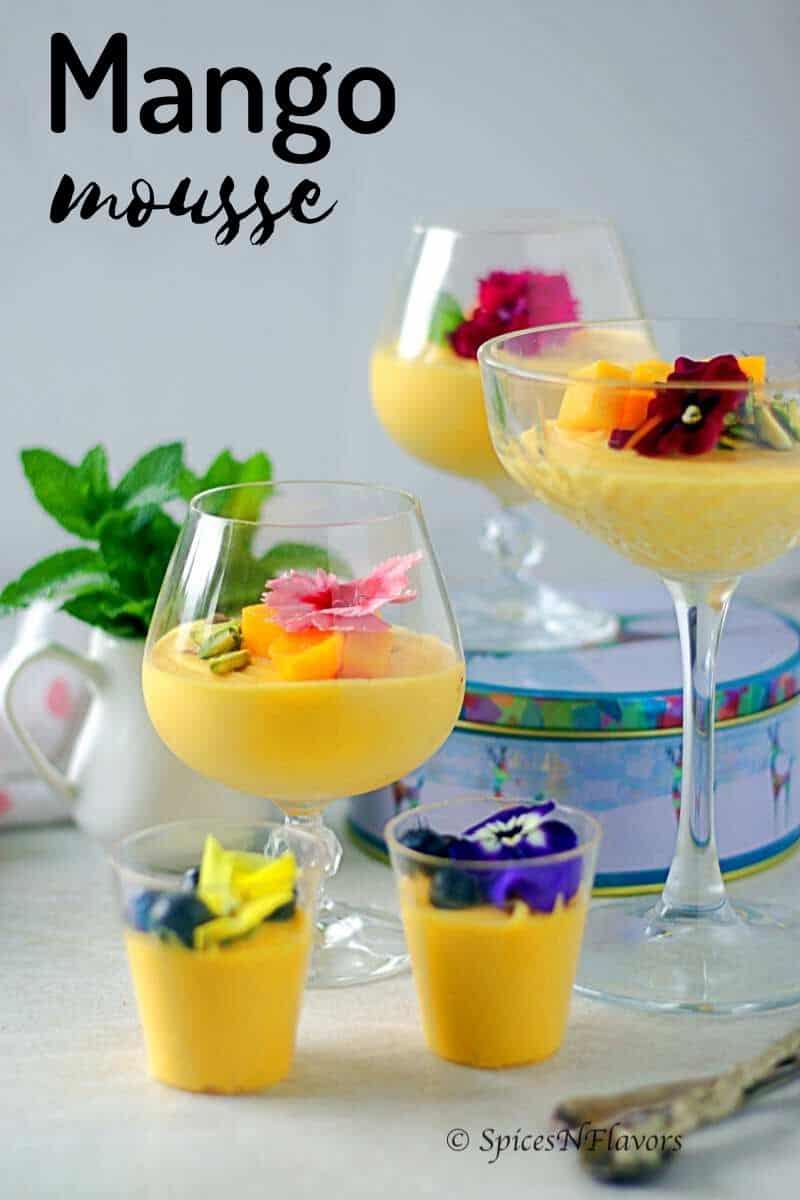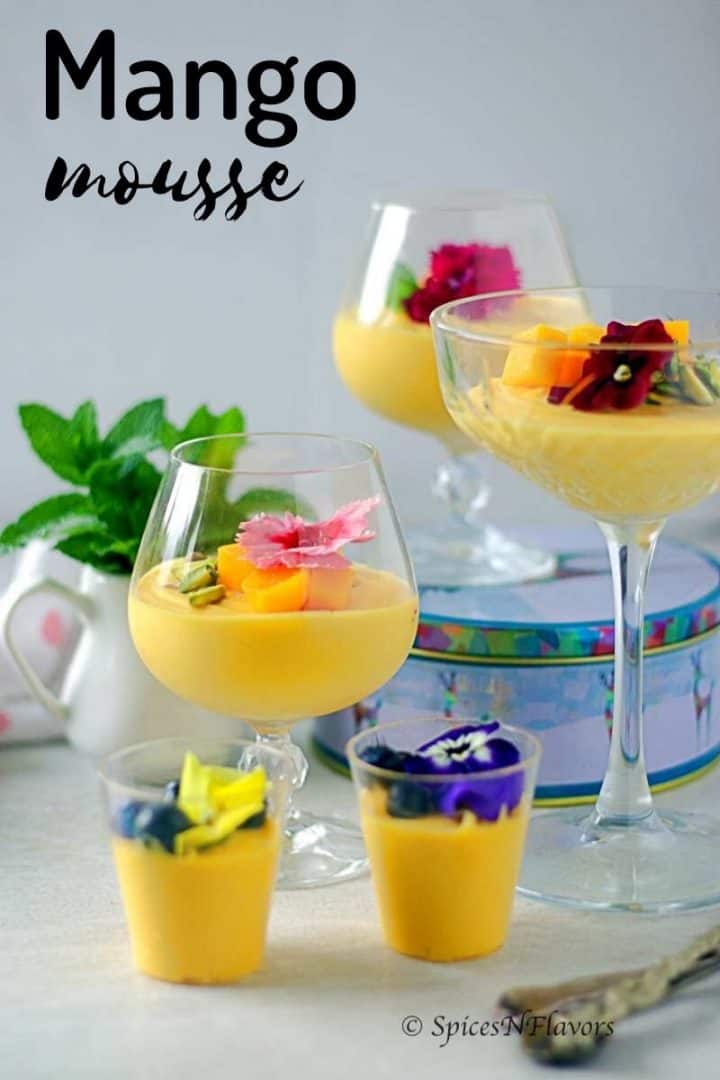 Light as a feather, this Mango Mousse is the perfect way to welcome Summers!!
What is a mousse anyways?
A mousse is a luscious dessert having a characteristic light and airy texture which is formed by incorporating air bubbles by beating the cream or egg whites. You can read more about here.
But since we are not using eggs in this recipe, the mousse prepared this way would be creamy and thick nevertheless it would still taste heavenly.
And this is one of the reasons why I always recommend this recipe to everyone.
Why do I love this recipe?
It is made using the simplest of the ingredients - no eggs, no gelatin or the vegetarian substitute agar agar.
This recipe makes the creamiest dessert packing in a punch of delicious mouth full mango flavour. Is there anyone who doesn't love mangoes?
Needs just 10 mins of active time.
Tons of ways to serve them - have mentioned few in the post.
You can also use this recipe as a filling in between the mango cake that we made a few weeks back. Very versatile.
Just 3 ingredients: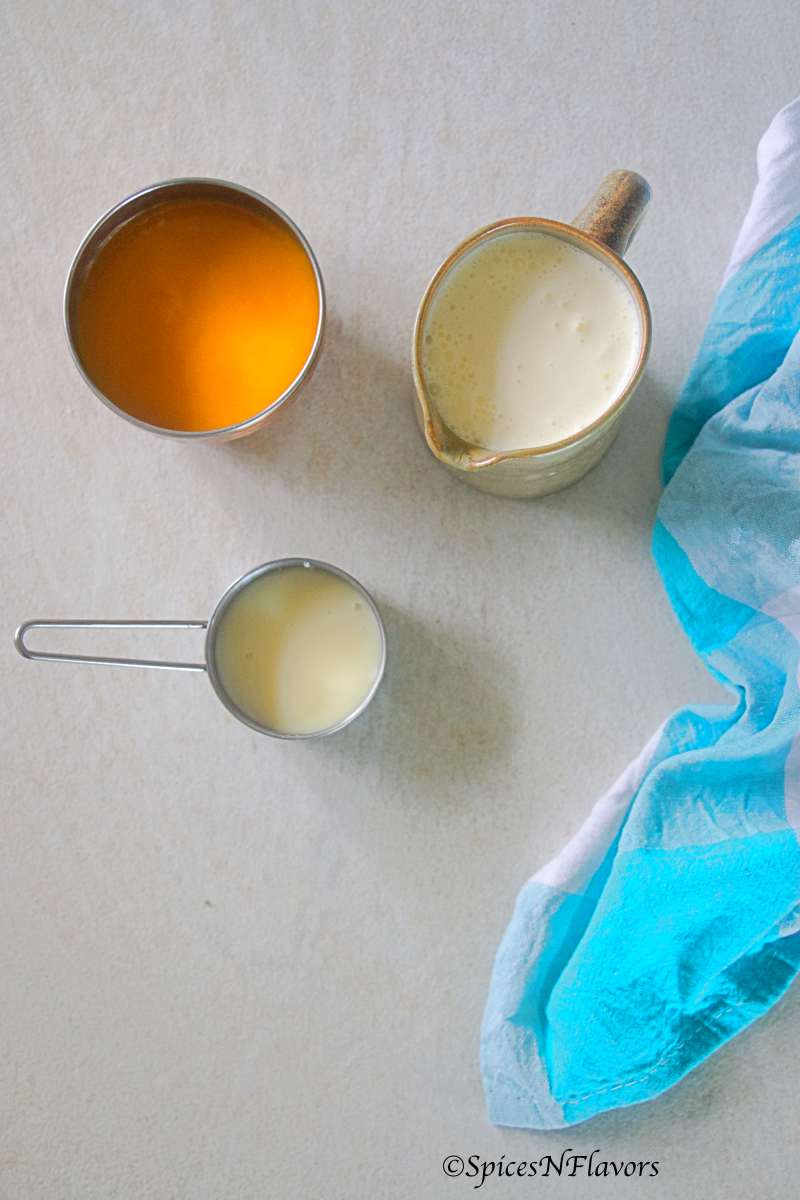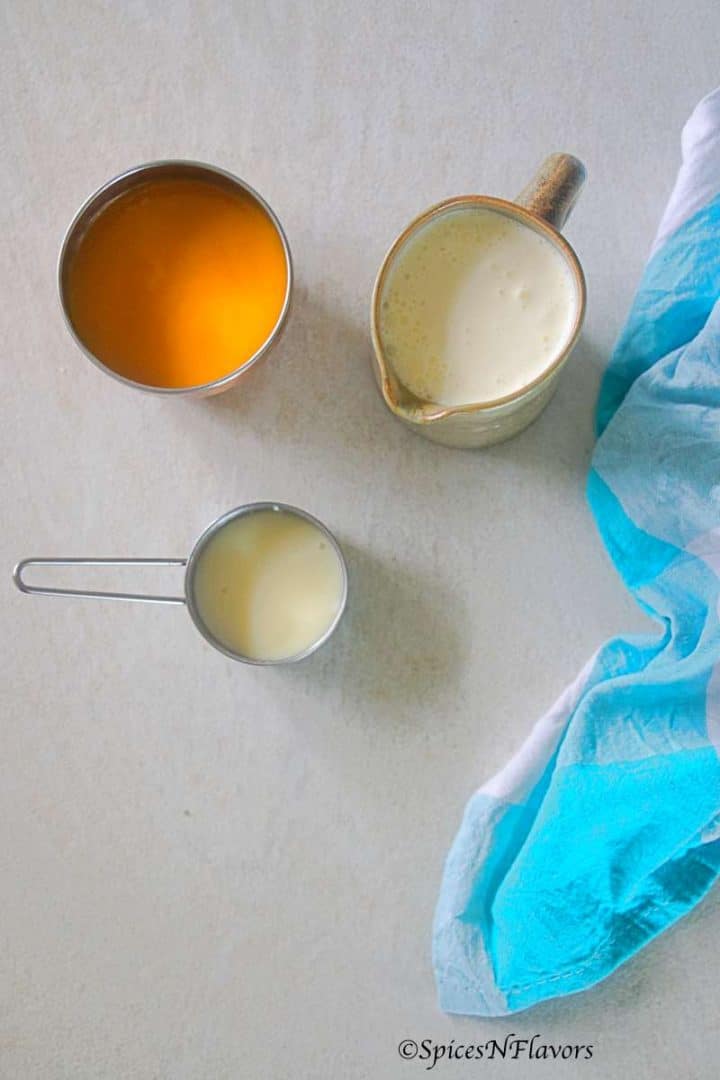 To make this delicious creamy melt in your mouth you would need
Mangoes (obvious right!!)
Since this is the star ingredient of our recipe today, you want to lay your hands on the best fresh juicy and plump mangoes for sure.
How to choose Mangoes?
You have to look for one that is juicy, plump - ripe in short.
It should not have any bruises and should smell pleasant, fruity and aromatic.
I would also not go for a fibrous ones - look for premium Alphonso mangoes.
Living in New Zealand, I do not have the liberty to choose mangoes and I always end up using canned Mangoes for all my Mango based recipes that I have been sharing so far.
Well that has an advantage of its own, I can enjoy mango based desserts and recipes all throughout the year 😉
So no complaints there 😉
PRO-TIP: And also if you feel that your mangoes are really bland, you can also try adding some lemon juice to oomph the flavour quotient.
Now that you have laid your hands on good quality mangoes, let me tell you you need to cut them the right way..
I absolutely hate to waste even a bit of its flesh..
Here is a quick video for you all on how to cut a mango?
2. Cream
This being an eggless mousse recipe we would be incorporating air bubbles by whipping the cream.
Use heavy whipping cream for the recipe with alteast 36% fat content.
Anything less than that won't whip properly.
If in India or any Asian Countries you can also use non dairy whipping cream for this recipe.
3. Condensed Milk:
Apart from adding sweetness this also makes the mousse creamy.
Let me know if you also like to lick condensed milk from the tin after using it in your recipe or am I the only one who does that?
By the way if you are using sweetened whipping cream then you can skip the condensed milk altogether depending upon the sweetness of your mangoes.
That would turn this into a plain mango whipped cream recipe.. And that is absolutely heaven.
The mango cream recipe was so much in trend last year.. my Instagram feed was flooded with the pics of the same.
Instructions:
In a bowl, add in the chilled cream and whip it till the cream thickens.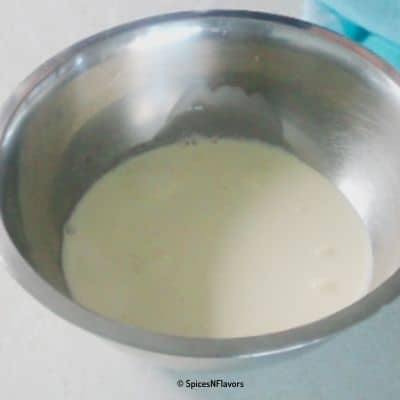 Once thickened add the mango puree, mix that through and whip.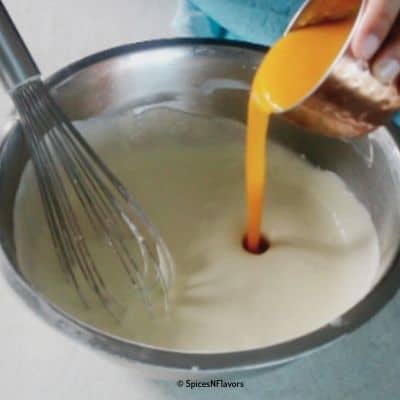 Finally add the condensed milk and whip until almost stiff peaks stage.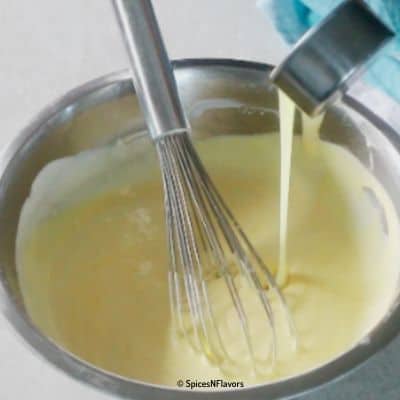 It is also a better idea to do a taste test here before you whip to stiff peaks stage that is because each batch of Mangoes is different and the sweetness can vary.
And that's it your mousse is all ready.
Transfer it into glasses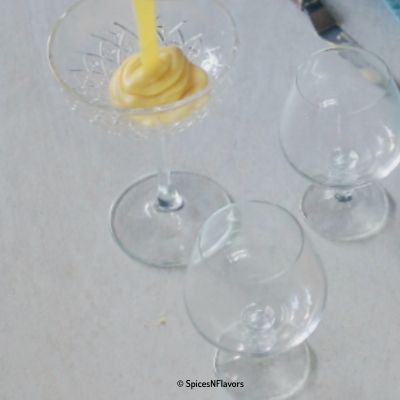 or pour it over a tart. (I have the recipe for both eggless tart and egg based tart if you would like to see).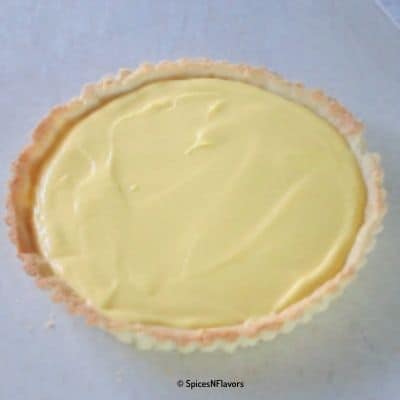 Chill in the refrigerator for a minimum of 3 hours.
That is what I believe to be the hardest part of the recipe. hehe..
And serve chilled garnished with some berries on top, or fresh mango pieces, pistachios or some pretty edible flowers like I have done.
The choice is yours.
3 Different ways in which you can serve them:
Shot Glasses :
I have served these mango mousse in glasses. But you can choose to serve it in shot glasses as well, specially if you are planning to make it for a birthday or baby shower party.
With Biscuit Base: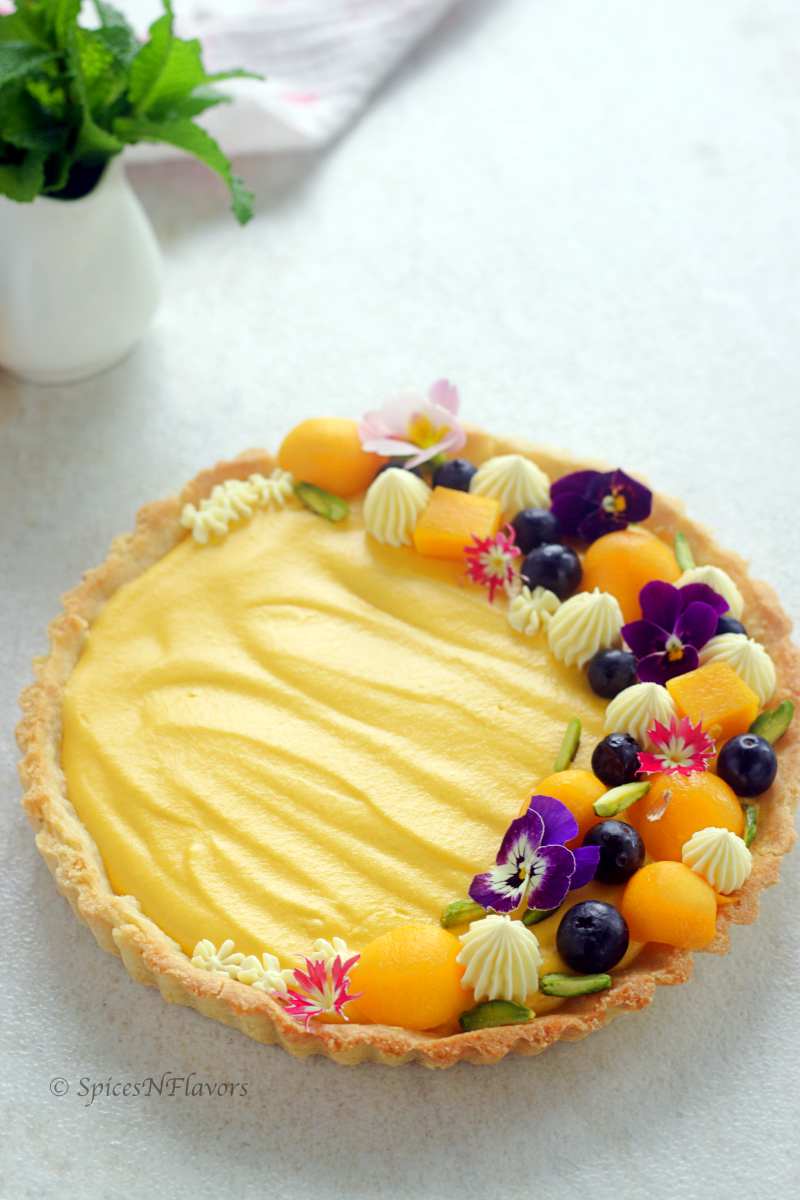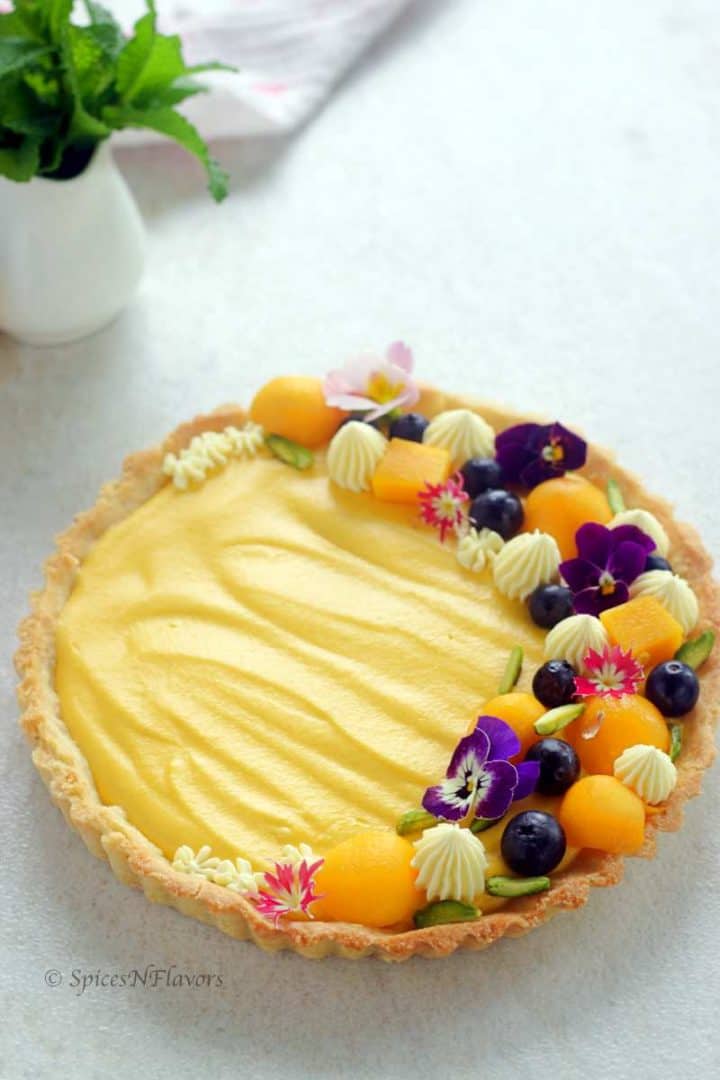 So one of the option that I mentioned above was serving it on a tart base.
You can also choose to serve it on a chocolate based tart if you like.
I also have a shortcut for the same if you are in no mood to bake one - Blame it on summers.. I can understand.
So take some oreos or any biscuits of your choice, pulse it add melted butter and pulse again until it holds its shape when pressed in your hands.
Yes the base that we typically follow while making a cheesecake.
So press this on a tart mould and allow to set.
Once set, pour the mousse on top and voila a beautiful dessert is ready to be served.
Along with biscuits, add some handful of pistachios to increase the flavour quotient.
With crumble:
You can also choose to make a trifle here.
Layer the glasses with crumble, followed by a layer of mousse, some fresh fruits, nuts on top. Delish!!
You can follow my crumble topping recipe if you like and substitute the cinnamon for cardamom. It would be amazing..
For an additional crunch you can also use granola as the base or top the mousse with granola and serve.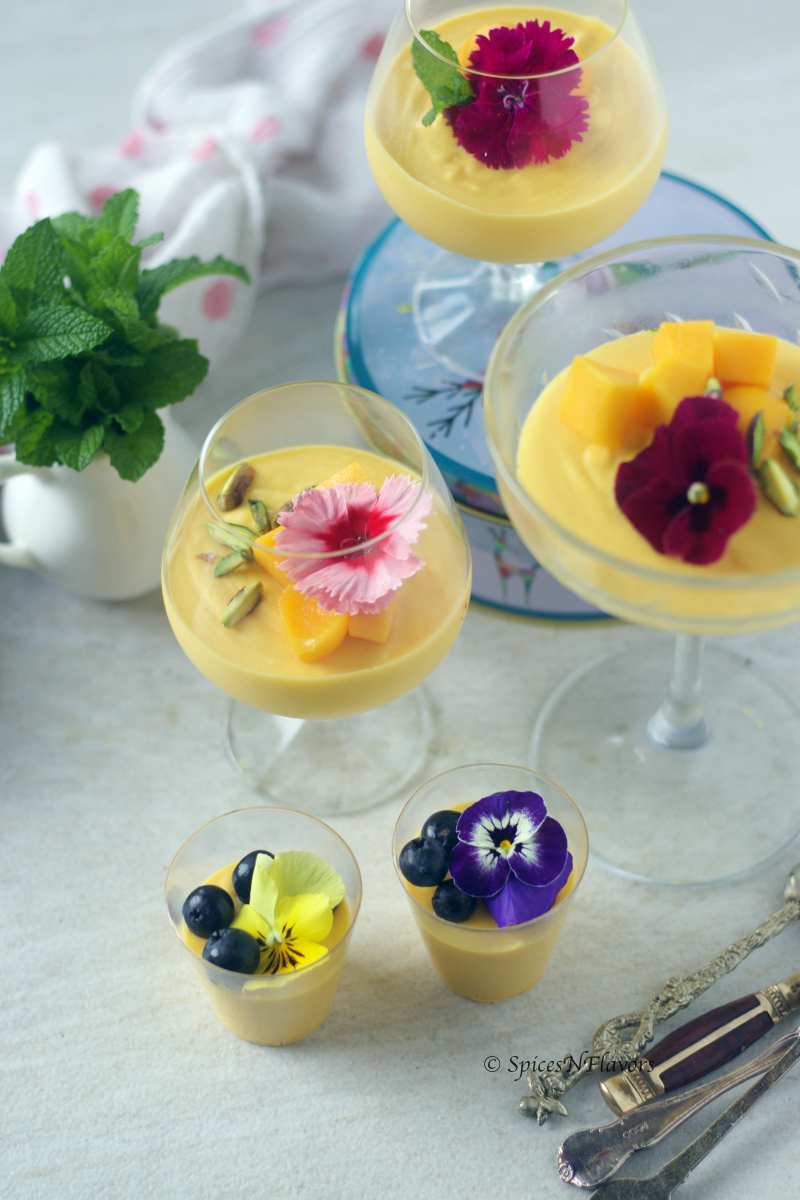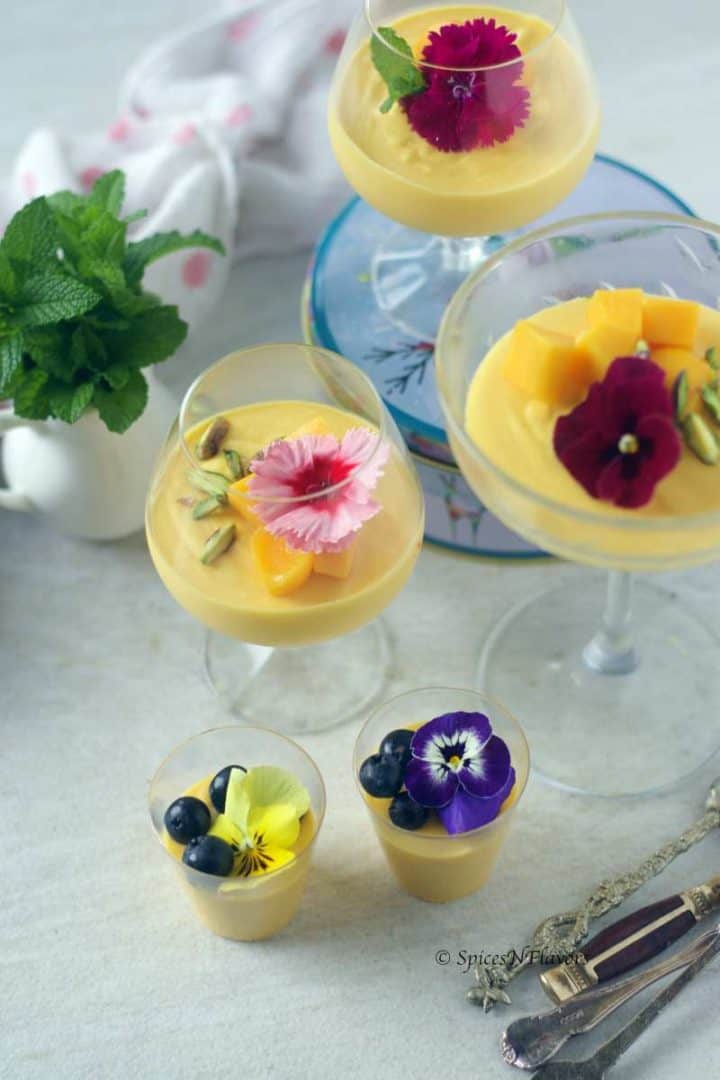 Some Flavour Variations:
Use some cardamom powder or essence to make it more Indianized.
Even saffron would work.
You can substitute the cream for coconut cream to make mango coconut mousse.
I had made the mango coconut mousse recipe in a blender and had served it in chocolate eggs for Easter.
Some Tips to get your Mousse right!!
Like what you are reading.. Join us for the love of baking and receive amazing tips and tricks in your inbox.
Mise en place: Which literally means getting all your equipment and ingredients ready beforehand especially when you are trying cream-based desserts.
If you are in India or any Asian countries and using non-dairy whipped cream then it is also a good idea to chill your bowl beforehand.
There is a thin line between whipping to stiff peaks and over-whipping. Over-whipping the cream would make the mousse grainy and ruin the texture. That's why I recommend whipping till almost stiff peaks as the mousse would set completely when chilled in the fridge. So even if it is a little runny do not worry chilling would resolve it.
After the addition of condensed milk, do give it a taste test as each and every Mango is different when it comes to ripeness and sweetness quotient so you can always adjust the sweetness to suit your needs.
So now I know you might be having this question in your mind which is: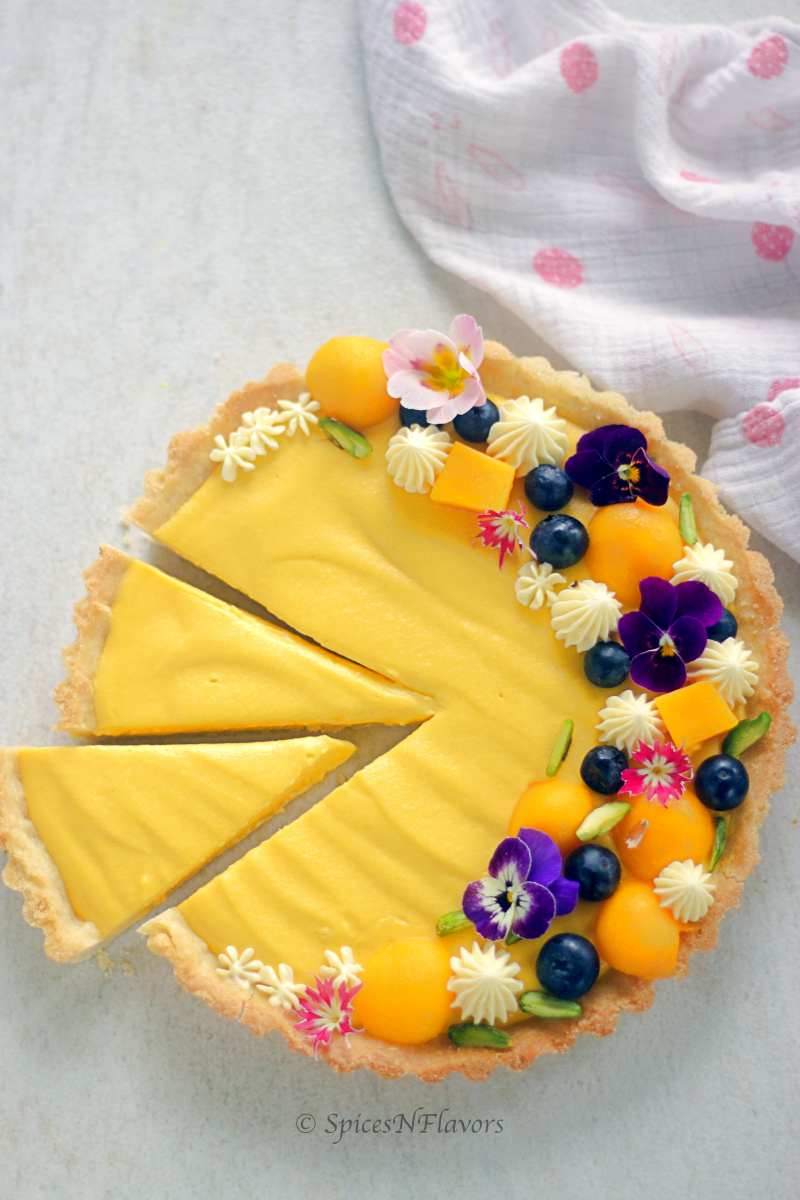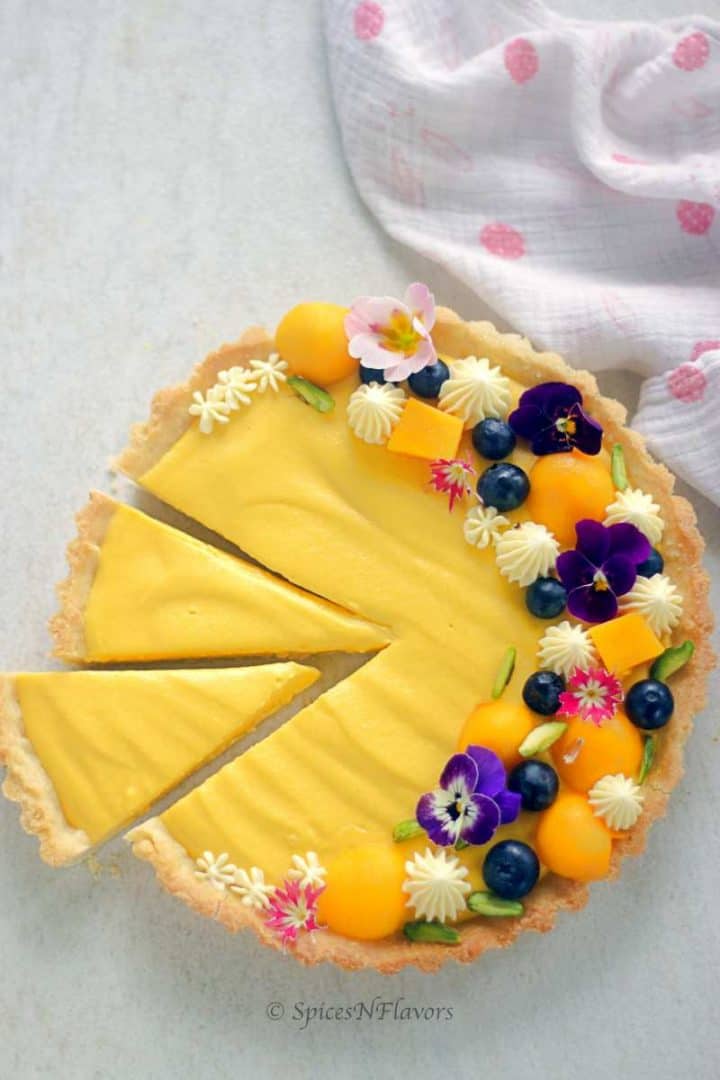 Can I use sugar in place of Condensed Milk?
Yes you can.
I would recommend pulsing the sugar and mangoes together into a puree.
That way you would not get any sugar granules in your mouth.
What type of Cream can I use in this recipe?
Any cream with higher fat content (36% and more) would work for the recipe.
You may also use non dairy whipping cream - Rich and Tropolite being the most common brands in India.
However if your cream is already sweetened then you may want to skip using the condensed milk altogether.
Can I substitute mangoes for any other fruits?
Yes you can substitute mangoes with berries of your choice to make berry mousse.
You can skip mangoes also use lemon juice and zest to make lemon mousse too.
How many days will this mousse last?
You can store this in the refrigerator for up to 2-3 days.
That means if you are planning to make it for a party you can definitely make it ahead of time.
How to use this as a Filling to layer in between cakes?
If you would like to use this as a filling then you would have to take some care while whipping the cream.
Whip the cream till it reaches soft peaks stage like the cream should be somewhat holding its shape.
Then add the mango puree and icing sugar and whip till still peaks stage.
Since icing sugar already has some cornstarch present it would help to hold the shape well.
You can now use this as filling and also as a frosting for your cake.
If you are using the non dairy whipping cream then I do not see any issue here.
However if you work with dairy whipping cream, I would recommend stabilizing it with cream cheese first.
Click here for the detailed recipe on stabilized whipped cream.
I would also recommend using our Eggless Mango Cake as the base here to boost up the Mango Flavour.
And here is a detailed recipe on
How to make Mango Mousse at home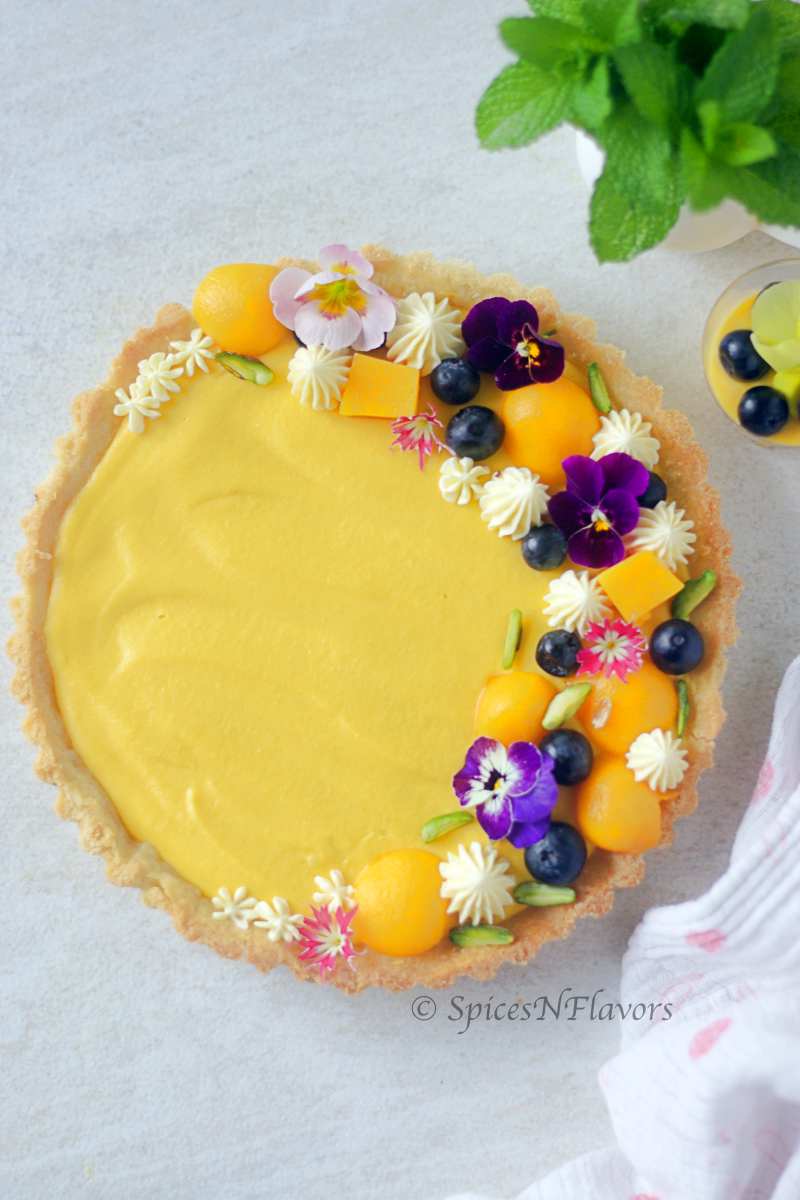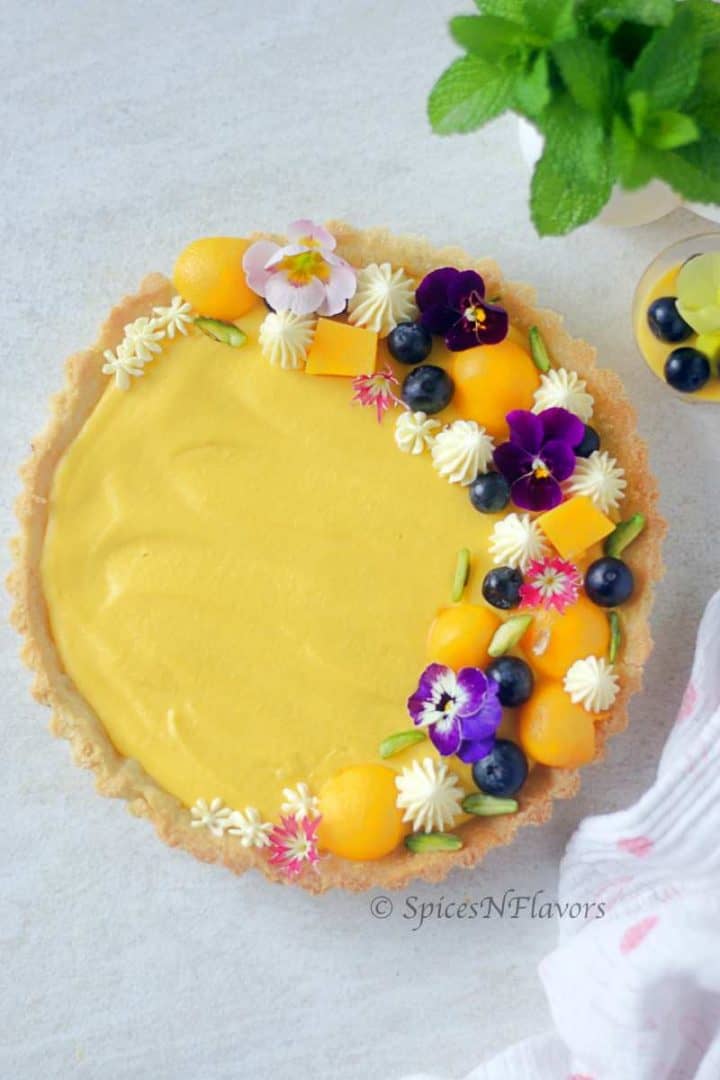 Related Recipes:
Wish to Join US for the love of BAKING? Subscribe to our newsletter and follow along on Facebook, Instagram, and Pinterest for all the latest updates!
Tag us on Instagram: @spicesandflavors to get featured on our stories.
Pin this for later: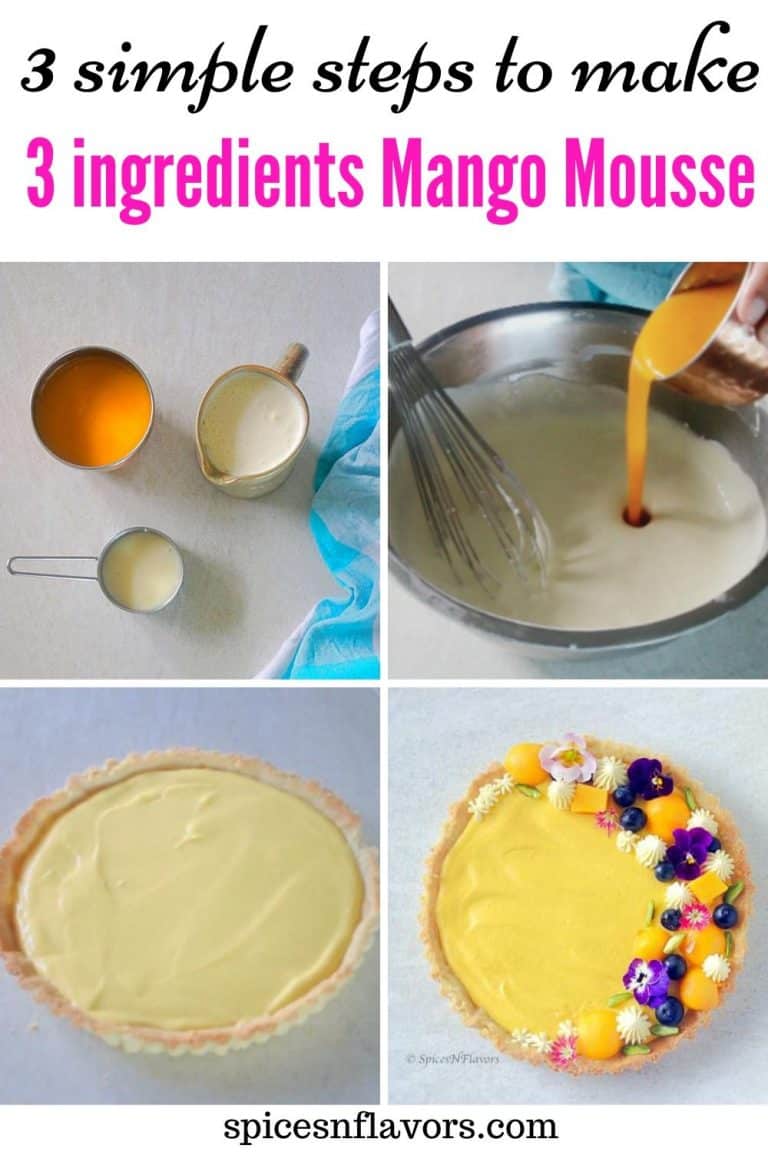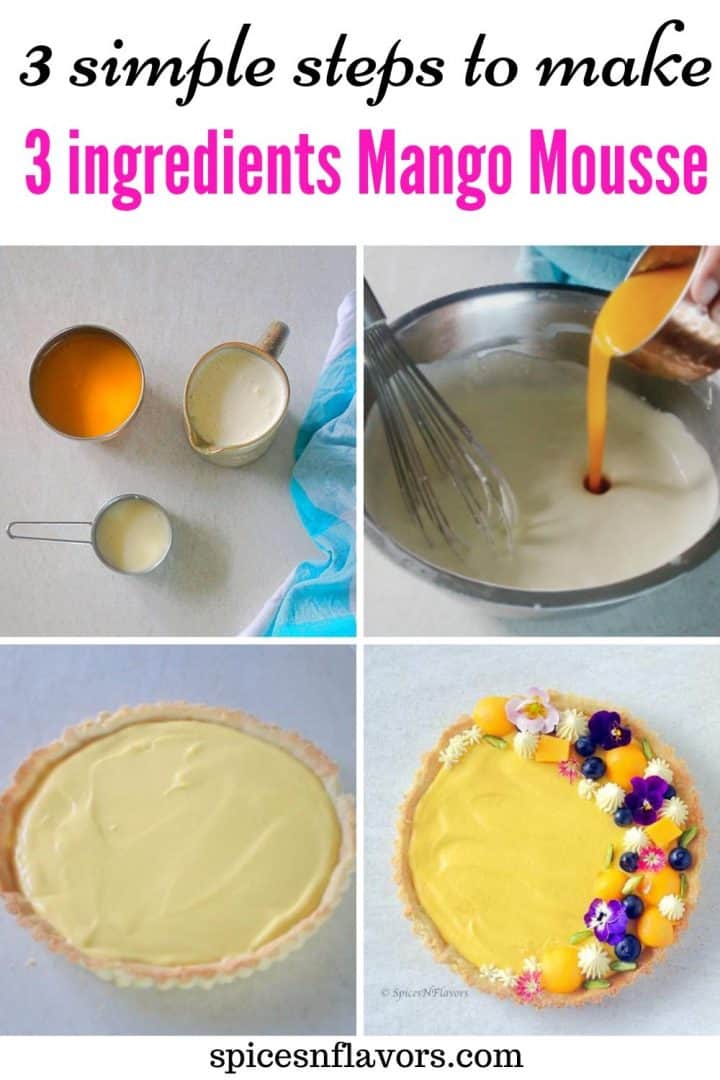 Liked this recipe?
Let us know by giving it a star rating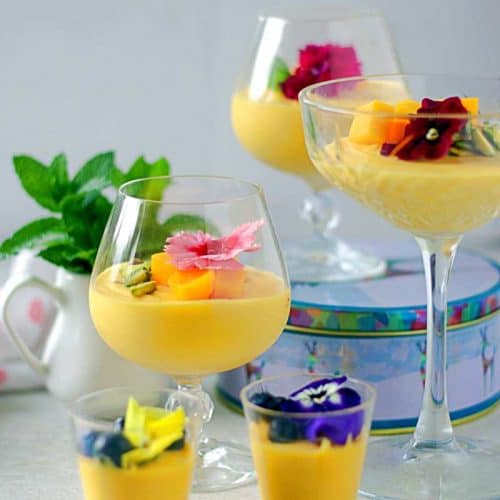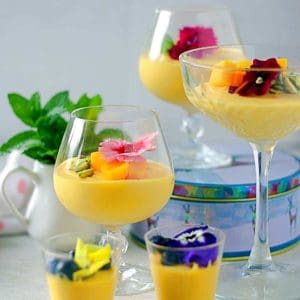 Print
Easy Mango Mousse Recipe using just 3 ingredients
This Eggless Mango Mousse without gelatin is the easiest dessert recipe that you can try NOW!! Made using just 3 ingredients this creamy melt in your mouth dessert can be served in cups, glasses, shots or even on a tart base. 
Ingredients
1

cup

Whipping Cream

1.5

cups

Mango Puree

1/2

cup

Condensed Milk
Instructions
Start by whipping the cream to a soft peaks stage.

Add in the mango puree. Whisk for a minute

And add the condensed milk. Whisk again.

Do a taste test here and add more mango puree or more condensed milk to suit your needs. Then whisk to a stiff peaks stage.

Pour it into regular glasses, shot glasses or on a tart and refrigerate it for 3 hours.

Serve chilled garnished with some fresh mango pieces, slivered pistachios and cream on top.
Video
Notes
This recipe can be easily halved or doubled.
You can either use fresh mango puree or canned mango puree whichever is easily available to you. 
Each mango is different in terms of being sweet, so adjust the sweetness that is the condensed milk puree accordingly. If your mangoes are bland you can also add some lemon juice to oomph the flavour.
And in case you are using sweetened cream then you can skip using the condensed milk too.
You can use this to fill and frost your cakes too.
Check the blog post for more serving ideas.
Can I use regular sugar in place of condensed milk?
Yes, you can.. Just pulse the sugar along with the mangoes into a puree or else you will feel the mousse to be a bit grainy.
Can I substitute mangoes for any other fruit?
Yes you can use strawberry puree or any other berries or even cherries to make this mousse in place of mangoes.
You can also lemon juice and zest to make lemon mousse.
For how many days can I store the mousse?
This would last you for 2-3 days in the refrigerator.
Did you make this recipe? Tag me today!
Tag me @spicesandflavors to get featured on my FB and Insta pages
Conclusion:
This Eggless Mango Mousse recipe with condensed milk is one of best desserts to try this Summers!!
Light as a feather, thick and creamy this literally melts in your mouth.
Made using just 3 ingredients this mousse recipe is a breeze to put together.. would hardly take about 10 mins.
Find different variations and substitutions in the blog post.
I will see you soon in my next one
Until then
Hugs
Sushma