Say Hello to our latest Indian fusion cake - Gajar ka Halwa Cake.
This Indian Carrot pudding cake is incredibly moist with soft crumbs, layered with an Indian sweet inspired melt in your mouth cream and then topped with a classic Indian dessert - Gajar ka Halwa. Learn how to make a rustic egg-free Gajar ka Halwa cake in a step by step tutorial format in the post.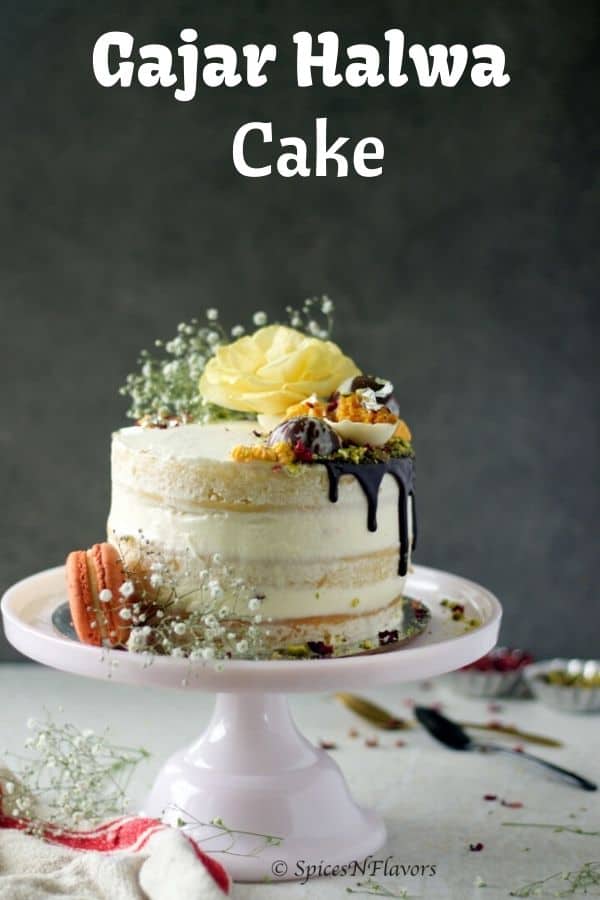 My Desperation to try this Cake:
When I was pregnant with Shlok, my son, every single week I used to ask my mom to make Gajar ka Halwa aka Indian Carrot Pudding for me.
I had it so many times, especially when made in our trusty Instant Pot. Btw, she loved it too for the ease of making it.
So obviously being a baker the thought of making a Gajar ka Halwa Cake crossed my mind as I had already made a fusion cake in the past - Gulab Jamun Cake.
I tried to make it on several occasions like :
My husband's birthday - was pregnant then so couldn't
New Year's Eve - my son was just born, a week old so couldn't.
My Birthday - started prep, layered and frosted the cake in the morning suddenly got severe pains and had to rush to the hospital, admitted for 4 days and had to throw the cake out.
Finally made it for a special occasion.
Living in a country for so long that it accepts you as theirs. My husband is now a Kiwi.. so had to celebrate it with a cake.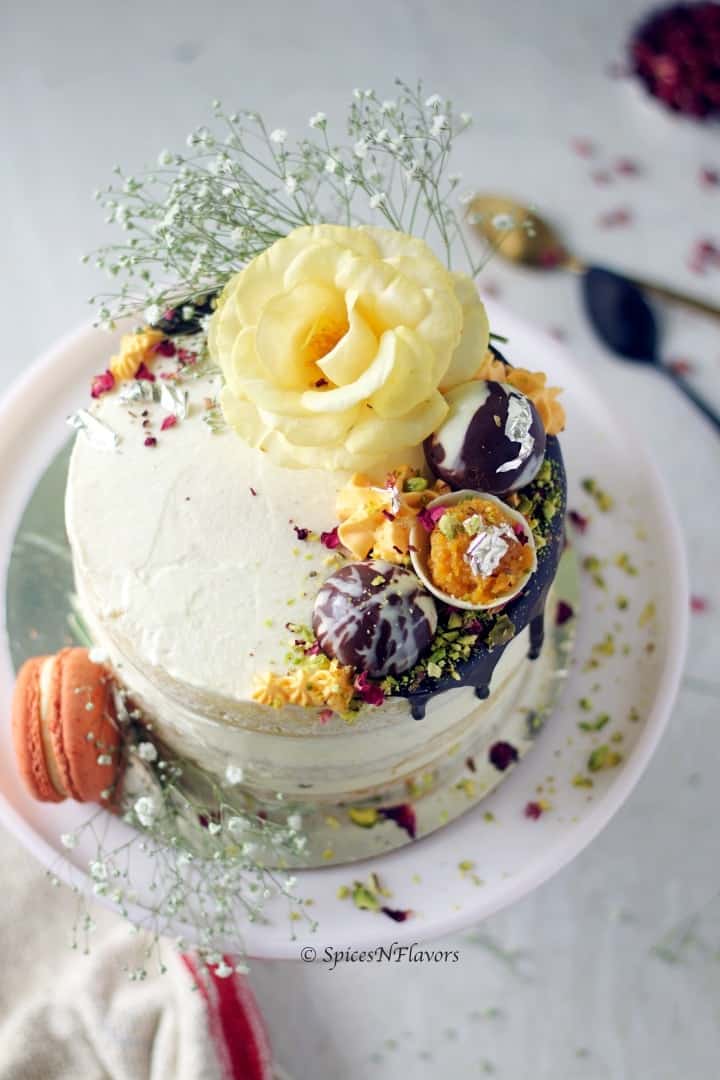 And what better than an Indian Fusion Cake - Gajar ka Halwa Cake.
Here is how to make Indian carrot cake from scratch:
Step 1: Cake Base
Well, you can use any of your vanilla cake recipes as the base here.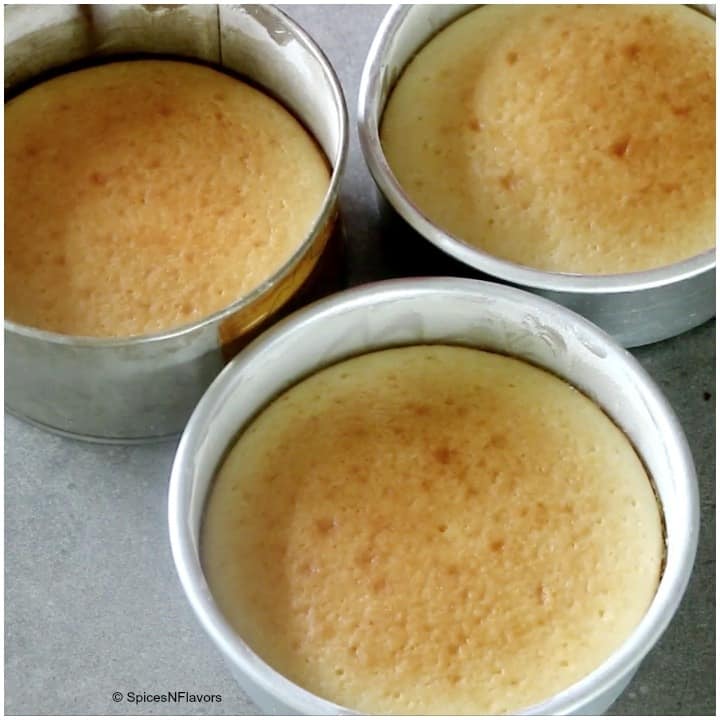 Just replace the vanilla essence with rabdi essence.
Or follow my recipe for the eggless vanilla cake and just replace the vanilla essence with rabdi essence as we did for our Gulab Jamun Cake.
I always divide my cake batter in 3 - 6" cake pans.
If you are planning to buy cake pans, always prefer aluminium and I would also suggest you to buy the one with push pan (if you want just 1 type to begin with), as that would serve the dual purpose that is for baking cakes as well as cheesecakes.
Step 2: Sugar Syrup
Shhh.. don't let anyone know that this is the secret behind a moist cake.
A cake that stays fresh for 3 days you know it has been soaked with sugar syrup.
So I would suggest not skipping this step.
At the same time do not end up soaking it too much or else the cake would be wet and not moist to taste.
To make this simply mix equal quantity of sugar and hot water until the sugar is dissolved.
Cool completely and use this on the cake (step 2 from the image below).
Step 3: Filling
There are 3 layers that make the filling of this Indian fusion cake - Whipped Cream (step 3 from the image below), Gajar Ka Halwa and Salted Pistachios (step 4 from the image below).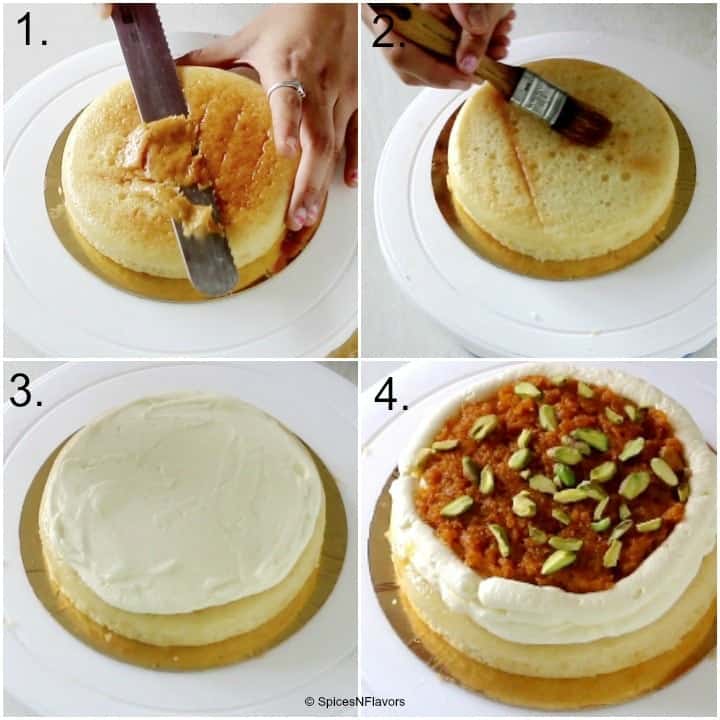 Usually, I make a separate batch of cream for filling and frosting.
That is because I use stabilized whipped cream for frosting whereas for the filling I prefer just good old cream and sugar.
However, for this case, I just made a simple whipped cream (cream + sugar + essence) for filling as well as frosting as we went for a Rustic look instead of a frosted cake.
I have a detailed recipe in pictorial as well as video format on how to make gajar halwa in Instant pot - Instant Pot Gajar Halwa
Do check that for detailed recipe, instructions and tips.
Or feel free to use your Mum's recipe or even store-bought would work.
Finally, top everything off with salted pistachios and repeat the layers till you reach the top.
The salted pistachios add a nice crunch and texture and also helps in cutting down the sweetness.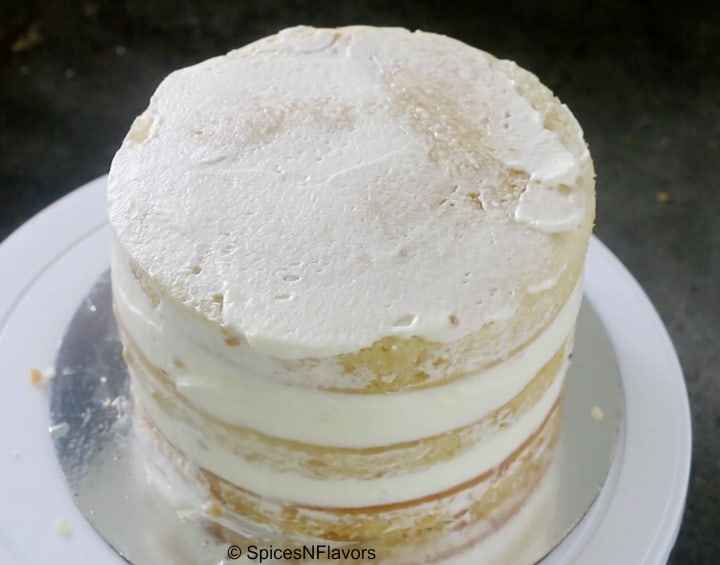 Do a crumb coating and let it chill in the refrigerator.
Now, this is where I decided to stop and give a rustic look to our cake.
Isn't this the easiest cake to put together?
To be honest, I seriously had no time as we had to rush to the ceremony and I also had my now 2-month-old waiting for breastfeeding. 😀
(But I loved how this turned out to be 😉
You can, however, go ahead and do a final frosting as I did in most of my cake recipes and follow the cake decoration.
Step 4 - Cake Decoration
Once chilled, I decided to decorate the cake with some ganache, fresh flowers, macarons, whipped cream, dried rose petals, crushed pistachios, edible silver foil and chocolate spheres.
To make the ganache, simply add hot cream to chopped chocolates, combine until smooth.
Wait for it to cool and then pour it on the cake.
For making the Chocolate Sphere, you would need melted chocolate.
If you are new to baking or using an Instant Pot, I have an amazing post to walk you through how to melt chocolate the right way in a stove-top or in an Instant Pot.
Trust me, I love the latter - it is indeed one of the best Instant Pot hacks you could ever come across.

Pour the melted chocolate (image 1) in silicone moulds. The one that I am using is the smaller size one of around 2 inches.
I do have the bigger ones too which I use to make chocolate bowls for serving custard and fruit salad or sometimes even ice-cream.
But my all-time favourite way is to serve this yummy 2 ingredient chocolate mousse in chocolate cups - always a party hit.
Once filled just flip the moulds (image 2) to remove the excess chocolate.
Run a bench scraper on top to smoothen the edges (image 3) and allow it to set at room temperature.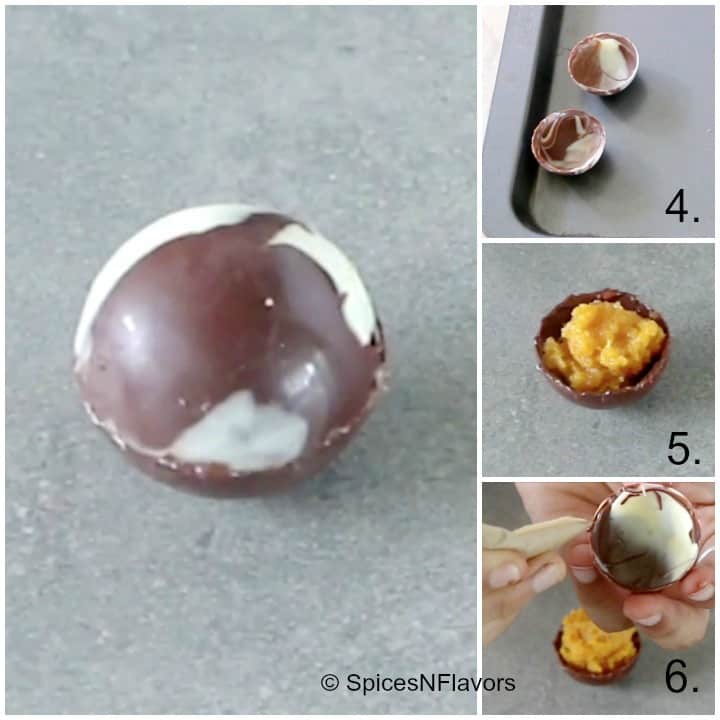 Once set, take it out carefully (image 4). Some might break so definitely a better idea to make excess.
Add some gajar ka halwa (image 5) into it and apply some melted chocolate on the ring of semi-sphere (image 6).
Top it with another half sphere to make it a complete chocolate sphere which is now filled with gajar halwa.
I also made a marble effect. The video tutorial would be a better way to understand it.
Check it out in the recipe card or from our Youtube Channel.
Oh by the way talking about Youtube - do consider subscribing to our channel as I post new baking and dessert recipe videos every single week.
And Instant Pot Desserts and Bread are always a hit there 😀
Now that all the decorative elements are ready simply place it on the cake as you prefer.
Or you can choose your own way of decorating the cake - check out this Cake Decorating Ideas board on Pinterest I am sure you will be in cake heaven.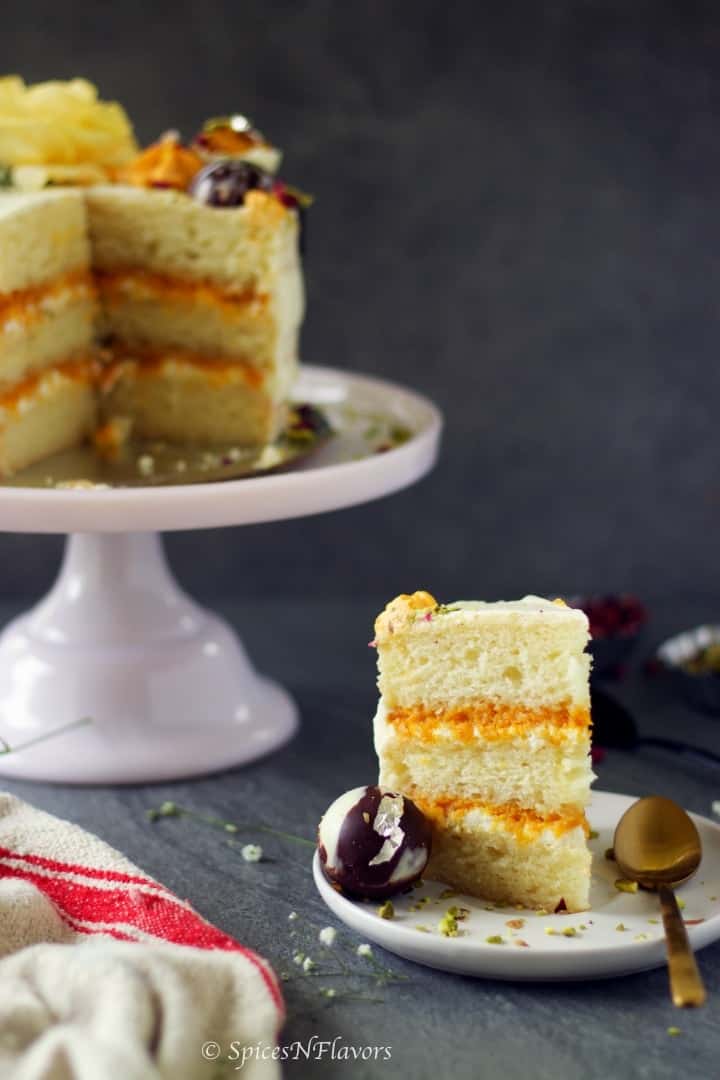 My Success Tips to make a Perfect Cake every single time:
Dividing the cakes between 3 cake pans reduces the baking time as well as gives you an even layer without having the need to invest in a cake divider for the same.
Using sugar syrup makes the cake stay moist for a couple of days.
Adding nuts as part of filling gives the cake a crunchy texture.
Making chocolate barks from leftover melted chocolate is a super-easy way to reduce wastage as well as to reuse them in the next project. (an example would be this Chocolate Mousse served in cookie cups.)
Learning the art of making drip cakes would elevate your art of cake decorating.
IF YOU LIKE THIS RECIPE OR HAPPEN TO TRY IT THEN SHARE YOUR EXPERIENCE BELOW IN THE COMMENTS BY GIVING IT A STAR RATING OR LET ME KNOW BY TAGGING ME, TWEETING ME OR INSTAGRAM ME. I WOULD LOVE TO CONNECT WITH YOU AND YOUR POSTS.
CONSIDER JOINING THE COMMUNITY OF 100K SUBSCRIBERS ON OUR YOUTUBE CHANNEL FOR REGULAR UPDATES.
Pin this for later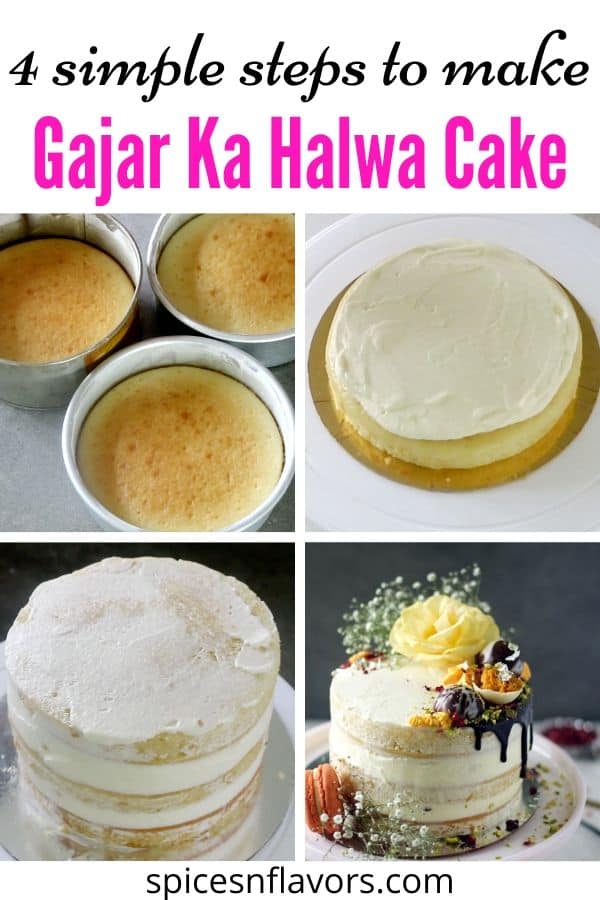 Here is how to make Gajar Ka Halwa Cake from scratch
Liked this recipe?
Let us know by giving it a star rating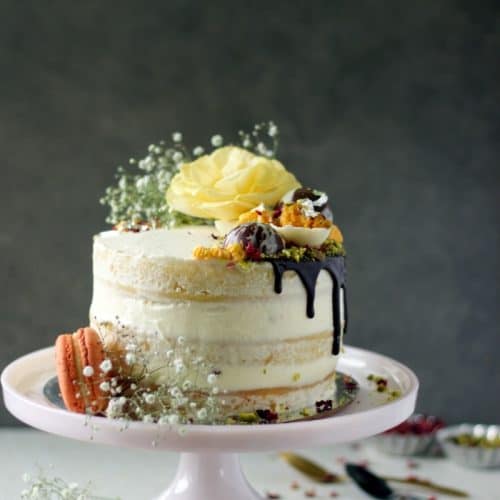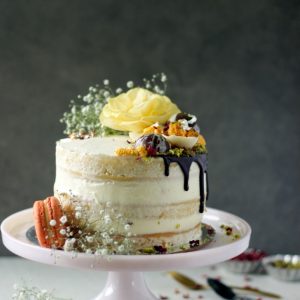 Print
Gajar ka Halwa Cake | Indian Carrot Cake
This Indian Carrot pudding cake is incredibly moist with soft crumbs, layered with an Indian sweet inspired melt in your mouth cream and then topped with a classic Indian dessert - Gajar ka Halwa.
Ingredients
For the Cake Base
1.5

cups

All purpose Flour/Maida

1.5

tsp

Baking Powder

1/2

tsp

Baking Soda

1/4

tsp

Salt

1

Cup

Sugar

3/4

cup

Milk

1/2

cup

Yogurt

1/2

cup

Oil

1/2

tsp

Rabdi Essence

refer notes
Sugar Syrup
3

tbsp

Sugar

3

tbsp

Hot Water
2 tbsp chopped salted pistachios
Whipped Cream Filling and Frosting
200

gms

Whipping Cream

50

gms

Icing Sugar

1/4

tsp

Rabdi Essence
For Cake Decoration
Chocolate Ganache, Fresh Flowers, Macarons, Chocolate Spheres, Rose Petals and Crushed Pistachios
Instructions
Step 1 - For the Cake Base
Sift together the dry ingredients - Flour, Baking powder, Baking Soda, Salt and keep aside

Mix sugar and milk in a bowl until homogenous. Whisking continuously add the oil to help it emulsify. Next, add the yogurt and essence and combine together.

Add the sifted dry ingredients into the wet in two batches. Combine to form a smooth batter

Divide the batter evenly between three 6 inch pans that have been greased with butter and lined with parchment paper. Approximately 275 gms in each tin.

Bake in a preheated oven of 180°C for 35-45 mins or until a skewer inserted in the centre comes out clean.

After 5 mins, invert the cake pans to release the cake. Remove the parchment paper and allow it to cool completely.
Step 2 - Sugar Syrup
Mix the sugar in the hot water until completely dissolved.

Set aside to cool completely.
Step 3: Whipped Cream for filling and frosting
Add the whipping cream, icing sugar and rabdi essence in a mixing bowl.

Beat till you reach the stiff peaks stage.
Step 4: Gajar Ka Halwa
I have a detailed post on how to make gajar ka halwa. You can refer that or simply use your mom's recipe or you can also choose to buy from the market.

You would need 200 gms of halwa for filling and 25 gms for filling the chocolate spheres if you are following my way of decorating the cake.
Step 5 : To Assemble
Start by trimming the top caramelised portion of the cake even if you get flat tops.

Soak the cake with prepared sugar syrup

Add 1/3 of the whipped cream filling and spread to an even layer

100 gms of gajar halwa goes next. Spread it out too.

A layer of chopped salted pistachios

Then comes the middle cake layer.

Repeat the steps till you reach the very top - sugar syrup, whipped cream, 100 gms halwa, chopped pistachio and the final (third) cake layer.

Crumb coat the cake with the remaining whipped cream to get the rustic look.

Follow the video in the recipe card if you like to decorate the cake as I have done or simply add your own spin to the cake by decorating the way you like.
Video
Notes
Tips on Cake Decoration:
If you are not sure how to decorate a cake simply give it a drip cake effect to automatically elevate its beauty. I have used this technique multiple times like in Fresh Fruit Cake or Eggless Chocolate Caramel Cake where we have used upside down drip technique.
Adding fresh flowers and chocolates is another great way to enhance the look.
1M Piping Tip can do magic. It is the best piping tip to make easy and quick decoration. Pipe stars, swirls or roses; each design is beautiful on its own. 
A simple tip is to decorate the cake with the filling - for example in this case using pistachios which is a part of filling too. Rose petals and edible silver foil which forms the base of any Indian sweet adds its touch to cake decoration as well. 
Follow my tips and tricks on stabilized whipped cream frosting if you would like to frost the cake rather than giving it a rustic look.
I also feel a clean hand written message on the cake enhances the look even further.
Still not sure then definitely consider checking my Pinterest board on Cake Decorating for inspiration.
Other tips on making this recipe:
Allow the cake, sugar syrup, gajar halwa to cool completely before assembling the cake.
Soaking the cake with sugar syrup keeps it moist for 3 days. At the same time, do not soak too much or else the cake would become wet rather than moist.
Salted pistachio cuts down the sweetness of the cake.
If you do not find rabdi essence (though I highly recommend to use it) then you can use cardamom, almond or kesar essence. 
Do consider checking the above paragraph for additional detailed pictorial instructions and also for links to certain recipe posts and products that would help you to bake this cake easily.
Did you make this recipe? Tag me today!
Tag me @spicesandflavors to get featured on my FB and Insta pages
Conclusion:
If you are a fan of Indian sweets or desserts then this Gajar Halwa Cake is a must try.
This Cake is
Soft
Moist
Full of flavours
Feels as if you are eating an Indian sweet.
Feel free to check out more Indian flavoured cakes like Gulab Jamun Cake, Butterscotch Cake and Fresh Fruit Cake.
I will see you soon in my next one.
Until then
Hugs
Sushma