Looking to create an unforgettable dinner party this festive or holiday season? Say goodbye to the worry of selecting the perfect show-stopping dessert with our handpicked collection of 35+ Indian dessert recipes for dinner parties curated specifically for you.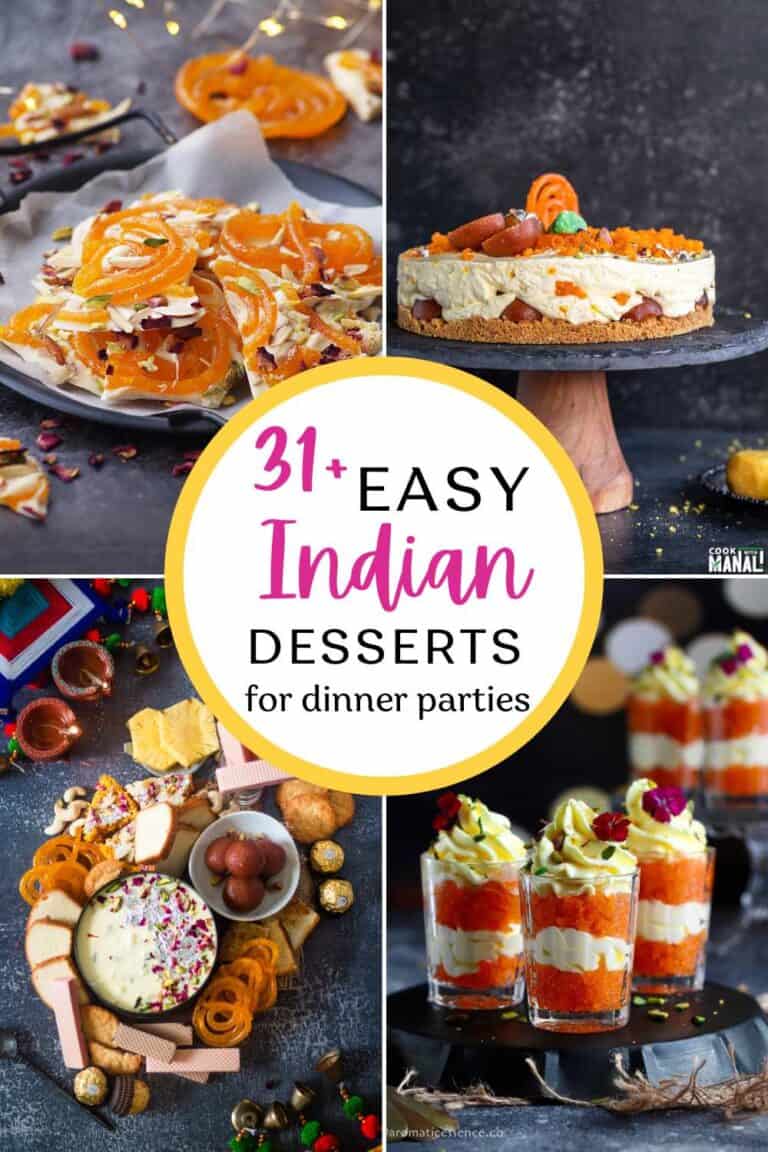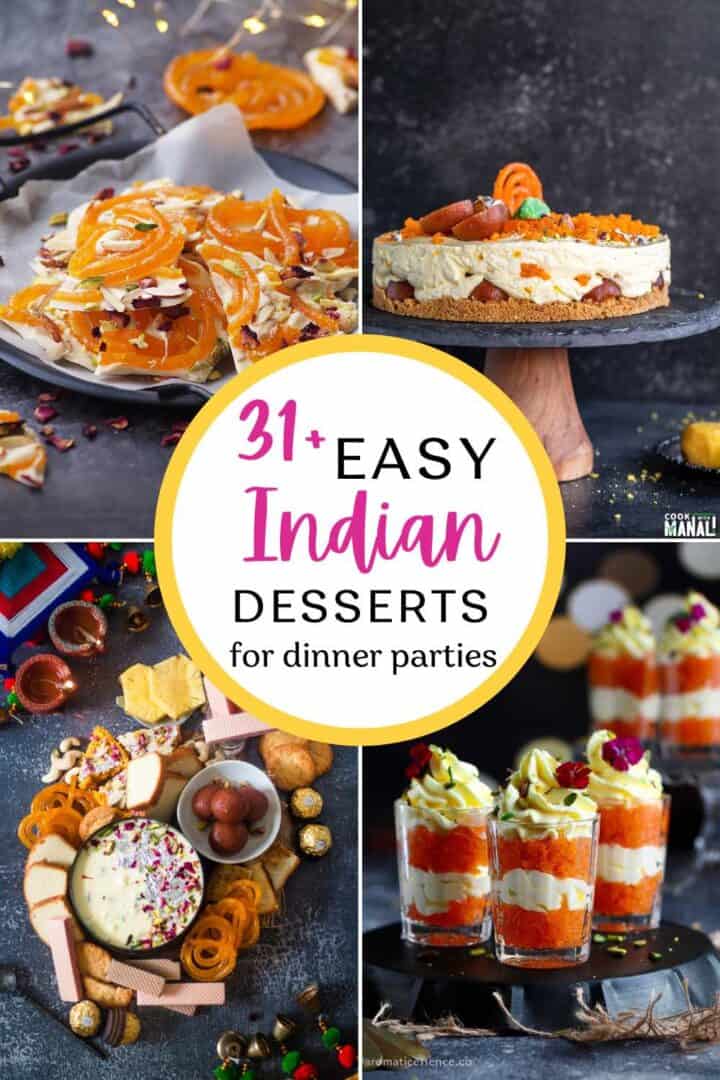 These recipes are not only easy and quick to prepare but can also be made ahead of time, offering you the ideal stress-free solution.
The richness of mithai comes from ingredients like milk, milk solids, ghee, nuts, saffron, cardamom, and rosewater.
Traditional mithai preparation demands time and effort, often involving hours of careful cooking and craftsmanship.
Undoubtedly, renowned Indian sweets and desserts such as Gulab Jamun, Halwa, Rasmalai, Mysore Pak, and Kheer offer exceptional flavors; however, they are noted for their intricate preparation processes, which require a substantial investment of time and culinary expertise.
Easy Indian Desserts for Dinner Parties
Amidst the hustle and bustle of planning a dinner party, the thought of crafting traditional Indian sweets can seem like an overwhelming addition to an already full plate.
That's precisely why I am delighted to introduce you to our curated selection of 35+ Indian dessert recipes tailor-made for Dinner Parties.
These recipes offer a seamless solution. Here is why you should try them:
Effortless Preparation ✅
Advance Planning ✅
Stress-Free Desserts ✅
Just to ensure that your dessert course is a delicious highlight on all your special occasions.
Indian Dessert Recipes
If you seek an easy sweet treat, opt for Instant Rasmalai or Rabdi; for classics, try our easy Kheer or carrot halwa; and explore Rasmalai Trifle, Indian Mithai Trifle, or Gulab Jamun Tiramisu the perfect Indian fusion dessert recipes for dinner parties. 
Still confused about what to make for the upcoming festive occasions just scroll down to find 35+ interesting and quick Indian dessert recipes that will surely make it to your menu.
Didn't plan it ahead and pressed on time??
Check out our 23+ Indian sweet recipes made in under 30 mins for inspiration or 17+ Indian sweets using condensed milk that will surely give you the best Indian dessert recipes idea that you are after. 
31+ Indian Dessert Recipes for Dinner Parties
1. Instant Rasmalai
Instant Rasmalai
Leave behind concerns of hard or chewy Ras malai; forget the disappointment of broken Rasmalai balls in boiling syrup - with our Instant Rasmalai Recipe, there's no need to fret over making sugar syrup either. Prepare to be enchanted by this effortless spin on a cherished Indian dessert, offering soft, heavenly bliss with just 15 minutes of active prep time.
Get the recipe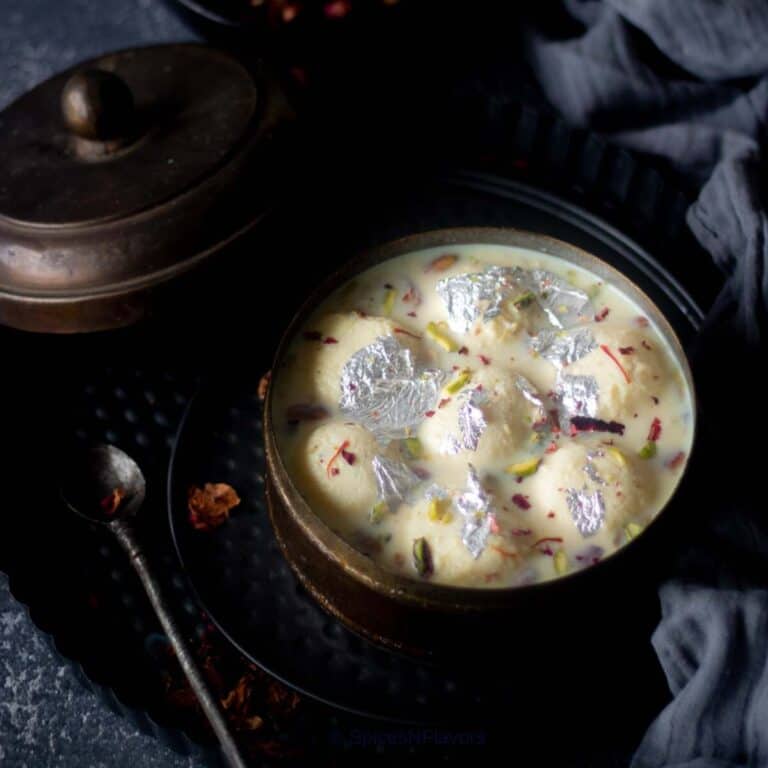 2. Instant Rabdi
3. Gulab Jamun Mix Cake
4. Carrot Custard (aka Carrot Kheer)
Savor the classic delight of kheer with a modern twist through our carrot kheer recipe, eliminating the need for extended cooking times with this simple hack. You can relish this versatile delicious dessert either warm or cold, making it an ideal choice for any occasion.
5. Rice Kheer with Jelly
6. Makhane ki Kheer
7. Rose Kheer
Indulge in the exquisite flavors of rose with my easy and instant kheer recipe, offering a delightful twist to the classic Indian dessert. Here is the recipe for rose kheer.
8. Easy Halwa
9. Gajar ka Halwa
10. Milk Powder Burfi
11. 2-ingredient Chocolate Burfi
12. Biscoff Burfi
With just four simple ingredients, you can whip up a delightful variation of an easy Indian sweet - Biscoff burfi.
13. Burfi Bars
14.  Indian Mithai Trifle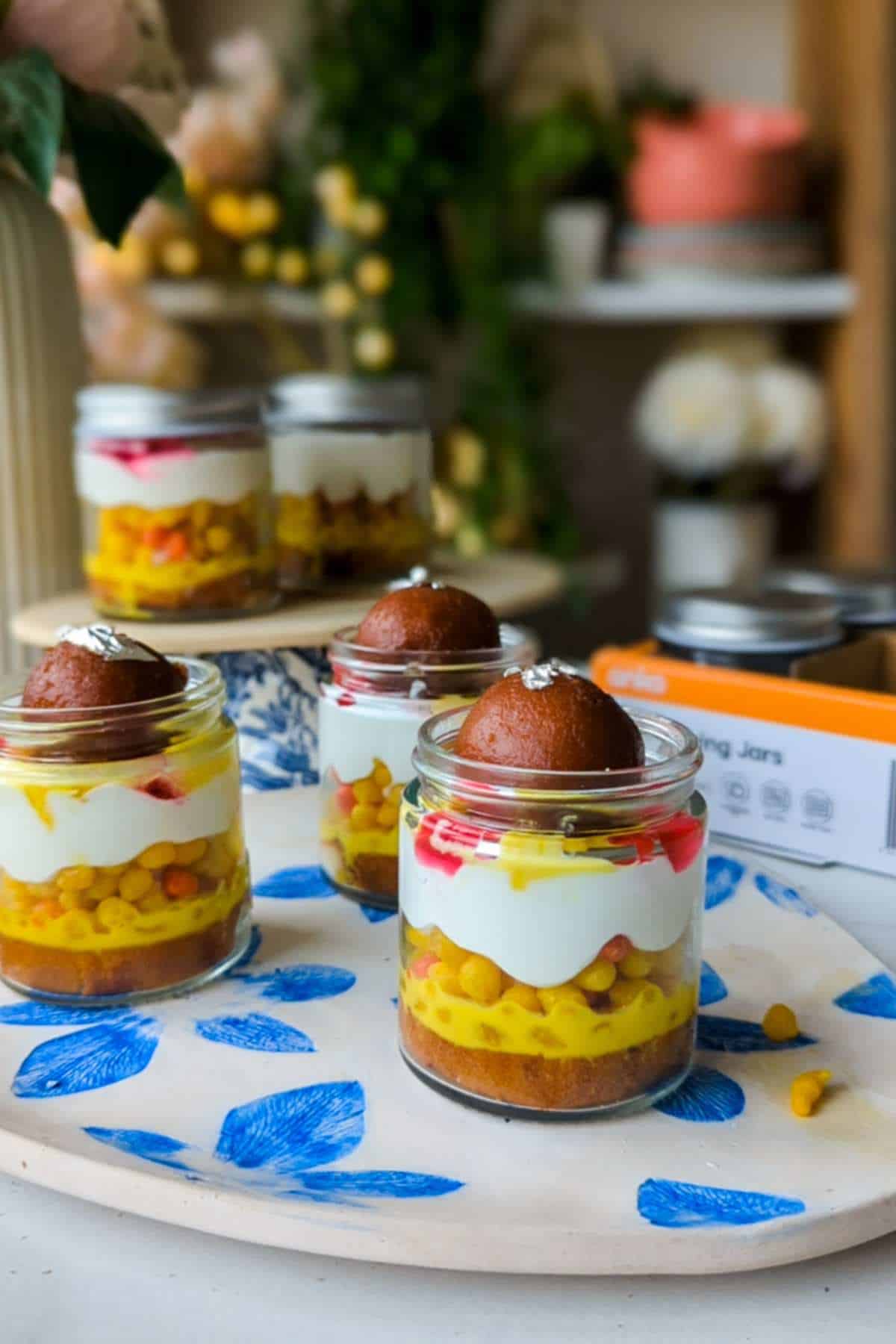 When it comes to Indian fusion and easy dessert recipes, trifles like this Indian Mithai Trifle are your best bet. Quick to assemble and irresistibly delicious, they'll have your guests craving for more in no time.
15. Rasmalai Trifle
16. Gulab Jamun Tiramisu
17. Rabdi Platter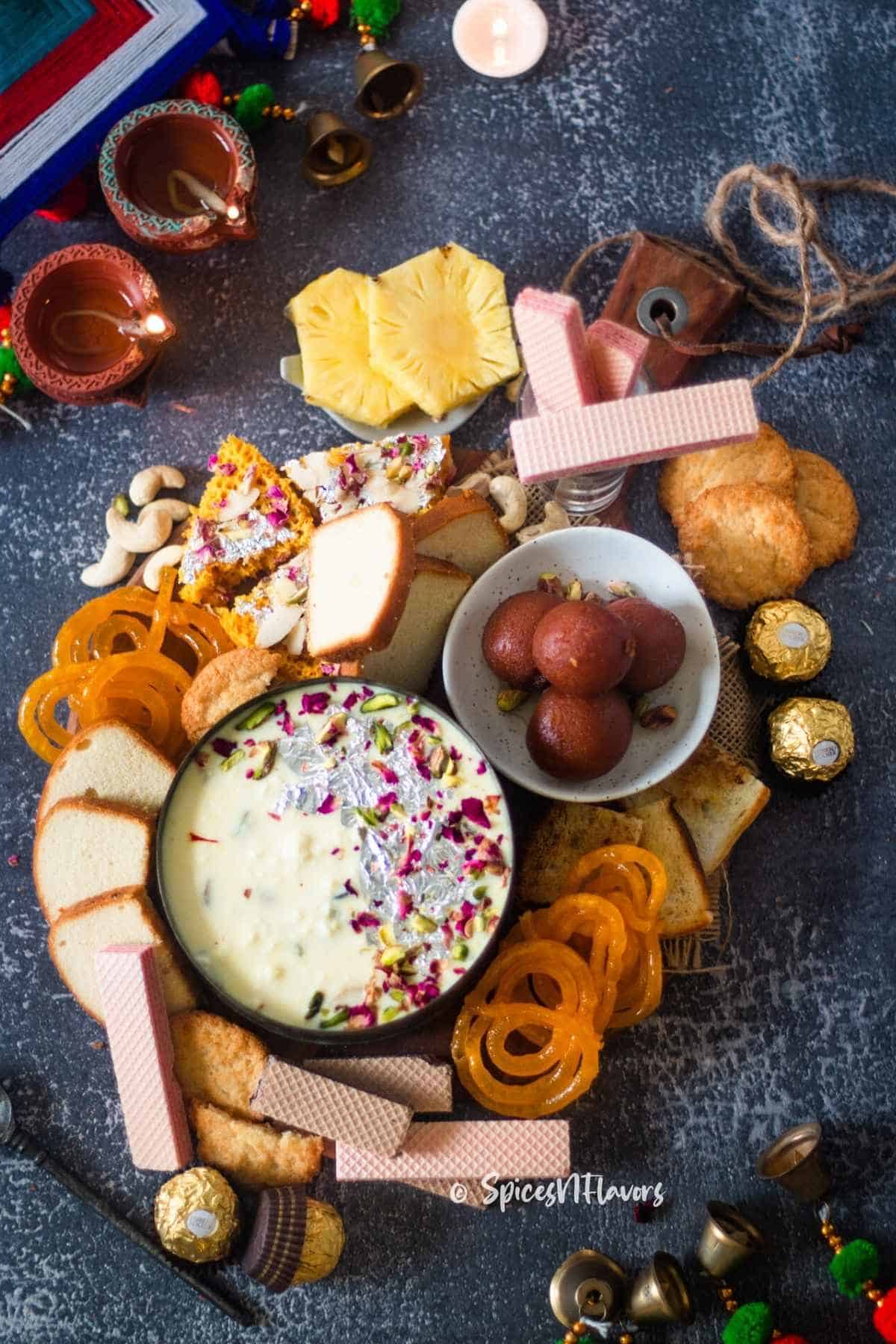 18. Bhapa Doi
19. Edible Diya
20. Lonavla fame Strawberries and Cream Dessert
21. Chilli spiced Pineapple with Ice-Cream
22. Stuffed Dates
23. Parle G Ice-Cream Sandwich
Create a unique dessert idea for parties by combining your favorite vanilla ice cream with the nation's favorite Parle G biscuits, resulting in a one-of-a-kind Indian ice cream dipped in chocolate.
24. Indian Cheesecake 
With just three simple ingredients, you can create this stunning Indian cheesecake. It's not only easy to make but also beautifully garnished with pistachios, making it the ultimate crowd-pleasing dessert.
25. No Bake Mithai Cheesecake
26. Motichoor ladoo parfait
27. Instant Malai Chaap
Bengali Malai Chaap, famed for its creamy, spongy texture and sweet sugar syrup, meets a unique twist with this Instant Malai Chaap that requires no cooking or baking and doesn't even need cottage cheese. Infused with a delightful rose flavor, it guarantees to leave your guests impressed while incorporating the moist coconut ladoo flavor, effectively blending two most popular desserts into one.
28. Gulab Jamun Pudding
29. Gulab Jamun Custard Jars
30. Jalebi Bark
31. Badam Burfi
BONUS RECIPE
32. Indian sweets pinata cake
List of Indian Sweets
In this collection of 31+ Indian desserts for Dinner Parties, I've made a deliberate effort to feature recipes that are not only easier to prepare than their traditional counterparts (original recipe) but also suitable for advance preparation.
However, Indian culture and its culinary traditions offer a vast array of desserts that go beyond the scope of this post.
To be fair, if you're willing to invest time in the kitchen to craft a show-stopping dessert for your dinner party, here are a few noteworthy suggestions:
Feel free to check out my Diwali recipes playlist for more ideas.
And if you are still not sure about what to make, you could never go wrong with Shahi Tukda, ladoos and pedas.